---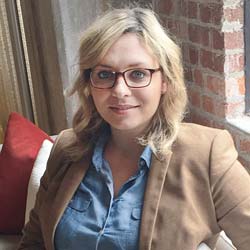 Location
San Francisco, California
Years of Service
DSD Cohort 1, 6 years of industry experience
Education
Harrington College of Design, Interior Design, Masters of Interior Design
Columbia College of Design, Television, Bachelor of Art in Television Directing and Production
Hawaii Pacific University, Visual Communication and Entrepreneurial Studies
Introduction
Observing the world around her and wondering what makes it tick is the driving force in Agata's life. Her innate curiosity and rampant passion for design has led her to design strategy, a field in which she progressively applies her analytic prowess to solve the world's most pressing problems.
Agata's vibrant background in branded environments, museum exhibit design and television direction and production affords her incomparable insights into the way people interaction with information and their contextual environments.
---
Briefly describe some highlights of your time in the DSD Program.
I've been lucky to work on some really cool projects during the last two years. What made them so cool? The insanely smart and talented group of people I get to work with every day!
What has been one of the most valuable lessons learned during the program?
Network, network, network. Take a genuine interest in people; their lives and the work that they're passionate about.
Briefly describe what you are doing post-DSD.
After the program, I've stayed in the San Francisco office, expanding upon the same design strategy work as before, but after. Whoa, meta!
---
Meet Our Team
Allie Bulgart | Erin Corcoran | Katie Costa | Agata Malkowski | Zsuzsi Nagy | David Raby-Pepin | Muhammad Saleh | Michael Saunders | Keely Vedanayagam | Allison Wong | Kayla Wong |