---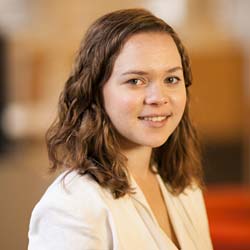 Location
New York, New York
Years of Service
DSD Cohort 1, 2 years of industry experience
Education
The Ohio State University, Interior Design, Bachelor of Science in Design
Introduction
Mid-west born and raised. OSU alumna. East-coast professional. Purpose-Driven. Dog obsessed.
---
Briefly describe some highlights of your time in the DSD Program.
The most inspiring part of working at Gensler is that everyone is encouraged to be more than a designer, architect, or strategist. We can be researchers, thought leaders, mentors, and artists. We play an incredible role within our communities. I have been able play all these roles through project work, the DSD Program, gServe programs like CityYear, and participating in an Education Practice Area research initiative.
I never want to stop learning, exploring, and asking questions, and neither does Gensler.
What has been one of the most valuable lessons learned during the program?
Expect the unexpected and make it a strength. The Consulting studio (and NY) is fast paced and has incredible opportunities popping up every day! Be quick on your feet, lean on the great talent around you, and don't let an opportunity pass you by!
Briefly describe what you are doing post-DSD.
After the DSD program, I transferred to our Gensler Boston office to continue my work within the Consulting Practice Area, and expand my work within Education Strategy. I'm working with new clients, new teammates, new services, and experiencing the amazing culture inside and outside the office. Transferring has provided a unique opportunity to stay within the Gensler family, expand my… (experiences, network, understanding of the firm's diversity) well, everything, and live in a new city. My personal favorite experiences include: Galileo, a monthly office event where colleagues share their amazing trips across the world and speak about the design and culture of the place; Office event at the Boston Aquarium; Walks along the beautiful harbor and learning to sail; And of course walking the large and small communities in the city with local snacks and drinks in hand.
---
Meet Our Team
Allie Bulgart | Erin Corcoran | Katie Costa | Agata Malkowski | Zsuzsi Nagy | David Raby-Pepin | Muhammad Saleh | Michael Saunders | Keely Vedanayagam | Allison Wong | Kayla Wong |