---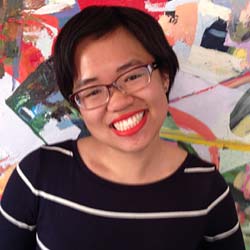 Location
Los Angeles, California
Years of Service
DSD Cohort 1, 2 years of industry experience
Education
Rhode Island School of Design, Industrial Design, Bachelor of Fine Arts
Brown University, Urban Studies, Bachelor of Arts
Introduction
Allison studied Industrial Design and Urban Studies but quickly realized that she neither wanted to be a product designer nor an urban planner. What she enjoys most about being a design strategist is tackling complicated problems, hanging out in unexpected places, and understanding new perspectives. This curiosity has brought her to projects in diverse fields like early childhood development, medical communication, and public interest law. Since moving to Los Angeles from Providence, RI, Allison has taken up backpacking, participated in craft sales, and adopted two guinea pigs (who take great selfies!).
---
Briefly describe some highlights of your time in the DSD Program.
The best moments of the DSD program where when I got to be immersed in our clients' world to learn or try something new. These have included touring the inner workings of a crime lab, dressing up like a media clients' popular TV characters for a video shoot, and prototyping the service design for a VR experience. I never know what the next project will bring!
What has been one of the most valuable lessons learned during the program?
The program taught me how to be adaptable and to have the confidence to jump into a variety of tasks and situations.
Briefly describe what you are doing post-DSD.
I have stayed in the Los Angeles Consulting studio as a Design Strategist, while starting to support the Product Design Practice Area as well. One of my current efforts is a Firmwide research project on using storytelling to guide the design process!
---
Meet Our Team
Allie Bulgart | Erin Corcoran | Katie Costa | Agata Malkowski | Zsuzsi Nagy | David Raby-Pepin | Muhammad Saleh | Michael Saunders | Keely Vedanayagam | Allison Wong | Kayla Wong |