---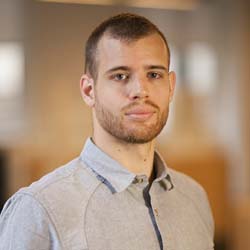 Location
From New York, New York to Toronto, Canada
Years of Service
DSD Cohort 1, 3 years of industry experience
Education
McGill University, School of Architecture, Bachelor of Architecture
Introduction
Coming from a background in both architecture and engineering, David thrives on using rigorous research approaches to uncover valuable business insights. Originally from Montreal, Canada, he relocated to New York City as part of the DSD Program, where he learned the tricks of the design strategy trade and sharpened his karaoke skills.
---
What are some highlights of your time in the DSD Program.
Both the first and second year DSD research projects are invaluable experiences and a pivotal part of the program curriculum. Both projects serve as great opportunities to learn how the firm functions as a business, connect to leaders and experts across the organization, and develop a critical point of view on the inner-workings of the design industry.
What has been one of the most valuable concepts learned during the program?
The ability to think about real estate at different scales and from various viewpoints; from considering the financial and organizational implications of developing large corporate campuses to defining interior spaces and planning practices that will help employees perform better.
What you are doing post-DSD.
After working for 2 years in New York City, I transferred to the Toronto office where I'm part of the Consulting team there. I'm also studying data science part-time to further my analytics capabilities.
---
Meet Our Team
Allie Bulgart | Erin Corcoran | Katie Costa | Agata Malkowski | Zsuzsi Nagy | David Raby-Pepin | Muhammad Saleh | Michael Saunders | Keely Vedanayagam | Allison Wong | Kayla Wong |