---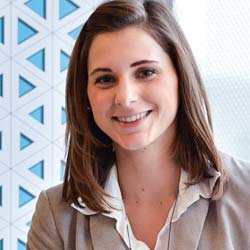 Location
From London, UK to San Francisco, California
Years of Service
DSD Cohort 1, 2 years of industry experience
Education
Delft University of Technology, Integrated Product Design Engineer MSc
Undergrad School, Program, Degree: Budapest University of Technology and Economics, Industrial Product Design Engineer BSc
Introduction
Zsuzsi is a passionate learner, who loves diving into unfamiliar and diverse subjects to expand her understanding of the underlying connections in the world. As an industrial product designer she believes that designers can only create meaningful experiences -whether through digital / physical products, spaces or services- if we always ask "why" and put the users and organizational needs on the top of our priority list.
---
What are some highlights of your time in the DSD Program.
I love how we, DSDers learned to work together virtually across time-zones and cultural differences. We only met in participants in other host offices face-to-face once a year, yet we became good friends and colleagues who can rely on each other at any time, even after the DSD program.
What has been one of the most valuable lessons learned during the program?
No matter how much experience you have in a certain subject, always sit at the meeting table (with clients or other Gensler colleagues) with the belief that you CAN contribute to the discussion.
What you are doing post-DSD.
I transferred to San Francisco to work in the Consulting Studio. There I am working as a Design Strategist with various clients while building upon my DSD and Gensler Grant Research projects focused on Process Design.
---
Meet Our Team
Allie Bulgart | Erin Corcoran | Katie Costa | Agata Malkowski | Zsuzsi Nagy | David Raby-Pepin | Muhammad Saleh | Michael Saunders | Keely Vedanayagam | Allison Wong | Kayla Wong |