Workplace Now
New pressures on their teams are leading organizations to offer balanced and flexible work settings that adapt to rapid change.
BY VERNON MAYS
---
Led by the collaborative work styles pioneered by creative agencies and tech companies, businesses of all types are remaking themselves to spur innovation and productivity. Abandoning the old model of one narrowly focused person assigned to one firmly anchored desk, many companies choose instead to create cross-functional teams that blend different disciplines. "It's a foundational shift," says Gensler's Johnathan Sandler.
The challenge is to create environments flexible enough to allow teams to come together when they need to and unbundle when they're done. Hachette Book Group, for example, has moved from a highly enclosed, office-centric workplace to a 100 percent open office with a high concentration of collaboration areas. The new layout breaks down silos, allowing for better visual connections and more collaboration among departments. "They are thriving in this much more open, egalitarian environment, where they can move teams around really easily," Sandler notes.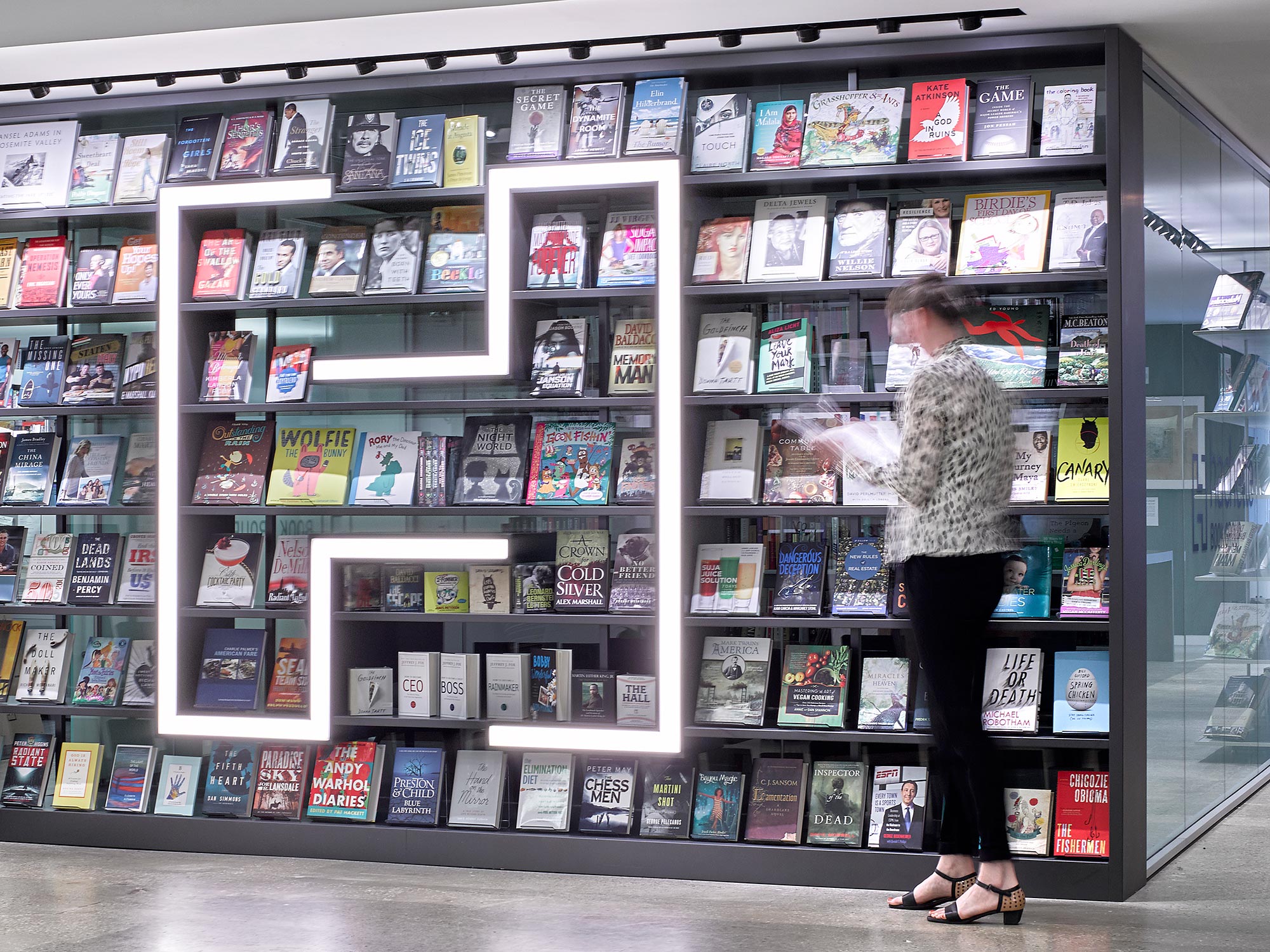 Microsoft is making connection a key theme for its Redmond Campus's most recent renovations. The design stitches together three buildings and their respective office floors and work environments. To bring different scales of population together, central common areas provide a mixing zone, nourishing the relationships that lead to cross-pollination of ideas. "Even the lobby plays a role," says Gensler's Ryan Haines. "Its multimedia 'Blue Box' uses Microsoft's Kinect sensor to respond visually and audibly to people as they climb, descend, and interact on the stairs."
In addition to accommodating new ways of working, offices also are morphing to adapt to new styles of leadership. "Organizations are becoming much flatter hierarchically," says Gensler's Philip Tidd. "And as companies begin to manage people through culture and community, the types of workplaces needed to support them are changing fast too."
How this is reflected in workplace design is shown by Gensler's new Yanmar headquarters in Osaka, Japan. The workspace emphasizes teamwork and transparency by arraying open office floors around an interconnecting, circular stairs that slice through the building, making even the executive floor visible. Most managers now share large worktables with their staffs. The stairs bring everyone up to the top floor, set aside for dining and other community-wide activities.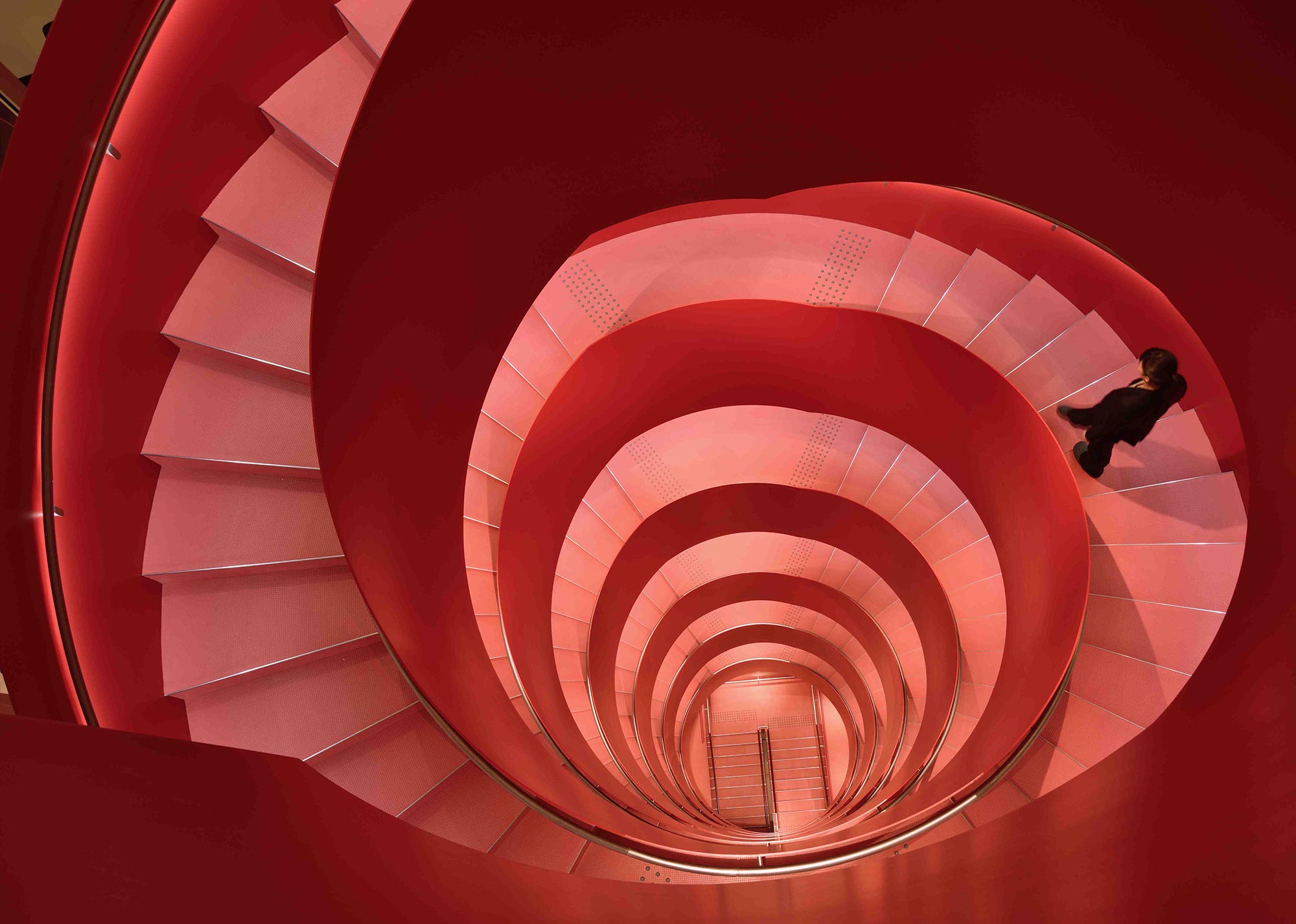 Tech sets the tone
As industries outside the technology sector regain their financial footing, they are looking at tech as a model to emulate. "Every client comes to us saying, 'We're not Facebook or Google, but we want to learn from what they're doing,'" notes Gensler's Randy Howder. Among the cues other industries are picking up is creating a more balanced workplace. "Our research was right on target in terms of looking at an environment where people can focus, where they can collaborate, and where they can build culture around their organization," Howder says. "It's actually about balance, creating a workplace that allows both focus and collaboration."
The worker-friendly tech sector is also sparking the rapid expansion of amenity spaces in other industries. In order to keep people productive and engaged, and attract a new generation of workers, many companies are doubling the size of their amenities. Headquarters used to allocate between 3 and 5 percent of total space to amenities. Now, 8 to 15 percent is more common. At Condé Nast's new 25-floor headquarters in New York City, for example, two floors are entirely for amenities, including a cafeteria and a very popular café. The amenity floors are connected with a central stairway to encourage movement between them and promote interaction and relationship-building across Condé Nast's different media brands.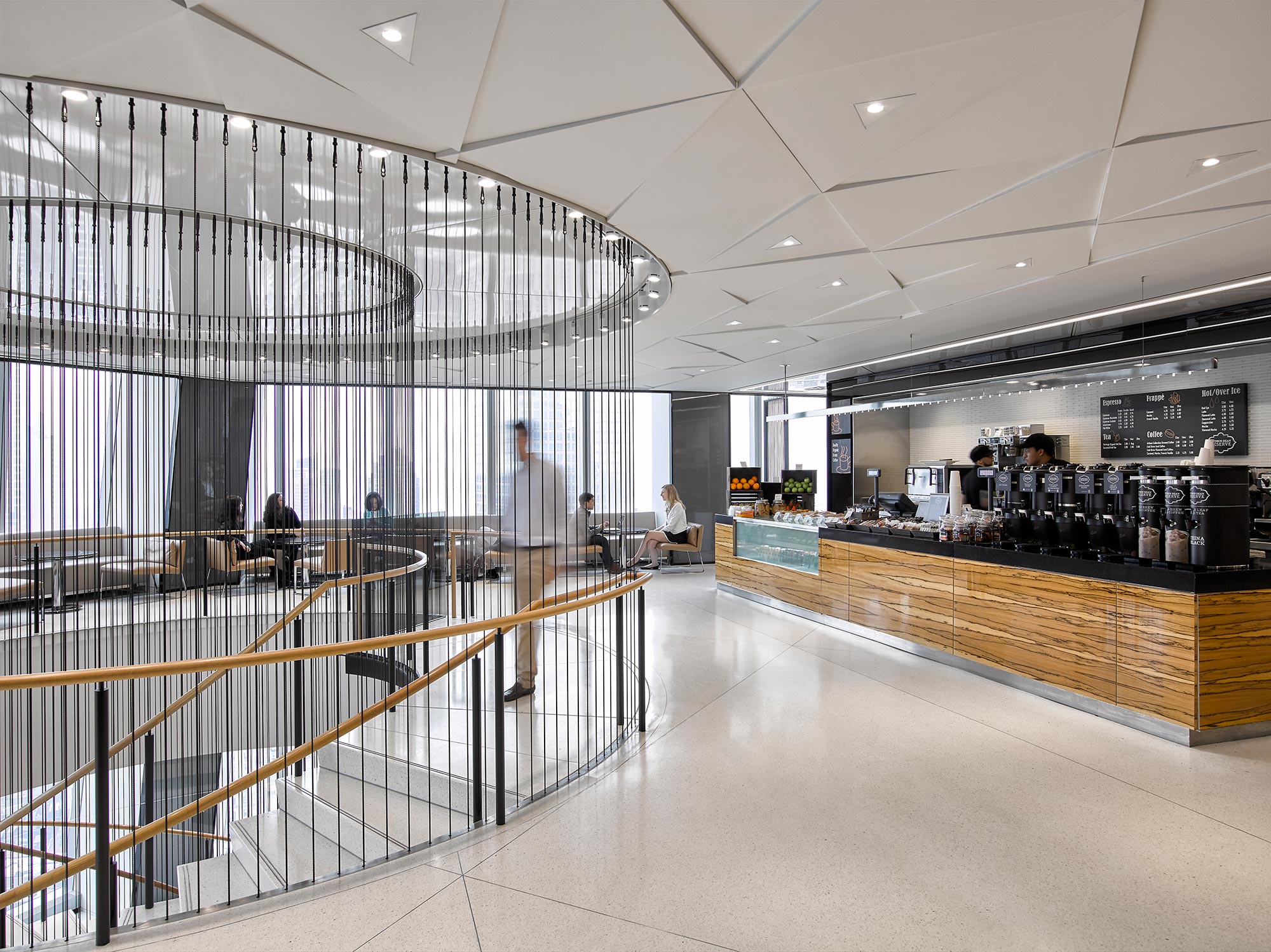 Lifestyle as a driver
A shift in the attitude toward work has big implications elsewhere in New York, where a young, affluent generation is attracted to workplaces that fit its urban, walkable lifestyle. "Where these people live is changing how they think about where they want their office," says Gensler's Thomas Vecchione. "As they choose downtown living—in SoHo, Chelsea, or Tribeca—we're seeing boutique office buildings being built around the High Line to support them. Young people want to be surrounded by lifestyle, art, and hospitality—and they want their office space nearby too."
Chelsea was also the top choice of New York locations for Mediaocean, a tech company that serves the advertising industry. Created through a merger, Mediaocean wanted a new workplace that would boost productivity and support its blended culture. Its new office is in one of New York's hottest areas for tech. Designed for about 400 employees, the space organizes open workstations around a central café and meeting space with bleacher seating. Concentrating the food, vending, and social spaces in one place encourages idea sharing and cultural mix.
Supporting fluidity
In the UK, as companies slowly pull out of the financial downturn, rising office rents are driving greater densification and utilization of space, says Gensler's Duncan Swinhoe. That's leading to some fluid work settings. Acknowledging new work styles, multinational media company UBM plc adopted a free-address environment in its new global headquarters in London with a mobility ratio of 1.4 people per desk. Modern technology engages UBM plc employees from the moment they step into the building. Their entry cards identify them and a touchscreen lets them select and activate a workstation for the day. By the time an employee gets to her desk, it's ready for her, with a flatscreen and a phone in place. She just plugs in, logs on, and she's on her way. Other parts of the office—like the servery, a staff canteen by the day that converts to a bar and dining area for after-hours receptions—help bring UBM plc's clients into the space to infuse its culture.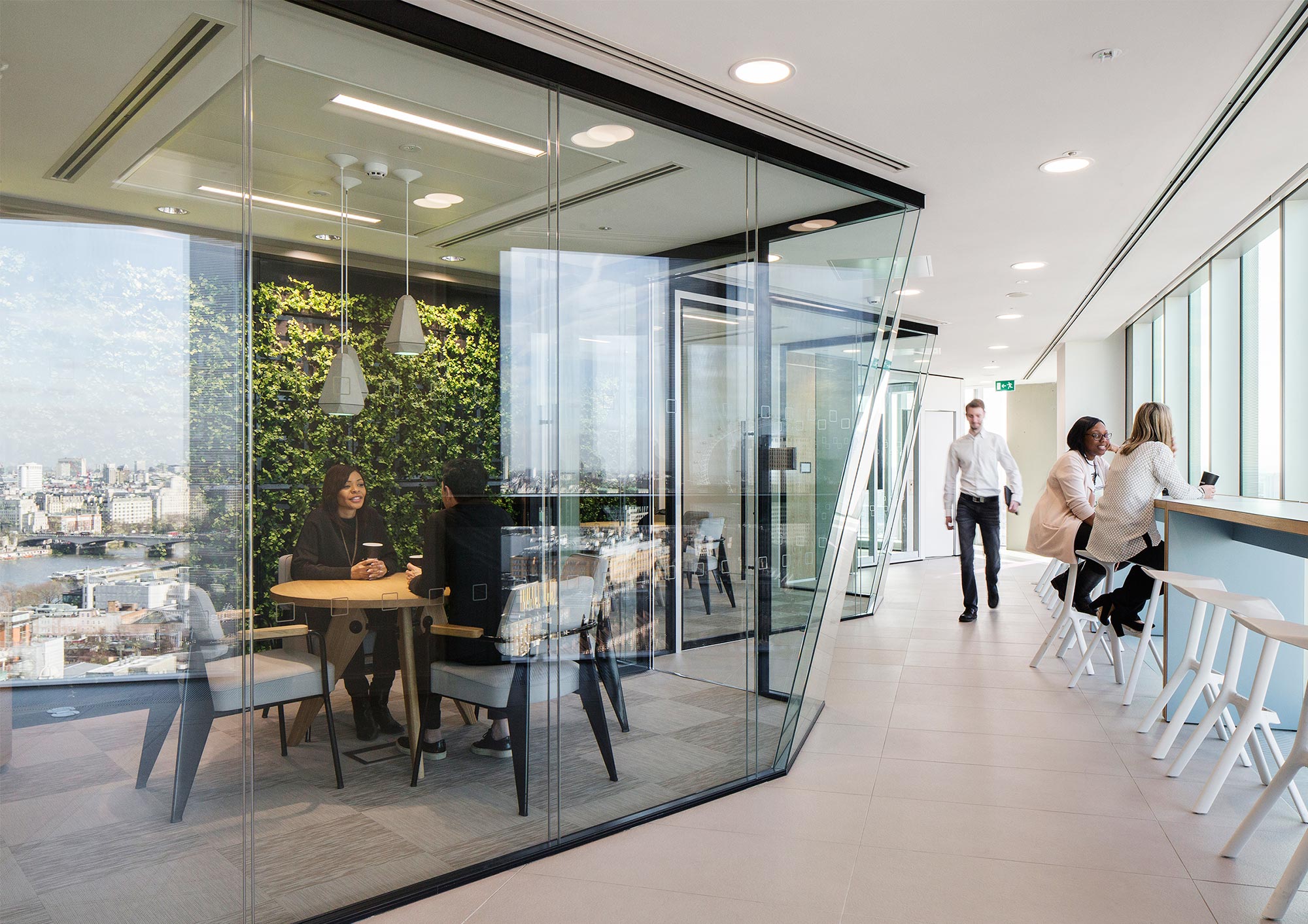 New cred for coworking
Something fundamental is also happening in the sharing economy, whose emergence is fueling the growth of coworking spaces as springboards for entrepreneurship and innovation. Gensler is working with Verizon and Grind, a coworking pioneer, to create hybrid coworking locations in different US markets. Each space caters to local expertise, says Gensler's Sonya Dufner. "The design and positioning strategy in New York is focused on the ad tech and media tech industries, while Detroit's strategy is aimed at Internet of Things experts interested in how it integrates with the auto industry," Dufner says. By placing its own people in each of these coworking locations, Verizon will also reap the benefits of local knowledge and access to talent.
Maker spaces
In the realm of consumer products companies, the workplace is shifting to embrace the fact that tangible products—rather than services—are the company's reason to be. "They live with their products," says Gensler's Todd Heiser. "They're constantly innovating to grow their brands and create new ones."
Collaboration at consumer products companies often happens in workrooms—immersive, interactive spaces where product development, marketing, and technical staff gather to work on the rollout of a product. R&D functions that formerly were located off-site now find a home in maker spaces that are more integrated with a company's other corporate functions. That enhances innovation and speed to market.
Another alternative workplace opened recently in Chicago's Merchandise Mart, where in 2012 Gensler completed 1871, a tech incubator. The project's success led investors to launch a second incubator called Matter. It's a riff on the same theme, attracting entrepreneurs in healthcare IT, medical devices, diagnostics, and pharmaceuticals. "Matter is a combination of maker space and technology space," says Heiser. "I call these things a mash-up, which is really fertile, interesting ground where we're uniquely positioned as a firm, because projects are overlapping so many disciplines now."
Becoming more agile
The constancy of change in the workplace is no less pronounced in Asia, where the drivers and challenges that companies face are much the same as elsewhere. "It's about trying to work out where technology is going to take them, as well as just trying to increase their agility," says Gensler's Caroline Burns. Asia is a focus of growth for many companies, and office real estate costs there are increasing rapidly. "Particularly in sectors like technology, banking and financial services, and now life sciences and pharmaceuticals, these companies are asking us to design workplaces in the region that will allow them to grow without taking on more real estate," Burns says.
A case in point is the recent headquarters relocation for CBRE, where four Tokyo-area locations were consolidated into one. The client's goal was to reposition its corporate culture, and the design encourages a significant shift in work styles. A variety of activity-based spaces (15 different types in all, from collaborative spaces to focus zones) are provided, while achieving an 18 percent reduction in overall usable space. The Gensler team partnered with CBRE's Workplace Strategy consulting team to roll out CBRE's global, activity-based workplace program, tuning it to the city's nuances. "For Tokyo, we designed the office to be more lifestyle-oriented," says Gensler's Daichi Amano. "It feels more like a retail or café experience."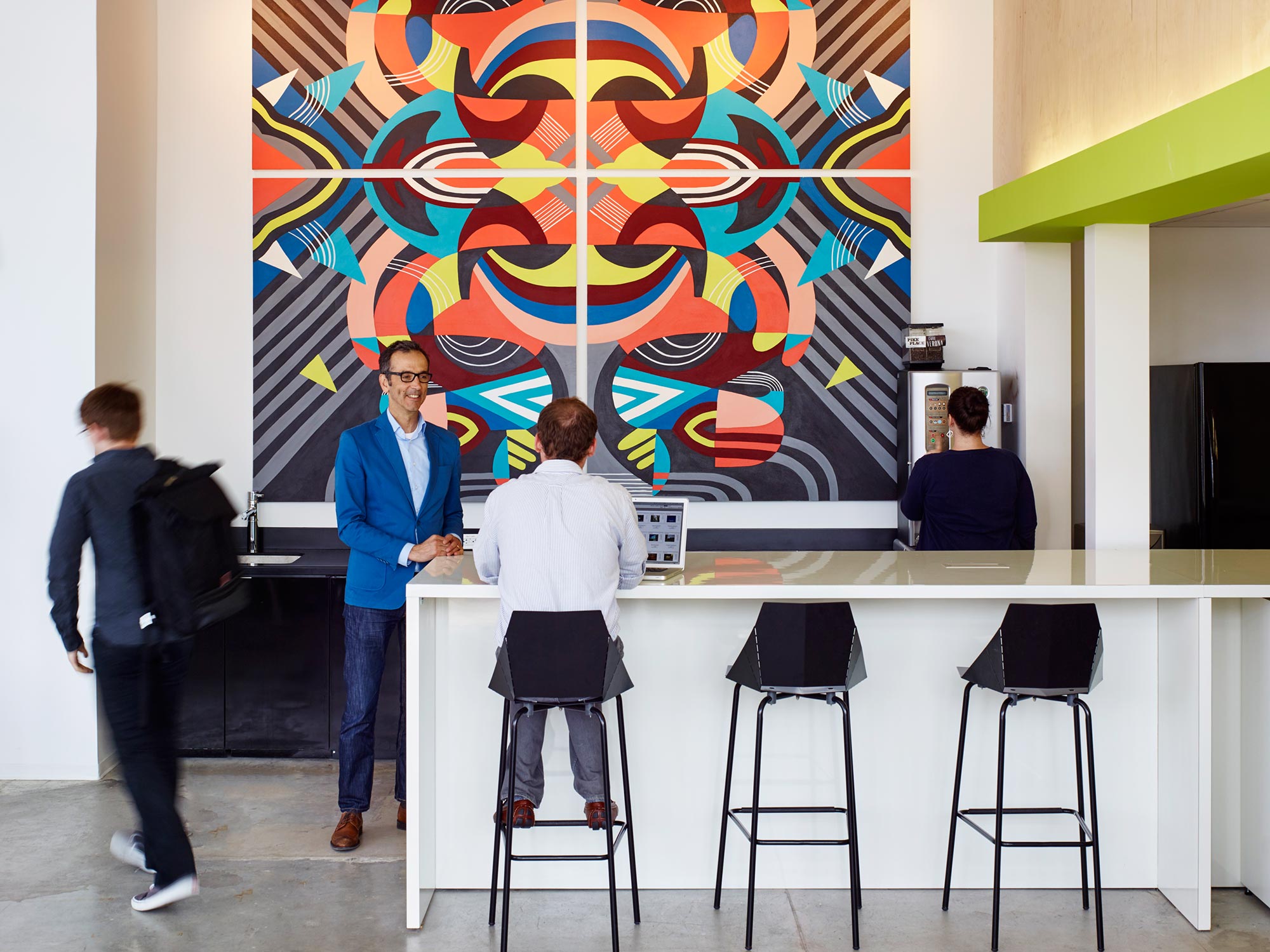 Adding local flavor
In South Korea, Gensler worked with IBM to relocate its headquarters offices in Seoul. IBM is shifting its emphasis from technology to consulting. The overriding goal for the new headquarters is cultural transformation through workplace design, explains Gensler's K Chung. Touchpoints along a carefully crafted customer journey reflect IBM's legacy as well as the latest evolution of its brand. All nine of the activity-based headquarters' office floors have only unassigned seating, she notes, in keeping with IBM's global workplace standards. For the Seoul headquarters, Chung and her team were attentive to local differences, particularly in settings for collaboration and socializing.
"Informal collaboration is hard to achieve if the idea of a meeting connotes something formal and structured," Chung says. "These areas have a layer of visual and acoustical privacy." Burns reinforces the point: "Unless you take these cultural differences into account, people will find it difficult to have open and spontaneous conversations."
Building the brand
Houston-based Southwestern Energy Company consolidated 1,000+ employees from five locations into a new headquarters consisting of two 10-story office towers. The first phase is heralded as a "brand beacon" for the company, in part through the prominent placement of its branded conference center—a 10,000-square-foot jewel box that's both a compelling element of the main entry and a highly flexible meeting space that opens out to the surrounding gardens.
Another brand beacon is Hyundai Motor America's recently completed headquarters in Orange County, California. It reflects the company's rapid growth and such core values as connectivity, transparency, and innovation. Prominently sited along a busy freeway, the new headquarters appears to float lightly above a rock-solid base. Inside, a formal arrival courtyard recalls the harmony of traditional Korean courtyard houses. The building's narrow office floor plates form a square around the courtyard, to bring daylight inside and visually connect the different work groups.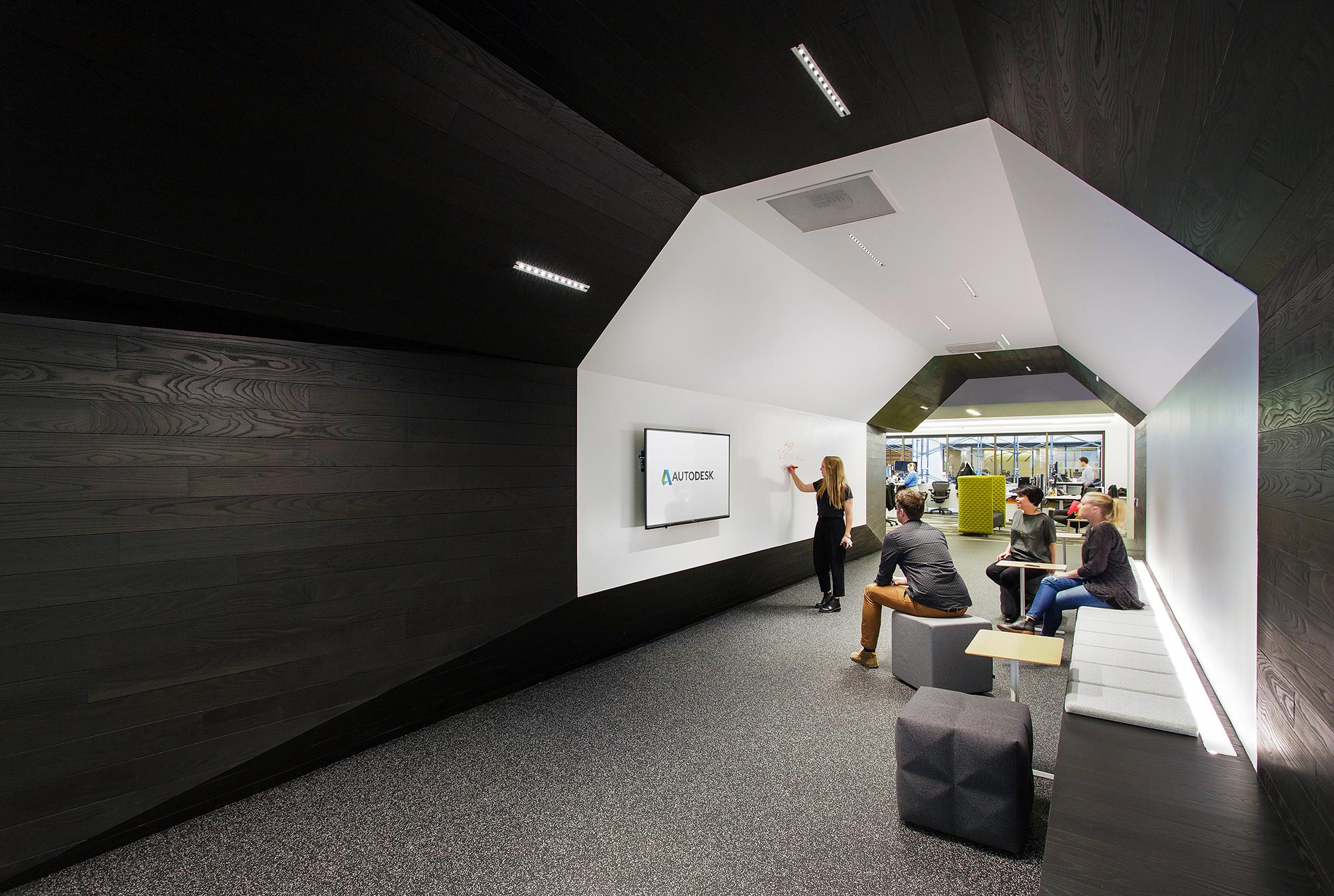 Next-gen tech
Now that other sectors are catching up with tech, of course, tech is moving ahead to a new place. "The emphasis is less about evoking the spirit of the garage," says Howder. "Now these organizations are realizing they need a broader approach—integrating social spaces into the workplace for more refinement and quality than the previous generation of raw space." More commonly, tech clients are seeking engaging places, where the workplace is seen not only as an office, but also as a town square, restaurant, or theater. There's often a health and wellness component to this too.
That's just what happened at Prosper, an online peer-to-peer lender. The goals for its first purpose-built headquarters included making a place where employees would feel a sense of ownership. "We might have used these materials in earlier tech projects, but here the finishes are more refined and it's detailed like a sailboat," says Gensler's Kelly Dubisar. With maple plywood as a feature element, the interior speaks to its investors as well as to its young workforce. There's also a strong participatory emphasis in Autodesk's new San Francisco offices. Three interior "tunnels" add productive community space. One combines technology and analog whiteboards for team brainstorming, while another provides comfy nooks for informal meetings and focus work.
What's ahead?
"Technology has pushed us to this point in workplace evolution and is likely to catapult us to the next," says Tidd. If workplace design has long been based on the notion of a person sitting at a desk, surrounded by equipment, "We're now at a point where mobility is the default work style. If we're designing places that encourage us to move, not just so we can collaborate but to keep us healthy, then the desk as we've known it may follow the PC to history's dustbin," he explains.
As companies put more emphasis on outcomes rather than processes, little is sacred. The ideal "office" is a place of empowerment—where people have wide discretion to choose the spaces, tools, and collaborators they need. How the options are provided and who does the providing are open questions, but organizations that manage to deliver them effectively will have a potent advantage. While technology will drive this, place and people will define the experience.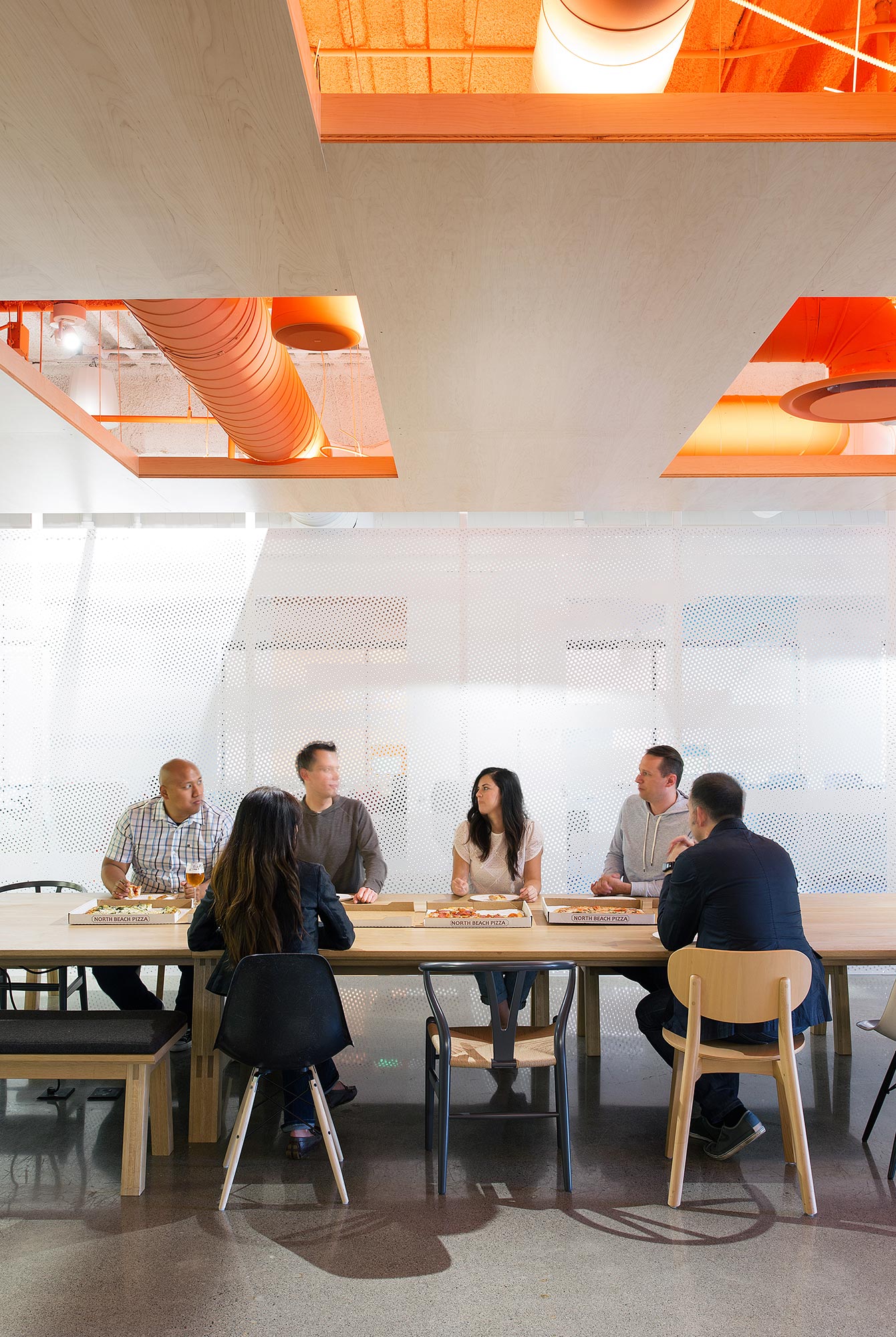 ---
Vernon Mays is a senior editor at Gensler and a contributing editor at Architect magazine.