Impact by Design: Gensler's Latest Data on Climate Impact and Our Pledge to the Future
By Diane Hoskins and Andy Cohen
Every year, as part of our commitment to the Architecture 2030 challenge, we honor our pledge to share data that documents our efforts to design carbon neutral buildings. This is the fourth annual report in our Impact by Design series on climate action.
Why Buildings Matter
As a representative of the design industry, Gensler appeared in September on a panel at the UN Climate Action Summit 2019 in New York. At the meeting, we noted that 70% of greenhouse gas emissions in the world come from the built environment—with buildings alone making up close to 40% of CO2 emissions. We stressed the idea that partnership with the architecture and design community around the issue of climate change is critical, because architects and designers create the buildings that will either be part of the solution or not.
That is why Gensler's role is so important. We are the largest architecture and design firm in the world. We are located in 50 cities, but we worked across close to 100 countries last year alone. And we designed more than 1.25 billion square feet of space. Working at that scale, we can make a lasting impact on the climate challenges that face the world.
Gensler has always been committed to sustainability. We were part of the team working with the U.S. Green Building Council on the first LEED rating program that has been so important in the U.S.—the start of a conversation that has expanded and gained momentum. Ten years ago, we signed the Architecture 2030 agreement, which aims to achieve net-zero in all new buildings by 2030. To date, Gensler is the largest contributor to this initiative among the global building sector. We are well on track to achieve the 2030 objectives, and will continue to assemble better teams and tools to get there. In 2015, we attended the COP21 conference in Paris and joined global governments and industry colleagues in signing the Paris Pledge for Action on Climate Change, which seeks to limit average global temperature rise.
The Gensler Cities Climate Challenge
Now we are raising the bar again by announcing the Gensler Cities Climate Challenge (GC3). This challenge is Gensler's public commitment that, by 2030, all our work will be net-zero greenhouse gas emissions. We can't with good conscience strive for anything less. Over the course of 10 years, converting our portfolio of buildings to net-zero emissions would offset hundreds of millions of metric tons of CO2 as the savings compound each year. This is a challenge to ourselves—and to all architects and designers around the world. It's a challenge to the entire industry. And it's a challenge for our clients and our communities to work together.
We measure and report the performance of our building portfolio on a yearly basis to chart our progress toward the goal of carbon neutral buildings. The GC3 will get us there quicker. As part of this initiative, we've already developed a strategic roadmap and a tool to empower managers to focus their sustainable design decisions on each project's energy usage. The 2030 roadmap sets targets for the annual percentage improvement needed to meet sustainability goals a decade down the road. The roadmap also establishes a front-loaded strategy to accelerate sustainability efforts in the next five years to encourage quick progress. The tool goes beyond existing open-source energy target software by integrating into Gensler's project workflows and including performance data from Gensler's portfolio.
In 2018, Gensler professionals worked on 7,244 interiors and building projects ranging from new commercial office buildings and workplace interiors to schools, retail stores, data centers, and hotels. The data we compiled from those projects is the basis for this Impact by Design report. To align with industry standards, we measured the aggregate sustainable impact of our 2018 design portfolio against the U.S. Energy Information Agency's 2003 Commercial Buildings Energy Consumption Survey (CBECS 2003) and the American Society of Heating, Refrigerating and Air-Conditioning Engineers standards (ASHRAE 90.1-2007). Following those models, we gather predicted Energy Use Intensity (EUI) or predicted Lighting Power Density (LPD) metrics in order to track performance on every project we design.
According to Gensler's 2018 data, we found that our buildings are already performing 48 percent better than baseline performance. Our 2018 portfolio is estimated to have saved 14.6 billion kWh/yr compared to baseline CBECS target performance. That is the equivalent of approximately 10.31 million metric tons of CO2 saved from being emitted into the atmosphere. To put this into perspective, our current actions are equal to preventing the burning of 11.3 billion pounds of coal or taking 2.6 coal power plants offline for a year. It's real impact.
Energy Use Intensity (EUI)
Lighting Power Density (LPD)
Energy Use Intensity (EUI)
Lighting Power Density (LPD)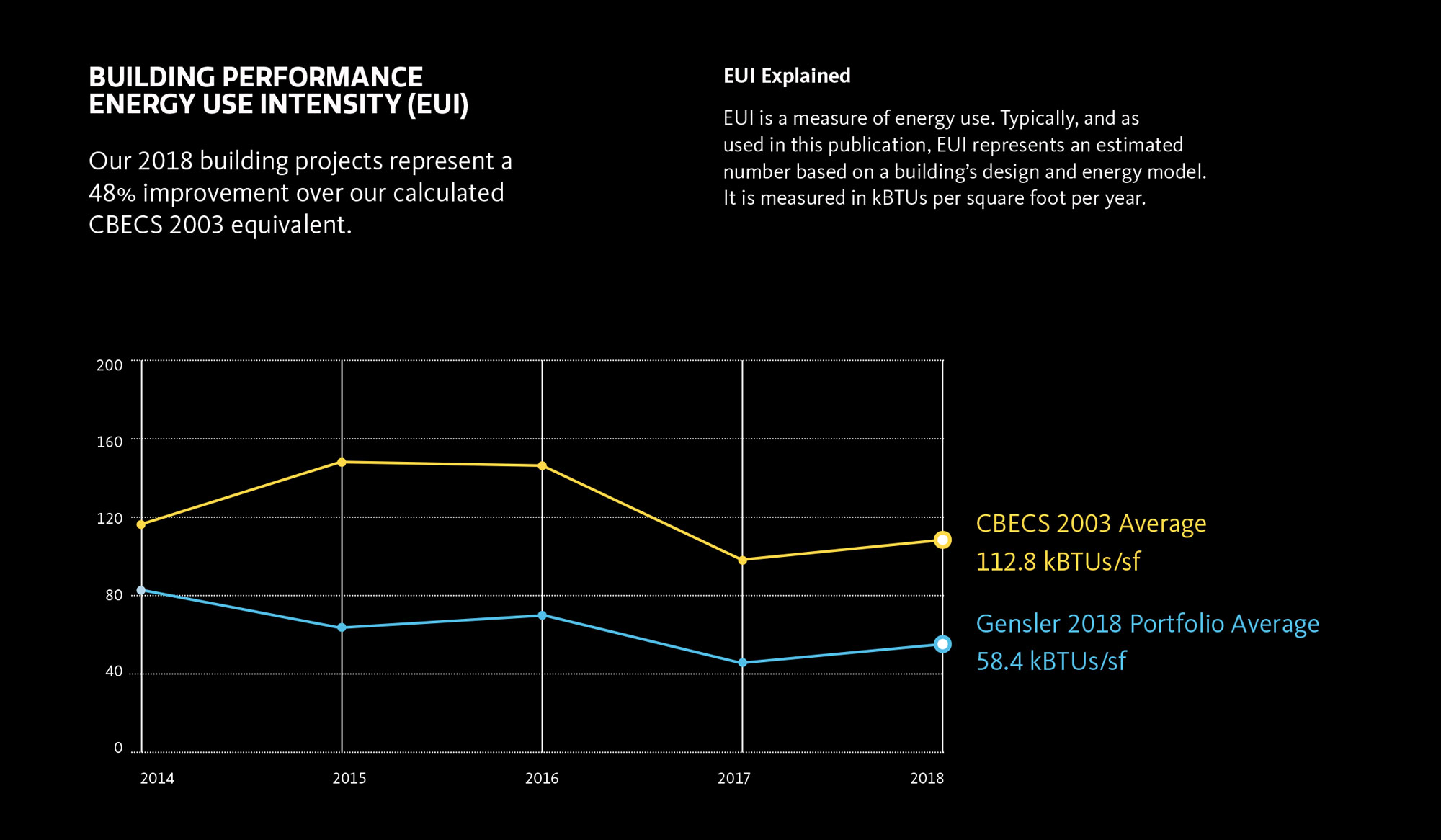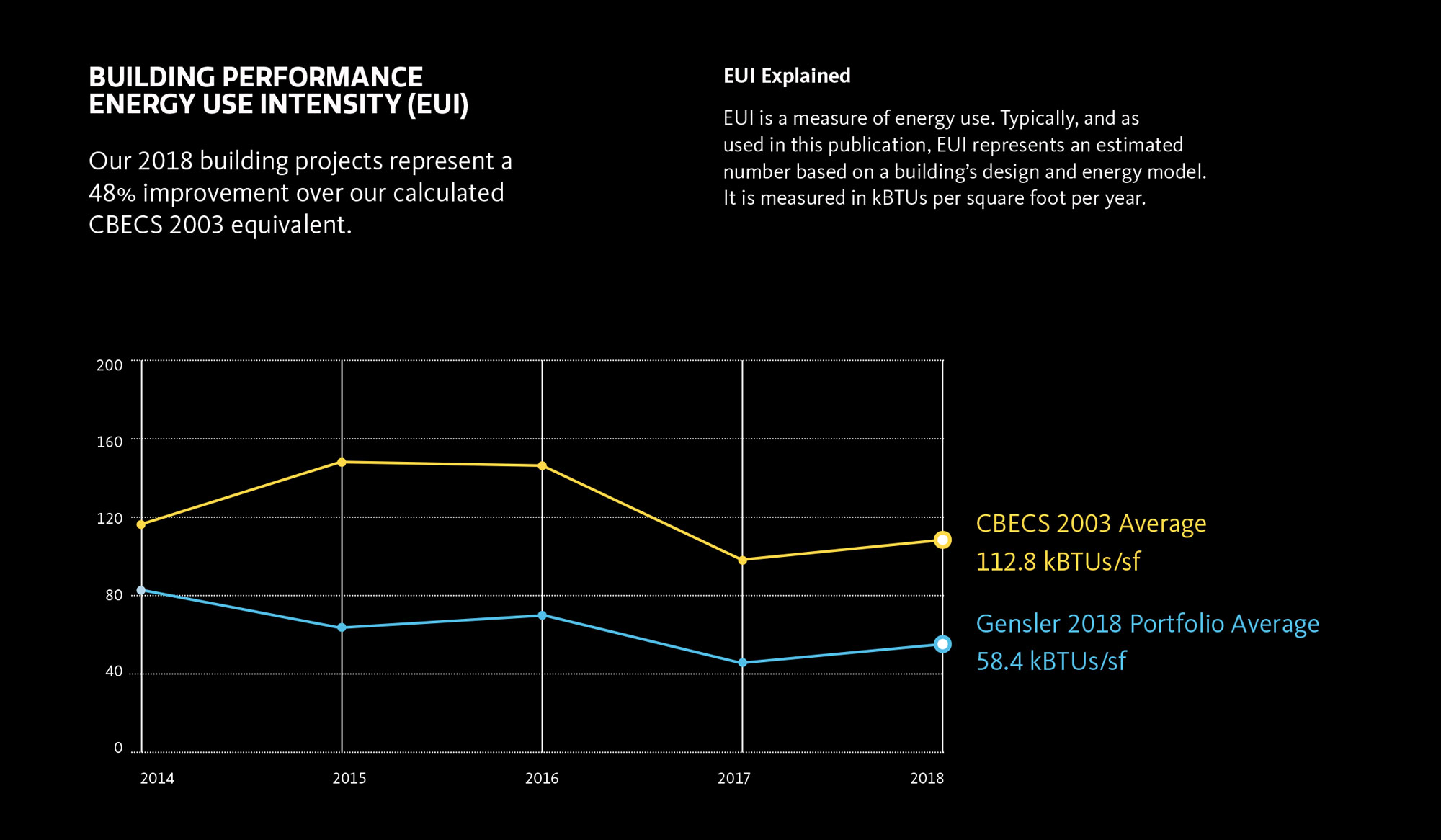 Working as Partners
When we look at how we can achieve these ambitious net-zero targets, we realize it's going to be about partnership. We need our cities and governments to set goals in their cities and then take concrete steps to achieve them. We need investment from the private sector to assist with the gap in the initial construction, because the returns on these investments take time. And we need our cities to create densified zoning to encourage green development.
We also believe it's time for the architectural community to get more serious about reporting their carbon reduction data—just like our Impact by Design report—because every building matters in the effort to reduce climate change. To get this done, we look forward to working with our amazing clients, and with our communities and governments, to achieve carbon zero impact for buildings around the world.