Windows Worth Shopping
Gensler London is partnering with Ferrari Store for the Royal Institute of British Architects (RIBA)'s 2013 Regent Street Windows Project. The project links cutting-edge architects with international fashion and retail brands to create a series of unique, eye-catching displays that attract an average of 1.25 million people per week.
RIBA asked the architects to create an installation that expresses each brand's identity with a physical intervention to engage and surprise shoppers and spectators on Regent Street, one of the world's leading shopping destinations.
Image: Ferrari Store's Regent Street storefront display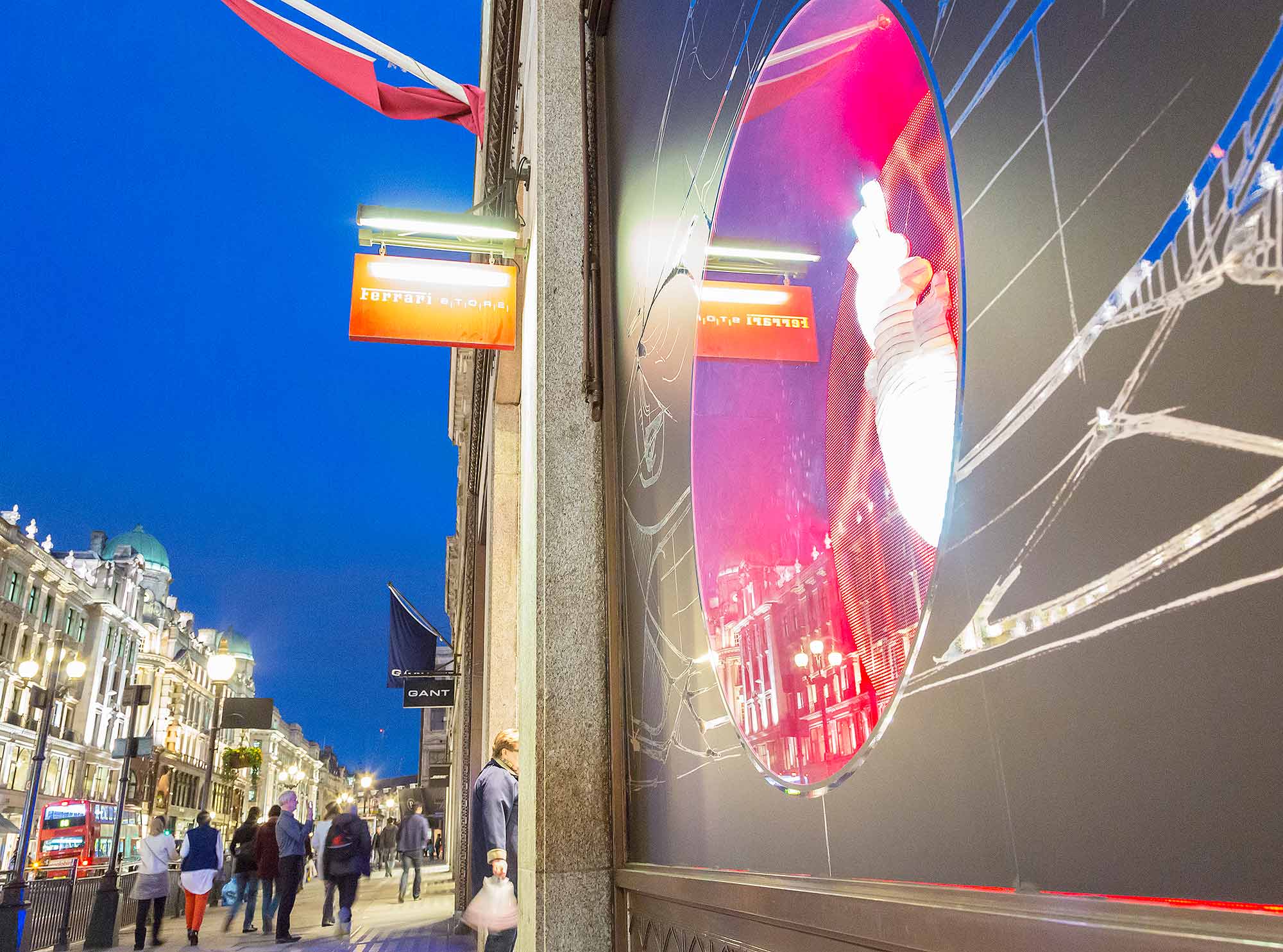 Representing the heart and brain of Ferrari
Gensler designed the Ferrari Store's windows to convey "an organic representation of the Ferrari experience." The windows show both sides of Ferrari: the GT and F1 cars, with sketches of cars and engines rendered in black and chrome on a black vinyl background.
The F1 window showcases the mind of the car—its technological prowess, modernity and innovation—illustrated via a pulsating brain, while the GT window embodies the physical and emotional manifestations of passion, tradition and heritage through the representation of a beating heart.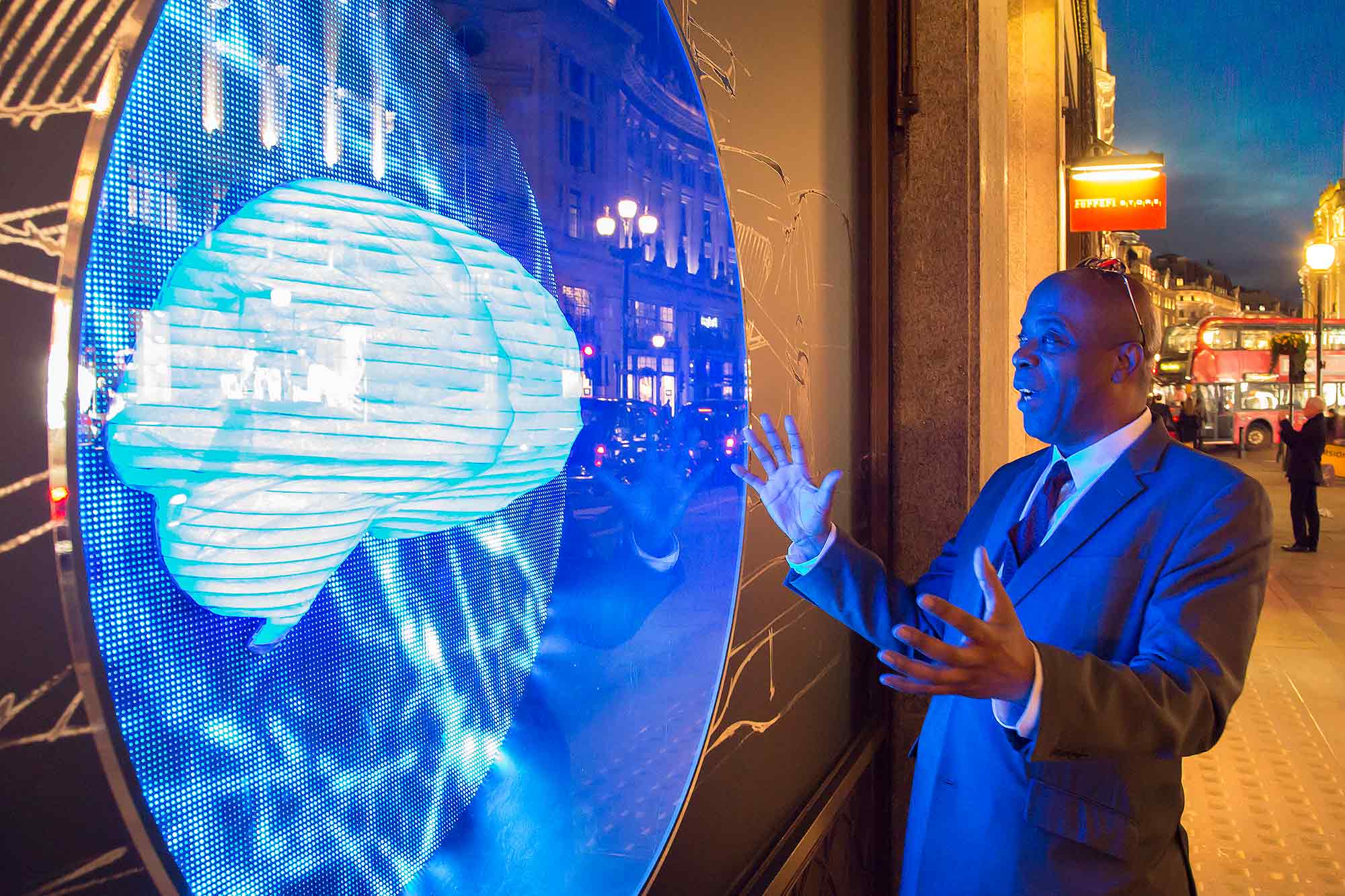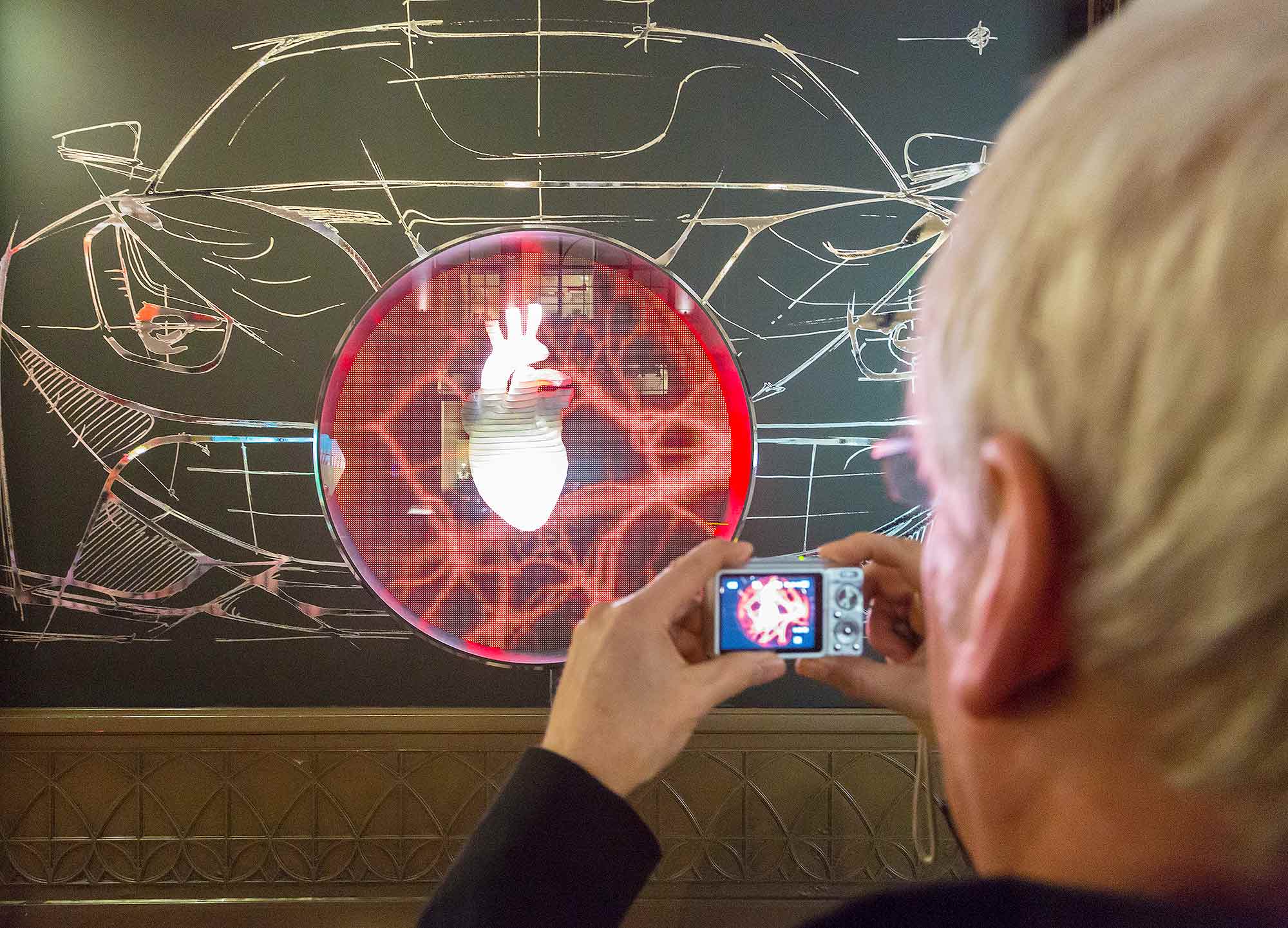 Conveying wheel appeal
"The initial brief from Ferrari was to look at the essence of what makes their brand tick," said Gensler Principal Jon Tollit in a World Architecture News video. "We were very interested in trying to find how people respond to a very iconic brand."
"Most people aspire to Ferrari as a brand but have little chance of owning one. So it's all about the emotional response. We wanted to look at elements of the passion and emotion of Ferrari. It's about the senses: sound, smell, sight – all the things you'd have with a Ferrari car, but through this installation at an emotional level."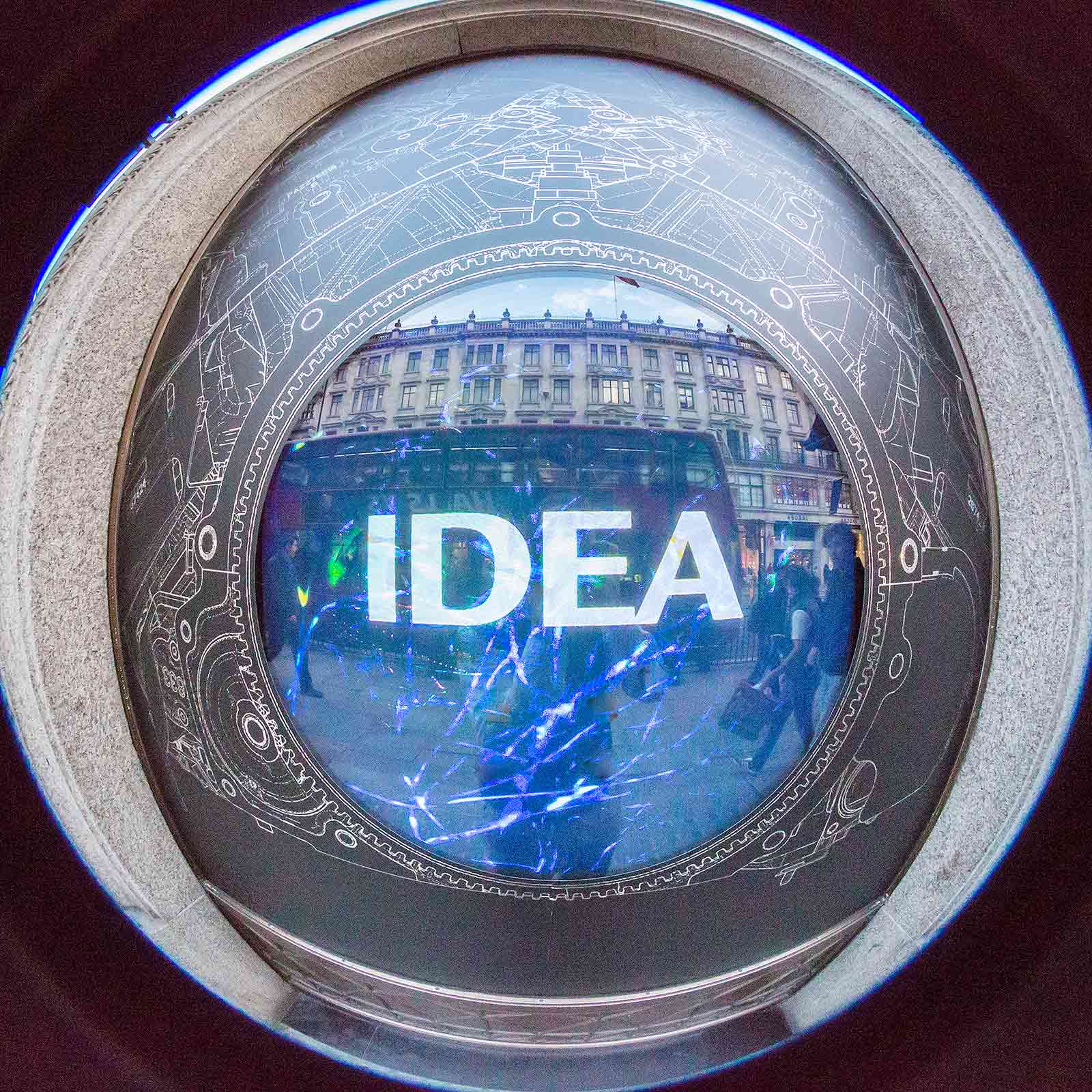 A dynamic digital experience
The installation includes a mix of 3-dimensional sculptures, dynamic multimedia and 3-D technology designed by Gensler, in partnership with Icon and George Singer.
Low-energy LEDs positioned inside the heart and brain are programmed to twinkle and pulse, expressing the movement of the thinking mind and the beating heart, while words that evoke the brand – intelligence, technology, modernity, passion, love and heritage – flash on screen to connect with viewers. The 3-D sculptures are constructed from recycled materials reflecting Ferrari's commitment to green technology and environmental issues.
Aspiring to what's in store
"Not many people actually have the opportunity of driving a Ferrari, but there's an emotional response and relationship to the brand," said Tollit in a Dezeen video. "We've built a story around that in terms of animating the feeling, the heartbeat, the synapses within the brain and the relationship that will engage with customers or the public walking outside the store."
The Gensler-designed Ferrari Store windows are on display, along with other Regent Street windows, through May 6, 2013. Other participating brands include Topshop (with NEON), Esprit (with naganJohnson), Jack Spade (with Carl Turner Architects), Karen Millen (with Mamou-Mani), Moss Bros (with AY Architects).
Credits
Story
Kendra Mayfield (Gensler Firmwide Communications)
Anna Robinson (Gensler Public Relations—London)
Image Credits
Rueben Derrick
Gensler Contacts
Jon Tollit (Gensler—London):
Ankita Dwivedi (Gensler—London):
Additional Viewing
Dezeen – "RIBA Regent Street Windows Project 2013"
World Architecture News – "Attention to retail…"