10 Considerations for Transitioning Back to Work in a Post-COVID-19 World
April 20, 2020 | By Cindy Coleman, Don Ricker, Jane Stull
The COVID-19 pandemic has presented new and incredible challenges for millions of workers around the globe. In just a matter of weeks, the workforce at large has quickly and strategically navigated the sudden shift to remote working, while maintaining the symbiotic relationship between business continuity and employee well-being.
As we look ahead, our clients across the globe are grappling with how they can plan, communicate, and transition hundreds to thousands of employees back into the office with new guidelines and policies to maintain the health of both employees and the company. They're asking: How do we start planning the transition back into the office when the time comes? What can we start doing now?
For many organizations, implementing an effective outcome starts with those on the front lines: the IT, human resources, real estate, facilities, and service teams who support teams remotely and accommodate the critical staff who still remain in the office. These teams are challenged with the logistics of planning and implementing new ways of working that balance business continuity with employee safety — now, and in the months to come.
While there is no one-size-fits-all approach, we've outlined some considerations, tools, and methodologies that we're working with clients on that may help guide other organizations who are facing these unprecedented challenges:
1. Rethink density to prioritize physical distancing.
For critical departments and workers who remain in the office or are soon heading back, we're seeing utilization of the entire, now largely vacant, workplace being used to accommodate physical distancing. While maintaining the existing layout of desks and furniture, seating can be assigned to accommodate the latest recommendations for safe physical distancing.
Using generative algorithms, Gensler has developed a physical distancing tool, ReRun™ — a data-driven process for post-COVID workplace occupancy planning. Using the existing layout of a workplace, ReRun can quickly generate many scenarios and identify the most optimized plan for a variety of physical distancing conditions, whether an organization has hundreds or thousands of seats.
As workplaces begin to phase in more employees, ReRun can continue to generate scenarios that increase in density to help inform organizational return planning strategies.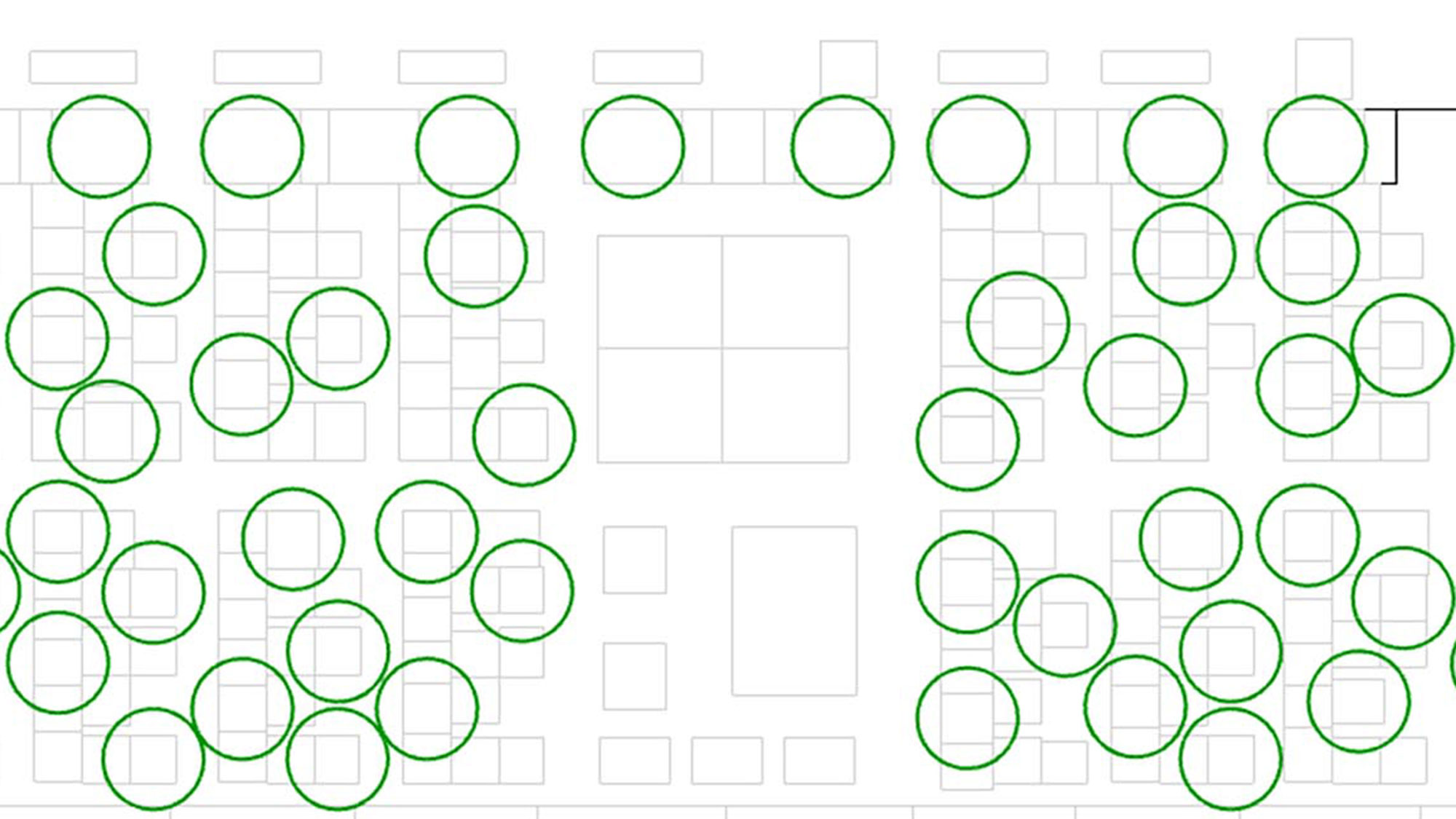 2. Plan phased scenarios for returning to work.
With limited seating available and essential workers identified, organizations can plan for phased reentry to the office based on role criteria. The time frame between each group phasing back in may be based on need and the continued health of employees.
We're seeing organizations with hundreds or thousands of seats challenged with the logistics of planning a phased model. With scenario planning in our space management software, Wisp®, we're helping clients visualize and communicate to their teams which seats are available for occupancy at a floor, neighborhood, or departmental level. This high-level approach of color coding a floor plan can be quickly implemented across a portfolio for immediate physical distancing planning and future scenarios.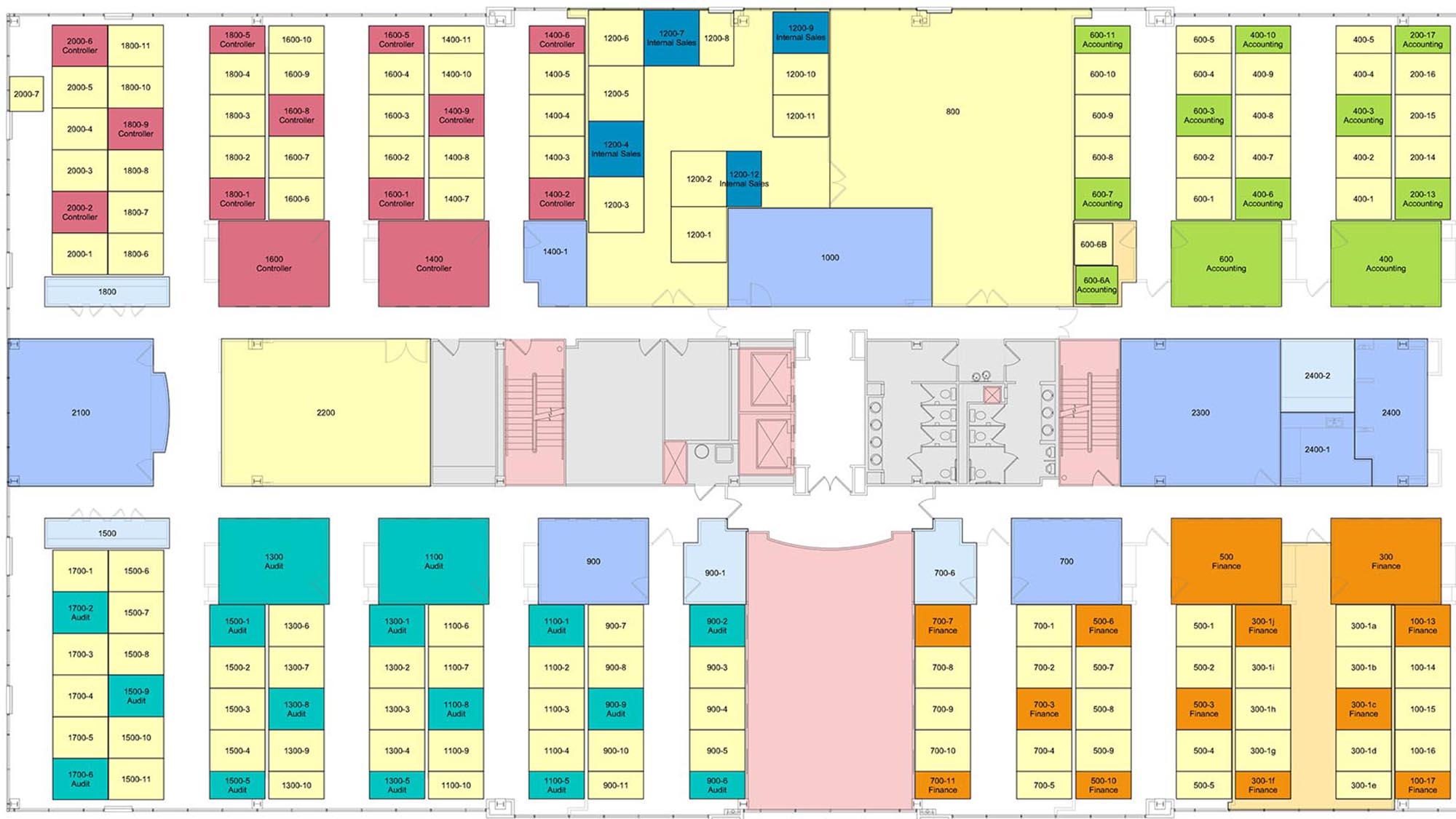 3. Identify essential workers.
While many office workers have transitioned to working from home, some individuals cannot work remotely due to the nature of their role or for security reasons. Some of these individuals may still be going to the office or will be some of the first staff to phase back in. HR data is being used to help identify which workers are critical to remain in the office so that accommodations can be made.
It's not too soon to engage departments on identifying and prioritizing their essential staff. Departmental space needs for staff in the office can then be weighted against other factors, such as HR data. Ultimately, all of this information can be applied towards a phased plan for reentering the office.
4. Reconfigure flex spaces.
While using every other desk may cut your capacity in half or more, activating conference rooms, focus rooms, learning labs, and break out spaces as dedicated seating areas can increase the headcount of staff in the office while maintaining physical distancing. As workers return to the office, these spaces will again be used to enhance collaboration in a safe way. Clearly identifying which seats respect physical distancing and removing excess seating will help users follow guidelines.
5. Reconsider the use of free address seating areas.
Free address workplaces typically operate on a first come-first serve basis and offer fewer desks than people. The immediate concern with this type of workplace is cleanliness and cross-contamination from multiple people sharing desks. These spaces may need to be used differently until the COVID-19 threat is over.
To reduce spread of germs, plans to phase employees back into these environments may involve dedicating seats to individuals for a set period of time. If alternating the occupants assigned to each desk on different days or weeks, clearly communicating the plan with cleaning services will be paramount for instilling confidence in staff that desks have been sanitized.
6. Track who sits where.
With essential employees spread out across the office and temporarily sitting at a desk previously assigned to someone else, clear communication regarding the expected seat assignments can add transparency and clarity to all parties. Indicating the respective desks, break rooms, and bathrooms to be used can also help facilities teams prioritize cleaning plans for spaces being used.
Knowing where employees are assigned and their likely circulation paths throughout the day can support a focused cleaning response if an employee does exhibit symptoms, and also indicate other employees assigned to the same vicinity. Using Wisp, our clients are putting names to seats to clearly communicate which desks are assigned to each individual now and for future states as more employees return to the office.
7. Introduce shift work.
This approach allows for more individuals to use the workplace on a shift basis. With clearly assigned desks, physical distancing can be maintained for those on the same shift, while making the office accessible to a larger number of employees over time. It also allows for facilities to plan their cleaning schedule. Shifts may take place over daily or weekly timeframes, depending on the needs and goals of each organization.
8. Designate isolation rooms.
In the event an employee begins exhibiting symptoms — whether in building lobbies, common areas, or tenant spaces — organizations will need the ability to isolate anyone who is or becomes symptomatic while at work. Designating and communicating spaces so that every manager and employee knows their location and purpose is necessary for ensuring workers' well-being.
An isolation space can be any type of enclosed room. Considerations should be taken for special cleaning protocols in these spaces, ideally with special ventilation or negative air pressure to further reduce exposure to others in the area.
9. Plan and communicate cleaning regimens.
With cleanliness top of mind for individuals returning to work, organizations need to plan, communicate, and enforce cleaning regimens to both support services and employees. Identifying which spaces are assigned to employees, and when, will help cleaning services prioritize their work.
The Gensler Consulting team is working with clients to designate occupancy zones and track what areas have been cleaned through data layers in Wisp. Adding physical indicators, such as printed cleaning schedules, to desks and spaces can strengthen confidence that the spaces have been attended to.
10. Screen for admittance to the office.
To mitigate the chance of bringing COVID-19 to the office, companies are implementing mandatory screening protocols for all employees every day before they enter the office. Screening questions range from travel-related questions to health symptoms. The results of the screen will indicate whether the individual should enter the workplace or remain home on each day.
As we proceed into the months ahead, and plans commence for the return to the office, we hope these considerations can support the balance of business continuity and the safety of workers everywhere.
We believe every organization should have the tools needed to plan for safety and success during these uncertain times, and we want to help.
For any media inquiries, please email .