Our global team is reimagining the future of cities as unprecedented challenges drive us towards a critical — yet hopeful — time of transformation. Our purpose, to Create a Better World Through the Power of Design, comes to life across our 28 practice areas, client relationships, global network of leaders, and diversity of talent.
At Gensler, we are one community, united by our commitment to holistically improve the human experience. Guided by determined optimism, we can use the power of design to spark positive change and create a future that promotes equity, resilience, and wellbeing for everyone.
DOWNLOAD OUR ANNUAL REPORT (PDF)
Our people and our culture allow us to shape the future
Led by our
Guiding Principles
, we are one global community with a culture that has never been stronger and a purpose that has never been clearer. Now more than ever, we have the opportunity to reimagine the future of cities and create an equitable future for everyone. Guided by our
5 Strategies to Fight Racism
, we are committed to creating places that strengthen neighborhood ties, improve local economies, enhance health and well-being, and make everyone feel safe and welcomed.



We cultivate
design excellence
In a time of transformation, design can play a unique and profound role, and we continue to cultivate a culture of design innovation to promote diverse thinking. To meet new expectations, we are pushing the boundaries of architecture, design, and technology by integrating physical and digital design to create fresh, connected experiences. We're also unlocking data-driven insights and new design tools and discovering hybrid ways to collaborate and unleash innovative design solutions.


Research and thought leadership can help guide us through a changing world
Through a combination of research grants and proprietary, longitudinal research studies, the
Gensler Research Institute
explores the intersection of design, business, and the human experience. Our researchers seek insights that can inform our designers and clients to help drive their businesses forward. Our tailored webinars and virtual roundtables, unmatched
thought leadership
, in-depth publications and survey reports, and timely newsletters provide clients with the latest in design thinking and real-time strategies.


We're making a difference through community impact
Through our work with the next generation of students, designing for health and wellness, supporting and creating solutions for housing and homelessness, and preserving the environment, we're partnering with organizations to support underserved people and make our cities more equitable and safe. From fabricating face shields and masks for health care workers, to reimagining boarded storefronts to spread positive messages, our volunteers are doubling down on our
community impact
efforts in the face of new global challenges.




We are taking action to promote a resilient future
As the world's largest design firm, Gensler has a unique obligation and opportunity to focus on sustainability in the built environment. The
Gensler Cities Climate Challenge
(GC3), which was announced at the U.N. Climate Action Summit 2019, challenges the architecture and design industry to join us in pledging to eliminate all greenhouse gases associated with the built environment. To promote transparency, we release
Impact by Design
, an annual report that assesses the performance and resilience of our portfolio – our 2020 report shows we are on track to eliminate all net emissions associated with our work by 2030.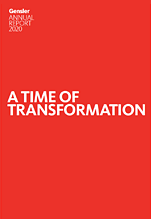 ANNUAL
REPORT
2020
A TIME OF
TRANSFORMATION
Our 2020 Annual Report captures the essence of our unique one-firm firm culture that is rooted in our global reach, diverse talent, breadth of expertise, and unwavering focus on the human experience. As the pandemic, social unrest, climate change, and the global economic reset transform the world, we are inspired by the opportunity to positively reimagine the future of cities to create more inclusive and resilient spaces that support the health and well-being of everyone.