Above: Petco Park, San Diego, California. Photo by Spenser Harrison.
For more than a generation, Major League Baseball has lagged behind other leagues in terms of overall popularity, especially for young fans. This year, however, popularity for the Grand Old Game has been increasing. Important rule changes, from the introduction of a pitch clock to an increase in base size, have already had a major impact.
Early results show that games have been shortened by close to half an hour, and batting averages across the league are 16 points higher; stolen bases are up by 40%, as are runs per game. Fan attendance is up, with more than 77% in approval of the rule changes.
Shorter games mean that fans have more time to spend outside the ballpark pre- and post-game. Bars and clubs near Wrigley Field in Chicago and Fenway Park in Boston, with their walkable streets, human scale, and direct connectivity to the ballpark, have proven to do especially well; numerous reports suggest a significant boost in revenue near these venues.
Some more modern parks have taken lessons from these classic ballpark districts, better integrating themselves into the surrounding city street grid, supporting active mobility, and widening allowable uses nearby in the interest of serving two user groups — both the gameday fan and day-to-day resident. As the future of downtowns continues to evolve, and as the game of baseball continues to grow, what lessons can we learn to improve ballparks and cities in the process?
5 Ideas to Improve Modern Ballparks and Cities
People who work with baseball clubs have started to note that these rules changes present an opportunity to rethink how ballparks function in the city. I chatted with two Gensler leaders who think about ballparks and their impact on cities: Sofia Song, global leader of Cities research at Gensler's Research Institute, and Jonathan Emmett, a global leader of Gensler's Sports practice. Here are five ideas that we discussed about how ballparks and urban districts could improve:
1. Let the City In: "You first have to understand the new type of fan who is coming to games," says Emmett. "Many did not grow up playing baseball and see it as entertainment as much as a game. The secondary ticket market has made it so much easier to buy tickets on a whim, and as a result, there are very few of the same people at consecutive games. That makes a baseball game a very different experience than even 20 years ago, in that a variety of people focus on the game as an event; a social occasion. The diminishing number of devoted fans of the game changes what ballparks and the districts around them need to provide.
"Examples like Petco Park in San Diego and Coors Field in Denver are successful in that they open the ballpark up and let the city in with casual seating, play areas, and food and beverage options that spill right out to the adjacent streets and sidewalks."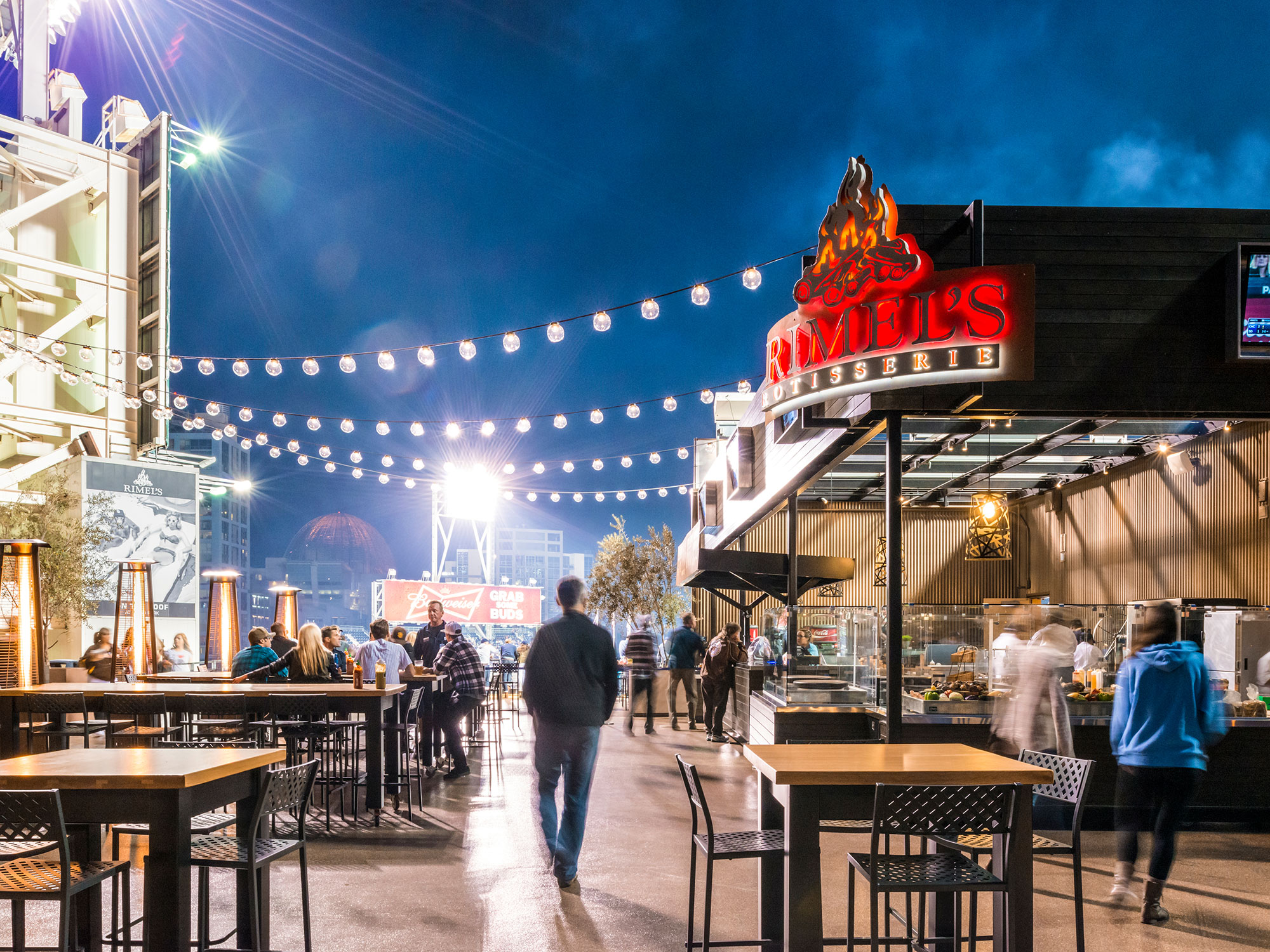 2. Amenitize the Ballpark's Exterior: "Most ballparks still tend to be too isolated from the city in their lack of human scale and active uses along the street," says Song. "I would look at arena districts like The Hub on Causeway in Boston; the arena is almost completely integrated into a larger mixed-use block, seamlessly connected to public transit, retail, food and beverage, with public spaces leading to adjacent walking streets.
"This integrated, 'shared experience' approach allows a diversity of people to come together in exciting and unexpected ways; commuters mingling with sports fans, daytime workforce among local residents, and the like. This mixing opens up a lot more opportunities for event programming and puts the ballpark on equal footing with the rest of the city, making it less 'precious' and more interesting as an anchor use."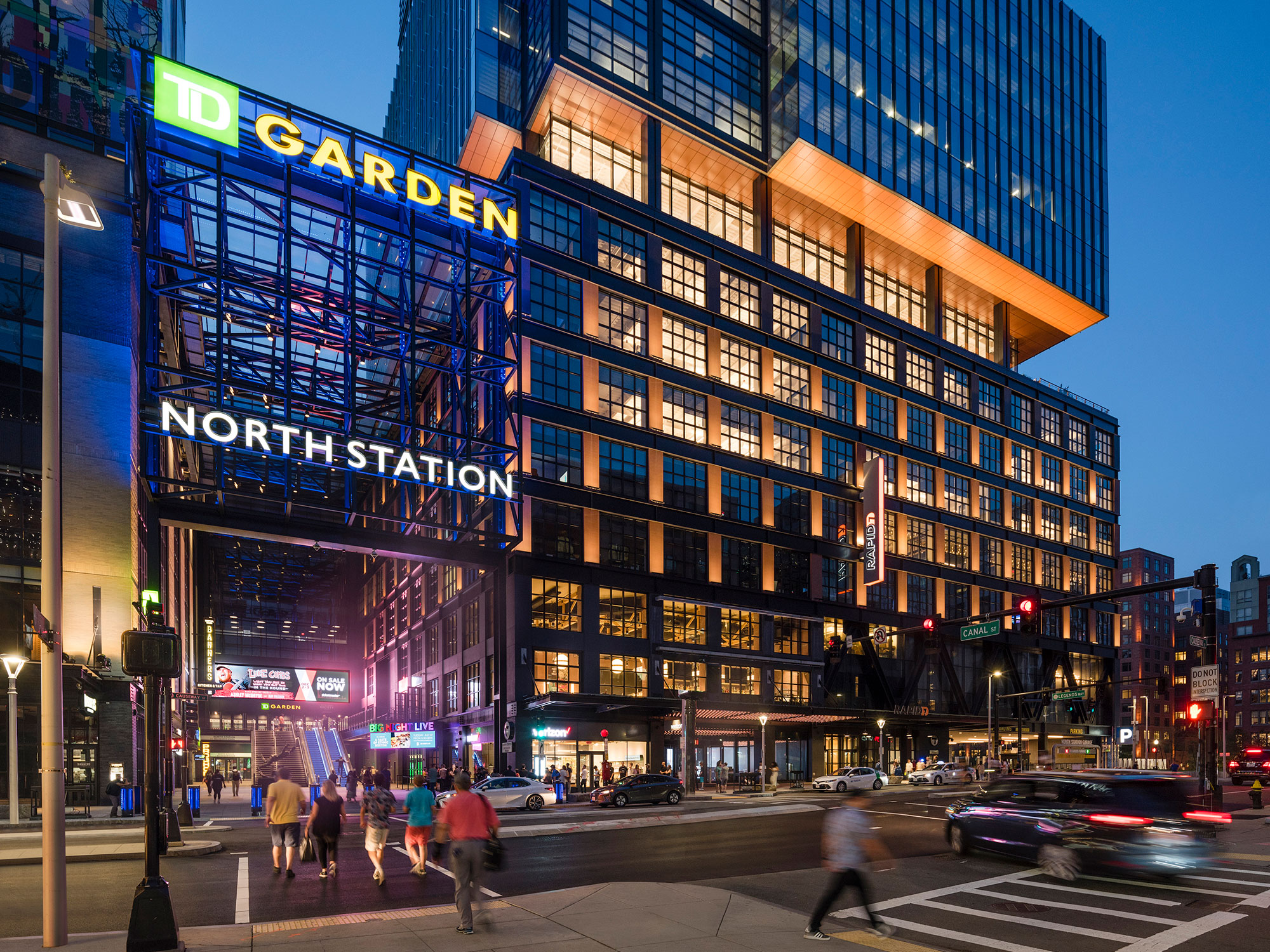 3. Engage Casual Fans: Many ballparks have already done a fantastic job of capturing the iconic view from behind home plate with the city skyline as a backdrop. But a new trend is to engage the casual fan with adjacent venues where the game is not necessarily the primary focus. "We learned about this when we designed the Milwaukee Bucks Entertainment District," says Emmett. "For the NBA finals several years ago, there were as many people watching the game in the plaza as in the arena, and the pre- and post-game experience was what locals seemed to enjoy the most, because it was a shared experience."
Ballpark villages are starting to have adjacent venues that offer an entertaining alternative to watching the game inside the ballpark, most notably Clark Avenue in St. Louis, Missouri; along Clark Street and Waveland Avenue at Wrigley Field in Chicago; the Gaslamp District near Petco Park in San Diego; and numerous other examples.
Hotels, bars, restaurants, and rooftop seating terraces engage the casual fan, who might not be interested in being inside the ballpark but is interested in baseball as a social phenomenon. As ballparks continue to get smaller in terms of seating capacity, a way for them to 'flex' for larger events would be to offer more rooftop terraces and plazas that provide a unique view of the game, while emphasizing the social part of being a fan.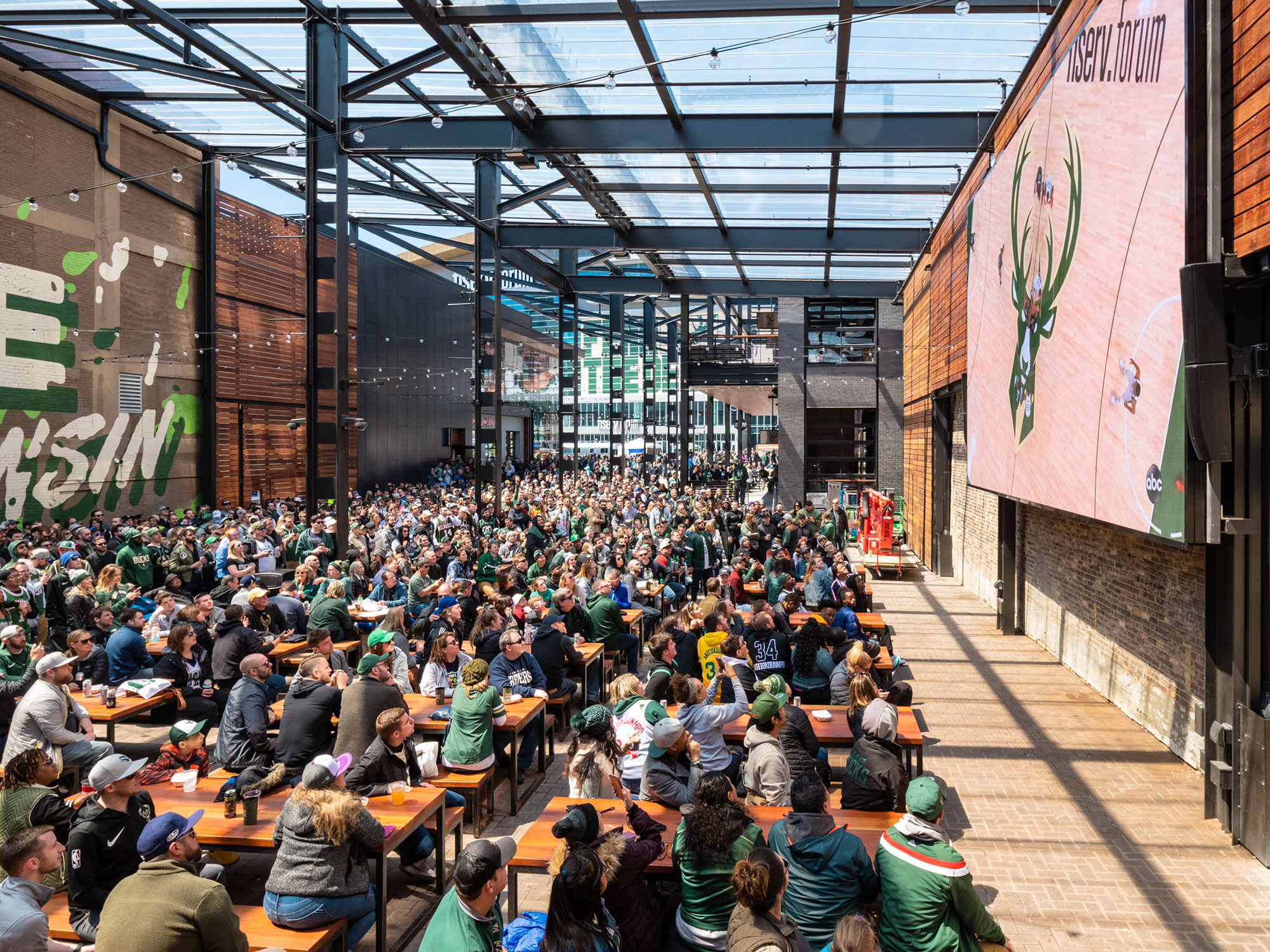 4. Leverage Stars: "The modern fan is interested in players as much as teams," says Song. "MLB is so tradition-bound, marketing teams, not necessarily players, but there are so many great athletes that could be compelling to the casual fan. I think they should really promote their superstars… players like Shohei Otani are international stars. He has as much appeal as any other professional athlete, and if marketed correctly, could really tap into a cultural appreciation of MLB."
Toward promoting local culture, metropolitan areas could leverage local stars to a much greater degree as ambassadors. We have seen this already with NFL and NBA stars who carry a civic responsibility (and see a business opportunity).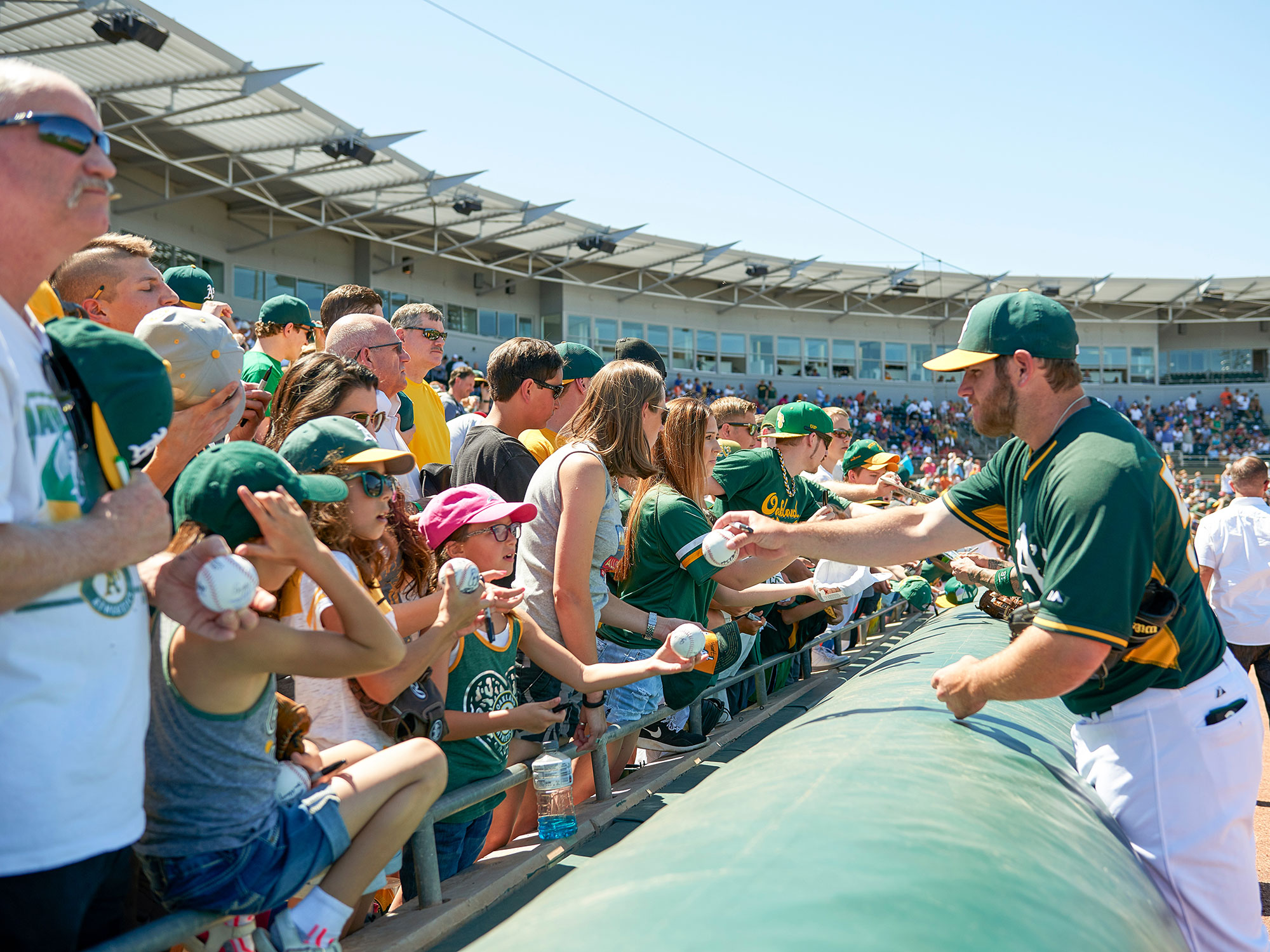 5. Promote Special Events: Some leagues have done a good job of extending their brand to special events related to the strategy of running a franchise, like the week-long NFL draft, which takes place in a different city every year. Baseball could promote its own brand similarly, with packages for visiting fans coming for a three-game series, video game launches, the Draft, the All-Star Game, and more.
Cities are getting inventive about promoting their sports legacy to promote the region as a location for global sports events. The local baseball team, if it has a proud tradition, can become an anchor attraction for sports tourism. Tournaments like the Final Four and World Cup are great at providing a platform for local businesses and attractions. Multifunction plazas that are forecourts to ballpark entries can become community 'living rooms' with adjoining experiences such as team stores, Halls of Fame, watch parties, and the like, providing other brand building and revenue opportunities.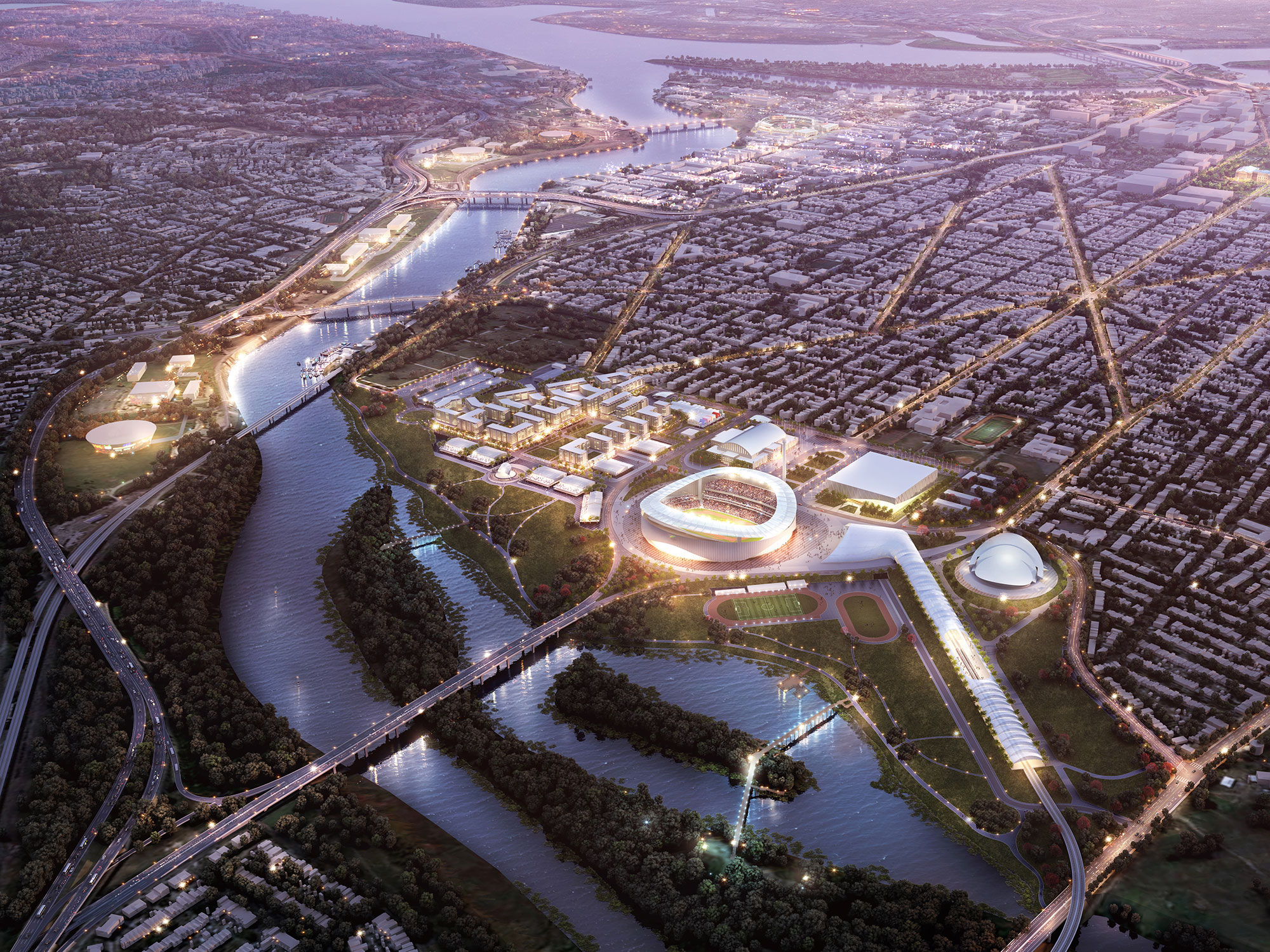 In breaking a few traditions, Major League Baseball has successfully attracted more fans and regained relevance to a wider, younger, and more casual audience, opening up new opportunities for downtowns to innovate and change. Cities should take this moment to work closely with their local baseball clubs to further augment the ballpark experience, increase interest in downtown, and encourage investment.
For media inquiries, email .