Beyond Books, Libraries Are Vital Community Hubs
June 21, 2023 | By Brian Nicodemus
Municipal libraries make a significant impact on the communities they serve. By making books, magazines, online databases, and educational materials readily available to everyone in the community, libraries offer a diverse range of knowledge and learning opportunities and promote literacy and lifelong learning, empowering individuals to grow and develop. But beyond their traditional role as information providers, municipal libraries function as vital hubs for their local communities.
According to the American Library Association (ALA), there are more American public libraries than Starbucks (more than 17,000). These libraries serve as community hubs that support and empower local community members' social, political, and personal well-being. A study conducted by the Pew Research Center found that eight in 10 U.S. adults feel that public libraries help them find trustworthy and reliable information, and 76% say libraries help them learn new things. Libraries serve as refuges, providing safe shelter from opening to closing hours for vulnerable populations such as children and those facing housing insecurities. They also preserve and house historical records available to the public.
The pandemic's disruption created new momentum for libraries to evolve. As today's libraries transform from being solely places for books to taking on new roles in society, they are becoming multi-use destinations, allowing users to reclaim new and unique experiences. As architects, we are evolving with the "new" library model and taking what we have learned to reimagine the future library.
More than books
The unique position that municipal libraries hold as critical social infrastructure in their local communities allows them to support those who may lack access to necessary resources. Libraries can bridge the digital divide through computers and internet access and provide guidance and resources for those who need help with job searching, benefit applications, or accessing healthcare services.
Moreover, municipal libraries can advocate for their communities on a broader scale. By offering meeting spaces for community groups and organizations, libraries enable the public to meet, discuss issues, and collectively find solutions to problems that affect the community. Additionally, libraries can host events and workshops that promote civic engagement and social justice, fostering a more informed and involved citizenry.
In partnering with leadership of the Frisco Public Library in Frisco, Texas, many core ideas served as the foundation for our programming and planning. These core ideas, in their essence, were focused on bringing people together. It didn't matter if a noisy activity was programmed immediately adjacent to a quiet space. What mattered most was that guests were surrounded by motion and interest, and that created intrigue to bring them back to investigate the library beyond returning books every two weeks.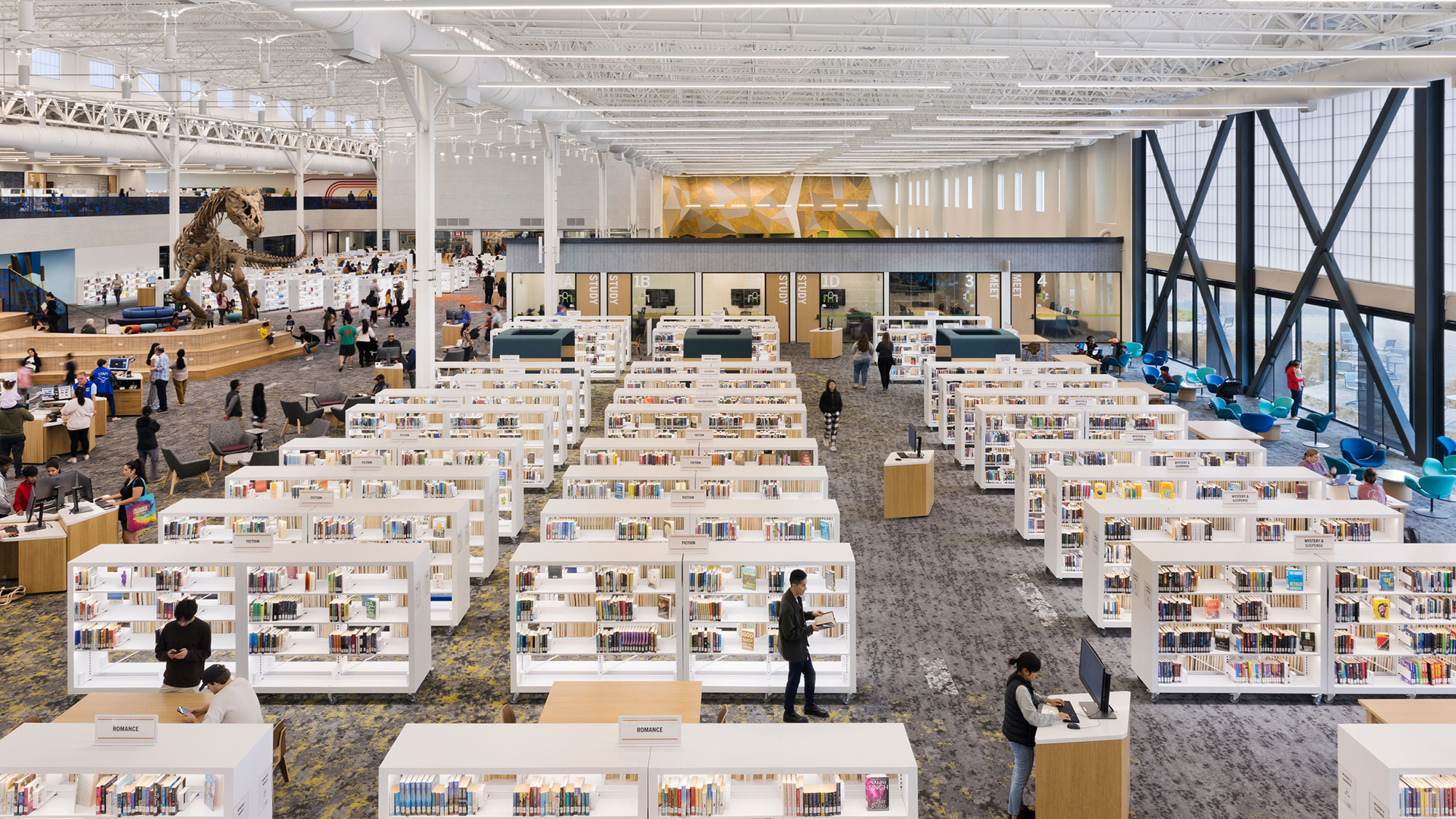 In addition to their advocacy role, municipal libraries can also prioritize the physical well-being of their communities. Libraries can be purposefully designed with features such as natural lighting, green spaces, and comfortable seating to create an environment that encourages relaxation and reduces stress. Moreover, libraries can offer access to resources and programs that promote physical health and wellness, such as yoga classes or cooking workshops.
For example, the community in Upper Providence Township, Pennsylvania incorporated a teaching kitchen next to a public café in the entry foyer. The idea of literally breaking down walls to foster connection, sometimes accidentally, was poetic to leadership, who envisioned a flurry of activities within a central core of connectivity focused on their community's well-being.
Municipal libraries are uniquely positioned to have a positive impact on the communities they serve. By offering access to information and resources, advocating for community members, promoting civic engagement and social justice, and prioritizing physical wellness, libraries become vital hubs of support for their communities.
Architects have a responsibility to design spaces that meet the functional needs of their clients while also contributing to the welfare and vitality of communities. Municipal libraries exemplify how design can be used to create spaces that truly make a difference in people's lives, and their role in building strong, healthy, and vibrant communities should be highly valued.
For media inquiries, email .