Navigating the Circular Economy: How Reusing Materials Saves Costs and Lowers Embodied Carbon
November 03, 2021 | By Marcus Hopper
Today, the harvesting, manufacture, and transportation of the raw materials used in building construction are responsible for 11% of global emissions. That's why it's critical that we take a new approach to building materials — one that is more circular, focused on materials reuse and recovery, rather than the fabrication, assembly, and delivery of new materials. With lease expirations, office moves, and renovations currently underway, we believe that now is the time for companies to take a more proactive role in decreasing the amount of carbon associated with materials in a building's lifecycle and reducing the amount of debris and waste going into landfills.
As companies begin renovations to accommodate hybrid work environments, what considerations are being made for materials being removed from the project site? Can the beneficial recovery and reuse of materials during construction steer our industry's resiliency efforts, relieve material supply chain issues, and support local communities in job growth creation?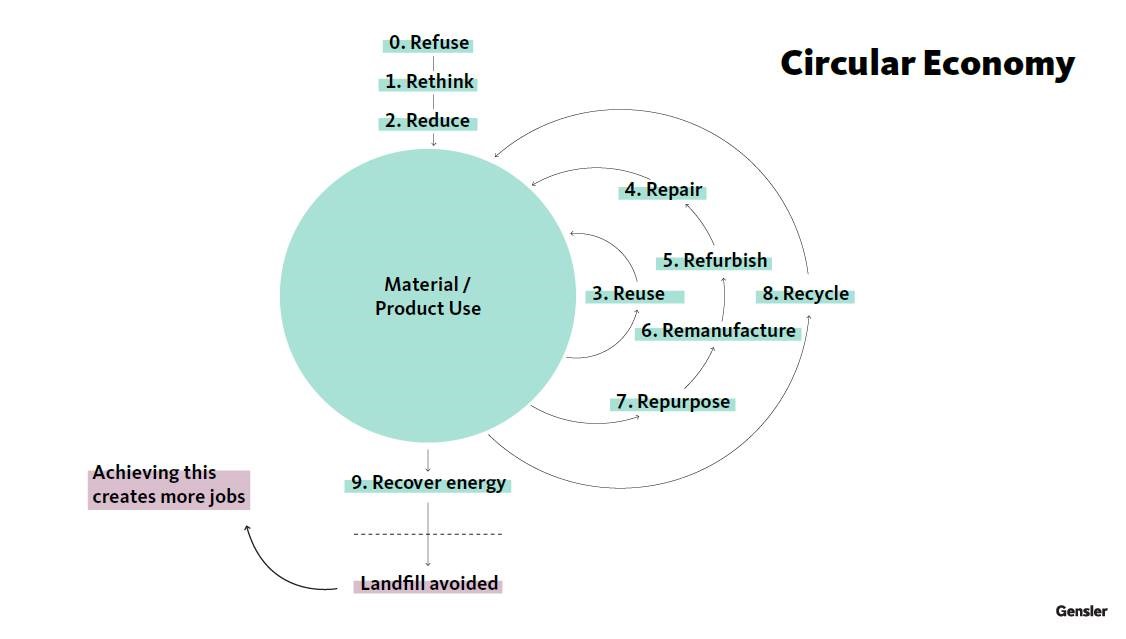 In an attempt to better align Gensler and our project work with sustainable design practices surrounding materials reuse, we have done extensive research into the current market and the processes involved in order to further develop the circular economy.
In 2018, our research team studied five Gensler offices that had recently undergone a move and renovation, to assess process and to explore how reused materials played a role. The goal of the research was to bring awareness to the circular economy and identify how the industry can bolster and encourage reuse processes within design work. Our team hoped that by understanding current industry dynamics and salvage trends, we could develop a framework and platform for the efficient exchange of reusable materials.
Based on this research, our team identified five key findings:
1. The economic and environmental savings are significant
Internationally, material and product producers are paying increased prices for virgin resources and associated environmental pollution. Implementing the circular economy in the architecture, engineering, and construction industries contributes to economically sustainable growth and savings across multiple sectors. Clients can see an average savings of 30 to 50% by purchasing recycled office furniture. Simple reuse of an office desk can reduce carbon footprint by 36%.
There is potential economic benefit and savings of finite resources for our industry to help drive the reuse and circular economy movement as we continue to see overwhelmingly high amounts of businesses discard furniture and other reusable interior materials inefficiently. In addition, recent supply chain issues have increased lead times for material procurement. Tapping into a local reuse material exchange network in combination with a growing market of refurbishing specialist will build local reuse ecosystems.
2. Moves and renovations are opportunities to reduce waste
Office moves create a substantial amount of waste that could be reduced or avoided. By aggregating the total waste and estimated carbon footprint metrics estimates at each location we surveyed, we can assume that each office move (based on square footage) generates approximately 269.53 tons of waste and 1,462 metric tons of carbon. This waste could be diminished if we rethink methodologies, processes, and project goals.
Reuse strategies should be implemented during the design process that allow for future flexibility. When designing the space, project teams should consider how the space would be dissembled for future reconfiguration.
Office-wide smart systems may be incorporated to inform future renovations. An Internet-of-Things smart system would capture movement and space usage enabling designers to further incorporate the tenets of flexibility into the design and solve for much of the excess waste generated with each office renovation.
Implementing methodologies around designing for dissembling in combination with office-wide smart systems to track space usage will create an opportunity to reduce waste during renovations.

3. Waste streams are undefined so starting early is essential
Waste streams are largely undefined. The current reuse landscape is highly localized. It requires time to understand and coordinate where materials finish their life spans. There is no simple answer to what this process looks like, or how it is decided. This is the gray zone, where project teams typically face barriers due to ambiguity around resource recovery making it difficult for companies to easily consider utilizing reused materials, as well as for organizations to discard their materials through reuse.
Understanding the ambiguity in the market, it is important to start the process early. A reuse strategy should be developed and incorporated throughout every phase of the project. This accessible framework needs to be set in place to clearly articulate the best practices around how to properly reuse a material or discard a material to be donated.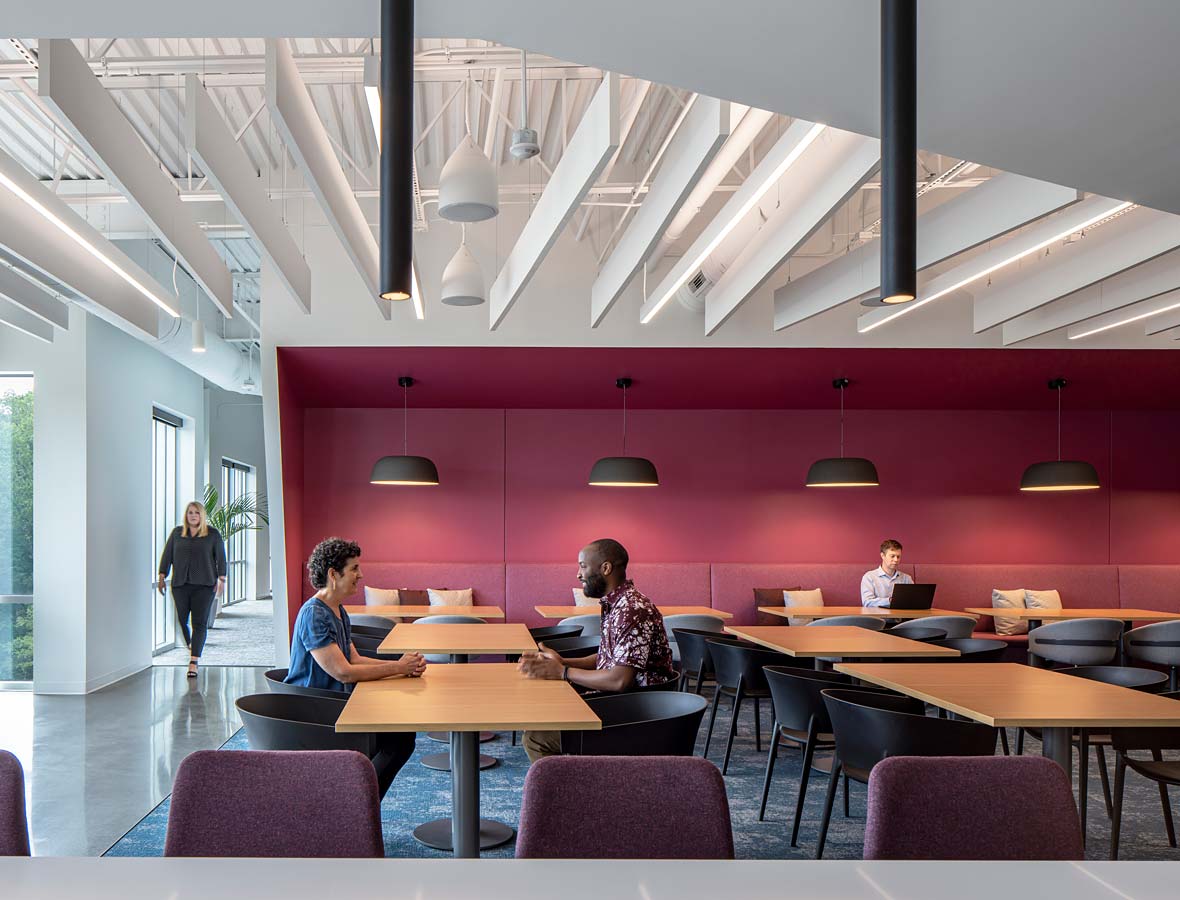 Gensler Product Sustainability Standards
Gensler has established sustainability performance criteria for the top 12 most commonly used, high-impact product categories selected for our architecture and interior projects.
When selecting materials for the project, takeback programs should be implemented. For the design of Gensler's New York office, our team conducted an integrative planning process to increase the useful life of the project space, flexibility and recycling of building materials while considering differential durability and premature obsolescence. Material takeback programs were incorporated as part of a solid waste management policy and ongoing waste audit. A main feature of this program highlights material sample recycling through vendor removal, or local school donation.

4. We need to forge new industry partnerships
For the circular economy to evolve and gain traction within the Architecture, Engineering and Construction industry, partnerships are essential. There are several companies who have already begun to explore methods of formalizing reuse with whom our industry would benefit from partnering.
In order to transform the design process into an increasingly reuse-friendly, circular network, our industry will need to develop policies, recreate processes, and encourage reuse on internal and external projects. Development of reuse networks will thrive on a local level through design, planning, removal, and transportation structures.
A partnership reuse network can assist connecting salvaged and or surplus materials with projects in need, non-profits and schools.
5. Reuse must be integrated into the design process
There is an opportunity to include best practices involving reuse into the design process. In order for the reuse of resources to be successful, it needs to be taken into consideration throughout the entire design process. Similar to the ambiguity around waste streams, there is no formalized approach around reuse during the design process. If we break the process down however, there are questions and guidelines we can pose in each phase to help direct stakeholders in the design towards reused resources and products.
One of the biggest challenges of reuse is an unpredictable discovery process and staying open to the unknowns with an optimistic attitude. There will be obstacles that are revealed that require impromptu investigation and integration that may impact schedule and budget. During this journey, it is important to keep an open mind while still being true to the overall goals of the project.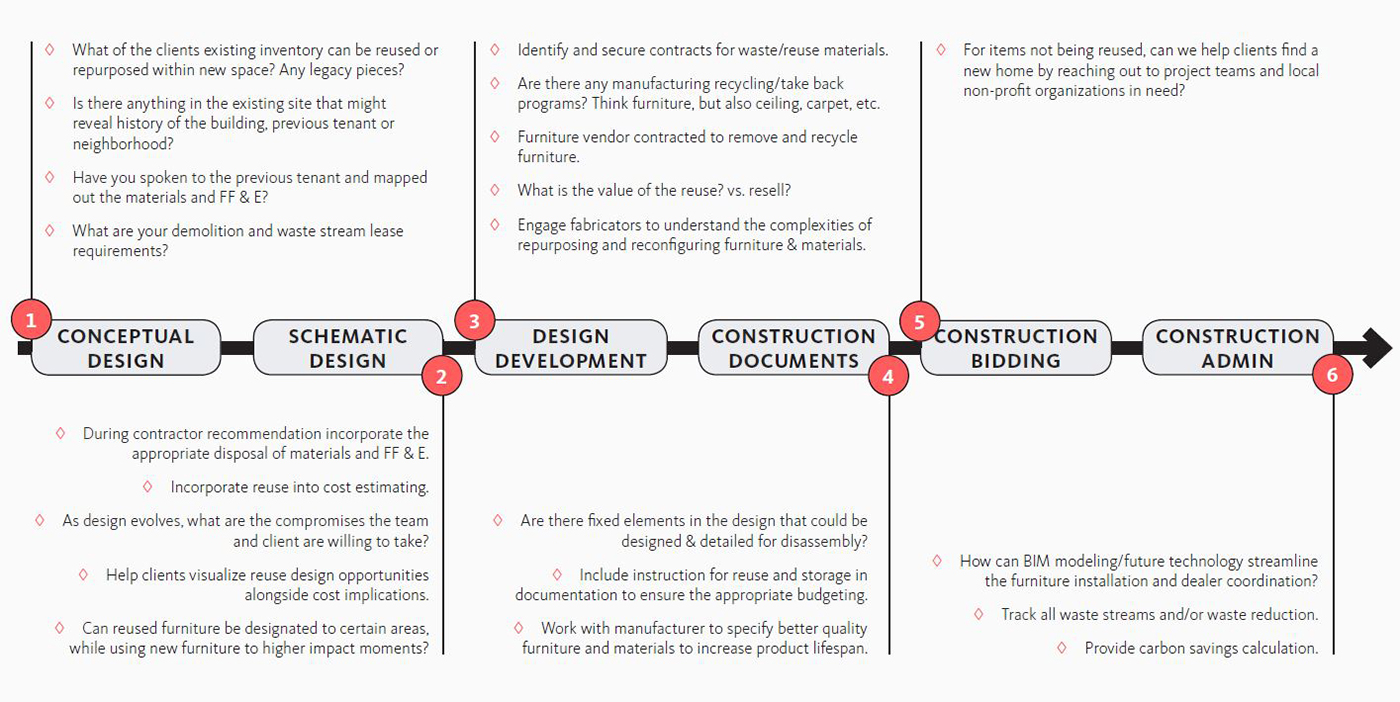 Developing reuse as a standard practice
The extent of acceptance of circular thinking among our industry is an ongoing and evolving process, which has gained some recent traction due to supply chain issues and material storages. Large scale waste stream and associated carbon reductions can be explored through implementing reuse and encouraging local circular economies. Ultimately, further industry research will need to explore the appetite present in the market for developing reuse as a standard practice.
For media inquiries, email .