Delivering Wellness on Campus so Students Can Thrive
July 06, 2021 | By Cindy Coleman, Patricia Nobre, Meghan Webster
Mental health is not a new concern on college campuses, but today, in the aftermath of COVID, it has turned decidedly more acute and urgent. While experts look for answers to why college students disproportionately struggle with mental illness, colleges and universities are mobilizing to build support mechanisms that meet students where they are.
Some universities are building campus wellness centers, others are exploring how wellness can be integral to everyday campus life. In either case, whether designing a wellness building or a wellness culture, solutions need to be redirected to be student-centric and stigma-free.
One way to redirect the discourse is to position emotional well-being as part of a comprehensive wellness ecosystem. An ecosystem approach balances social and culture considerations with both preventative and responsive solutions.
Ecosystem thinking presents well-being as good hygiene — the daily care routine for a student's emotional and physical health. It is not only a condition to be fixed when you have a problem, but a continuous state of mind to be nurtured as part of your scholastic experience.
For colleges and universities, the wellness ecosystem needs to be conceived as a flexible, personalized, and ready-to-change program. Acknowledging that everyone finds wellness in their own way, an effective ecosystem considers the diversity of its users and designs services and programs that can flex to best serve the "edges," or the variability of users rather than the average. Codifying an approach to wellness as an ecosystem also extends the framework to include services and resources beyond the campus and embedded within the surrounding context, community, and city in which a campus is located.
The following framework defines five key considerations for a campus-wide wellness ecosystem:
1. Destigmatize Getting Help
Privacy concerns are often a barrier to seeking help. Providing a variety of entry points to a dedicated wellness facility with a ground floor mixed program (retail and general student support, for example) will neutralize the building program and eliminate the stigma of walking through the front door.
A universal consulting room concept that is non-department specific eliminates assigning location to counseling type. Aided with self-rooming technology, students can avoid the waiting room experience altogether. When the counselor is free, the student receives an alert to a generic/universal room assignment.
Waiting spaces are also being repurposed. Still offering the type of separation needed for certain patients (sick/healthy, acute/non-acute), the layout of the room has a hospitality feel and functions like a work lounge with individual and collective areas to socialize, read, relax, or work.
2. Build a Culture of Wellness
A wellness culture can be described as the promise the college or university makes to its students, faculty, and administration. A culture assessment is often tied to a change management program that first builds literacy and then sets and communicates the governance and policies for delivering the wellness strategy.
A culture of wellness considers the eight dimensions of wellness to ensure it considers the whole person. For a culture to come alive and be resilient, it needs to be more than a place to go, but an integral part of student life.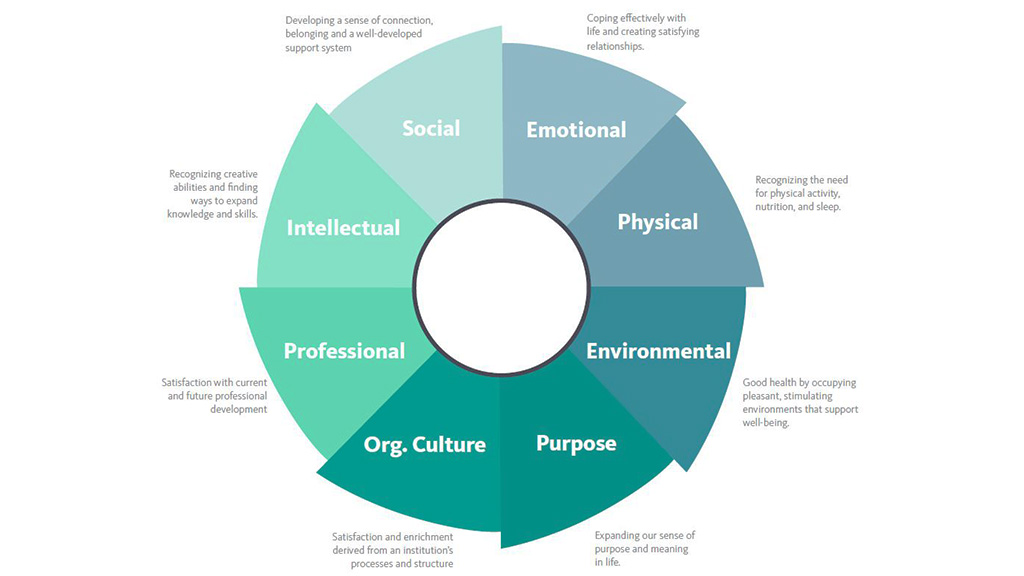 3. Distribute Wellness Throughout Campus
Building an ecosystem of wellness — either a hub-and-spoke or point-to-point distribution model — provides different access points to wellness on and off campus. Today, that access needs to consider virtual, as well as physical presence.
Dorm rooms, libraries, or student unions equipped with reservable private space for tele-health appointments are helpful in bringing the services directly to the student.
Within a distributed wellness model, assessing the walkability and bike-ability on campus and how safe these walkways feel contributes to a positive campus experience. Students benefit from convenient access to affordable, healthy food, spaces to pray, unwind, and ways to connect and feel a sense of belonging.
4. Make It Student Led
Student-led change ambassadors give students a voice in the change they hope to experience. Rotating students into the program provides a continuous improvement mindset to the wellness culture. Balancing utilization data with qualitative student observations gives the administration useful insights into what works and what needs to be improved.
Student ambassadors can also serve as invaluable support for their peers who might be facing challenges. As campuses increasingly work to meet students where they are, peer interaction offers an empathic opportunity for adopting a continuous improvement mindset.
5. Design to the Edges
As you begin to design a wellness program, universal design strategies will ensure that all spaces are accessible and useful regardless of a person's age, size, abilities, disabilities, or emotional state. When it comes to designing for people, there is no standard. Recognize the diversity of users, their unique pain points, and the collective aspirations that make up your student body.
Consider how spaces might evoke a sense of belonging for each individual that experiences that space and the impact on their mental, physical, and emotional wellness.
When wellness is approached holistically and as a state of mind, it sets the stage for greater awareness of the role emotional well-being has on feelings of equity, happiness, good mental and physical health, and success. By offering multiple pathways into this ecosystem of wellness, colleges send a clear message to their student body: You have a place here. Come as you are.
For media inquiries, email .