Design Forecast Bay Area: Shaping the Future of Connected Cities
By Natalie Engels
Editor's note: This post is part of Gensler's Design Forecast Local, a series of hyper local conversations with our clients about the topics that matter most in our cities.
On Oct. 18, 2019, Gensler's San Francisco, Oakland, and San Jose, Calif. offices hosted a panel discussion at Stanford University on "Shaping the Future of Connected Cities," which covered key issues we are collectively facing in the Bay Area, such as mobility, affordable housing, and the importance of human experience and connection amidst rapid technological change. The discussion included panelists from SPUR, Google, Facebook, Mistletoe, and Stanford University, who shared insights on new strategies being used and needed to shape the future of the Bay Area. The panel was followed by breakout work sessions bringing clients together to dive deeper into the topic of connected cities and have a robust dialogue about the responsibilities we have to this unique landscape.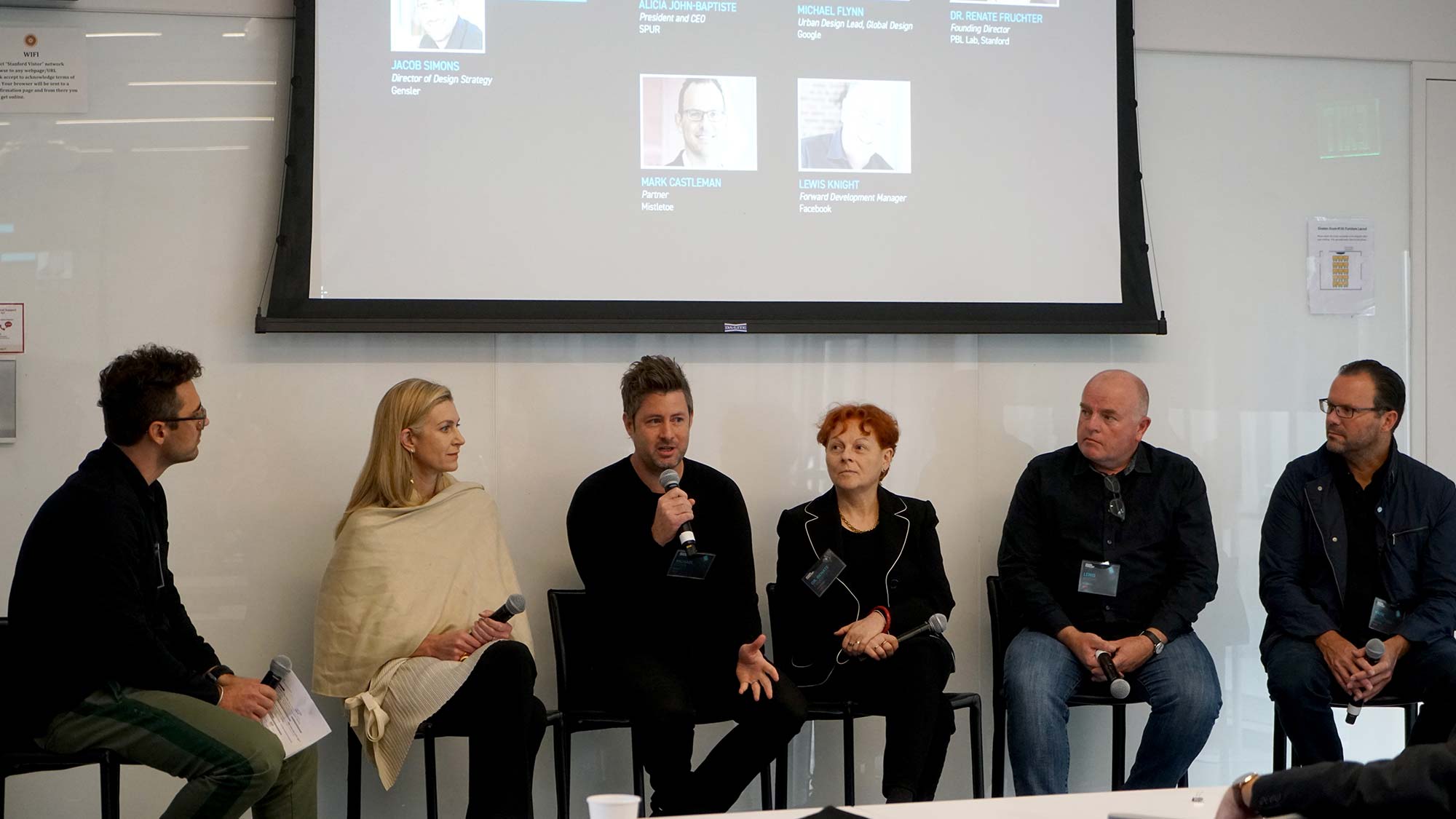 KEY TAKEAWAYS
CONTEXT: We must fix our infrastructure to address structural challenges.
The San Francisco Bay Area has added 1 million people to the region in the last 20 years, and that massive economic growth is exposing structural weaknesses — from traffic congestion, to displacement of families, to the housing affordability crisis. Alicia John-Baptiste, president and CEO of SPUR, noted how, while decision makers and policy makers in the region are coming together to explore solutions, the way we approach land use in the Bay Area hasn't shifted enough. We need to address housing affordability and homelessness. We need to make sensible decisions about transportation. We need to help our communities understand that development is a good thing. And above all, we need to craft a vision to address these challenges head on. Panelists agreed that the region's underlying infrastructure needs to be fixed in order to address these critical issues, citing transit projects that connect the region as one visible path forward.
SCALE: We must consider the true magnitude of scale and growth in our cities.
Cities, especially in the Bay Area, are grappling with the rapid pace and scale of technological change. In breakout work sessions, attendees discussed the implications of this growth on humanity, human experience, and life. For years, the tech industry has delved into understanding human behavior, studying how tribes move and how people work and connect across teams, across floors, and across campuses. Cities could take a cue from tech companies by better understanding how people connect within and across communities, by bringing together like-minded tribes, and integrating people and companies together as part of the urban fabric. Mark Castleman, partner, Mistletoe, said that technology can be an equalizer for companies to connect humans at different scales and places.
We're at a deep inflection point of how we think about the future, and how we use data to do that.
— Lewis Knight, Forward Development Manager, Facebook
SCALE: Perspective matters when you're looking at data.
The panelists considered how to weigh evidence-based data with imagination in order to chart a path to the future. Lewis Knight, Forward Development manager, Facebook, cited the use of consistent, anthropological data as a tool to make informed decisions on critical challenges ranging from transportation to affordable housing. Castleman pointed out that it's important to include different perspectives when examining data. For Millennials and Gen Z, for example, their view of ownership is very different than that of older generations. Similarly, when designing environments, whether digital or physical, designers must recognize that people navigate space differently.
PEOPLE: Creating a sense of belonging is paramount.
When designing places for people, it's critical to unpack what motivates and inspires them. In an era when pervasive access to technology and digital media has created a sense of isolation, we're seeing a demand for places that are rooted in belonging and togetherness. When asked about her vision for cities of the future, SPUR's John-Baptiste said that places should evoke feelings of belonging, safety, and dynamism. But most of all, they should feel welcoming, "like a hug." Dr. Renate Fruchter, Founding Director, Project Based Learning Laboratory (PBL Lab), Stanford, added that the city she visits should feel like a handshake — it should allow for exploration, discovery, and inspiration.
I want to walk into a place and have it feel welcoming, with a sense of belonging and safety and dynamism. But mostly, I want it to feel like a hug.
— Alicia John-Baptiste, President and CEO, SPUR
Fruchter suggested that by integrating the physical and the virtual, we can create a sense of belonging. She cited the importance of global talent communities in today's geographically distributed and diverse talent pool. "In the Bay Area, we feel the stress to prepare the next generation of workforce talent," she said. "We feel the pressure to attract and retain talent. But we all know talent is everywhere. How do we create creativity and innovation by fostering and harvesting global talent communities?"
PLACEMAKING: We need to create places by the people, for the people.
Attendees examined how space, technology, and culture can inspire meaningful experiences. Michael Flynn, Urban Design Lead of Global Design for Google, spoke about how the drivers of space that enable a company to thrive can sometimes be at odds with the health and wellbeing of the communities in which that company resides. He challenged the audience to examine how to shift that way of thinking in order to enable companies to thrive along with their local communities, citing New York's Highline as a successful example of connecting people with place.
We have an equitable region made of thousands of communities. There's not one solution. There's a myriad of solutions.
— Lewis Knight, Forward Development Manager, Facebook
OPPORTUNITIES & VISION: We must craft a vision to shape the future of our cities.
The panelists agreed that designers and planners can do a better job of communicating why change should be embraced, rather than resisted. Flynn pointed out that innovation is often accelerated in times when people are hesitant to change. In regions like the Bay Area, enacting transformative change may require a multigenerational shift, most likely enabled by the co-sharing community. John-Baptiste added that in order to enact the type of change we need to manifest, we have to stop thinking as individuals and start paying attention to what might benefit all of us, the collective.
In order to shape a more equitable future in the Bay Area, we must craft a vision that impacts all affected communities, across scales. "It's incumbent on us to invent what that future is going to be," Knight said. "Having the courage to put the vision out there is the most important thing that we can do. Unless that hopeful future is out there, we can't have the dialogue."