Design Forecast Charlotte: Tech Talent in the Queen City
By Holly Christian
Editor's note: This post is part of Gensler's Design Forecast Local, a series of hyper local conversations with our clients about the topics that matter most in our cities.
With a major influx of educated young adults moving to the region, a booming economy, and growing tech sector, the city of Charlotte is at a major inflection point. As the war for talent gets even more challenging, cities and companies are employing strategies to ensure they are recruiting, retaining, and developing the right talent. On August 15, 2019, Gensler Charlotte hosted a compelling discussion about the future of work and how the it will shape human experience in Charlotte. The panel was followed by an exclusive tour of SentryOne, a new cutting-edge technology headquarters redefining the local tech scene in Charlotte.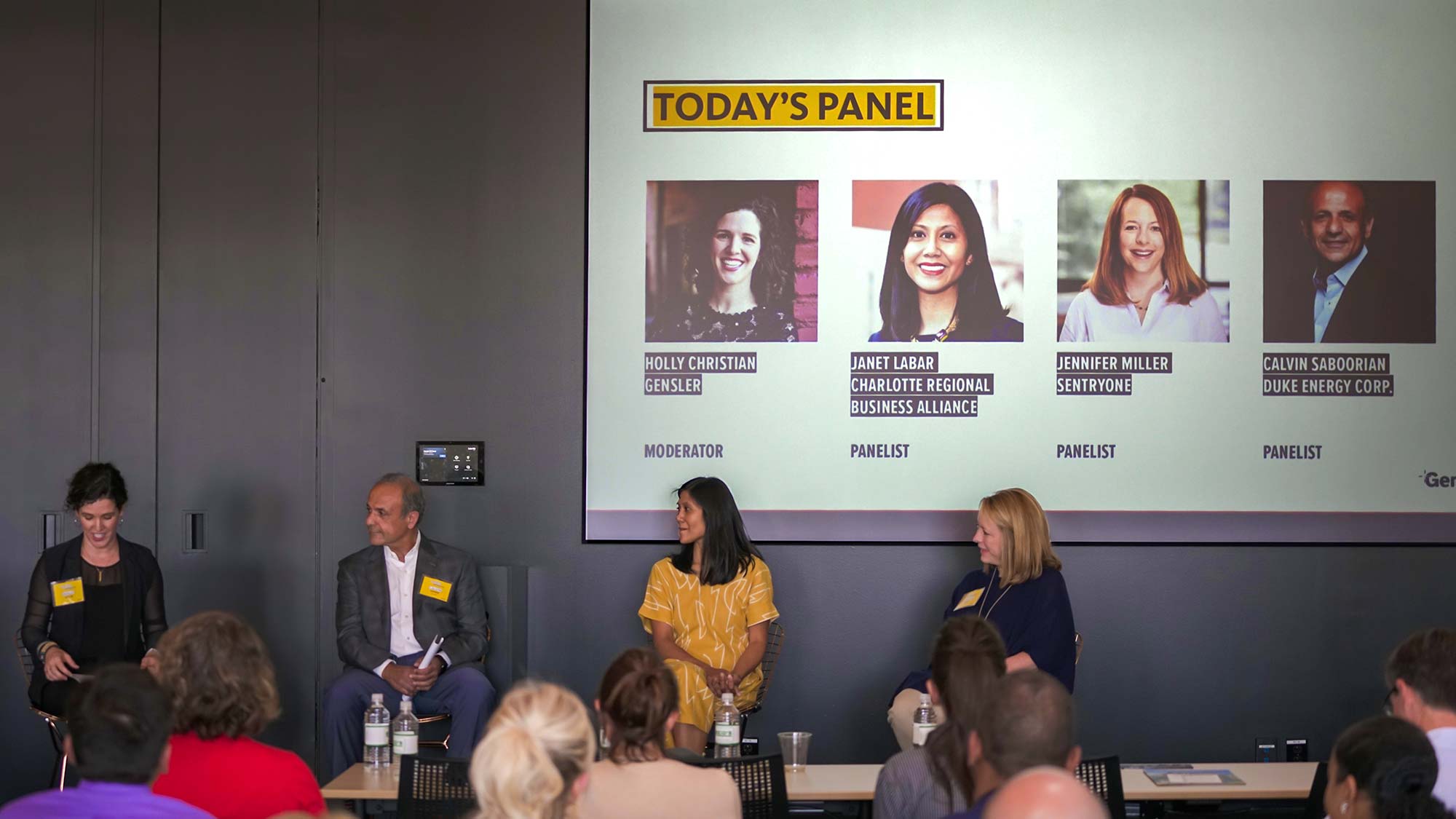 KEY TAKEAWAYS

The tech gender gap endures, but retaining locally educated talent can help close it.


According to Jennifer Miller, VP of Human Resources at SentryOne, women make up just 1/5 of tech jobs nationally. While Charlotte is among the highest ranked state for women in the tech sector (35.6% of the tech workforce), according to the 2019 NC Technology Association State of Technology Industry Report, the city continues to struggle to grow its share of women in the tech sector. Retaining local, educated talent is critical for the city to grow a more inclusive, diverse workforce.

Charlotte is competing with the leading technology hubs in the country, so continued growth will be all about having the best talent.

— Janet LaBar, president & CEO, Charlotte Regional Business Alliance


Creating workplaces that are attractive to new ways of working.
Younger generations of talent are seeking more diverse career paths. They're also seeking "alternative" offers for employment, such as short-term contracts. To respond to workers' evolving preferences and recruit next-gen tech talent, space decisions must always be in beta — the design should be flexible and reflect people's work styles.

A successful workplace environment creates a culture that encourages collaboration.

— Calvin Saboorian, managing director of Real Estate, Duke Energy Corporation


Great workplaces can win the war for talent.
People want variety and choice in the workplace — they want spaces that support individual focus work and environments that support collaboration and team building. Even though workers expect to have choice today, only 44% of U.S. workers report having choice in the workplace, according to Gensler's 2019 U.S. Workplace Survey. Today's talent also want work-focused amenities, and a sense of purpose at work. Brands with strong values can build strong ties to their mission through workplace design. Creating pathways to affordability.
Tech jobs have grown rapidly in Charlotte, making the region one of the nation's top tech talent hubs. According to a report from the Charlotte Regional Business Alliance, the total number of tech jobs in the region grew by 30% — double the rate of the U.S. — and added 117,694 jobs over the past five years. But with this rapid growth, concerns about the cost of living and affordability are paramount — a challenge that many other cities are facing across the country.

It's clear that tech's reach extends beyond Silicon Valley, and it's changing our cities. By engaging community members and business leaders to discuss changes in the local community, the event challenged participants to examine how we, as active citizens, can participate in Charlotte's transformation and channel it for both economic growth and upward social mobility.