Design Forecast La Crosse: The Future of Work
By Julie Henline
Editor's note: This post is part of Gensler's Design Forecast Local, a series of hyper local conversations with our clients about the topics that matter most in our cities.
On Oct. 30, 2019, Gensler's La Crosse office hosted a panel discussion, "Shaping Our Cities: The Future of Work," which brought together business and design leaders to share their perspectives and insights on workplace experience trends and the future of work. The panel — representing a workplace strategist, a recruiting manager, a virtual collaboration technology expert, and a remote worker — spoke about their experiences in developing, supporting, and working in dynamic and remote work settings. Among the topics of discussion: what employees expect in today's experience economy, how a mobile workforce can be a connected workforce, and tips for managing change in the workplace.

When it comes to talent attraction and retention, workplace experience is key for continual growth and engagement. We believe that there are four design and strategy trends that can influence experience in the workplace: The Neighborhood Experience, The Building Experience, The Office Experience, and The Human Experience.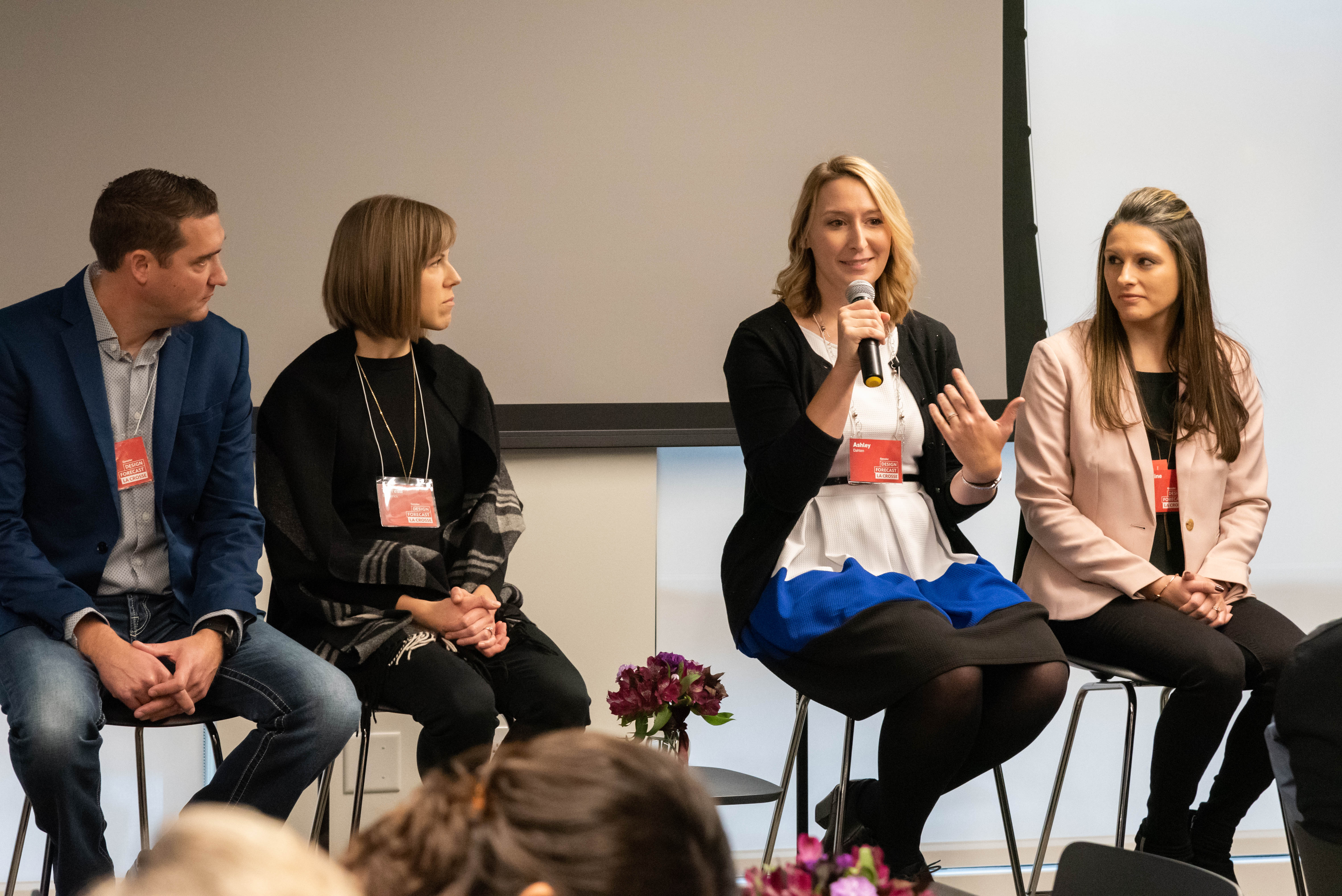 KEY TAKEAWAYS
THE NEIGHBORHOOD EXPERIENCE: Amenity-rich neighborhoods can draw talent.
Commercial office buildings are adding more amenities to improve the experience of the space and attract tenants. This is especially key if they are located in a more remote area where people can't walk to nearby café's or services. If it's not possible to have your company in an amenity-rich building, let the neighborhood work for you. Locating an office near the services and amenities people need surrounding the work day not only provides convenience for staff — it helps the local economy as well.
People gravitate to spaces that are more active and diverse. This is why the spaces we move through as we travel to and from work are almost as important as the office itself.
— Julie Henline, client relationship leader, Gensler
THE BUILDING EXPERIENCE: Talent needs connectivity.
As for the building itself, we're seeing a trend toward design solutions that drive toward connectivity. Talent, especially our younger generations, crave connections. Research has shown that the probability of knowledge exchange is directly related to the proximity of workers. There is a 5% probability of chance meetings when workers are separated by floors and there is a 95% probability when workers share the same floor. Design solutions such as offset cores, large open floor plates, open site lines, and ample outdoor space can help people connect within a building.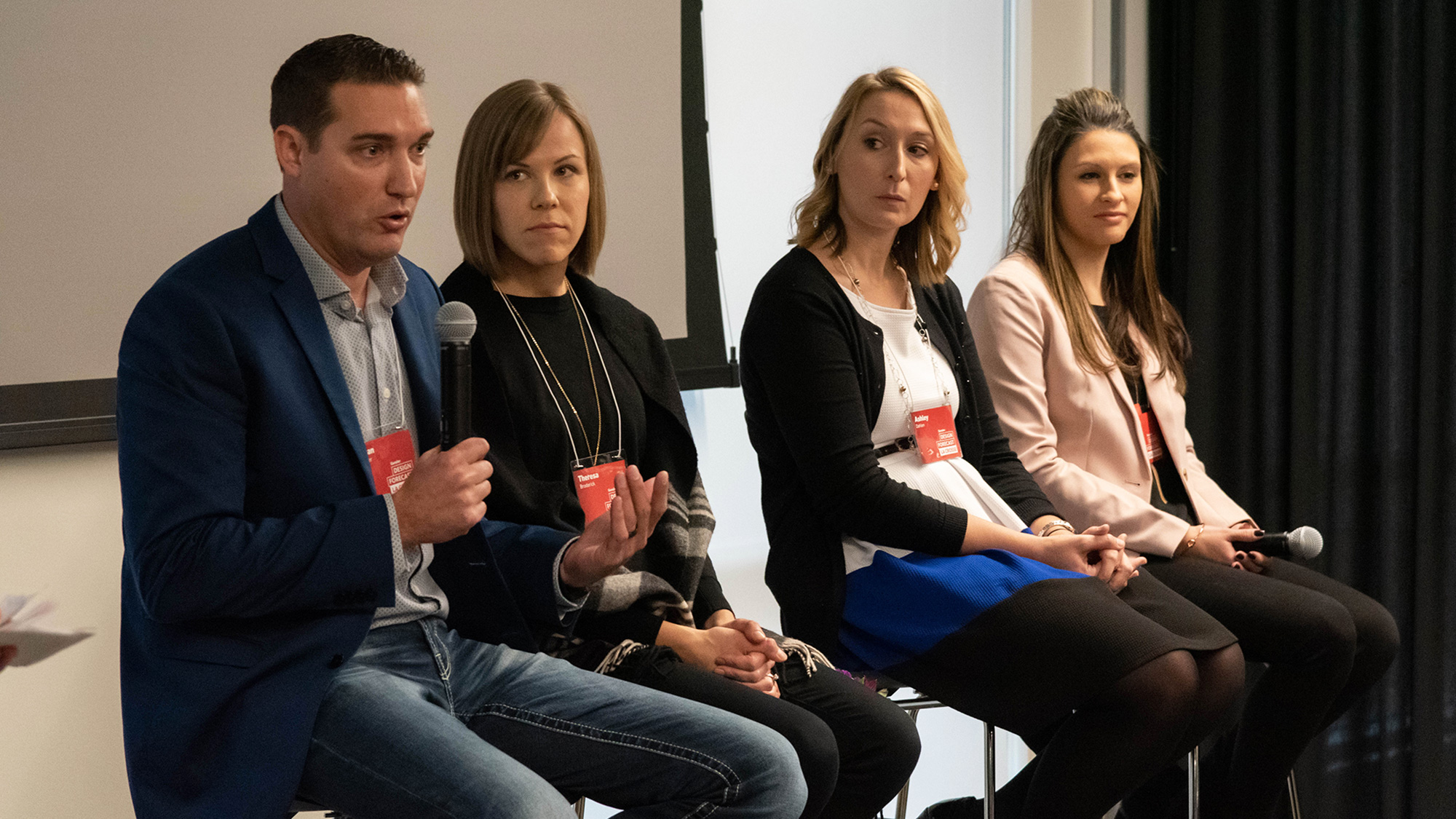 THE OFFICE EXPERIENCE: Talent seeks authentic places.
Our 2019 U.S. Workplace Survey shows that 73%, or four out of five, U.S. workers reports a poor experience at work. Creating an employee experience that is well aligned and connected to the mission and purpose of the organization can increase loyalty and moral and ultimately be good for business. In order to engage and connect with workers, the workplace should reflect an organization's vision, mission, and purpose. Employers must reimagine themselves not as enforcers of productivity, but as enablers of meaning.
I don't think the meaning of work changes when you work remotely. It's just the mode of communication or interaction that changes.
— Christine Mauer, product manager, Gensler
THE HUMAN EXPERIENCE: Talent demands choice.
Our research has shown that talent, especially knowledge workers, want more choice and flexibility in when and where to work. Those who have it tend to be better performers with increased retention rates. A recent report from the Society for Human Resource Management on "Leave and Flexible Working Employee Benefits" reported that remote work continues to rise in popularity as a benefit. According to the report, ad-hoc telecommuting is offered by 69% of organizations, part-time telecommuting is offered by more than 40%, and full-time telecommuting is offered by more than one-quarter of companies.
From what we see across the organizations we work with, there is a huge spectrum between being assigned to the same desk 40 hours a week and being remote and working from home 100% of the time. It's beyond just giving someone laptop and letting them move around. There are a multitude of ways to provide flexibility and choice from a spatial perspective. Success requires a supportive culture of choice and flexibility.
Mobility is really about people. The space and the technology is in support of how people are working and what they need to get their job done.
— Theresa Broderick, workplace strategist, Gensler