Design Forecast Phoenix: A New Workplace Narrative
By Rory Carder
Editor's note: This post is part of Gensler's Design Forecast Local, a series of hyper local conversations with our clients about the topics that matter most in our cities.
On August 15, 2019, Gensler Phoenix partnered with our local ULI chapter to bring the local community together to discuss new challenges in workplace design. Some of the Valley's leaders attended the event, which included a lively panel discussion and follow-up Q&A about workplace issues such as the need for private spaces in the world of open offices, the rise of coworking, and managing a multi-generational talent pool. As the office prepares for our move out of downtown Phoenix, the conversation was particularly relevant.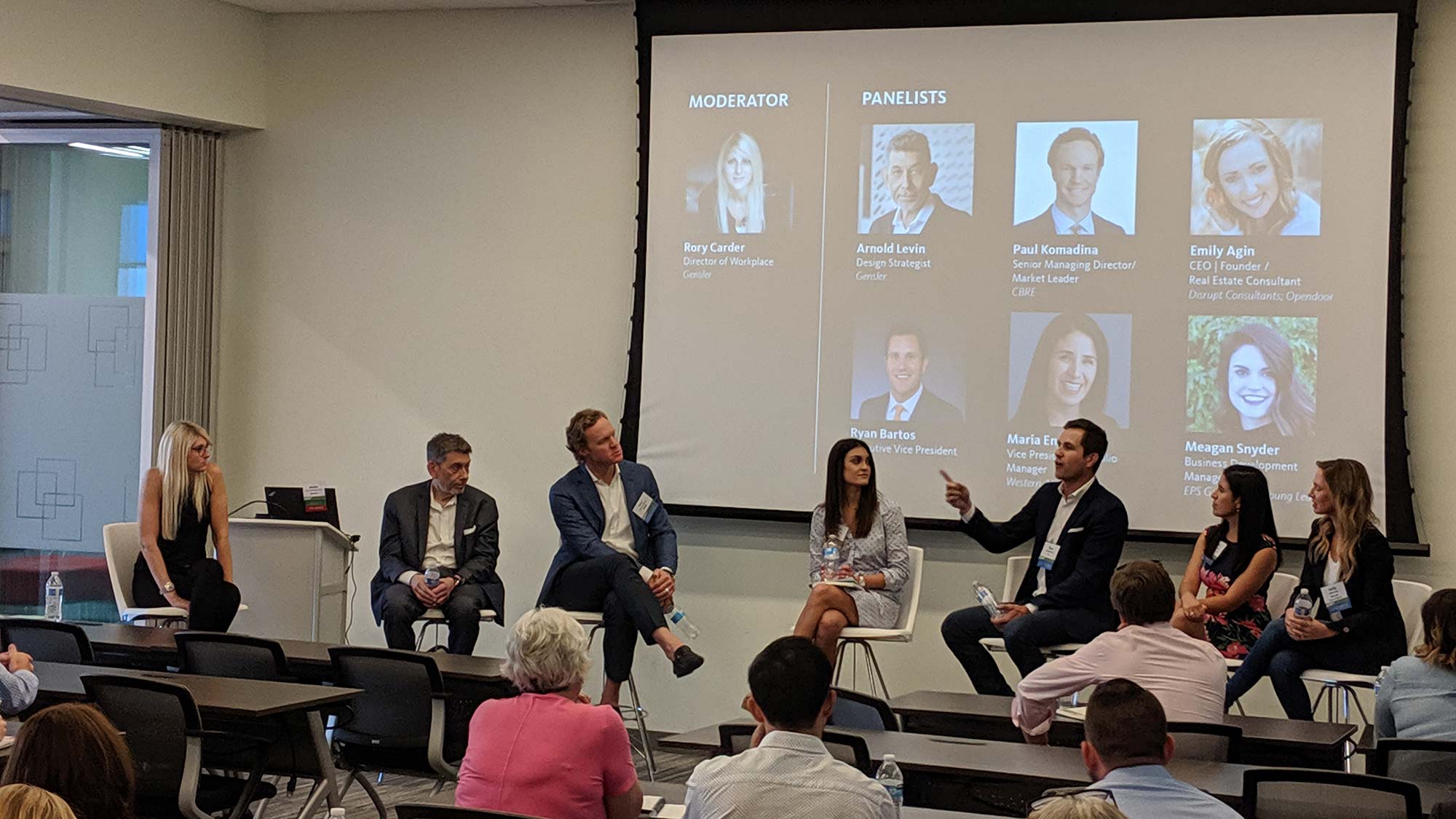 KEY TAKEAWAYS

Choice is an important factor.


The work-anywhere, work-anytime culture is pushing employers to create great workplace experiences. A simple way to make your space more adaptable is to design with diverse users and work mode preferences in mind. According to Gensler's 2019 U.S. Workplace Survey, today's talent is looking for a balance between highly collaborative, open environments and more focused private spaces for heads-down work. By offering choices, companies are able to support their employees' needs and desires within a functional and effective office through a more human-centered design approach.

We've noticed that many millennials choose to work in focus or collaborative rooms, even though many "open office" environments have been designed with millennials in mind.

— Paul Komadina, senior managing director and market leader, CBRE


Coworking is here to stay.
Though some think coworking is just a trend, industry leaders believe it's here to stay. Panelists Ryan Bartos, executive vice president at JLL, and Paul Komadina, senior managing director and market leader for CBRE's Phoenix and Tucson offices, point to a rise in new coworking operators in Phoenix as proof. Most notably, coworking operators have planted roots in major submarkets such as the Camelback Corridor and downtown Phoenix. Coworking spaces are clearly fulfilling a need in the market. Even Fortune 500 companies, who have traditionally entered long-term leases, are now signing agreements with coworking operators to take advantage of their flexible leasing opportunities. New technologies can coexist with a multi-generational workforce.
Our current talent pool in Phoenix is unique. For the first time, we have five different generations operating and working together within the same office. With technology changing so fast it's key to evaluate the skillsets each employee brings to the table and offer technology training to help reduce the information gap between generations. According to the World Economic Forum, by 2022, more than half (54%) of all employees will require significant reskilling and upskilling.

Designing spaces shouldn't just be about the generation someone belongs to; it should be about the individual.

— Meagan Snyder, business development manager, EPS Group


Generation Z may be suffering from decision paralysis.
One surprising takeaway from our panel discussion was the idea of decision paralysis. Decision paralysis is a state of over analyzing a situation due to information overload, which leads to a feeling of being overwhelmed, in turn leading to no decision. It's affecting Gen Z in particular because they are a tech saturated generation who have grown accustomed to a steady stream of information entering their lives daily through use of the Internet and social platforms. Providing Gen Z employees more defined programs may ease their concerns over making the wrong decision. Change management is key.
Emily Agin, CEO and founder of Disrupt Consultants, sees change management as an important tool that can help companies navigate major organizational shifts. According to Emily, if your company is experiencing growing pains — whether expanding or contracting — or if the talent pool becomes more diverse, you should implement a change management strategy early on to avoid sudden shifts in the office culture.

The most lively discussions were around coworking, and how this new way of working is disrupting the workplace environment and changing what tenants want. Gen Z and the idea of decision-paralysis also got a lot of people talking, and we flagged both topics as something to explore further in upcoming speaking engagements. We heard great reviews from many of the attendees after the event, and the ULI representative who helped to coordinate even suggested we do a similar event in Tucson.