Designing Informal Learning Environments with 826 National
By Gensler's Community Impact Team
Today, educating the next generation isn't just happening within schools, but in informal learning environments as well. Environments that offer students – and educators – unique methods of collaboration to discover new information and skills. Because they look and operate differently from a normal classroom, these spaces can act as a forum to discuss how design impacts the facilitation of learning experiences. One organization that is taking a novel look at designing spaces where students come to learn is 826 National, a not-for-profit creative writing and tutoring center network serving underprivileged youth ages 6 through 18.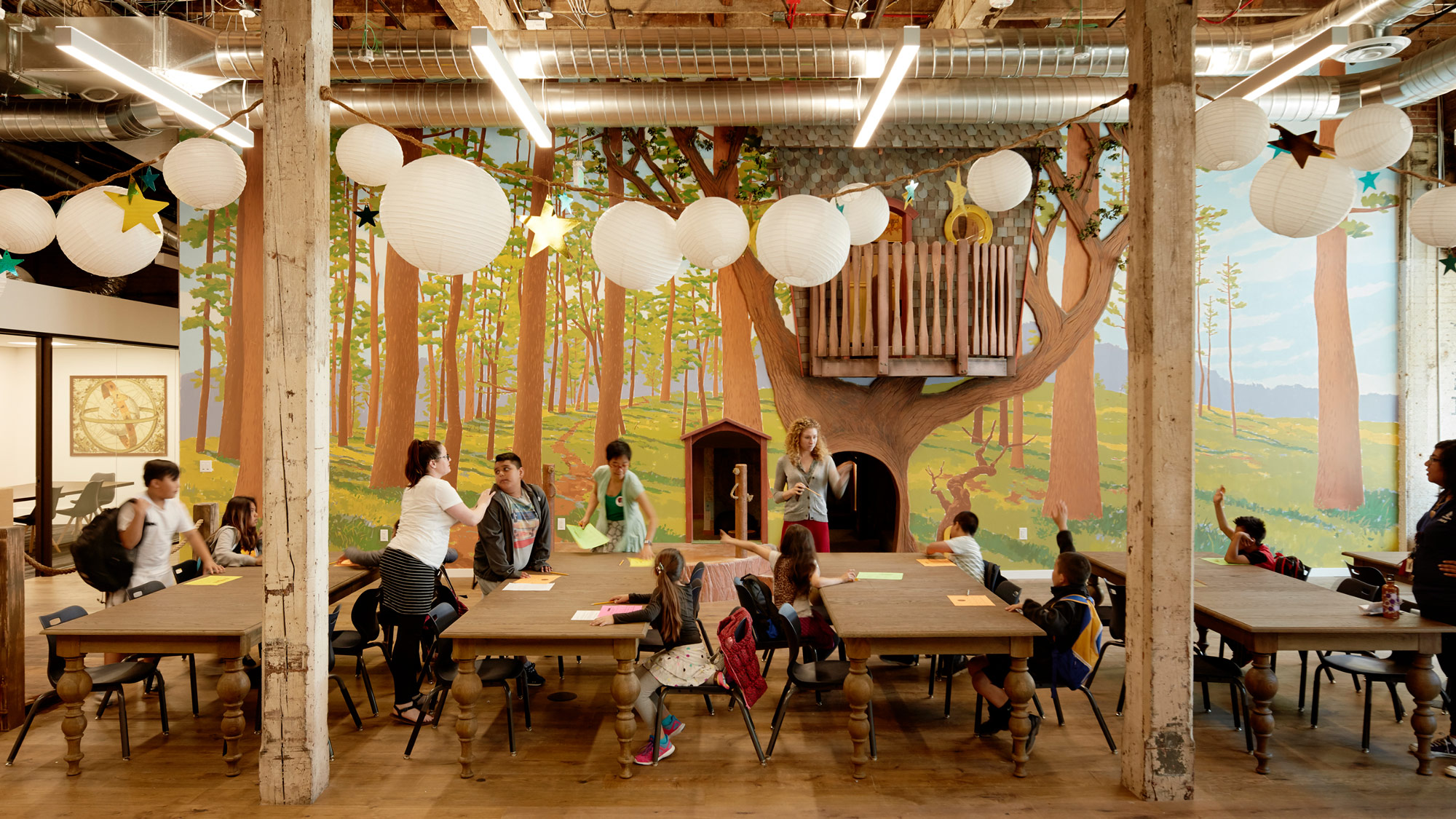 In 2002, the organization designed its first writing center in San Francisco's Mission District, transforming a space zoned for retail into a mixed-use space, featuring an active retail component that served as a front for a tutoring center in the back. This location, 826 Valencia, became the origin of a unique model that has now become standard for all 826 locations. In 2015, Gensler San Francisco partnered with the nonprofit for the first time in the renovation of 826 Valencia's second location in the Tenderloin, making the space more user-friendly for its community.
Since then, Gensler has provided pro bono design work to the growing 826 network in Chicago, Detroit, and now Minneapolis, the network's latest chapter. Additionally, Gensler New York has recently partnered with 826NYC as a project for its summer intern program, where interns will be working with 826 staff and students to envision a redesign of the space with proofs of concept and renderings.
Although all 826 facilities embody the mixed-use space originally pioneered by 826 Valencia, each site had specific and unique needs. Throughout the design processes at each location, Gensler's volunteers kept in mind the criteria that these spaces be student-centric to encourage creativity and feel welcoming, while also accommodating for the organization's growth.
"Gensler's commitment to creativity and community shines through in each of 826's beautiful writing labs – from San Francisco to Minneapolis," 826 National CEO Laura Brief remarked. "We've been so impressed with the teams at Gensler and their ability to intuitively understand our mission: balancing both wonder and function. Each space feels like its own story, specific to our local students, teachers, and communities."
As 826 National has increased its reach and amplified its social impact, Gensler seeks to continue its partnership with the nonprofit across the U.S., exhibiting our one-Firm Firm ethos alongside our mission to create a better world through the power of design.