The Future of Healthcare as an Integrated Ecosystem of Health and Care
August 23, 2023 | By Bonny Slater and Michael Schur
In the past few years, the resilience of our healthcare system has been stretched to the brink. The aggregate effects of climate change, the pandemic, demand for health equity, and aging populations have left many healthcare organizations with financial and talent crises. Alongside these challenges there has also been immense opportunity with exponential advances in medical science and an explosion of digital technology.
The catalysts for change are compounding — and the healthcare industry may finally be at a tipping point. While the potential evolution of healthcare has been a continuous conversation for over a decade, many believe these recent shifts will finally bring the clinical, financial, operational, and experiential transformation the healthcare industry has long promised to the world.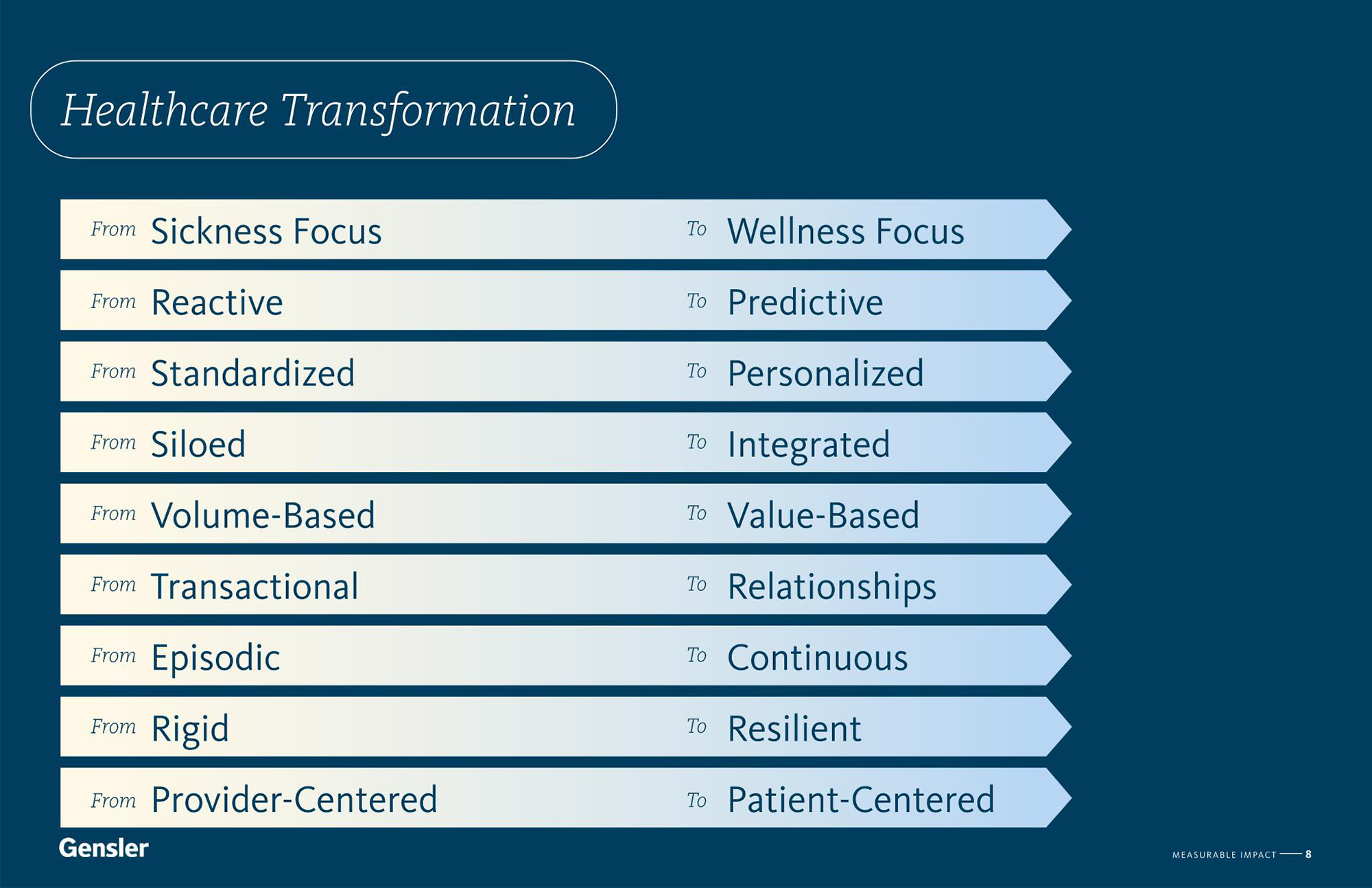 Despite these promising developments, the industry is currently facing many challenges. So, this past year, we set out to investigate what these shifts could mean for the future of healthcare in the U.S. Understanding the potential to affect radical change for the better, we asked: what if, by designing and refocusing our health system on improving community health, we are not only able to provide better outcomes, but we are also able to address the industry's challenges today?
Today, our communities are on unequal footing. With life expectancies in the U.S. that vary by 30 years, depending on where you live, coupled with an understanding that access to quality healthcare contributes to only 20% of health outcomes, a healthcare system that truly improves community health addresses the socioeconomic and environmental factors that influence an estimated 50% of health outcomes. If we are to improve community health while addressing industry-wide challenges, we must first address the health equity gap and look beyond healthcare services for solutions that rethink how we define care.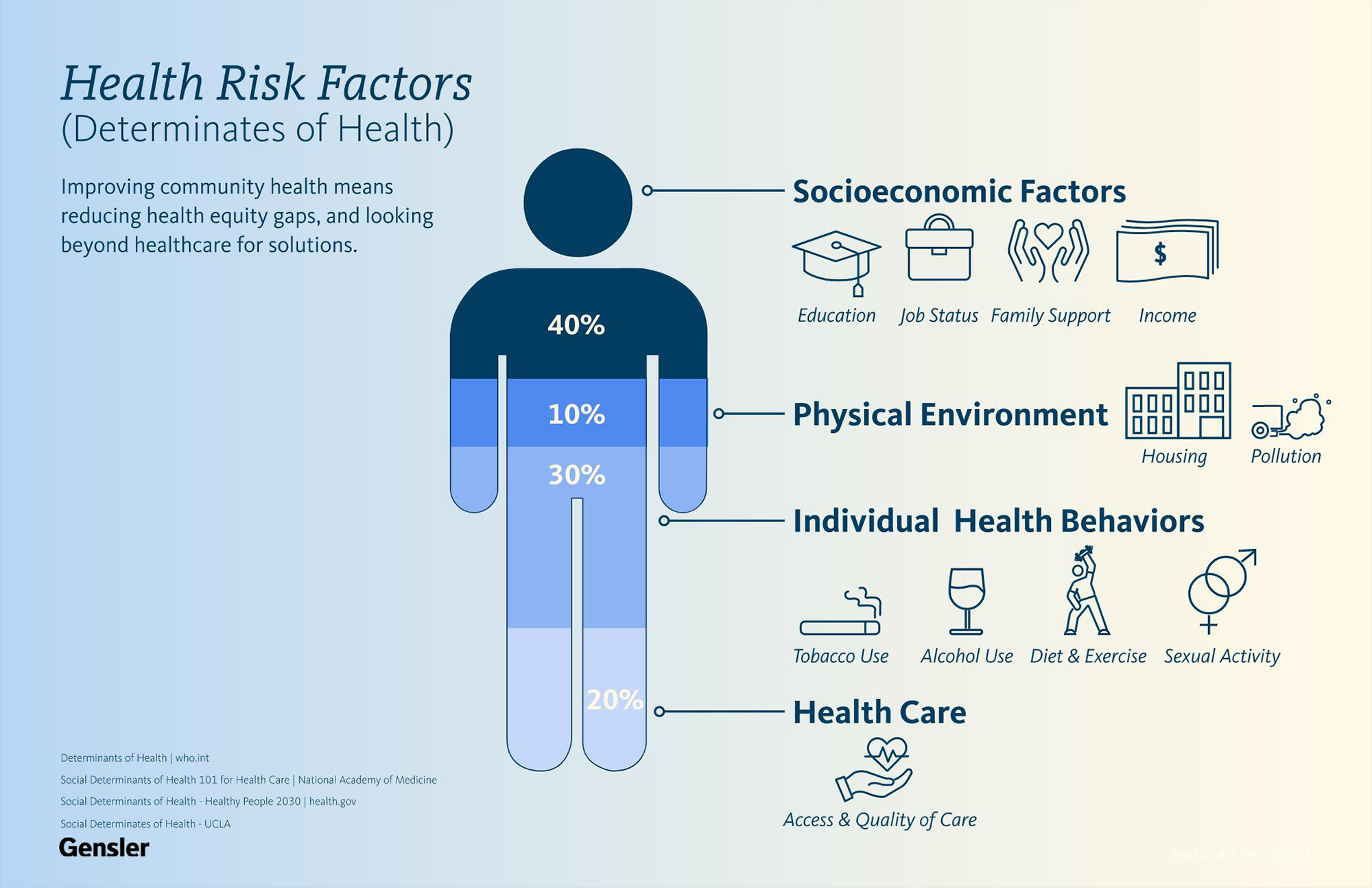 We propose that the future of healthcare is an integrated ecosystem of health and care. A connected network that dramatically shifts where healthcare services are provided and is built on multi-sector community partnerships to ensure individuals have the housing, nutrition, transportation, education, and social services they need to live their healthiest lives and reduce the costly burden on hospitals. We've been inspired by recent examples of these partnerships, like Kaiser Permanente's investment in affordable housing and Boston hospitals' partnership with Fresh Connect to provide healthy food, and the potential impact is clear. As William Gibson famously said, "The future is already here. It's just not evenly distributed."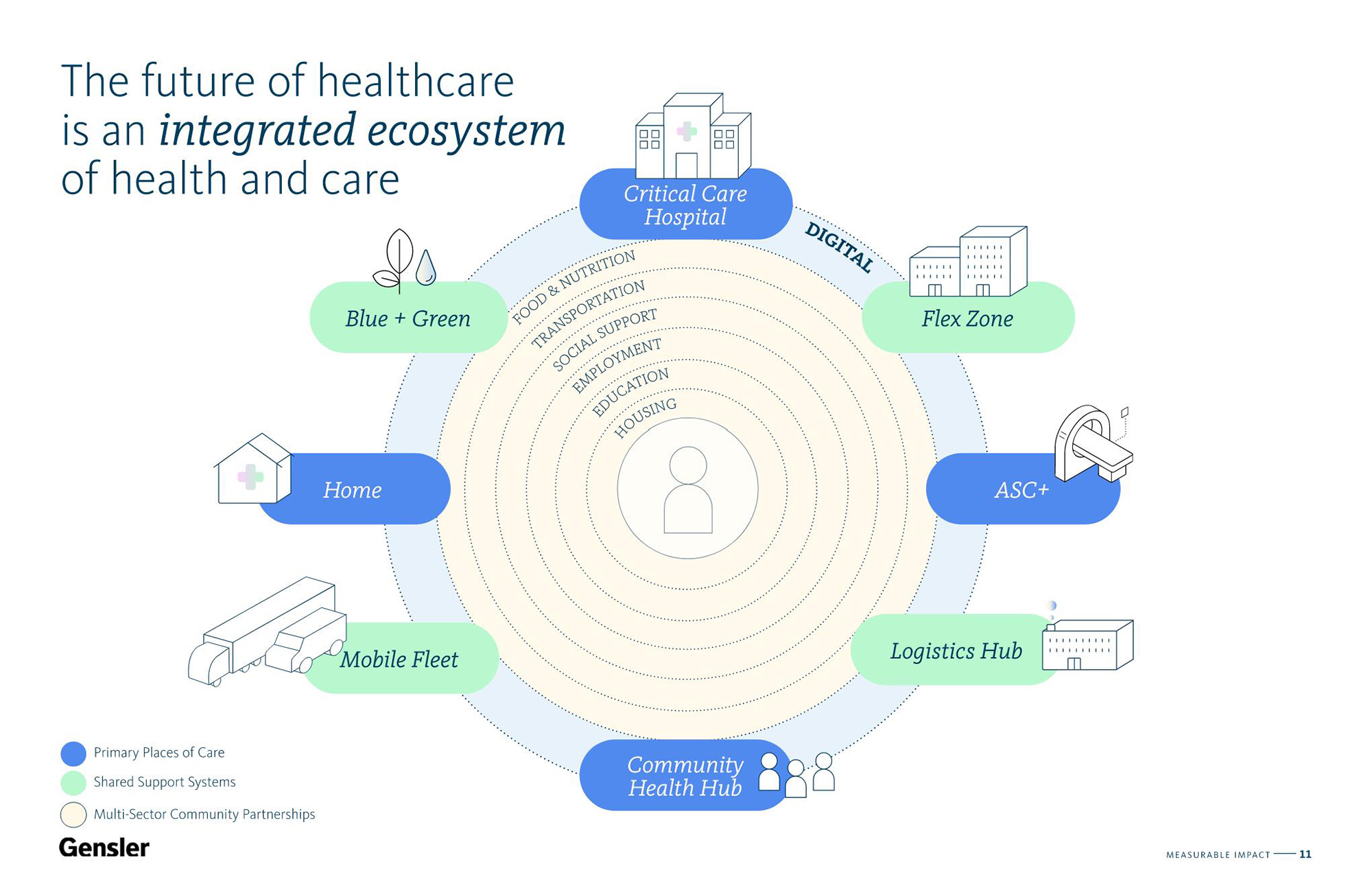 Overall, our vision for improving community health and transforming the healthcare experience for patients, health workers, clients, and communities is guided by three main ideas:
Right-Size the Hospital
Today's hospitals are amongst the costliest buildings to construct and operate, with staggering carbon footprints. Hospitals aren't going away anytime soon, but they can and should shift to providing only the most complex care. The trend of services shifting out of the hospital will continue at an increasing pace, driven by clinical and technological innovations, consumer demand, payer pressure, and provider opportunity. Given the time it takes to program, design, and construct a new hospital, now is the time to think ahead and anticipate that what can be done outside of the hospital will be done outside the hospital — and probably sooner than expected.
(Re-) Distribute Care
Rather than simply continue to shift hospital-based care into the ambulatory care centers established over the past two decades, there is an opportunity to redistribute services in a way that provides the right care at the right time in the right place and by the right person. In addition to allowing systems, communities, and individuals to work at the top of their license, this redistribution has the potential to reduce waste generated by unnecessary travel, medical intervention, and high-cost infrastructure.
While there are barriers that exist today, from financial incentives under a fee-for-service model to licensing restrictions that limit who and what can be done where, the pandemic revealed how quickly regulations and expectations can change. Two prime examples are the rapid adoption of telehealth services and growth of hospital-at-home programs. By investigating outliers across the United States, we can see examples of what is possible and imagine a future where our communities can receive the kind of care they want and need.
Anchor in the Community
In an ecosystem focused on prevention as a strategy for improving health outcomes and reducing cost, trust and access are both critical factors for success. Historically, medical services tend to radiate out from the hospital, with services pushed into communities through less-than-equitable strategies. In our proposed ecosystem, health and care are anchored in radically accessible, community-led primary care. Built through a network of community health centers as convenient as the drug store or gas station, staffed by trusted neighborhood providers who understand the unique character and needs of their community, these agile civic utilities empower communities to pull services on demand and adapt to changing needs over time.
Looking forward, some parts of the healthcare experience will feel familiar. But, as we redefine care through partnership, redistribution, and greater community engagement, how, where, and with whom we receive care will be radically different. Most importantly, with that shift comes the opportunity to dramatically improve health, reduce inequities, and relieve the burdens on an overstressed system that demands change. In the future, healthcare will not be defined by a single building or hospital. It will be an integrated ecosystem of people, communities, organizations, and infrastructure built around health and care.
For media inquiries, email .