As We Return to the Workplace, It's Not the Same — What Works? What Doesn't?
January 23, 2023 | By Janet Pogue McLaurin
Editor's Note: This blog is part of our blog series exploring insights from Gensler's 2022 Workplace Survey findings.
In March 2020, office workers around the world scrambled to suddenly work from home. Most of us packed up our laptops, a few files, and left our desks just as they were, assuming we would soon return. As the global pandemic raged on from weeks, to months, to years, we adapted to virtual meetings and new ways of working. We set up our homes as office environments and tried to balance work and life amid continued uncertainty. For some, it was difficult to work from home. For others, it created a new awareness of how they work best, and they embraced the flexibility. For all of us, it fundamentally changed how we work and our expectations of the office. Work and people's behaviors have changed. But for most, the workplace hasn't.
Senior leaders were typically the first to return to the office as the pandemic eased, bringing life and energy to empty office space. Different industries returned to the office at different paces. Per Kastle's back to work barometer, larger metropolitan areas like San Francisco and Washington, D.C. have been the slowest to return. In Gensler's latest U.S. Workplace Survey research, office workers who have started returning to the office at least part of their time are reporting that they spent 51% of their work week at their company's office space. And 30% of workers report that their company renovated their workspace in the last three years.
What's Working?
Throughout the pandemic, people missed the work experiences that they could not get working remotely. Employees had missed the informal collisions and opportunities to build trust, learn cultural norms and values, and strengthen existing relationships naturally just by being together. And younger employees, as well as new employees hired during the pandemic, craved the learning, coaching, mentoring, and relationship building that happens beyond Zoom. Once it was safe for employees to return to the office, there was joy in reconnecting face-to-face, working together with colleagues, and being part of a community again. As I wrote in a blog at the time, people were the new workplace amenity and the most important reason to come into the office.
In our latest workplace research, we measured that the office is effective for what we initially needed — working with others in-person, learning, and socializing. Working with CoreNet Global on joint research, we found that corporate real estate executives recognized the need to improve collaboration and meeting spaces. Three-quarters of CoreNet end users in our survey report that they are providing collaboration software/applications for hybrid work and upgrading meeting room technology. Over half are increasing the space allocation for video conferencing and working with others in-person.
Choice in where to work within the office environment has improved in the past several years. Three out of four U.S. office workers report that they now have choice in where to work within their office environments. That's a huge increase from our last U.S. Workplace Survey 2020, published in February, right before the pandemic. Choice has steadily increased over time from just one out of four workers in 2016 as employers intuitively recognize that choice plays a significant role in space effectiveness and the work experience. In fact, 88% of office workers in the highest performing workplaces have choice, according to our latest research. And 82% of office workers who say their workplace offers a great experience have choice.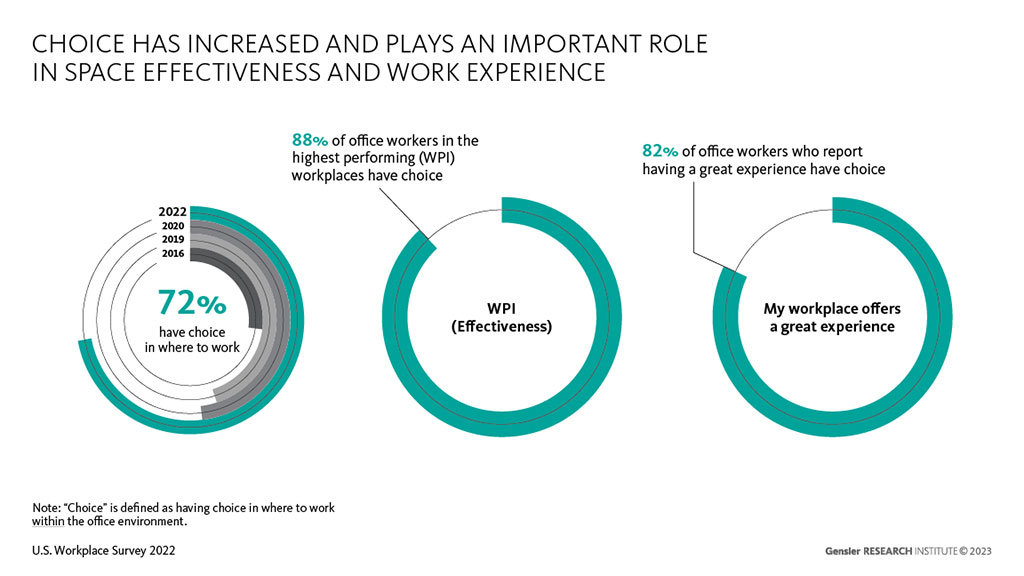 What's Not Working?
U.S. office workers now say the most important reason they are returning to the office is to focus on their work, which encompasses both individual work and group work activities. As we mentioned, the office is effective for supporting working with others in-person; however, the workplace is not supporting the remaining work activities well at all. In fact, space effectiveness for individual work and working with others virtually has continued to decline since 2019.
This is important because U.S. office workers spend most of their time working alone (34% of the week). Employees rate working alone as critical to their job performance, yet they rate space effectiveness as low. Working alone can encompass many different work activities, but U.S. employees say 69% of working alone requires a high-level of concentration. Despite these challenges, the office is still preferred not only for deep concentration, but for other critical work activities, such as writing or coding, hosting or attending calls, and thinking/ideating. Creating a workplace environment to work alone, which minimizes noise, distractions, and interruptions, is essential to keep people working at their best.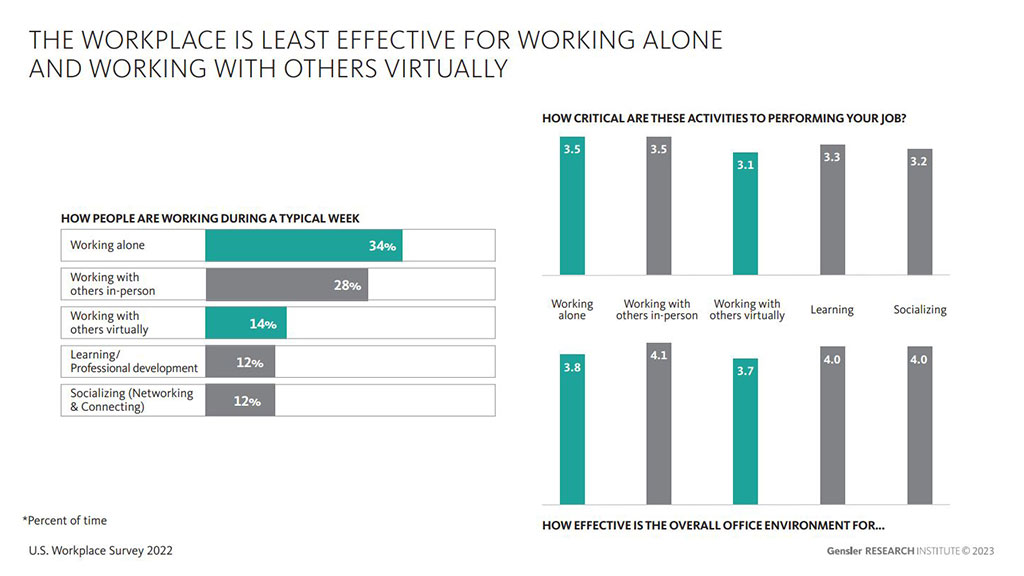 Space effectiveness for working with others virtually also continues to decline and it ranks the lowest effectiveness of all work modes. Over half of meetings in the workplace (56%) involve both in-person and remote participants. As we continue to work in distributed teams across geographic areas, it is essential to integrate physical and digital work experiences to better support online meetings and virtual collaboration.
People Prefer the Workplace — When It Works
People prefer the office, but only if it supports their work. This research finding was true in 2019, as workers were already working both in and out of the office pre-pandemic, and it still holds today. In our latest research, we see office workers who work in high-performing workplaces prefer to work at their company's office space for a wide range of critical work activities ranging from deep concentration, to writing/coding, to thinking/ideating, to hosting or attending calls.
In fact, workers in high-performing workplaces not only say that they prefer the office, but they also say that they need to be in the office more often than they are currently to maximize their individual and team productivity. And high-performing workplaces positively impact both individual outcomes like career advancement, work/life balance, and personal health and well-being, as well as organizational outcomes like speed of decision-making and quality of your team's work or services.
The workplace must adapt to meet workers' changing needs and expectations. First, the physical work environment needs to be designed to support the work. When it is effective, a well-designed workplace can also strongly impact the overall work experience. Together, effectiveness and experience can not only positively impact enterprise outcomes, but ultimately, create workplaces where people want to be.
For media inquiries, email .