What's Next for the Office? Here's What Corporate Real Estate Executives Say.
December 16, 2022 | By Janet Pogue McLaurin
The return to the office is still underway. Work has changed, along with both employer and employee expectations. In this transformational time, many are wondering what the future might hold. Will corporate real estate footprints shrink? How can the office be designed to better support hybrid work? And what about unassigned vs. assigned seating? This is the time to experiment with new ways of working, pilot different approaches, and learn from the new workplace realities in practice on what's working, what's not, and what it may mean for what's next for the office.
In preparation for the CoreNet Global Summit in Chicago in November, Gensler conducted a survey of CoreNet Global end users. The goal was to understand what corporate real estate executives (CRE's) are currently implementing or considering across their office space portfolio and understand future planning, including the impact to their real estate footprint. Eighty-one end-users responded, representing a diverse set of industries and company sizes. Most respondents were responsible for global or regional corporate real estate portfolios.
The following are the key findings from the survey, as well as from Gensler's workplace research, conducted in the same time frame.
WHEN IT COMES TO THE WORKPLACE, WHAT'S WORKING, AND WHAT'S NOT?
What employees say
Since 2008, Gensler has been measuring the effectiveness of space. As employees were returning to the office in the summer of 2022, Gensler conducted a research survey of over 2,000 U.S. office workers across 10 different industries. Respondents rated the space effectiveness for each of the five work modes. The research revealed that the current office environment is working well for collaborating with others in-person, learning, and socializing. The office appeared to be working well to support the work activities that people cannot do remotely — collaborate, coach and mentor, connect, and build relationships with each other.
However, the space effectiveness is not working for working alone and working with others virtually. In fact, those scores have declined considerable since pre-pandemic and are now at an all-time low. Working alone was ranked by employees as most critical to their job performance and requiring a high degree of concentration. Working with others virtually has become an important component of distributed work and global teams, with 56% of meetings occurring in the office having both in-person and virtual participants. Providing space to support both working alone and working with others virtually is critical to creating high-performance workplaces.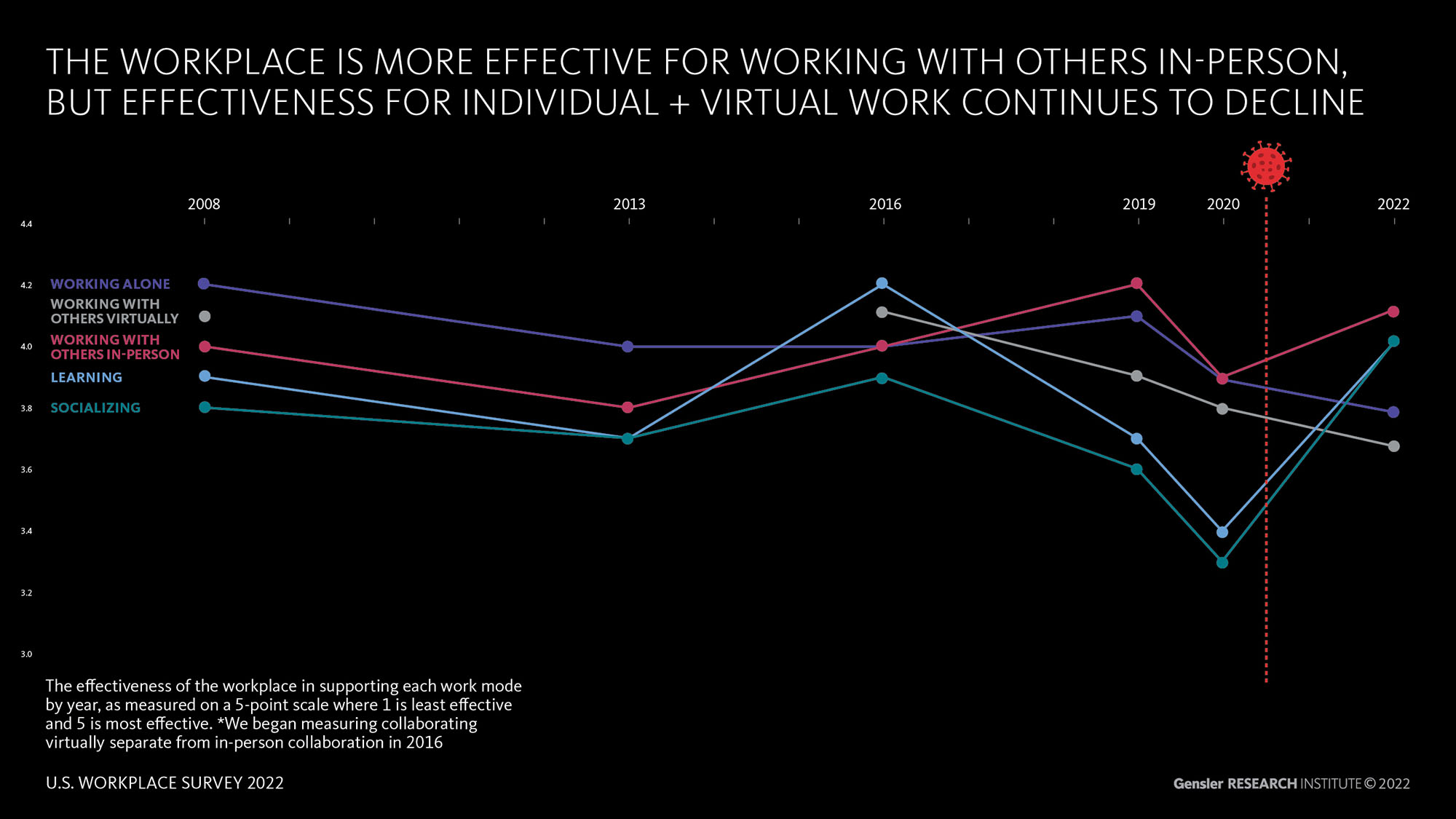 What corporate real estate executives are planning
CoreNet end users recognize the need to improve collaboration and meeting spaces. A majority (75% and 72% of respondents respectively) report that they are providing collaboration software/applications for hybrid work and upgrading meeting room technology. About half are increasing the quantity of both reservable conference rooms and ad hoc meeting spaces for group work. CRE's are also reallocating office space to better support both in-person and virtual group work. Over half are increasing the space allocation for video conferencing and working with others in-person.
It's a different story for improving working alone. More than half (56%) are not even considering providing more private space for individual work. And 76% of CRE's are either decreasing or leaving unchanged the amount of space for focused concentrative work. This may be a missed opportunity. CRE's should explore strategies to improve the office environment to better support working alone. Consider quiet/tech-free zones, adding library spaces or focus rooms, and providing alternate work settings where employees can use throughout the day when they need to concentrate on their work or signal to others not to interrupt. Creating both spaces to support hybrid meetings and spaces for working alone will improve the overall office environment for employees to do their best work.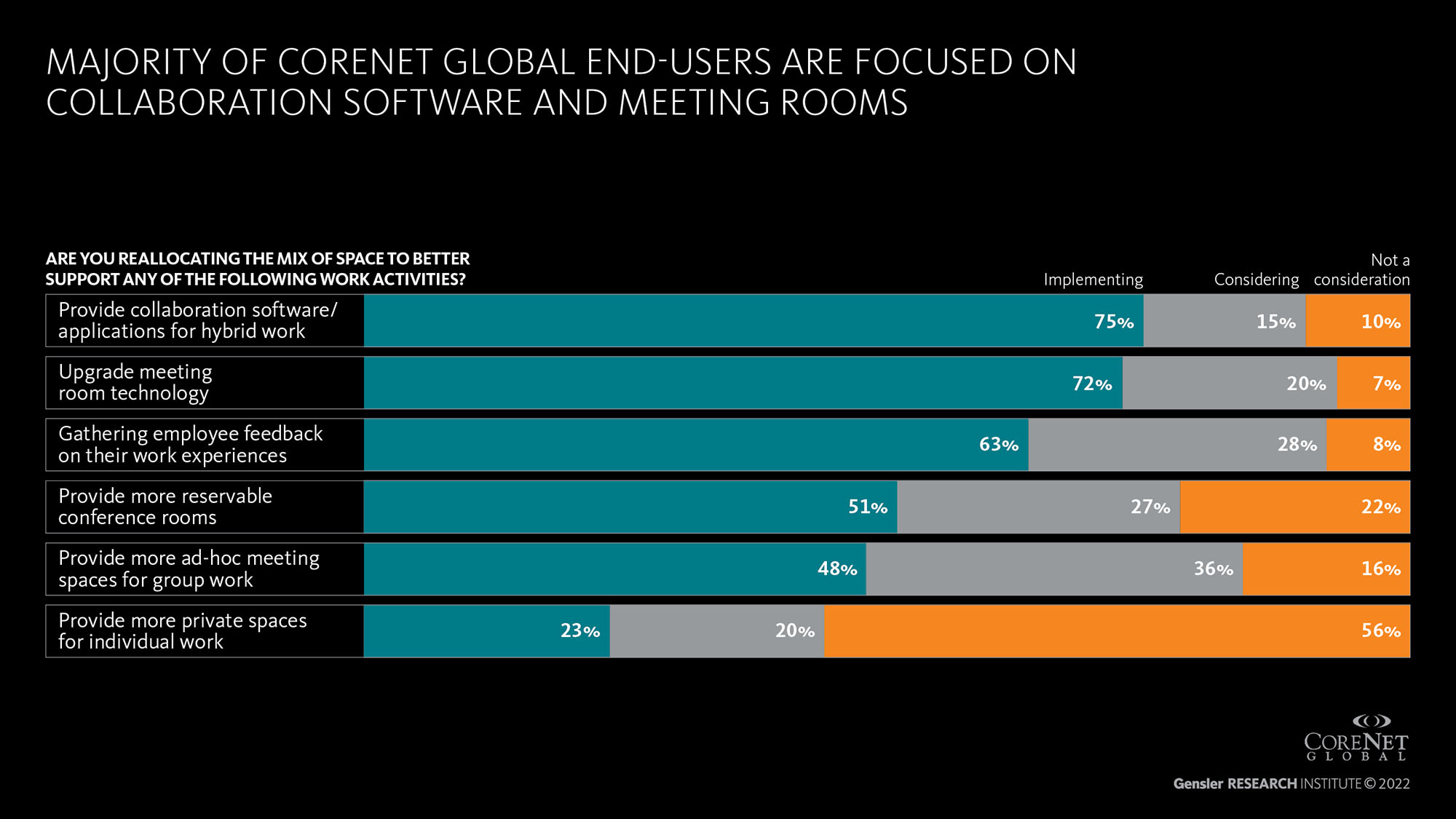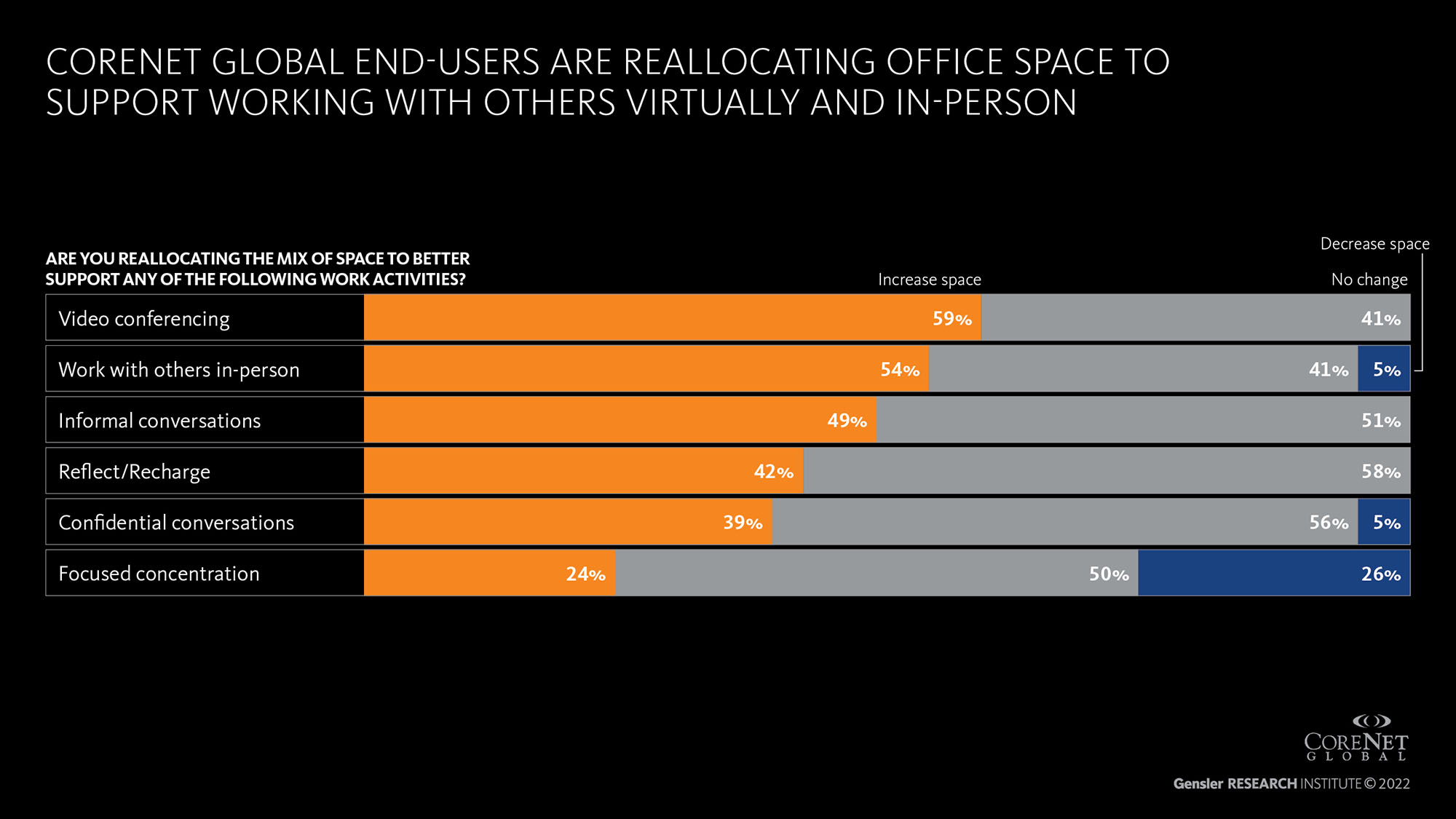 WHAT'S NEXT FOR THE WORKPLACE?
What's next on the horizon depends on policy, the purpose and intention of the workplace, and how it will be used. In the survey and the interactive polling questions during this session at the CoreNet Global Summit, we highlighted not only what companies are planning, but what might be the long-term impact on real estate.
Return to Office (RTO) policies
CRE's agree that hybrid is here to stay in some form or another. At the time of the survey, return to office policies varied widely by company and by industry. Financial services firms were in the process of returning for the majority of the week, while technology companies remained more flexible. Policy did not appear to vary by company size.
The vast majority of CRE respondents reported that their companies have flexible remote work policies with only 5% requiring all employees in the office full-time. About 40% have policies that are determined at the team level and 24% give everyone the option to determine their schedule individually. And 21% encourage staff to be in the office on "core" days/hours with the remaining time being flexible.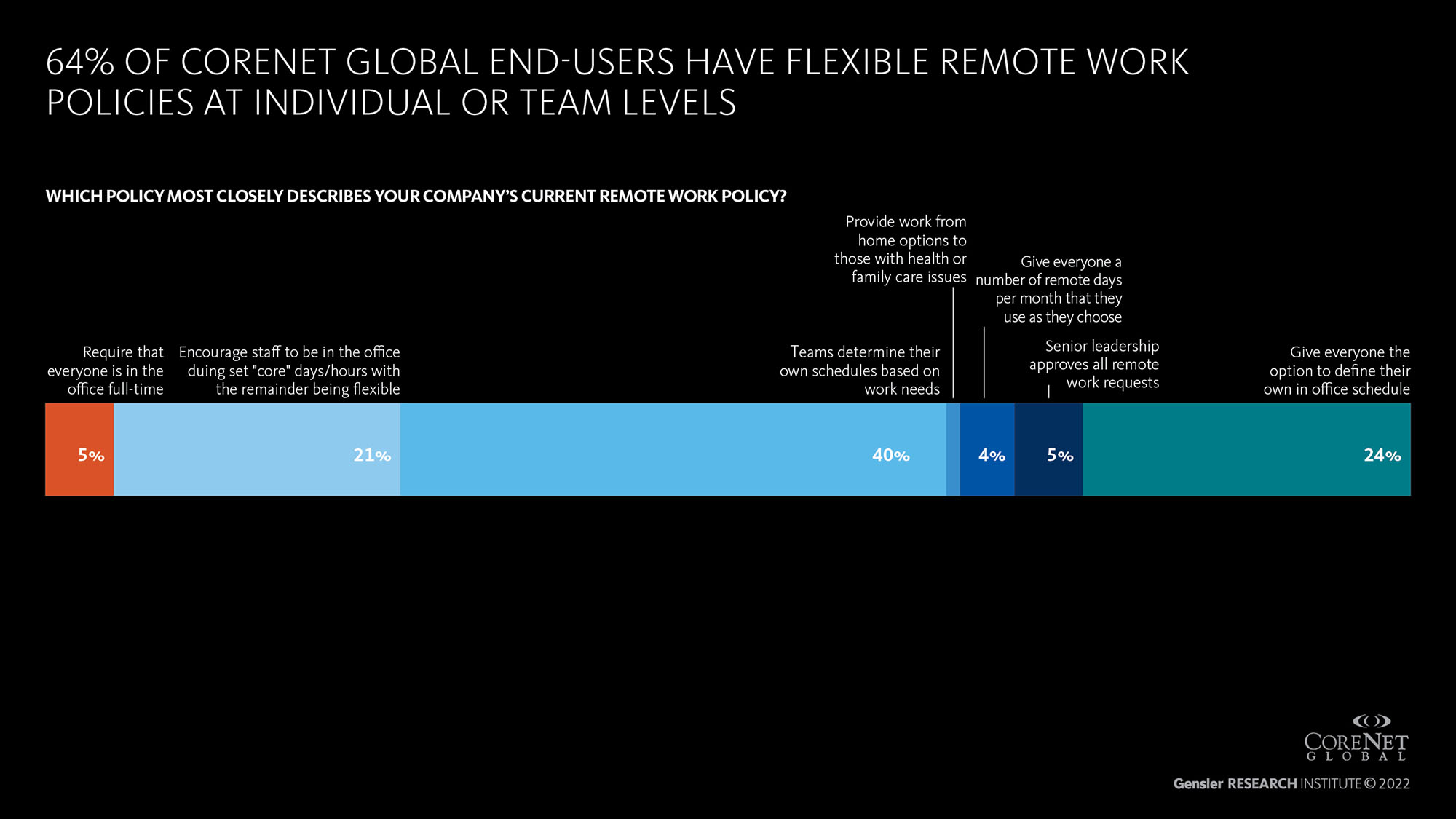 Unassigned seating
Assigned, unassigned/shared, reservable, or sitting in the common areas are workspace options dictated by frequency of use and how often employees are in the office. In the survey, each respondent broke out the percentage of staff using each type of workspace that they are providing. On average, 34% of employees have a dedicated desk or office, while 40% of employees have unassigned or shared desks to use when they do come into the office. And 11% have the ability to reserve a team space, while 16% of employees are remote and sit in common spaces (no desks) when they come into the office.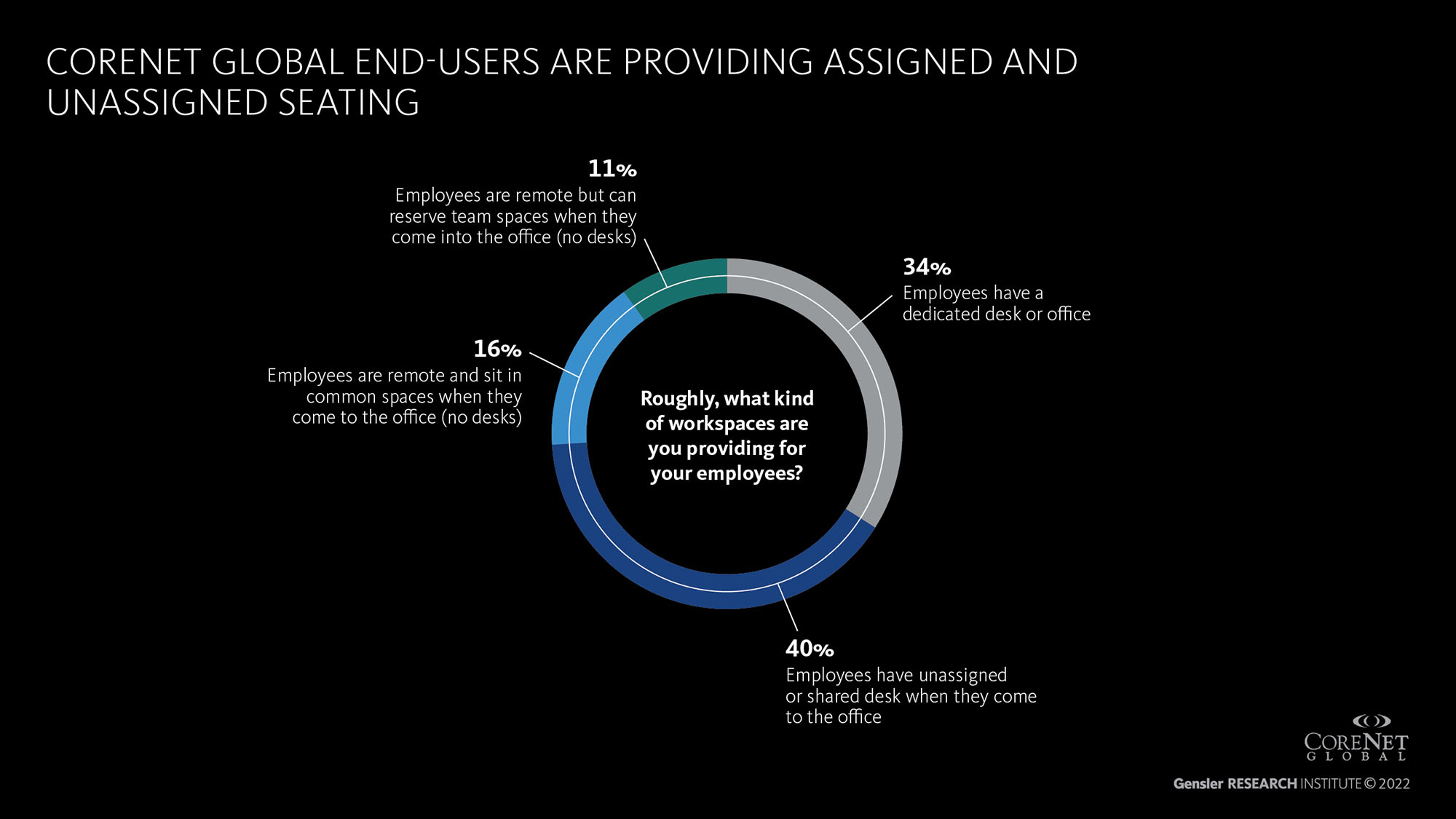 Future impact on real estate footprints
Work, expectations, and policies are dynamic and always evolving, yet the amount of real estate can't often change at the same pace. Leases are not as flexible and it takes a while to bring projects to fruition. CRE's are challenged to anticipate the size of their real estate footprint in the near and long-term.
In the survey for both 2021 and 2022, Gensler asked the question "compared to now, how much office do think your company will have three years from now?" In Fall 2021, 18% of CRE's thought it would increase, while 62% thought it would decrease with the majority of CRE's reducing their footprint between 10-15%. Fast forward to Fall 2022, 14% of CRE's are still predicting an increase while 68% are predicting a decrease with more predicting a larger reduction than a year ago.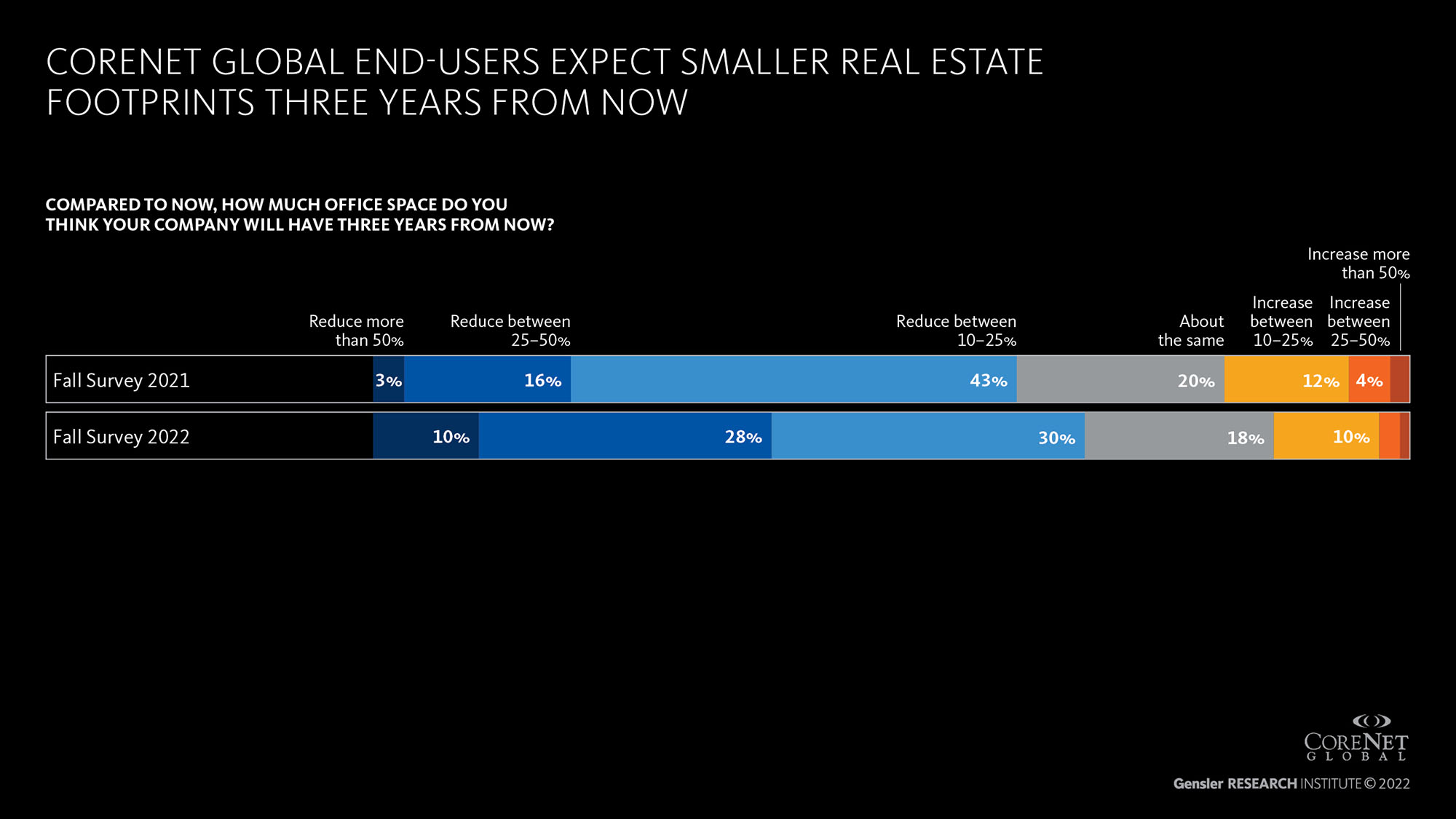 What advice do CRE executives give to their peers?
As CRE's thought about creating a successful post-pandemic workplace, they offered great advice to their peers, colleagues, and other real estate professionals. Many recommended to be flexible, agile, and open-minded. Nothing is permanent. Work and the physical workplace will always be in a state of constant evolution and change. Others made recommendations to listen to employees, observe, and track behaviors then pivot quickly given staff response. Invest in technology. Trust your team when they are working remotely by managing performance, not presence. Align with senior leadership, constantly communicate, and remain resilient. One executive summed it up well: "the office should provide experiences that they can't get remotely." We agree. The office should be a destination, not an obligation.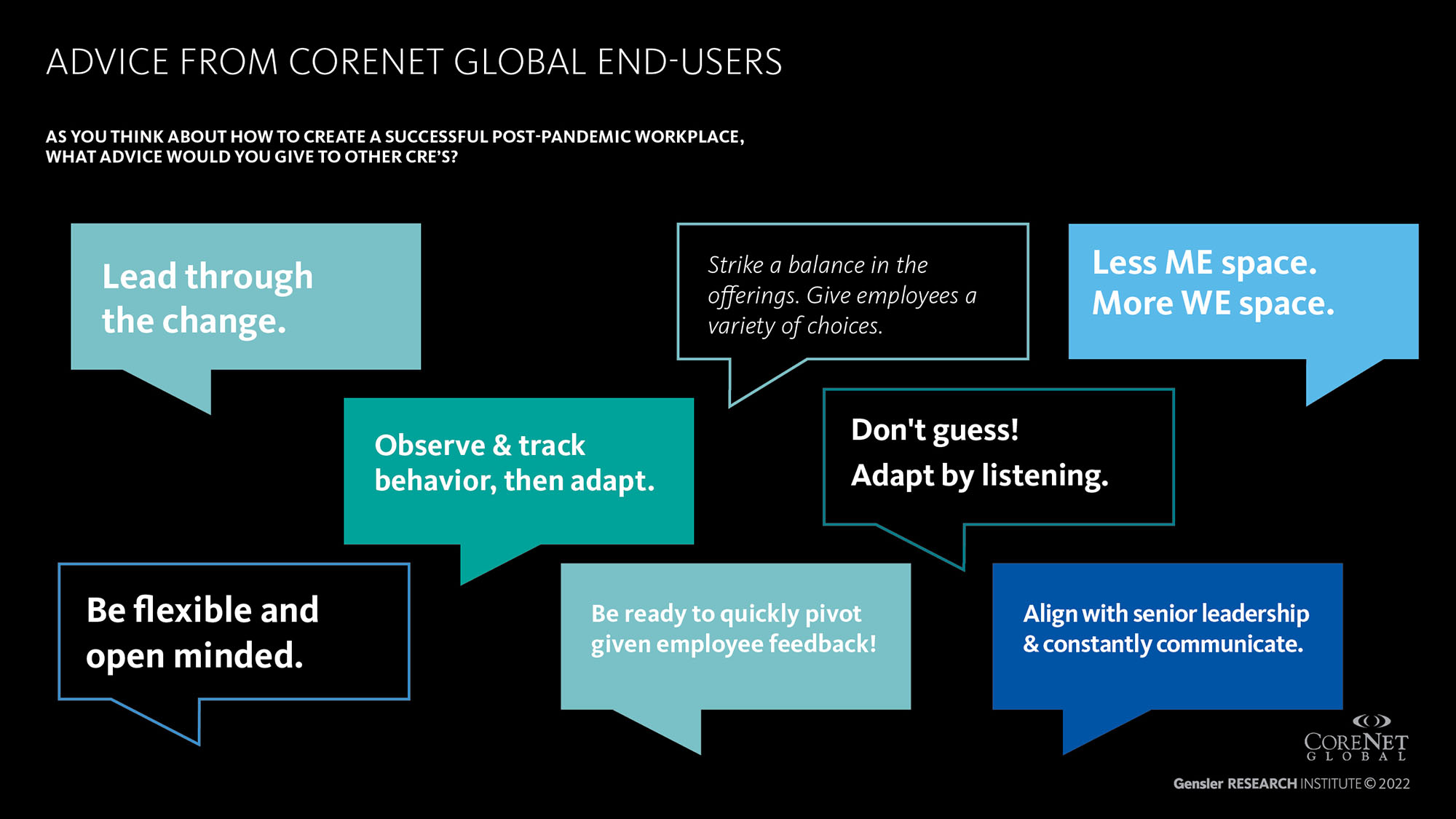 For media inquiries, email .