As airports expand and gain importance in their locales, they've become much more than centers of transportation. They are user-driven ecosystems — operating as small cities with their own authentically local experiences. Characterized by mixed-use development that includes housing, retail, gourmet restaurants, conference centers, and entertainment venues, airports have become destinations in their own right.
There were 494 million new international traveler departures during the past 10 years, and another 507 million new travelers will depart in the decade ahead.
—Skift
COMMUTER TRAVEL IS THE FUTURE
Daily commuting by air is common on routes connecting Sydney to Melbourne, or Tokyo to Singapore. It's not practical everywhere. But by using smaller aircraft on short- to medium-range flights, travel times between cities could be cut in half using secondary airports with only carry-on luggage and more efficient security checkpoints. This level of convenience can spur commuter demand, and new ventures in electric-powered aircraft could dramatically lower costs too.
BIOMETRIC SCREENING WILL IMPROVE TRAVELER EXPERIENCES
Airports are adopting biometric screening to increase security and improve passenger processing. More than 15 airports across the U.S. have begun testing the technology with airline partners and found that it can cut boarding time in half, freeing passengers' time and attention. Facial recognition has been the primary tool, but government agencies are exploring a layered approach that would also include fingerprint verification.
REAL ESTATE ASSETS ARE MONETIZING AIRPORTS
Airports are looking for new ways to cover their costs, as they seek more income for improvements to their terminal and other facilities. For some airports, their real estate has become a valuable, revenue-generating asset. Office buildings, golf courses, sports facilities — even car dealerships — occupy land that is leased from adjacent airports. According to the Airport Cooperative Research Program, 70 U.S. airports have developed solar energy projects that lower their energy bills or provide income. As new forms of mobility decrease the need for parking garages, even more valuable land will be freed up for redevelopment.
AMENITIES ARE A DRAW FOR LOCALS TOO
As airports add more sophisticated offerings that include retail, gourmet restaurants, events, and entertainment, they are attracting not only travelers, but local patrons too. Both air passengers and local citizens appreciate how airports have upped their game in providing locally sourced food, regional artwork, and an authentic environment that elevates human experience.
COUNTERING STRESS WITH A FOCUS ON WELLNESS
Given the stresses of air travel, airports have flipped the script by placing renewed focus on wellness features that allow passengers to use their downtime for some well-deserved pampering. Basics such as natural light and good air circulation make for a healthy environment, but green spaces (indoors or out), gyms, yoga rooms, and walking paths add to the mix. Vendors join in by offering healthy local food, beverages, and products.
Insights and Industry Trends by Expertise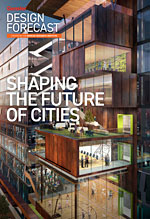 GENSLER RESEARCH INSTITUTE
SHAPING THE FUTURE OF CITIES
Fill out the form below to download Design Forecast (PDF).