We experience cities at many different scales, from singular buildings and spaces to neighborhoods and entire districts. This variety in the human experience of cities is why we are seeking to regenerate urban centers to create socially, environmentally, and technologically connected places for people. Connections are a key element to building communities that are lasting and adapt over time — incorporating a broad range of considerations that include context, site, culture, history, and knowledge.
With over half of the world's 7 billion people living in urban areas today, the trajectory of cities will determine the trend lines of human experience across the globe.
—Diane Hoskins, Gensler Co-CEO
CHARTING A PATH TOWARD REGENERATION
The future of cities can be defined in terms of resilience, sustainability, and prosperity. But the path to that future is not linear, it's cyclical. There's an opportunity to reuse and recycle the resources that have been expended to build our cities. The urban fabric of the past can be connected to the future by creating frameworks that are flexible and adaptable to change through time. It's a vision that is more than future-proof, it's future ready — connecting cities to nature, embracing technology, and putting people at the center.
ADDRESSING THE WEALTH GAP THROUGH HOUSING AFFORDABILITY
With development pressures rising in cities everywhere, the income gap is widening. Not only are working-class families disappearing from urban neighborhoods, but housing in cities is fast becoming unattainable for public service workers and young professionals too. There's a dire need for mixed-income housing. Designers can be part of the solution, serving as leaders who advocate for social equity through housing opportunities that improve quality of life and track to a better economic future for residents who need it.
CREATING A CONNECTED HUMAN EXPERIENCE WITH SMART TECHNOLOGY
More urban centers around the world are investing in sophisticated digital infrastructure with the vision of becoming "smart cities." By combining data-driven decision-making tools, sensors, and AI, smart city strategies promise an urban experience that is dramatically improved for people. If channeled correctly, these technologies could help inform solutions to the most difficult challenges of urbanization, from crime and homelessness to elder care and transportation.
COASTAL COMMUNITIES MUST ADAPT TO CLIMATE CHANGE
Cities must plan aggressively for climate change. This is particularly true for coastal cities, which are most vulnerable to climate-related disasters such as sea level rise, hurricanes, and flooding. For cities to protect their citizens, local and regional governments must partner with the private sector to adopt innovative resilience strategies. Planners can anticipate sea level rise by zoning low-lying areas as parks and wetlands, while designing elevated transportation networks that still work during floods.
PEOPLE WANT AUTHENTICITY, NOT ANONYMITY
There's a growing desire to restore the vibrancy and enhance the experience of city life for people. This vision for the future of cities is a place that values walkability and a mix of uses. It's a place that is scaled to people, providing safe walking environments and open space for public life. Most importantly, it's an authentic place that is grounded in the unique culture and values of its people while embracing modern technology and the global community.
Insights and Industry Trends by Expertise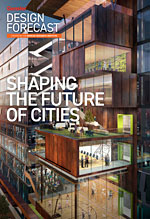 GENSLER RESEARCH INSTITUTE
SHAPING THE FUTURE OF CITIES
Fill out the form below to download Design Forecast (PDF).