Critical facilities are the framework that enables the digital world. As advances in technology prompt shifts in the market, the shape and size of these facilities are becoming more diverse. While known for occupying buildings on isolated sites, their future is in the urban landscape as a component of hybrid projects.
The data center market is witnessing strong growth in numerous major regions, including the Americas, Europe, and Southeast Asia. In Europe, this is attributable to heightened regulation regarding data protection and privacy. In Southeast Asia, it's due to the region's high internet penetration and growth of modern technologies.
—TechNavio
A NEW GENERATION OF COMMAND CENTERS
Cybercrime is a growing concern — a threat so serious that a recent Zeitgeist Guide labeled it the number one concern for CEOs in the U.S. Executives in industries across the board are looking to build command centers to defend their brand and their customers against cyber hacking. Globalization of business and economics has heightened the risk even further. Fortunately, improvements in technology and visualization will transform command centers and help organizations oversee the management and control of their most essential computing systems.
SOLVING THE GROWING DEMAND FOR DATA WITH COLOCATION
The growing demand worldwide for data storage is being met increasingly by colocation data centers. The popularity and low operating costs of cloud computing are helping to drive this demand. Colocation data centers also meet the needs of industries such as financial services because of how they can increase scale, lower IT costs, and help manage complex technology stacks.
SUPERCOMPUTING IS BIGGER AND FASTER
National labs are in an arms race to build faster supercomputers, which are used for a wide range of computationally intensive tasks in fields ranging from quantum mechanics and weather forecasting to climate research and oil and gas exploration. Universities and hospitals are also rushing to build supercomputers to support scientific research and sequence DNA for diagnostic purposes.
THE RISE OF HYBRID FACILITIES
Critical facilities are increasingly becoming an important component of multifunctional projects that are combining several uses — such as medical simulation labs, conference centers, and data centers — to improve efficiency and reliability. In university settings, for example, there's a greater need for advanced computing power to support research and facilitate partnerships with industry. Medical centers are important drivers too, both for patient records and for research and diagnostic processes. Often housed on campuses, these data facilities are being designed to better integrate with their surroundings.
Insights and Industry Trends by Expertise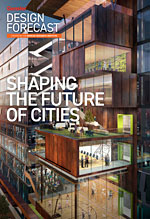 GENSLER RESEARCH INSTITUTE
SHAPING THE FUTURE OF CITIES
Fill out the form below to download Design Forecast (PDF).