Next-wave digital technologies — such as augmented reality, artificial intelligence, and IoT-enabled devices — are already transforming our world in unexpected ways. As these technologies evolve and become more widely adopted, people and organizations will search out those applications that can integrate into their daily experiences with the least friction. The role of digital experience design is to help smooth that integration and enrich the human experience through technology.
"A significant portion of the population of developed countries, and eventually all countries, will have AR experiences every day, almost like eating three meals a day."
—Tim Cook, Apple CEO
URBAN PLANNING SHIFTS GEARS WITH SMART CITIES
For city administrators looking to implement smart city technologies, the challenge will lie in building a digital network that has little in common with today's infrastructure. Where urban planning has traditionally sought to rework the underlying physical structures of cities, smart city planning is shifting focus toward incremental improvements to existing systems and enabling better management through digital technology.
SMART CITIES SHOULD BE HUMAN CITIES
To deliver true value, smart cities will have to leverage technology to make our urban environments more livable, efficient, and sustainable. In a best-case scenario, cities would focus first on human-centric objectives rather than revenue generation. They would also be flexible enough to respond to public interests and points of view.
CITIES WILL BECOME CUSTODIANS FOR DIGITAL RIGHTS
As cities become layered with digital technologies that extract more data, municipal governments must take steps to ensure that the same human rights that people have offline will also be protected in the digital realm. The Charter of Human Rights and Principles for the Internet, which was established within the framework of the United Nations' Internet Governance Forum, can serve as a powerful tool for the development of policies and resources to help advance digital rights.
THE VALUE OF REAL-TIME MAPPING
When deployed thoughtfully and with respect for privacy, sensors can be used across city infrastructures to create new data sources that allow cities to monitor, analyze, and anticipate urban phenomena in new ways. This information can be paired with anonymous data from other sources, such as hand-held devices and social media feeds, to unlock hidden patterns and trends that ultimately deliver benefits to city dwellers.
Insights and Industry Trends by Expertise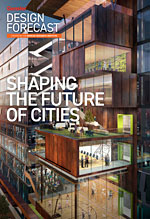 GENSLER RESEARCH INSTITUTE
SHAPING THE FUTURE OF CITIES
Fill out the form below to download Design Forecast (PDF).