Our schools, museums, libraries, and religious organizations play a critical role in shaping and nurturing the people who will lead our future cities. These institutions are the infrastructure of community. They form values, engender learning, transfer skills, and forge human bonds. Each kind of institution belongs to everyone, so our charge is to create welcoming, mission-focused places that embody diversity, equity, and inclusion.
66% of students prefer a quiet space to study.
—Changing Course: Connecting Campus Design to a New Kind of Student,
Gensler Research Institute
ACCESS TO EDUCATION REQUIRES NEW PATHWAYS
Holders of a college degree average 60% higher lifetime earnings than those with only a high school diploma, so schools and institutions are having to take a hard look at how they deliver education. Multiple vehicles — from curriculum and policy to technology and space — can be employed to expand pathways for students. An underlying theme heard from educators is "meeting the students where they are," taking into account the social, cultural, and economic diversity of today's students.
THE AVERAGE USER IS A MYTH
The common thread running through schools, museums, libraries, and religious organizations is the need to serve individual needs. This is a taller task than it used to be when organizations could cater to "types" or "the average person." In fact, in an increasingly diverse world, the notion of the "average user" has become a myth. That means we must design for all people, listening to diverse perspectives, providing for multiple pathways, and allowing for variety and choice in settings and technology.
FAITH CENTERS ARE REPAIRING THE SOCIAL FABRIC
The majority of Americans (77%) look to faith leaders to help address the issue of global poverty, and faith leaders are taking the issue to heart. With gaps in public services, faith-based institutions are taking up the cause of serving the poor by providing food, housing, and counseling services, while working on a larger scale to build more equitable societies and tackle this global issue at a systemic level.
MUSEUMS CAN BE MODELS OF INCLUSIVITY
Museum-goers expect museums to provide an environment of inclusivity and equality. The Gensler Research Institute found that 94% of people perceive museums to be symbols of inclusivity. To achieve this, institutions must be accessible for people with a range of disabilities, meet the needs of different generations, and welcome people of diverse backgrounds. Gender inclusive restrooms, railings, clear interpretive labels and navigational signage, and trigger warnings can all boost perceptions of inclusivity.
LIBRARIES ARE AS VITAL AS EVER
Libraries were once temples of learning that housed books and journals, but librarians have a different vision for the future. They see libraries as places for community service, learning through play, coworking, and community access to technology. To realize this future, librarians are leveraging new platforms of media production and distribution. Adapting to these changing functions will mean reconfiguration of space and rethinking the means through which people access information.
Insights and Industry Trends by Expertise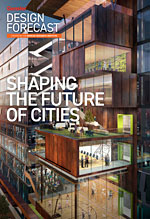 GENSLER RESEARCH INSTITUTE
SHAPING THE FUTURE OF CITIES
Fill out the form below to download Design Forecast (PDF).