With the accelerated rate of technological advancements, science and energy companies must be nimble and ready to adapt to continual change. Similarly, as the science and energy disciplines place increasing emphasis on collaboration across multidisciplinary teams, scientists and engineers require adaptable and livable technical environments in order to solve the world's most challenging problems.
67% of respondents agreed that it is critical to maximize flexible laboratory areas.
—Adaptability in Life Science Design, Gensler Research Institute
ADAPTIVE, AGILE WORKPLACES THAT RESPOND TO CHANGE
Advances in sensor technology, cloud computing, bandwidth, and storage have opened the door for office spaces that learn and adapt. These intelligent buildings appeal to companies with large real estate portfolios that are already in frequent test-and-learn feedback loops. Through an evidence-based approach that integrates data, AI, and intelligent building systems, the next generation of office buildings will empower people to do their best work.
INDUSTRY DISRUPTION REQUIRES REVOLUTION
The energy industry is adapting to new types of energy and alternatives to fossil fuels in an effort to reinvent itself. As workers are pushing their employers to be accountable, be innovative, and have speed-to-market solutions that can help solve the energy crisis, there's an increased focus on culture, values, and environmental stewardship. For clients in the sciences, the industry has become less monolithic as it has begun to acquire innovative ideas from startups. The trajectory is continuing in the direction of entrepreneurial science, as large companies draw talent and new ideas from startups and early-stage companies.
CREATING A CULTURE OF COLLABORATION
Research science has moved from a culture of individual persistence to a culture of urgent collaboration. Technology has enabled science to move toward new models of innovation that engage a broad range of research disciplines and organizational partnerships. Blue-collar resurgence is about bringing expertise into the workplace that has become scarce as the economy has focused on technical over applied expertise. As technical and corporate disciplines converge, co-creation spaces can fuel the cross-pollination of ideas.
TECH AND AUTOMATION PUT THE FOCUS ON HUMAN EXPERIENCE
Open innovation and technology are influencing the design of research environments and supporting new ways of working. Automation is giving scientists more mobility than ever before. Additionally, the process of analyzing data is revolutionizing the way scientists work. This shift requires design that makes transitions between lab and workplace easier. We also have to create spaces that stimulate process evolution, support task-specific work, and reinforce purpose-driven cultures. As automation becomes more pervasive, we need to develop design solutions that focus on the human experience.
Insights and Industry Trends by Expertise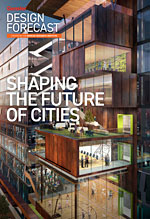 GENSLER RESEARCH INSTITUTE
SHAPING THE FUTURE OF CITIES
Fill out the form below to download Design Forecast (PDF).