The digitization of everyday life has spurred a technological and cultural revolution in the financial services industry. To operate more efficiently and keep pace with expectations, financial firms are placing a premium on supporting innovation and experience in the workplace, ultimately enhancing their connections with consumers through superior services and products.
By 2020, Gartner estimates Internet-connected things will outnumber humans 4-to-1, creating new dynamics for marketing, sales, and customer service.
— Leading the IoT, Gartner
DIGITAL TRANSFORMATION IS HERE TO STAY
Technology is the new game in banking. How well banks succeed at digital transformation will ultimately depend on how well they integrate all aspects of their organizations. Of the firms planning to invest in digital technologies, 15% say the emphasis of that spend will be to build the modern workplace. That implies more than new computers and servers, but an "intelligent workplace" that quickly adapts to new technologies and meets the demands of an increasingly tech-savvy workforce.
COMPETITION FOR TALENT IS INCREASING
Businesses that attract talent with the workplace are also reaping the benefits of having happier, more engaged people. According to Gensler's 2019 U.S. Workplace Survey, when people have great experiences at work, they are more engaged with the company culture, have better interaction with their peers, and are more productive.
INDUSTRY COMBUSTION RESHAPES THE COMPETITIVE LANDSCAPE
According to Deloitte's M&A Trends Report 2019, 76% of corporate organizations and 87% of private equity organizations expect an increase in mergers and acquisitions. This activity is contributing to the rise of cities and the evolution of business models and leading to an imperative for flexible workplace design.
TECHNOLOGY BREEDS CONSTANT DISRUPTION
Mission-driven startups have shaken the core of legacy financial services firms and challenged them to focus on their customer experiences and reimagine their product offerings. The future of financial services design is driving a new era of innovation through the convergence of employee and consumer engagement.
Insights and Industry Trends by Expertise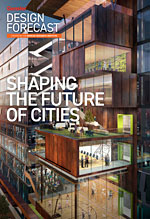 GENSLER RESEARCH INSTITUTE
SHAPING THE FUTURE OF CITIES
Fill out the form below to download Design Forecast (PDF).