Mission-based goals are a common denominator for not-for-profit organizations, so their workplaces need to reflect the mission and culture of the company more than most. There is great diversity among these entities — ranging from grant-giving foundations to membership-based associations — but the causes they support are human-centered. Design of their physical space amplifies their story, and communicates their ideals about meaningful social change to their community and beyond.
In the face of so many disruptions, the institutions that will remain relevant to their audiences and members are the ones that expand and redefine their mission to be more inclusive.
BRANDED ENVIRONMENTS TELL THE STORY OF MISSION
Every organization has a story. Branded workplaces create a narrative that connects with people on an emotional level. This helps attract top talent, engages the workforce, and inspires visitors, clients, and donors. In the case of mission-driven nonprofits, media like graphics, signage, murals, and plaques do more than chart the history of the organization, they embody values and perpetuate them.
CREATE SPACES FOR ADVOCACY
For organizations dedicated to helping disadvantaged or underserved communities, the office can serve as place for advocacy. Space can provide refuge and solace — a place for encouragement and affirmation, a place of belonging. Purpose-driven spaces can also help with job training, counseling, placement services, and continued education opportunities that lead to upward mobility. Most importantly, they empower their constituents.
ASPIRE TO A PURPOSE-DRIVEN WORKPLACE
Talented people want more than a paycheck; they want workplaces where they can excel at their jobs while also feeling connected to a greater purpose. This cohort of purpose-driven workers is naturally drawn to nonprofits. To help them realize their dream, their workplace needs to provide a variety of spaces that express mission, attract donors, provide flexibility, and give back to the employees. Office space that attracts the best talent and helps them achieve meaningful results is a great motivator.
Insights and Industry Trends by Expertise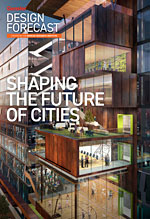 GENSLER RESEARCH INSTITUTE
SHAPING THE FUTURE OF CITIES
Fill out the form below to download Design Forecast (PDF).