Our Government & Defense practice provides design leadership that celebrates civic pride. Whether designing campuses, buildings, or interiors for local, state, provincial, or national governments, our projects use the best public- and private-sector design and delivery practices to create secure and healthy work environments for public workers and the citizens they serve.
Access to a greater variety of workspaces would increase the balance and choice that underpin workplace performance and innovation.
—Gensler 2016 U.S. Workplace Survey™, Report On Government Sector
REUSING EXISTING BUILDINGS AND RESOURCES
Governments are renovating and reusing their existing buildings wherever feasible. Reuse of an existing building is also a sustainable practice that conserves construction resources and reduces energy and operating costs.
CREATIVE DELIVERY METHODS
Government organizations are embracing new creative delivery methods to accelerate schedules, cut costs, and take advantage of private financing. More states and localities are using public-private partnerships and design-build methodologies to design and construct public facilities, thereby bringing private-sector delivery efficiency to government projects.
RIGHT-SIZING THE FOOTPRINT
Technology has untethered workers from their desks, which often allows for a reduction in workplace square footage. The federal government has led the way in adopting more open and collaborative office environments pioneered in the private sector that are designed to optimize a variety of work settings. States and localities are increasingly following suit, and finding that increased access to online state and local citizen services leads to a reduction in on-site service centers.
A BALANCED WORKPLACE PROMOTES ENGAGEMENT
To engage workers and heighten performance, government facilities should have a balance of "we" space and "me" space to foster collaborative as well as individual performance. Gensler's 2019 U.S. Workplace Survey has shown that workplaces with a variety of settings result in a more engaged and higher-performing workforce.
WORKPLACE INNOVATION IN THE WAR FOR TALENT
As the large percentage of baby boomers in the government workforce retire, public employers will compete to recruit entry- and mid-level workers who expect the flexibility and technology assets of the most advanced workplaces. This is particularly true for cyber security and cyber defense agencies, which contend with private-sector tech firms for top talent. For government agencies, a well-designed workplace with effective use of graphics and branding can help recruit and retain workers by reminding them of the mission they serve.
Insights and Industry Trends by Expertise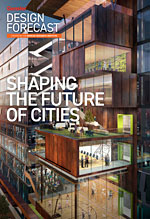 GENSLER RESEARCH INSTITUTE
SHAPING THE FUTURE OF CITIES
Fill out the form below to download Design Forecast (PDF).