Consumer culture, personalized medicine, and technology are putting the patient back at the center of the health and wellness equation. Widely distributed healthcare networks will impact how people access services. Drop-in clinics, virtual doctor visits, and community-based wellness offices are replacing hospitals or traditional doctors' offices, and that's changing the patient experience and altering the shape of our cities.
Individuals want the boundaries between traditional care and service settings, community spaces, and their homes to be very fluid.
—Sidewalk Labs
THE PATIENT WILL SEE YOU NOW
Control of the doctor-patient relationship is flipping, in part because patients have much greater choice in where and how to receive advice and treatment. The average healthcare consumer is increasingly tech savvy and price conscious, and they consider themselves an equal partner in their care. This will have lasting effects on care delivery — with options that include phone, Internet, and webcams — and it will lead to a more multidisciplined approach by providers.
BIG DATA WILL HAVE BIG PAYOFFS
Data analytics are playing a larger role in diagnosis, predicting likely outcomes and helping providers become more successful and responsive to patient needs. The use of data can help health systems create holistic views of patients, which can improve communication and create personalized care plans. Data-enabled simulation will also benefit healthcare organizations and the communities they serve by helping to drive productivity, improve patient safety, control costs, and analyze health trends in the general population.
WELLNESS IS DRIVING BETTER HEALTH
A focus on wellness is driving healthier solutions in healthcare centers. In the physical space, lobbies can become wellness-focused third places. Likewise, waiting rooms are being reimagined as active health and wellness concourses, where the community can access advice, participate in classes, or connect with other patients in support groups. Outside of healthcare settings, wearables will help providers gather information about people's physiology and health over longer horizons.
HEALTH-TECH IS PUTTING PEOPLE FIRST
Technology-focused health insurance startups are only part of the growing health-tech movement that's disrupting healthcare, according to Forbes. From genetic testers and health screeners to personal fitness solutions for the home, and from workflow and logistics solutions to device makers and more, many companies are making inroads in the market by putting the person — either the patient or the provider — at the center of the experience.
Insights and Industry Trends by Expertise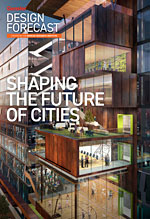 GENSLER RESEARCH INSTITUTE
SHAPING THE FUTURE OF CITIES
Fill out the form below to download Design Forecast (PDF).