Data analytics is powering a revolution in the performance of the built environment. Organizations that harness this potential will have a significant advantage. To succeed in a rapidly changing market, design will need to begin with data-driven insights and evolve with real-time learning. Predictability and agility will become the new standard.
By 2025, one-half of the world's data will be IoT data. Over 25% will be real-time data. The average number of digital interactions per day for every connected person will increase from 800 to nearly 4,800.
—Data Age 2025: The Evolution of Data to Life-Critical, IDC
NEW WAYS TO MEASURE AND MANAGE BUILDINGS
Sensor technologies, machine learning, and AI are changing the way we measure and manage buildings. Their application opens new ways to learn about high-performance space and understand what makes people happy and healthy. Gensler's Experience Index℠ shows that improving human experience adds up to better business outcomes and higher employee and customer satisfaction.
THE BUILT ENVIRONMENT WILL BE MORE TAILORED AND ADAPTABLE
Data-driven design enables the tailoring of environments and greater empowerment of people. Owners and occupants will have the insights necessary to predict and optimize hospitality, wellness, and utilization. The agile model creates customized experiences that will have far-reaching impacts on the ways people live, work, and play.
MAKING "SMART" A STARTING POINT TO FUTURE-PROOF SPACES
Intelligent personal devices and building systems will become essential to learning behavior and observing activity patterns. The next frontier is integrating data into real-time, user-accessible 3D models, giving owners and occupants valuable capabilities in advanced scenario planning and designing for operational efficiencies.
Insights and Industry Trends by Expertise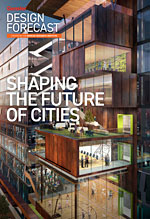 GENSLER RESEARCH INSTITUTE
SHAPING THE FUTURE OF CITIES
Fill out the form below to download Design Forecast (PDF).