Shaping the Future of Cities
Every day, we impact millions of people's lives in cities around the globe by creating places where people live, work, and play. Last year alone we created 1.2 billion square feet of space. That's why we are committed to designing with an unwavering focus on Human Experience as we work to shape the future of cities.
Why Cities Matter So Much
We are living through the greatest period of urbanization in history. For the first time, more people live in urban centers than don't. By 2050, more than 70% of the earth's population will live in cities. Cities are also responsible for 80% of global GDP — they are engines of creativity and economic innovation for everything from technology to healthcare. We have an opportunity to make cities more livable and improve the lives of people.
Download Design Forecast
Design Forecast presents a comprehensive look at design around the globe, with over 100 pages of insights, research and industry trends.
Design for Human Experience
Our vision to Create a Better World Through the Power of Design comes to life through our breadth, diversity, and innovative design strategies. That vision is driven by design excellence, our practice areas, our valued relationships with clients, and our global reach. Our "one-firm firm" global and local leadership network has never been more important than it is now.
Taking on Tough Global Challenges
With these strengths, Gensler is uniquely positioned to take on the toughest challenges facing cities. We are impacting Climate Change by reducing the carbon footprint of our buildings. We are shaping the Future of Mobility by inventing how cities embrace autonomous vehicles and aerial ride-shares, with the ultimate goal of taking city streets back for people. We are creating Connected Cities using intelligence and sensors that connect people and places. And we are bringing new thinking to challenges like affordable Housing and Homelessness.
The more cities grow, the more we feel the consequences of these disruptions. Through the power of design, we believe we can improve human experience, leverage our capabilities for good purposes, and make a difference in cities all over the world.
Insights and Industry Trends by Expertise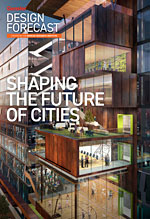 GENSLER RESEARCH INSTITUTE
SHAPING THE FUTURE OF CITIES
Fill out the form below to download Design Forecast (PDF).