Mixed-use developments are the distilled essence of urban living. They are dense, walkable environments that offer activities and a pulse of city life that draw people to them. The most successful examples function as social hubs that enable shared experiences and resonate as vibrant, people focused destinations.
By 2030, nearly 25% of all U.S. households looking to rent or buy will want housing near high-density, transit-oriented developments.
—Center for Transit-Oriented Development
CREATING HUMAN-CENTRIC DISTRICTS
Cities come alive thanks to people. And by providing diverse programming and space types punctuated by lively "in-between spaces" — outdoor areas between buildings — mixed-use destinations draw in people and spur interaction. The key to injecting a mixed-use development with soul lies in providing a sense of wonder and delight, which can be accomplished through special events, intriguing public art, statement architecture, and the right mix of programming. Get it right, and people will linger.
SHARED AND ON-DEMAND
It seems everything now is shareable, including cars, workspace, and travel accommodations. It also seems everything is on-demand, thanks to instant downloads and next-day delivery. Mixed-use ties into these trends with its shared and economical use of space and its ability to conveniently serve up a bevy of options on the spot. This alignment with today's expectations and lifestyle will continue to spur mixed-use moving forward.
VERTICALLY INTEGRATED, YET TIED TO THE STREET
Mixed-use is all about porosity and connectivity, including connections to public transit and linkages to different parts of the city. That being said, in designing vertical mixed-use projects, special attention must also be paid to how the development ties into the surrounding urban fabric at the street level, so as to add street life rather than drain it.
DOING MORE WITH LESS
Compared to single-use projects of similar size, mixed-use projects use land and resources more efficiently, support larger populations, and generate higher revenues. By effectively leveraging spaces for multiple uses, mixed-use developments create a diversified product mix that can shield investors from economic volatility. And their condensed live-work-play model also means they generate ROI across a broader swath of the day than single-use projects.
Insights and Industry Trends by Expertise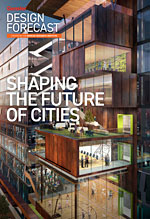 GENSLER RESEARCH INSTITUTE
SHAPING THE FUTURE OF CITIES
Fill out the form below to download Design Forecast (PDF).