Great products have their beginnings in great insights, and great insights are powered by a broad perspective. Product development is at its best when it combines cross-disciplinary thinking, a broad understanding of people's interaction with the built environment, and thorough knowledge of design trends and evolving needs.
The benchmark of success is when design integrity and beauty lead to a better human experience.
KEEPING PACE WITH A CHANGING WORKPLACE ECOLOGY
As the workplace continues to shift to reflect diverse work styles, products need to address workers' changing needs in ways that allow a customized workplace. Space planning should allow a range of solutions to accommodate work settings that support everything from concentrated work to cross-team collaboration. Configurable components allow businesses to recombine elements and create versatile work zones. Those systems should incorporate features that adapt to each person's needs — whether they are freestanding carrels that create concentration zones, or height-adjustable desks that let people feel their workspace is their own. Controlling for these factors means an increase in human comfort and workplace performance.
IN TODAY'S WORLD, INCLUSIVITY IS ESSENTIAL
Disability is often equated with an inability to experience the built environment to its fullest, and one of the most physically and emotionally frustrating experiences any person can face is not being able to "get in." By following a rigorous interpretation of ADA standards, and exceeding those standards when we can, designers can make the seemingly simple act of opening and closing doors and drawers easier for people of all abilities — all while demonstrating that elegant design can integrate seamlessly into accessible spaces. It creates places that are healthier and welcoming for all users.
DESIGN FOR SHIFTS IN DEMOGRAPHICS
For our cities to thrive as cohesive communities, they must adapt to the needs of their residents. By 2050, the 65+ age group in the U.S. is projected to nearly double from 48 million to 88 million adults. Globally, life expectancy in the same span of time is predicted to increase from 68.6 years to 76.2 years of age. The demand for well-designed products for this generation is clearly on the rise. Our opportunity is to design products that are easy to operate by people with diminishing physical capabilities, without sacrificing aesthetics or decreasing the dignity of users.
SUSTAINABLE PRODUCTS ARE IN HIGH DEMAND
More and more, products are being designed and manufactured to have a net positive impact on growing urban centers and their people. The workplace is an important contributor. Sustainable products are key contributors in helping building owners achieve WELL Building Standard® and LEED certifications. Carpeting, for example, can be carbon neutral, made with high percentages of recycled content, manufactured free of Red List Building Materials that are harmful to human beings, and Living Product Challenge Petal certified — all which contribute to a healthier planet and human comfort.
Insights and Industry Trends by Expertise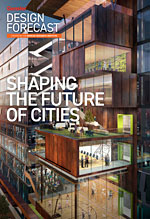 GENSLER RESEARCH INSTITUTE
SHAPING THE FUTURE OF CITIES
Fill out the form below to download Design Forecast (PDF).