To stand out in a fiercely competitive office market, building owners are looking to increase asset value by curating amenities that optimize the human experience and enhance the communities they're in. It's not necessarily about adding space or leveling aging buildings — it's about revitalizing and re-envisioning buildings that are viable. Given the ample volume of existing building stock, there's plenty of opportunity.
"The scale of impact we can have by improving the performance of our existing buildings is immense—much greater than if we only focus on new buildings."
—Rives Taylor, director of Design Resilience, Gensler
REPOSITIONING'S RIPE OPPORTUNITY
The large inventory of older, underutilized buildings in growing urban centers offers a huge opportunity to transform these properties into lucrative revenue generators. The Urban Land Institute estimates there is more than 500 million square feet of office space in need of significant repositioning in the U.S. alone.
KEEP CHARACTER BY REPURPOSING
The character and authenticity that tenants are looking for can often be found in older repositioned buildings. From turn-of-the-century to midcentury, older designs are valued. Tenants respond to memorable spaces that tell a story, which companies can leverage in their brand narrative and culture building. It's also a more sustainable approach. It typically represents a substantial savings in capital and time, versus building new.
TENANTS WANT VARIETY AND CHOICE
Multitenant office buildings serve a variety of stakeholders, but to appeal to today's workforce, landlords need buildings that provide people with choices in how and where to work. Amenities are expected to be part of the mix, but not to escape work; tenants want amenities that can help them do their jobs better. In other words, the amenities need to be convenient, help improve well-being and performance, and add positive returns to the bottom line.
GO FROM INTROVERT TO EXTROVERT
As organizations begin to think about a new generation of workers, building owners, managers, and developers have started to give underperforming properties personality makeovers. Through interventions like modified entrances, curated amenities, and pedestrian-friendly connections, inward-focused properties can be transformed into inviting places that engage tenants and connect them to each other.
Insights and Industry Trends by Expertise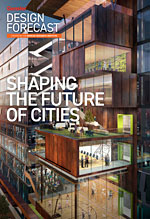 GENSLER RESEARCH INSTITUTE
SHAPING THE FUTURE OF CITIES
Fill out the form below to download Design Forecast (PDF).