Cities live up to their full potential when they're inclusive. Yet the skyrocketing cost of housing is threatening to turn many urban environments into exclusionary zones. To guard against such a scenario and enable more people to find opportunities in urban areas, cities need to develop creative, diverse, and affordable solutions for all types of housing.
Renters are being hit hard by a lack of affordability. One in four renters in the U.S. spends more than 50% of their income on housing.
—County Health Rankings & Roadmaps
TO DRIVE AFFORDABILITY, WE NEED TO INNOVATE
Building materials can represent up to 50% of the cost of a residential project. That's why materials innovations that lower the up-front spend is so imperative. Energy expenditures can be lowered through more efficient designs for building envelopes, appliances, and operational systems, while maintenance costs can be reduced through improved structural durability. Gensler is designing many projects with factory-built modular housing units that can be assembled on site in a fraction of the time of conventionally-built projects.
INCHING CLOSER TO THE FRICTIONLESS HOME
The rise of the Internet of Things and AI has made possible the connected home, which can offer convenience, safety, and value. While devices that operate by touch or motion are widely available, voice-controlled interfaces have become the most ubiquitous outcome of this phenomenon. Concerns around privacy, integration, and ease-of-use have led to slower-than-expected adoption. Addressing those concerns will be key to making the frictionless home a reality.
FOCUS ON HEALTHIER MATERIALS
It's now possible to find residential building materials that meet rigorous well-being certification standards and offer greater transparency into their chemical makeup. But such products are still more the exception than the norm. For many residents of substandard housing — as well as residents of some upmarket homes — toxins, mold, and other environmental hazards are persistent issues. Designing with a greater focus on the human impacts of materiality will be key to making our homes safe and healthy sanctuaries.
Insights and Industry Trends by Expertise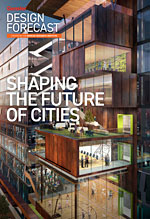 GENSLER RESEARCH INSTITUTE
SHAPING THE FUTURE OF CITIES
Fill out the form below to download Design Forecast (PDF).