One of the beauties of sports is their ability to unite people—around their school, their city, or their country. As the competition for people's attention and leisure time intensifies, sporting venues that foster a sense of unity through creative experiential design will be the ones that serve as communal focal points and stimulate economic and cultural growth.
In North America alone, the sports market will grow at 3% annually, from $69.1 billion in 2017 to $80.3 billion in 2022.
—PWC
SPORTS-ANCHORED DISTRICTS ARE ON THE RISE
Today, the modern sports-anchored district is a lively retail and hospitality destination for fans and a major selling point for players. These multifunctional urban enclaves serve as major sources of economic activity and spur growth in the surrounding area. And as urban migration continues to rise, sports venues can function as natural hubs for transit-oriented districts.
CREATING COMMUNITY THROUGH WELLNESS
Team-oriented wellness spaces can encourage more than just athletic training. They can be focal points for healthy habits, team camaraderie, and professional recruitment. On college campuses, recreation centers have become new hubs of student life that promote social and physical well-being, and they are going a long way toward unifying large and diverse student bodies.
DESIGN FOR THE EVOLVING GUEST EXPERIENCE
Today's sports fans expect so much more from sports than just the game-day experience, which has become more multifaceted thanks to social media, video platforms, and fantasy leagues. Yet there's still the very human need to connect with other fans and the team. That's why we're designing venues that are more intimate and provide easy mobility, both of which can encourage greater social interaction. Also, offering a wider variety of premium seating can provide fans with enhanced experiences while generating additional team revenue.
ENVIRONMENTAL RESPONSIBILITY IS A TEAM SPORT
Sports and athletic organizations at all levels are taking their responsibility seriously to be more environmentally friendly. That's why they're implementing tactics to systematically eliminate waste products, introducing better recycling programs and more effective sorting options. They're also cutting back on foods that are taxing to the environment.
REVENUE OPPORTUNITIES ABOUND BEYOND GAME DAY
In an era of 24/7 entertainment, it's no longer enough for sports venues to simply rely on game-day or seasonal revenue, then lie dormant in the off-season. Sports venues must be designed with the flexibility to accommodate a diverse mix of entertainment options, from concerts to private gatherings to special events. Such an approach can turn a narrowly focused sports facility into a broadly accommodating community asset.
Insights and Industry Trends by Expertise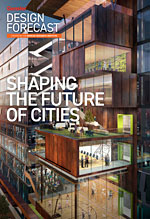 GENSLER RESEARCH INSTITUTE
SHAPING THE FUTURE OF CITIES
Fill out the form below to download Design Forecast (PDF).