Technology will continue to drive the future of our global communities — our cities, our buildings, our workplaces, and our daily lives. As tech companies' global footprint and influence rapidly expand, these organizations are emerging as stewards of humanity and setting the new bar for the future of work — one that looks far beyond the workplace.
In 2019, Forrester believes that IoT is poised to make a much bigger impact in our lives at work and around town, with 85% of companies implementing or planning to implement IoT solutions.
—Fast Company
TECH IS SHAPING OUR EXPERIENCE OF CITIES
Technology is changing the world's skyline, and the composition of every workforce. As tech companies flourish, there's a sprint to lay claim to cities that can support their scale and offer a lifestyle and a talent pipeline that will fuel their targeted growth — often linking multiple cities together to achieve their vision and market impact. Situated at the helm of the digital revolution, tech firms are uniquely positioned to influence the development of communities and drive positive change at scale through design.
THE RISE OF BIG DATA
The world's data is growing exponentially as consumers rely on digital devices, and businesses use data to become more agile and competitive. And real-time data demand is driving this growth: by 2025, nearly 30% of the global datasphere will be real-time information, according to IDC.
TECH WORKPLACES MODEL THE FUTURE OF PLACE
The technology industry is leading the way in anticipating how we will work in the future, and other industries are following suit. Recognizing changing work styles, tech companies are providing workers with choice and balance, as well as the tools to get that work done across any location — in and beyond the workplace. Data-driven insights that inform how space should be utilized, and spaces that enable fluidity and adaptability within the workplace will be critical to supporting tomorrow's workforce.
ACCESS TO COWORKING BOOSTS PERFORMANCE
On average, most workers who use coworking space use it for less than one day per week. For most, coworking serves as an alternative workspace, not their primary one. When offered as a high-value amenity, access to coworking can boost performance. Employers should consider coworking as part of their real estate strategy, but coworking should supplement — rather than replace — the workplace.
BRINGING HUMANITY TO THE WORKPLACE
As industries become more reliant on technology and their workforce becomes more diverse, they're also becoming more humane by embracing inclusivity, diversity, and sustainability. To create spaces for people to do their best work, tech companies are delving into personas and human behaviors, examining the purpose behind spaces, and conducting collaborative research to learn what next-gen talent wants and needs in any future environment.
Insights and Industry Trends by Expertise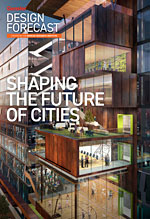 GENSLER RESEARCH INSTITUTE
SHAPING THE FUTURE OF CITIES
Fill out the form below to download Design Forecast (PDF).