Every day, through 24 areas of expertise, Gensler is committed to making a difference in the communities where we live, work, and play. It's through the projects we create, designed with people at the center, that our solutions to tough challenges come to light. All of our work is organized into three main focal points: Work, Lifestyle, and Community. Here's an introduction to each of them.
How, when, and where we work is increasingly redefining the workplace. It requires a human-centered design approach to meet the needs of a changing workforce and include people of all abilities. As the business day expands beyond 9-to-5, and people are getting the job done in many more places besides the office, this work-anywhere, work-anytime culture is pushing employers to create great workplace experiences that attract talent, boost performance, and make the office a satisfying place to be. Organizations are using data to create intelligent spaces so that offices can anticipate people's needs in real time. Companies are adding variety and providing choice in the form of collaboration rooms, focus rooms, and work-focused amenities. And, with a global talent shortage of 85 million people projected by 2030, the competition to attract talent is fierce.
Download Design Forecast
Design Forecast presents a comprehensive look at design around the globe, with over 100 pages of insights, research and industry trends.
As the epicenters of human experience in cities, places like hotels, restaurants, residential buildings, sports arenas, and retail shops have become microcosms of ever-evolving human behavior and consumer expectations. People today are tech-fueled, digitally empowered, time-starved, and relentlessly distracted. As digital experiences expand and become easier to access, there's an expectation that physical experiences must also be immediate, convenient, and frictionless. The evolution of our cities will be about how we react and respond to this new narrative. It is fundamental that design begins and ends with the human experience. Lifestyle brands that deliver seamless and fully orchestrated experiences will thrive in the competition for people's time, attention, and spending.
Cities matter so much because of how profoundly they touch the lives of the people who live in them. More than half of the world's 7 billion people live in urban areas and that number is rising fast. Urban areas contribute more than 80% of global GDP, but they're also responsible for 70% of global carbon emissions. That's why we believe human experience is the driving force behind how we shape our future cities. As community builders, we have the opportunity to impact the challenges facing cities—from affordable housing to climate change. At the same time, we are leveraging the power of cities to reshape education, accommodate new forms of mobility, expand access to healthcare, and reinvent what it means to be a "smart city."
Insights and Industry Trends by Expertise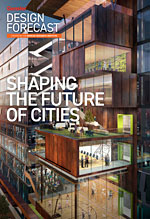 GENSLER RESEARCH INSTITUTE
SHAPING THE FUTURE OF CITIES
Fill out the form below to download Design Forecast (PDF).