AVIATION
Airports are a reflection of our cities, and in a post-COVID world, airports will encompass more of the functions we find common in cities. As airports grow into small cities with a wide range of functions, such as healthcare, hospitality, retail, and workspaces, the need for purpose increases. With this, a new town square emerges at the heart of our airports.
FULL RECOVERY IS COMING — BUT IT WILL TAKE TIME
"The forecast recovery back to pre-pandemic passenger volumes is late 2023 or early 2024."
—Air Transport Association
TREND 01
TOUCHLESS TECHNOLOGY
THE TOUCHLESS PASSENGER JOURNEY WILL EXPAND
Airport operations and facility functionality are being redefined to create consumer confidence based on health and safety. Technology will drive innovation in the passenger processing areas, with a focus on touchless technologies and the use of personal devices. For example, smartphone technology could help pre-map the traveler's journey, allocating a preset timeslot to pass through security. For the airport, this means access to data that can help manage passenger loads and staffing. For the traveler, the journey would feel safer and more personalized.
TREND 02
EMBRACE DIGITAL STRATEGIES
DIGITAL SIGNAGE AND WAYFINDING WILL EVOLVE TO ADDRESS NEW CRISES
Analog signage strategies proved to be too static in the face of a crisis like COVID-19. As we emerge from the pandemic, the
aviation industry must embrace digital strategies
as the new normal, a change that has been in the works for some time. The reasons why are clear: Such strategies enable airports to adjust to new circumstances quickly. They give airports more flexibility, allowing for fast gate changes in ways that simply were not possible before. Applied to queueing, digital signage will be coupled with queue monitors to deliver data in real time. By using digital strategies to the fullest, and in an immersive manner, the delivery of the information can be aligned with a passenger's smartphone and completely personalized. This evolution could create a more tailored, empathetic, and personalized messaging strategy to enhance the traveler's journey.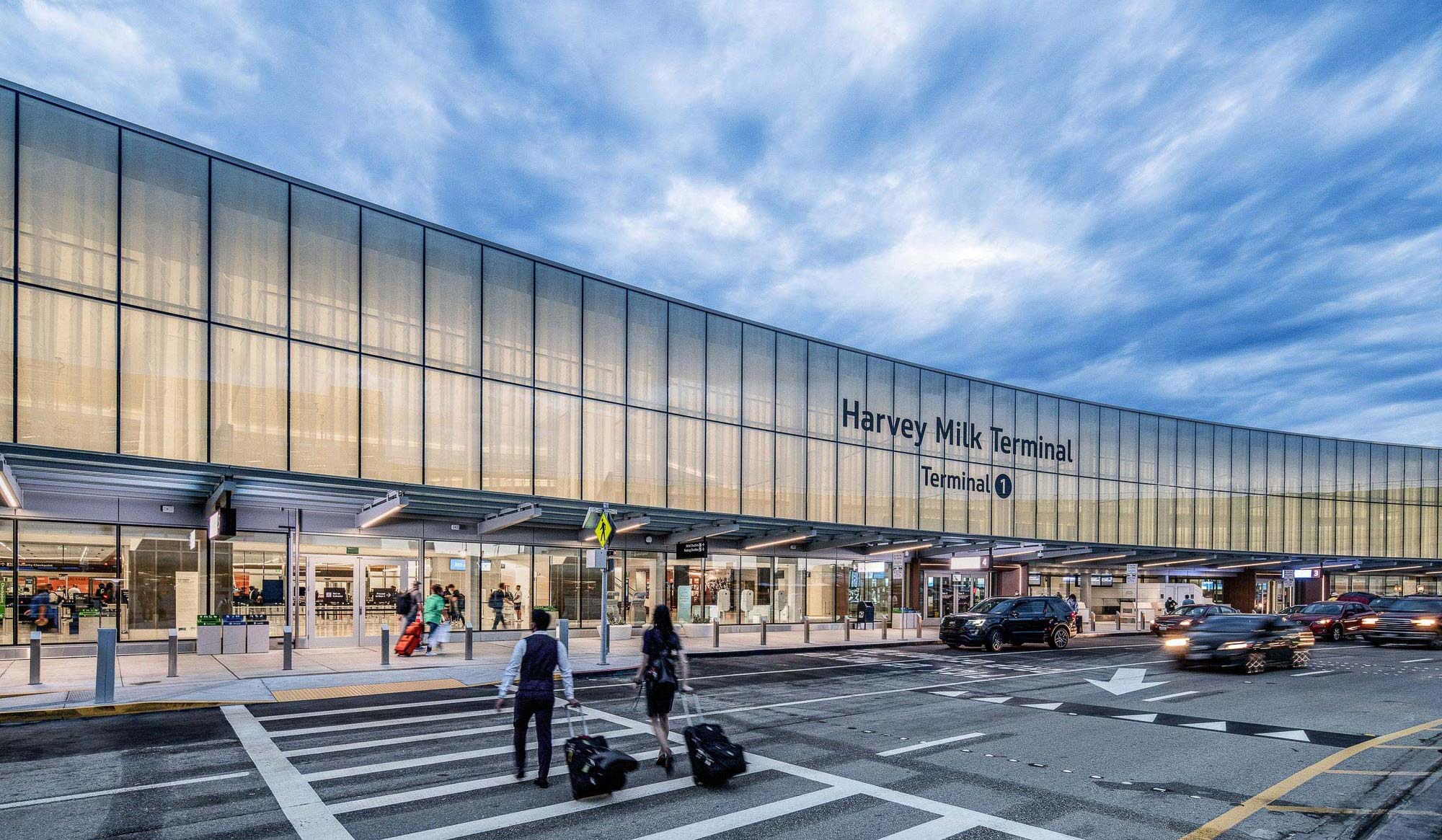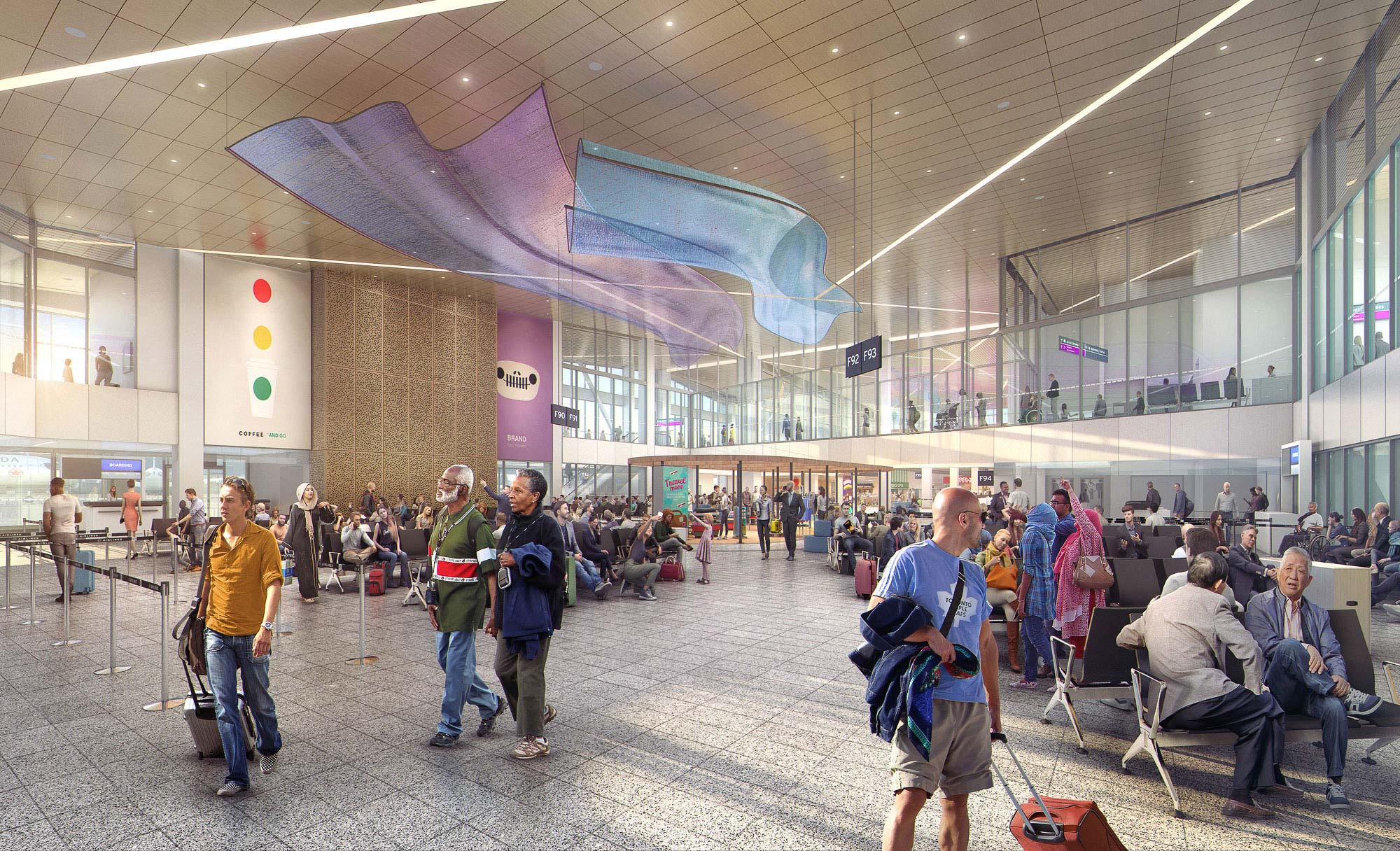 TREND 03
AIRPORTS AS COMMUNITY HUBS
AIRPORTS WILL BECOME TOWN SQUARES
Airports are already cities unto themselves. As society increases its focus on a sense of place and local culture, so will airports — just like the cities they serve. With a curated mix of local retail, food and beverage, healthcare, and hospitality functions, the airport experience can become more of a tailored journey for travelers and locals alike. This opens possibilities for greater integration with the outdoors to help ease the stress of traveling and gives the airport a repurposed role as a place where people want to gather, not necessarily tied to arriving or leaving.
TREND 04
SMALLER FACILITIES
SMALL WILL BE ATTRACTIVE FOR HEALTH-CONSCIOUS TRAVELERS
As passenger traffic resumes, people will still be drawn to smaller crowds, which will have implications for airport design. Smaller aircraft will drive smaller spaces in terminals. Giving passengers sole responsibility for tagging and dropping their bags at check-in can help minimize space used on queueing. Airports will look to use every portion of their asset.
DESIGN CAN HELP RESTORE PASSENGER CONFIDENCE POST‑COVID
"We believe that by investing in design that can make passengers feel more confident, airports can accelerate the rate of travel by up to eight months."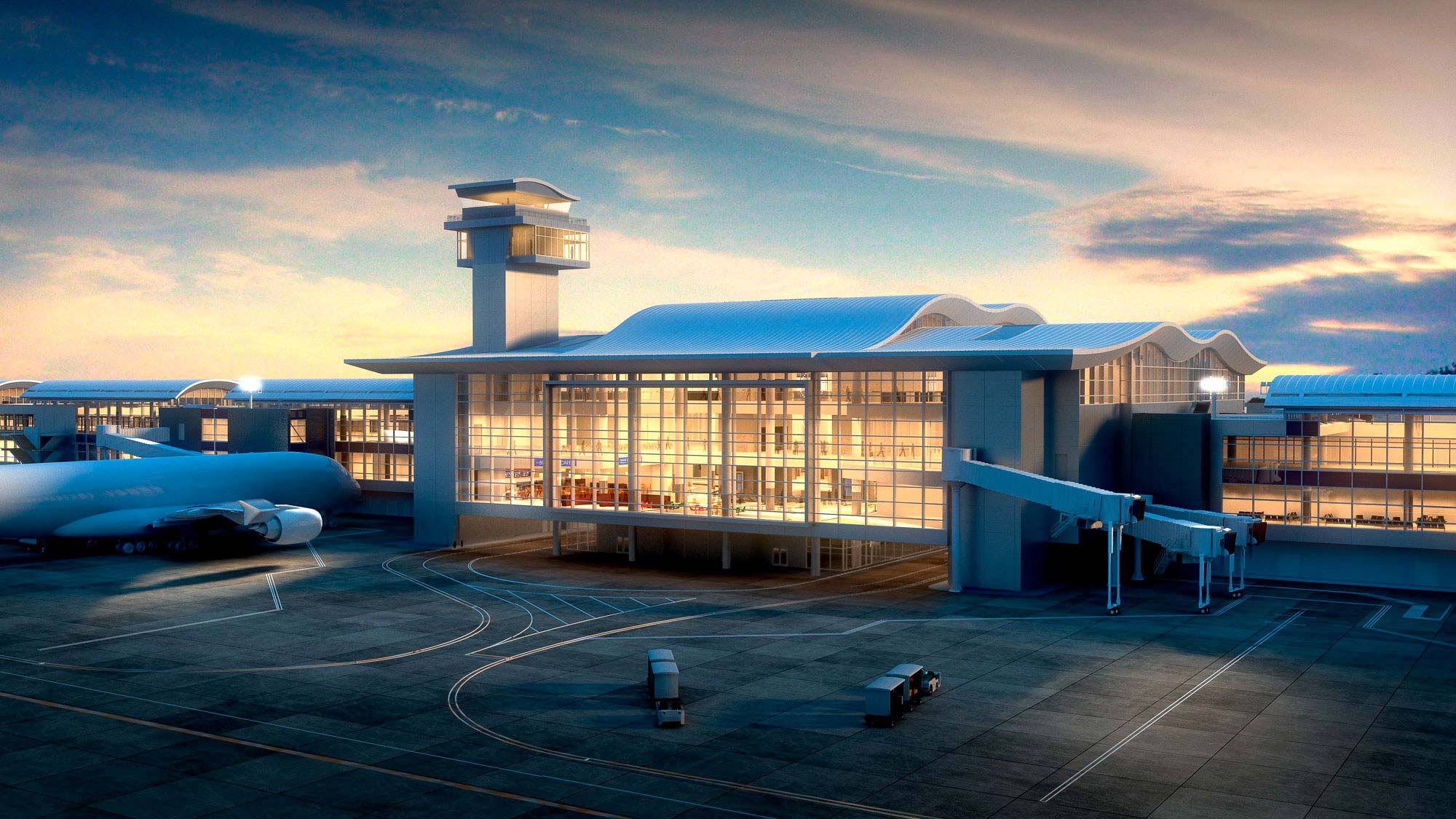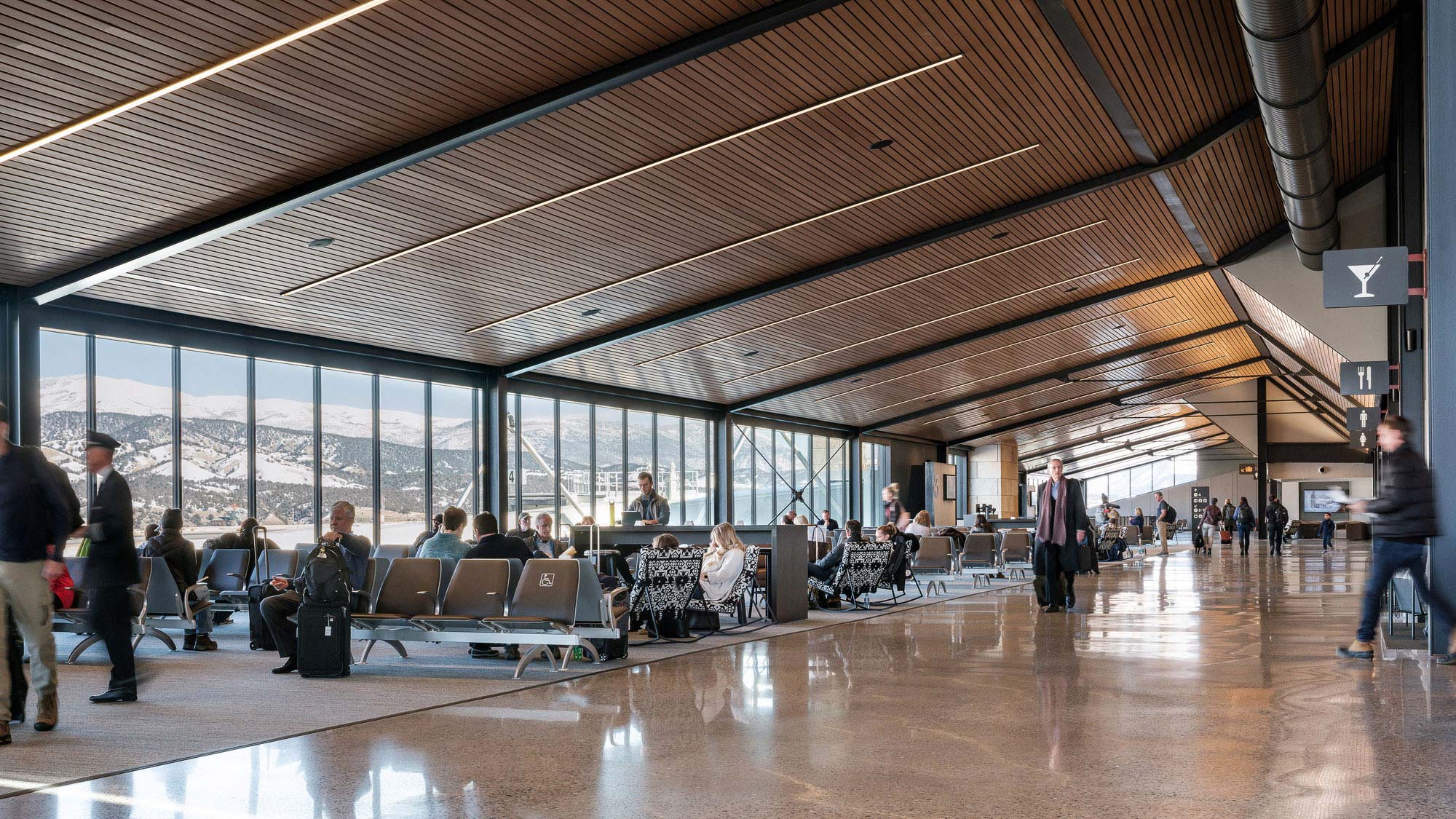 A reimagined concourse accommodates current and future enplanements, while enhancing the overall passenger experience. The concourse design reflects the region's aesthetic and enhances its operational function through peak tourism seasons. One of the key strategies to right-sizing the concourse was accomplished through the creation of "blended space," which includes concession dining, casual seating, a long banquette, a bar, and high-top tables. The airport was named a Prix Versailles 2020 winner in the Interior Airports category.
STRATEGIES FOR AIRPORTS TO REVITALIZE THEIR FACILITIES IN A POST-PANDEMIC WORLD
Passenger traffic levels are likely to lag for several years, which means it's the perfect time for airports to prepare for future demands. These four key strategies should guide the way:
TEST AND LEARN
Spaces within a terminal are typically assigned and rented based on long-term lease agreements. Rethinking that lease strategy to get quicker turn spaces will allow for experimentation. The facilities could then benefit from more common use space for airlines or more rotational retail. Airports need not follow the traditional playbook — they should use such
opportunities to test and learn
.
MAXIMIZE THE BUILDING, NOT THE PASSENGER AND AIRCRAFT COUNT
With passenger volumes in flux, airports should rebalance the airside space by removing a gate and making up that passenger volume through better gate management. By layering in a more efficient gate utilization system with quicker aircraft turns, airports could overcome the reduction in gate capacity via technology, unlocking a more impactful use of space.
EXPRESS YOURSELF
The opportunity to build a new airport facility or reimagine a passenger terminal may only happen once in a generation, so ensuring that design is anchored in the context of the city is critical to an airport's long-term success. Cities should
reimagine their airports
as modern gateways, connecting people, building resiliency, and reinforcing local identity.
WHEN IT COMES TO COMMUNITY CONNECTION, DIG DEEPER
The incorporation of regional materials, local makers, restaurants featuring local chefs, and live entertainment brings authenticity and excitement, making the airport a vibrant destination in and of itself. Airport authorities can experiment with programming and partnerships by creating an artist-in-residency program or partnering with local universities for public health research studies.
Explore Design Strategies for a Post‑COVID World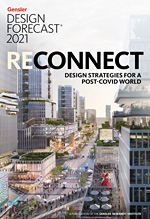 GENSLER RESEARCH INSTITUTE
DESIGN STRATEGIES FOR A POST-COVID WORLD
Download Gensler Design Forecast 2021 (PDF)