The ongoing health, human, and economic impacts of the pandemic have forever changed how we design our environments — from creating places that enrich our communities in times of health, to spaces that shift their focus in times of crisis. A handful of industries disproportionately impact human health, and they are all in a period of profound transformation. Now more than ever, these industries — Healthcare, Sciences, Senior Living, and Wellness — are hungry for new ideas and an understanding of how they can play out in the physical and digital realms. The best solutions are the ones that improve access to care, ignite discovery, and reshape our cities to address a renewed focus on global health and wellness.
STRATEGIES FOR RETHINKING THE HEALTH ECOSYSTEM
The COVID-19 pandemic has been a wake-up call for the healthcare and life sciences industries and the ways in which we design spaces for care, discovery, aging, and wellness. How can environments perform better, both in normal times and during a crisis? People need more choices, and their experiences need to improve.
Here are five overarching considerations for rethinking the health ecosystem:
USE TECHNOLOGY TO PROVIDE BETTER CARE
Telehealth has been the most visible technology in care delivery over the last year, but it is only one of the health technologies that has become an integral part of future-ready healthcare. From connected interfaces to automated systems and sensors, emerging digital solutions that are blended with physical spaces can help make care more personalized, responsive, and effective.
UNDERSTAND THE CONNECTIONS THAT DRIVE THE BUSINESS OF SCIENCE
Laboratories are complex environments, and their planning begins with a deep understanding of the processes and objectives of research and production. Sciences organizations also need to better understand the way people connect in order to drive their businesses. There are design parameters that make a building "science ready" but organizations must also be aware that the workplace can be a tool to encourage connections between the scientists and the regulatory, marketing, and financial experts who comprise the entire team.
RETHINK ENVIRONMENTS THROUGH THE LENSES OF EQUITY AND GENERATIONAL DIVERSITY
Today's older adults are seeking residential environments that are mixed use, intergenerational, and rich with experience. Many are choosing to continue living in urban settings, which are very different from the freestanding and purpose-built suburban facilities embraced by previous generations. Now, our cities and infrastructure must accommodate and encourage a thriving lifestyle for every resident.
FOCUS ON WELLNESS
It's not just traditional hospital settings; virtually every industry has a heightened focus on personal wellness. The health of our environments will be a primary criterion for recruitment and retention of the future workforce, and for choosing the places we live and go to school, shop, and seek entertainment. Environments and amenities that prioritize holistic well-being will have an edge.
MAKE ENVIRONMENTAL STEWARDSHIP PART OF YOUR BUSINESS AND YOUR BRAND
Most companies in this sector exist to advance human health and well-being in some way. Increasingly, their customers will judge their purpose and make lasting connections based on their contributions to improving environments — as stewards of resources who actively combat climate change and support resilience. Every action taken needs to be viewed through the lens of lasting impact on the earth and reestablishing a balance between resource use and replenishment.
The pandemic has triggered a massive shift in global work patterns. We've learned new behaviors, adopted new technologies, and adjusted to new ways of working. We've also come to a deeper understanding of the fundamental role of place in how we work, especially how we work together. Organizations around the world are rethinking the future of the workplace based on experiences and learnings from the past year, with a particular focus on the well-being and connectivity of their teams. Collectively, we are reimagining the future of work on a global scale, with the physical office continuing to play a central role in creating more connected, equitable experiences that benefit people, organizations, and their surrounding communities.
INSIGHTS THAT ARE DEFINING THE NEW WORKPLACE
Flexibility, wellness, practical amenities, and a focus on changing expectations of work are the key to rethinking the office. Here are four insights that are key to understanding the new workplace:
THE ROLES OF THE WORKPLACE AND OFFICE BUILDINGS ARE EVOLVING
Work and place have become uncoupled, redefining the office as the best place to bring people together — especially for those whose jobs rely on in-person collaboration or specific spaces or shared resources. Physical and virtual experiences must be fully integrated since digital systems will continue to shape a seamless level of connectivity and personalization.
CULTURE, COMMUNITY, AND COLLABORATION ARE AT THE CORE OF THE NEW WORK EXPERIENCE
The fundamental role the office is shifting to is as a place that brings people together to collaborate, to build personal and professional relationships, and to connect with a company's unique business, mission, and purpose. New behaviors, technology, and policies will be required to allow flexible and virtual work to thrive, while also supporting coaching and mentoring and more equitable and inclusive experiences.
PRE-PANDEMIC TRENDS ARE ACCELERATING
Choice, autonomy, health, and well-being have become paramount for individuals and teams to perform at their best. From health checks and touchless security to improved air quality systems, owners and users are focused on healthy buildings and experiences. Outdoor spaces are increasingly becoming part of the workplace environment, with open façades and retrofitted rooftops providing additional work settings.
FLEXIBILITY AND ADAPTABILITY ARE CRITICAL FOR A HYBRID WORKFORCE
A new hybrid workforce, working both at the office and remotely, is an opportunity to fix the pre-pandemic issues of the workplace, and to explore new real estate strategies. Office buildings will increasingly get smarter to enable office-to-home connectivity and anticipate evolving tenant needs. New workspace approaches must be more responsive to rapidly adjust to new ways of working, with flexible spaces and furniture for newly emerging work patterns.
The world is experiencing a reset unlike anything anyone has ever seen. The landscapes for retail stores, hotels, restaurants, sports venues, and entertainment centers are evolving quickly. Thankfully, we have clarity around one thing: People are craving meaningful, authentic connections, and we will never again take the value of social interaction for granted. The Lifestyle sector is poised to answer the call by creating spaces that bring people together, enhancing each and every experience with a human-centric vision.
CONSIDERATIONS FOR THE POST-PANDEMIC DESTINATION OF THE FUTURE
COVID-19 has transformed retail, restaurants, hotels, and mixed-use destinations around the world, prompting these industries to pivot away from single-use facilities to a hybrid model with a mix of offerings. Establishing meaningful, authentic consumer connections and new concepts that restore our sense of closeness and community will define the next phase of recovery.
Here are five guiding principles to consider for future hybrid destinations:
EXPRESS YOUR PURPOSE THROUGH PLACE
Today's consumers are driven by purpose and the belief that what a brand stands for is more important than what it sells. Brands should strive to build communities, give brand enthusiasts a prominent voice, and create branded environments that communicate the brand's core values, beliefs, and mission to customers.
PIVOT FROM BEING A TRANSACTION HUB TO A CULTURE HUB
Reshaping the role of the hybrid destination will require a pivot from being a hub of transactions to being a hub of culture. Public spaces will play a central role in strengthening customer engagement and building a platform for belonging.
EMBODY LOCAL OFFERINGS AND EMBRACE LOCAL CULTURE
To differentiate your offering, it's essential to have a curated, unexpected, and unique mix of tenants and offerings that feels specifically local. Partner with local creatives and community leaders to curate public space programming that's dialed into customers' lifestyles.
PROMOTE HEALTH AND WELL-BEING
Health and well-being will become the standard of a guest visit. By supporting food, exercise, beauty, and spirituality to model healthier lifestyles and promote well-being, property managers can create higher value for time-strapped guests.
EMBRACE THE HUMAN ELEMENT
While technology has disrupted traditional cycles, consumers still want in-person connections. One of the biggest differentiators in the future hybrid experience will be changes and augmentation to property service professionals. Guest loyalty and success metrics will be driven by the level and quality of customer service that consumers receive.
The pandemic, inequality, and the climate crisis have challenged us to redefine the urban experience of our cities and rethink them through the lens of human experience. Cities have expanded the public realm, creating walkable, safe places. More streets have been given back to people-first activities, and we are rethinking the built environment to ensure our spaces are open for anyone to use. The focus now is to create urban environments, community institutions, and infrastructure that are more resilient, equitable, and responsive to people's needs as we emerge from a global health crisis.
STRATEGIES
FOR URBAN REVITALIZATION
These extraordinary times present a unique opportunity to redefine our urban environments. Here are nine strategies for creating more sustainable, inclusive, equitable, flexible, and intelligent urban environments:
CREATE A SUSTAINABLE, INCLUSIVE, REGENERATIVE URBAN ENVIRONMENT
For a resilient future, we must evolve from a linear city to a circular, regenerative one, where outputs from one process can be used as inputs for another. Reducing, reusing, and recycling are part of a platform for a circular city metabolism.
EMBRACE ECONOMIC AND GENERATIONAL DIVERSITY TO CREATE INCLUSIVE CITIES
We must address economic and generational gaps within cities. We can do so by expanding opportunities and encouraging affordable intergenerational living and connections.
ENCOURAGE POLYCENTRICITY, DENSITY, AND COMPACTNESS
Dense environments, when done right, provide multiple benefits. Cities will continue to attract people because of their ability to create connections and build community.
LEVERAGE TECHNOLOGY TO CREATE INTELLIGENT CITIES
By linking technology, people, processes, and data, we can create intelligent cities that make informed decisions with people at the heart of the process.
RESPOND TO CHANGING NEEDS THROUGH FLEXIBILITY IN THE PUBLIC AND PRIVATE REALMS
From increasing access to outdoor space to allowing businesses to use city streets, more adaptable, flexible public and private realms are fundamental to creating more inclusive, equitable places for all.
ACTIVELY ENGAGE IN PUBLIC POLICY AND URBAN DESIGN
To be effective in reshaping cities, designers, planners, and policymakers need to actively engage with cities and communities, rather than design for them.
REIMAGINE THE CENTRAL BUSINESS DISTRICT
Central business districts (CBDs) are particularly susceptible to the impacts of pandemics. To keep CBDs vibrant, we must reimagine our urban cores as walkable, affordable, and diverse mixed-use environments.
BUILD 20-MINUTE NEIGHBORHOODS
The "20-minute neighborhood," in which residents' needs can be met within a 20-minute walk, is gaining momentum. Rethinking this concept through the lens of equity, the focus should be on affordable and mixed-income housing, neighborhood-based retail and employment, and accessible health and wellness.
INVEST IN PUBLIC TRANSPORTATION AND TECHNOLOGY INFRASTRUCTURE
Cities should explore alternative modes of mobility and public-private partnerships to make transit more accessible. Cities should also ensure more equitable access to internet infrastructure.
Explore Design Strategies for a Post‑COVID World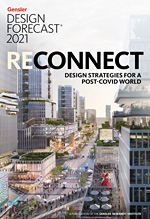 GENSLER RESEARCH INSTITUTE
DESIGN STRATEGIES FOR A POST-COVID WORLD
Download Gensler Design Forecast 2021 (PDF)