EDUCATION
While the pandemic required educational institutions to switch to remote learning nearly overnight, it also revealed those challenges that need to be addressed. A position of determined optimism creates an opportunity for institutions to leverage lessons learned and plan for a future that is more agile, resilient, and equitable.
PROVIDING CHOICE BETWEEN VIRTUAL AND PHYSICAL IS PARAMOUNT
Learning environments that support equal access to seamless digital and physical experience will become the norm.
Hybrid academic environments
must be adaptable to support every learner, while keeping up with constant change. Single-use spaces will be a thing of the past; spaces will have multiple lives as they evolve and adapt.
TREND 02
DESIGN TO THE EDGES
DESIGN FOR MULTIPLE, DIVERSE PATHWAYS
Institutions must move away from designing one optimal experience for all students and instead focus on designing multiple, diverse pathways so that
every learner is welcome
and feels a sense of belonging. Instead of designing to the mythical "average learning" and adapting to accommodate outliers, it's time we design to the edges and provide space for all learners.
TREND 03
TALENT DEVELOPMENT
A TALENT DEVELOPMENT RENAISSANCE IS UNDERWAY
The repositioning of the talent pool toward marketable and adaptable skills is accelerating. To drive economic vitality, education is taking cues from industry to incubate talent and boost job placement. The emergence of unlikely collaborations across fields of study, industries, and departments has expanded the definition of interdisciplinary culture and will better equip institutions to tackle complex challenges operationally and academically.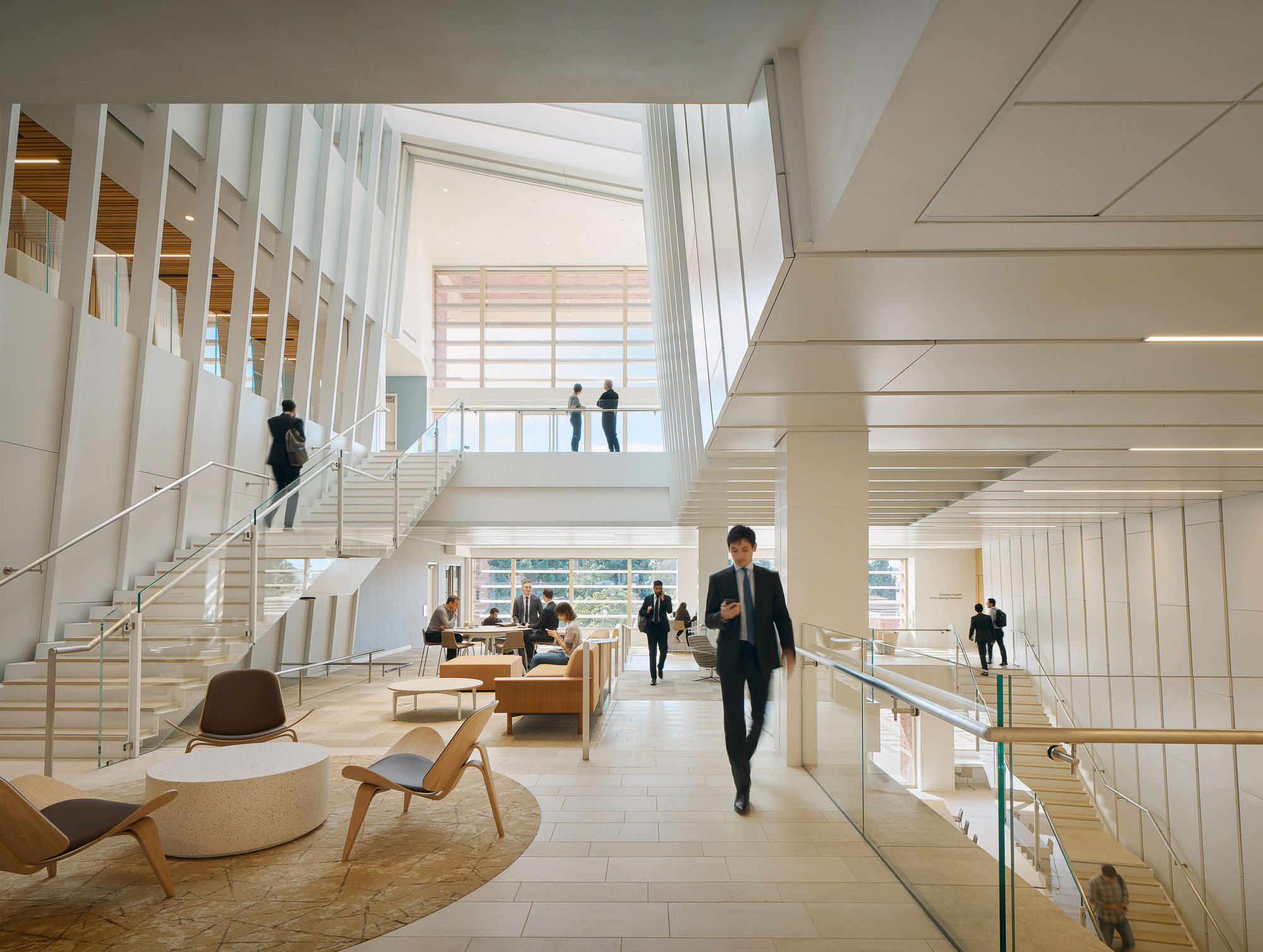 DATA-INFORMED DECISION-MAKING IS ESSENTIAL
As competition for students and funding increases, institutions are focused on measurable success and impact. A focus on the user experience facilitates an increase in resource allocation, enhancing opportunities for student and faculty recruitment and retention, grants, funding, academic performance, and partnerships. Interpreting diverse perspectives and synthesizing qualitative and quantitative information are key to making impactful, informed, long-term decisions that drive student, institutional, and facility development success.
Adult learners have increased by 36% over the past 15 years. Institutions able and willing to develop new learning models are opening themselves to a vast market of prospective students.
—McKinsey
TREND 05
RESILIENT CAMPUS AND COMMUNITIES
MEASURE SUCCESS WITH SOCIAL, ECONOMIC, AND ENVIRONMENTAL IMPACT
Gone are the days of the campus as an isolated bubble. The triple bottom line for educational institutions — social, economic, and environmental — will require a holistic approach to resilience related to sustainability, wellness, and operational and technological preparedness. Integration with communities, cities, business, and industry will enhance the institution value as a social infrastructure and economic catalyst.
FINANCIAL UNCERTAINTY IS A GIVEN
Financial pressures on institutions have mounted in recent decades. Now, however, financial health is even more unpredictable, and the challenges have increased in complexity, seemingly overnight. Rising labor costs, decreased public funding, suppressed tuition revenue, and demographic changes are straining the college business model.
—Chronicle of Higher Education
IN-PERSON EXPERIENCES ARE ESSENTIAL TO THE POST-PANDEMIC MIX
Virtual access to knowledge continues to evolve, but
in-person experiences are essential
for cognitive skills, social and emotional relationship-building, and igniting inspiration. As learning moves online, visceral in-person experiences and culture must be even more impactful for students connecting with each other, faculty, and the larger world context.
DISTANCE LEARNING IS NOT CUTTING IT
of students report that remote learning (or distance learning) is having a negative effect on their sense of connection with their school community.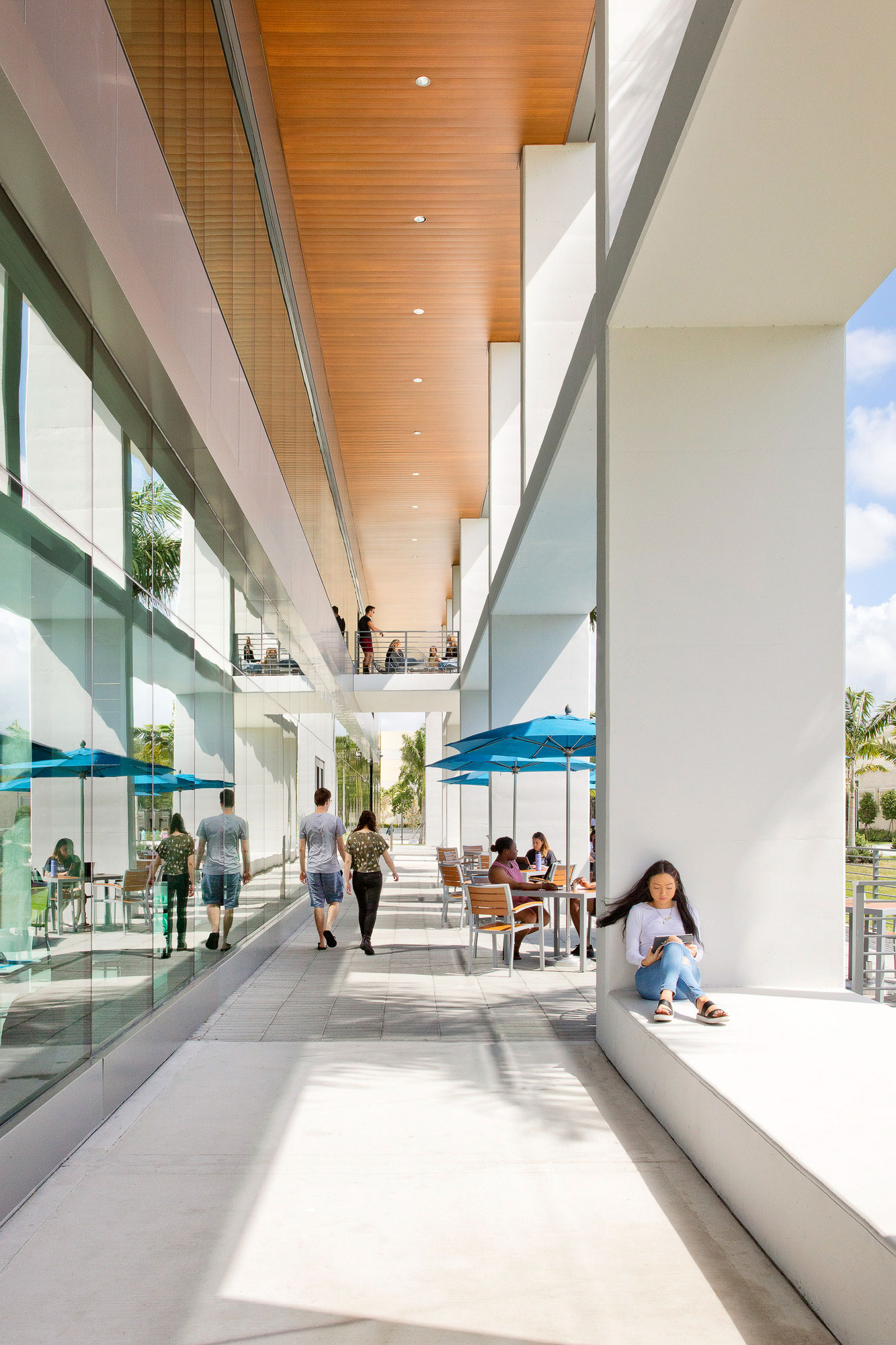 SPACES WE NEED TO REDEFINE THE STUDENT EXPERIENCE
After spending months studying the shifting space needs at colleges and universities during the pandemic, we see several trends shaping the next generation of campus buildings. Here are four key design strategies to enhance learning and success:
COMMUNITY, CONNECTION, AND WELLNESS SPACES
Campuses must support the "whole student" and prioritize programs that target physical, social, and emotional well-being. Providing spaces to support interaction and collaboration, and locating services to maximize visibility and accessibility are paramount. A combination of digital platforms integrated with physical space will bring the most value for human connection and enhance the learner's sense of belonging.
MULTIDISCIPLINARY INCUBATORS
Academic incubators and interdisciplinary spaces support entrepreneurship. These environments and support networks will continue to evolve and will be even more vital in order to diversify the economy and provide an engine for growth in the community. Spaces that bridge industry and academia and fuel workforce development, R&D, and innovation will continue to pervade education.
TECH-ENABLED COLLABORATION AREAS
Despite advancements with online communication and whiteboarding programs, face-to-face collaboration sessions are still supreme. Academic buildings will transition into places of gathering, where groups can meet, learn, and create together. Flexible "hackable" space supports dynamic, in-person collaboration. These hyper-flexible and tech-enabled learning environments provide choice based on how learners and educators best engage between virtual and physical space.
REIMAGINED LECTURE FORMATS
"Flipped classrooms" started trending from a unique pedagogical question: Why pull students together in a 1,000-seat lecture hall to sit in a non-interactive environment when you can record (or live broadcast) it, and have those students instead listen to the lecture from their dorm room and use alternating class periods for smaller, in-person groups? The shift to remote learning places a renewed focus on repurposing lecture halls into collaborative environments, hyper-personalizing hands-on learning in smaller cohorts.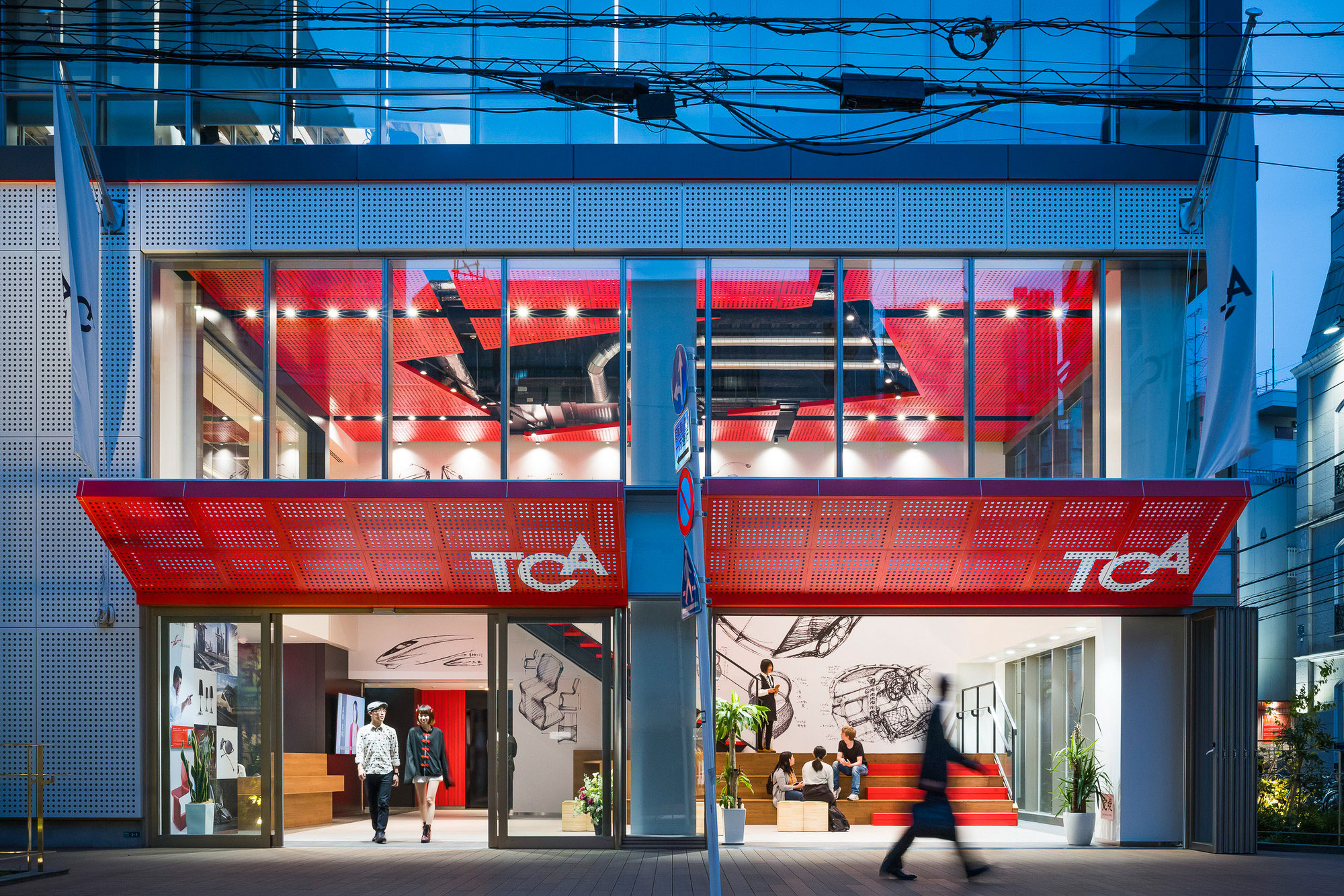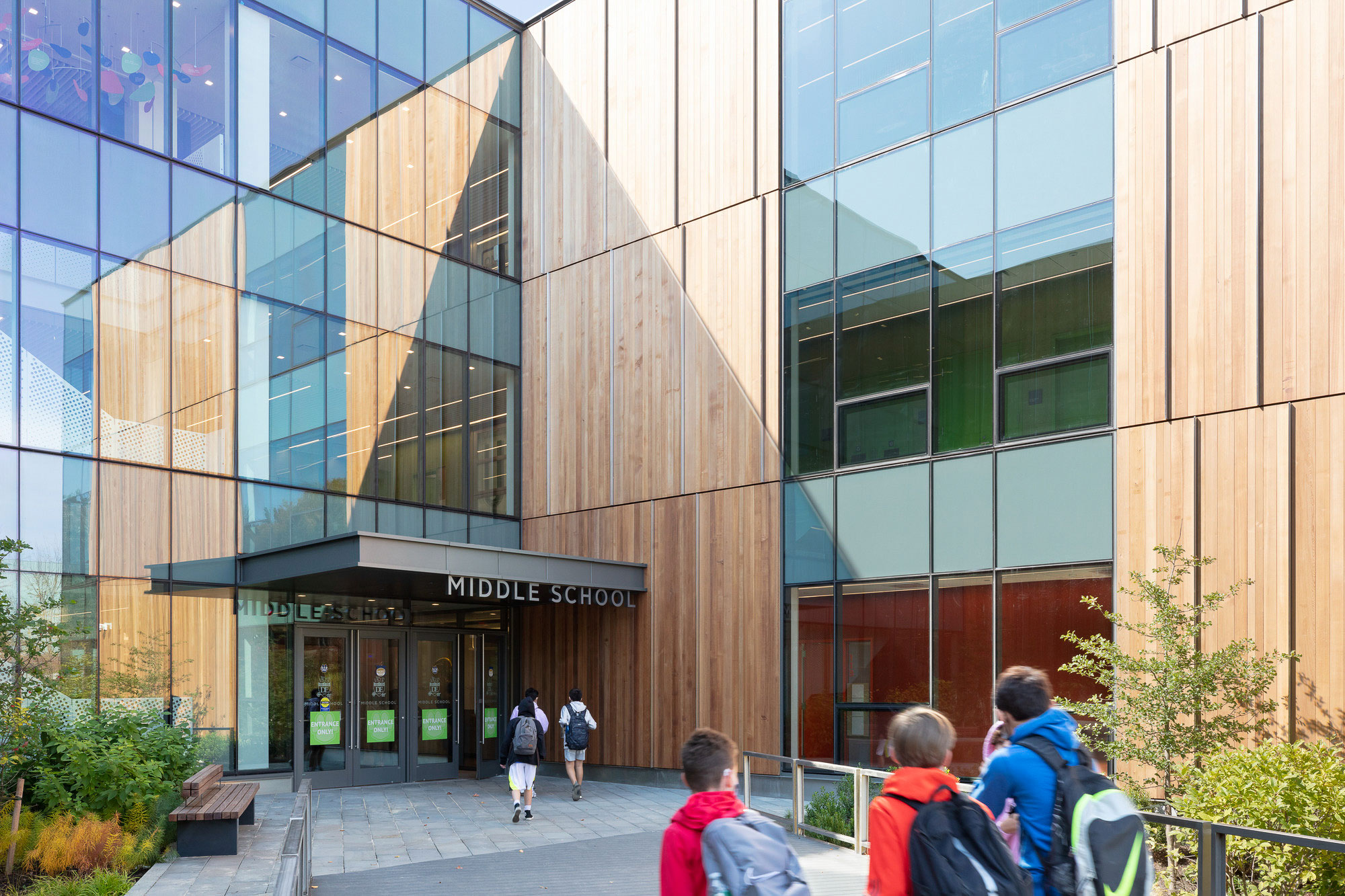 THE FUTURE OF LEARNING IS HYBRID
"Despite the challenges of our current times, 51% of students and 56% of educators want the option for remote (or distance) learning in the future. Benefits of learning/teaching from home include convenience, school/life balance, and environmental characteristics like natural light, comfortable furniture, and the ability to adapt space. The most important aspects of being on campus are in-person collaboration, impromptu interactions, hands-on activities, access to amenities, and social/community activities."
Explore Design Strategies for a Post‑COVID World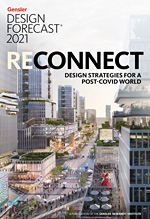 GENSLER RESEARCH INSTITUTE
DESIGN STRATEGIES FOR A POST-COVID WORLD
Download Gensler Design Forecast 2021 (PDF)