HOSPITALITY
The hospitality industry has suffered greatly during the pandemic because of the dramatic slowdown in business and leisure travel. And yet, the ongoing challenges of global wellness and the climate crisis have pushed the industry to ask what else hotels can be for people and communities. This year, the hospitality industry has an opportunity to reinvent itself through resilient, human-centric designs that connect people with place.
TREND 01
FOCUS ON HEALTH & WELLNESS
WELLNESS HAS BECOME TABLE STAKES BECAUSE OF THE PANDEMIC
Hoteliers must balance safety measures with a sensibility that helps guests feel welcome and at ease. The primary focus should be on the guest's health and wellness at both the macro and micro levels. Incorporating wellness-focused changes for health and well-being should become the standard of any hotel stay, and that includes a
focus on sustainable design elements
. To measure and communicate their wellness value proposition to guests, hospitality companies are incorporating the WELL Building Standard to certify their hotels.
"IT'S BECOMING MORE APPARENT TO THE TRAVEL INDUSTRY THAT THE WELL-BEING OF THE INDIVIDUAL IS INTRINSICALLY TIED TO THE WELL-BEING OF THE ENVIRONMENT."
—Laura Powell, Skift
ATTRACT GUESTS BY EMBRACING THE WORK FROM ANYWHERE MOVEMENT
Hotels will become an extension of our work-from-home experience as travel resumes. Work/life boundaries have blurred, and untethered workers will extend vacations and travel to work from anywhere. This shift is
expanding the market for "adjacent space"
(adjacent to the traditional hotel), such as serviced apartments, aparthotels, and long-stays. Some hotels are offering short-term rentals for mobile workers, while others are transforming rooms into remote workspaces or work-study-play retreats advertising "work-from-hotel" packages as a new amenity.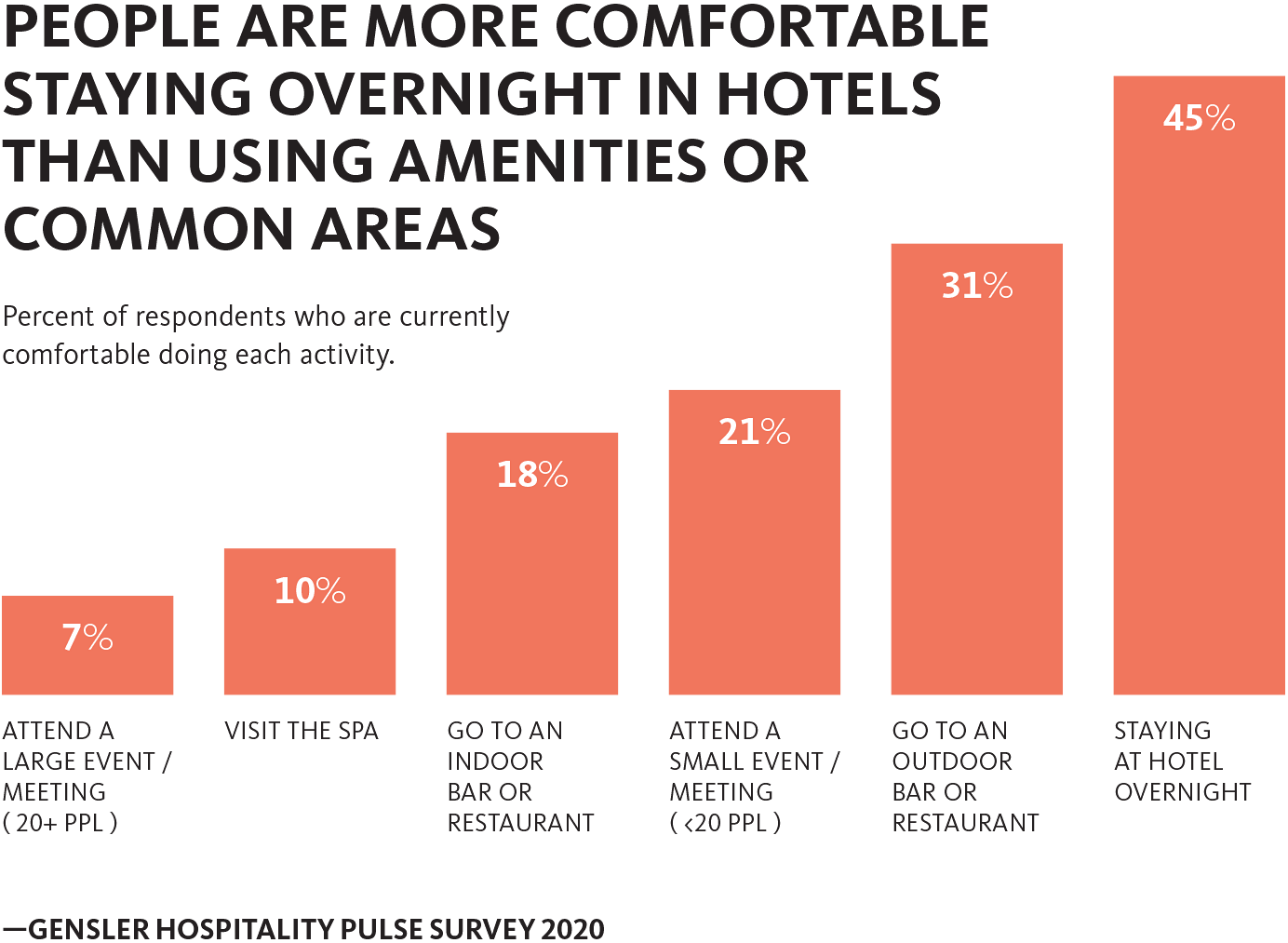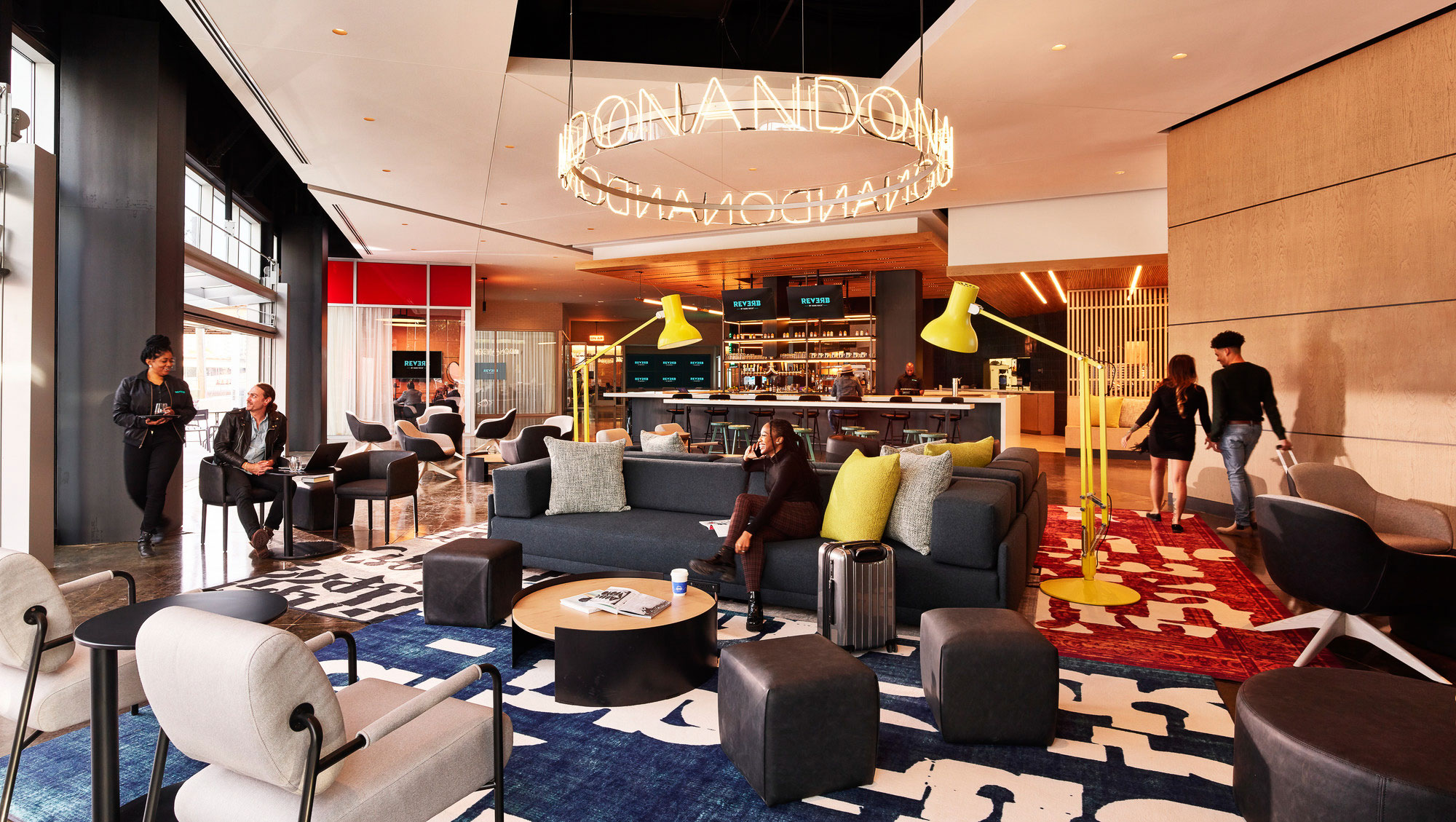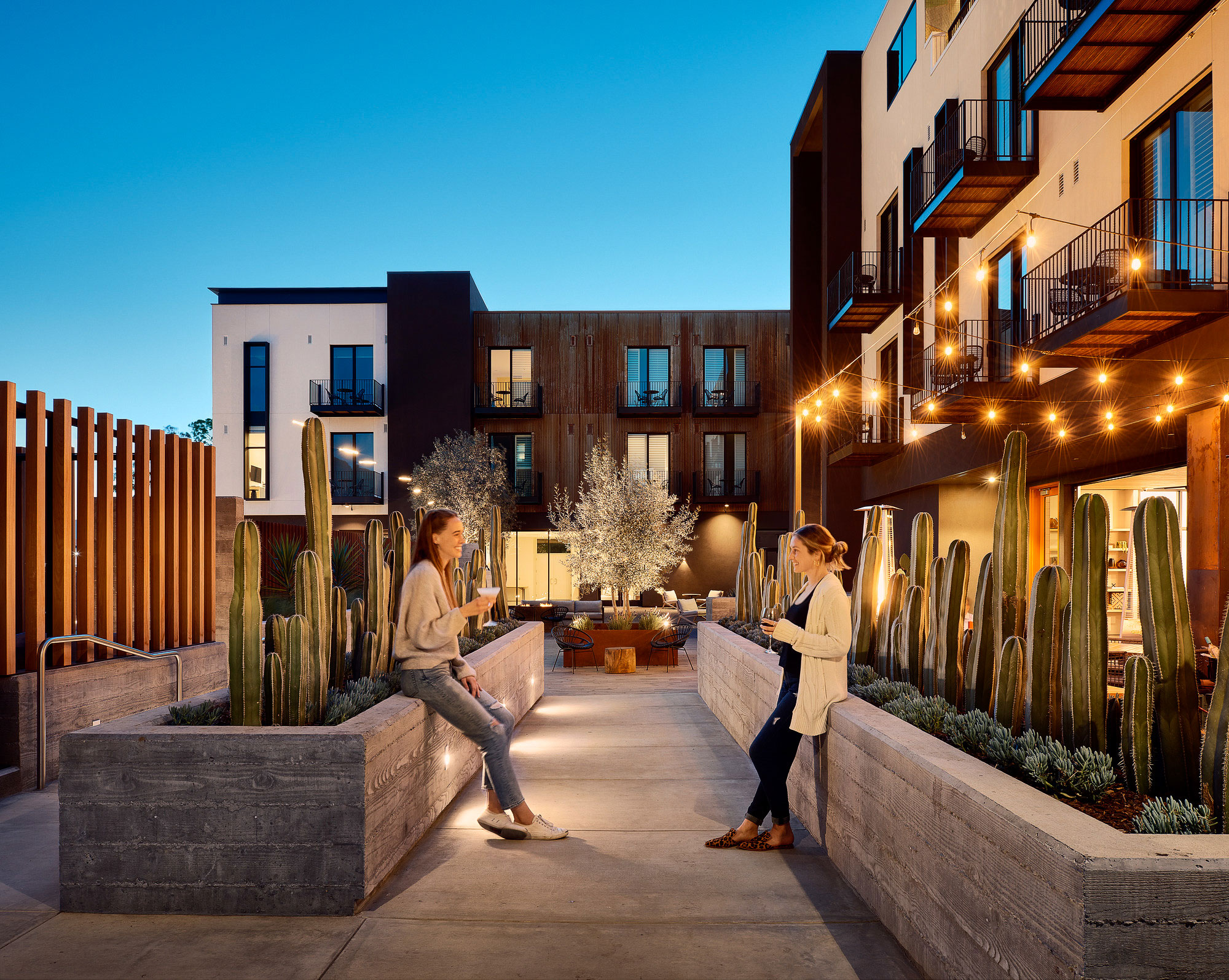 TREND 03
RESPONSIVE TO FUTURE NEEDS
HOTELS CAN FIND NEW REVENUE BY REPURPOSING EMPTY ROOMS
With lower occupancy rates due to the pandemic, hotels are generating income by refurbishing, reinventing, and repurposing underutilized spaces. During the height of the pandemic, empty guest rooms have been reimagined as temporary hospitals, recovery facilities, or student housing. Post-pandemic, we can expect hotels to embrace an even stronger sense of social responsibility as they engage and welcome back their communities. Spaces within hotels, such as lobbies and amenities, should be flexible and responsive to future needs. Guest rooms will double as gyms, dining rooms, and offices. This
agility can provide real value
for hotels and their communities.
TREND 04
SUSTAINABILITY ADDS VALUE
SUSTAINABLE DESIGN CAN BE A DIFFERENTIATOR AND A DRAW
While the pandemic is first and foremost an issue of human health and safety, it has also created an awareness of the hospitality industry's role in sustainability. Eco-conscious travelers are looking to "slow travel," or sustainable tourism where guests can connect with nature while minimizing their environmental impact. Of commercial buildings, hotels are among the highest per square foot energy and water users. According to the Urban Land Institute, sustainable building practices are increasingly being incorporated throughout the hotel sector to add value and provide a competitive edge.
JUST 12% OF RESPONDENTS WANT HOTELS TO OPERATE HOW THEY DID BEFORE THE PANDEMIC.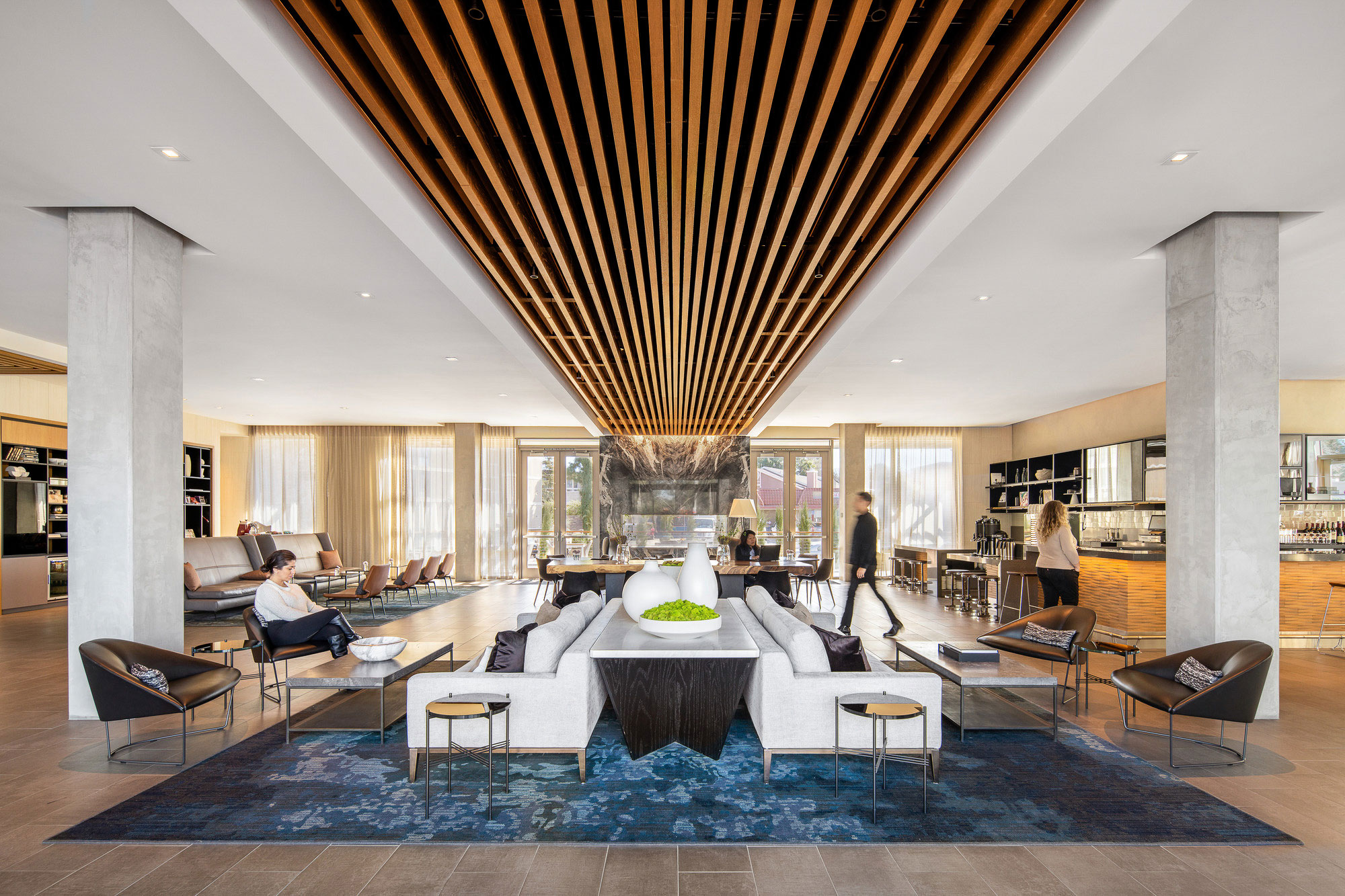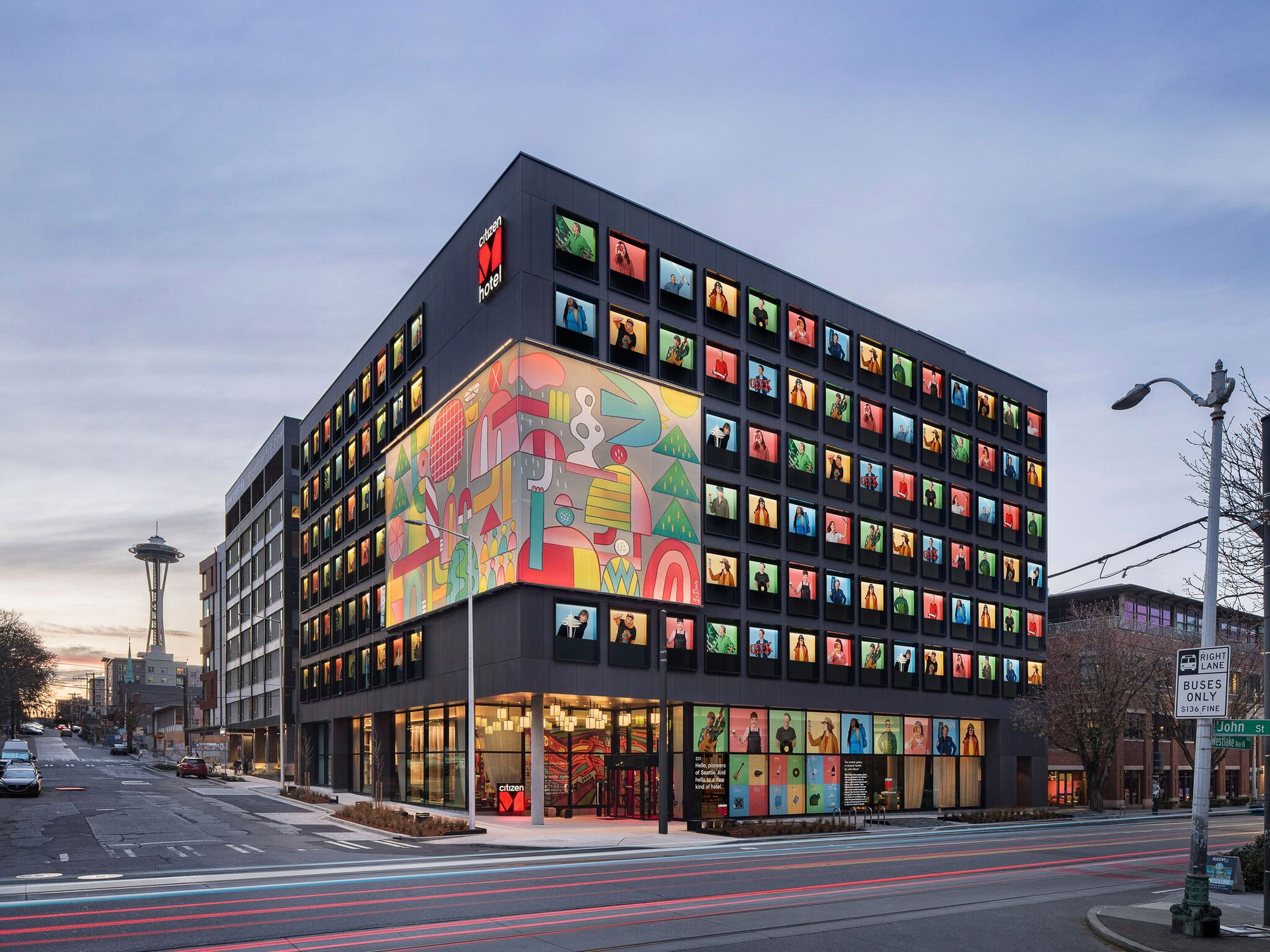 IDEA HOTELS CAN USE TO BRING BACK GUESTS
Now that we think about human contact differently, how can hotels rethink the guest experience so that guests feel comfortable again?
Here are four ways hotels can meet new expectations and deliver an exceptional guest experience in a post-COVID era:
REVIVE AND RETHINK ROOM SERVICE
Over the past few years, self-serve options and grab-and-go markets have reduced the demand for room service. With heightened focus on health, room service could be rethought into a wellness service that provides access to healthy produce and locally sourced ingredients.
SUPPORT SAFETY THROUGH CLEANLINESS AND CONTACTLESS TECHNOLOGY
There are a number of strategies hotels can consider to demonstrate their commitment to safety through cleanliness. The industry is expected to increasingly implement contactless or touchless technologies, such as self-service check-in, mobile room keys, and touchless faucets for a higher standard of cleanliness.
REQUIRE NEW STANDARDS FOR MEETINGS AND EVENTS
As we've become more accustomed to remote connectiveness, we won't rely on face-to-face meetings as much as we used to. What will this mean for meeting and event bookings — and the associated revenue? For one, hotels can position themselves as remote offices or as virtual event hosts. Videoconferencing suites with purposeful lighting, green screens, and audio-visual infrastructure, and digitally fluent concierges could become the new differentiators. To minimize physical contact between attendees, meeting spaces will need to be reconfigured to de-densify the floor space.
INTEGRATE DIGITAL EXPERIENCES
With digital technologies, hotels can customize the guest experience — from preset arrival lighting, music, and room configuration to content based on past behaviors or preferences. Digital experiences allow guests to monitor and adjust their own sound, temperature, and ventilation levels, while aiding communication between guests and hotel operators for room service and amenities reservations.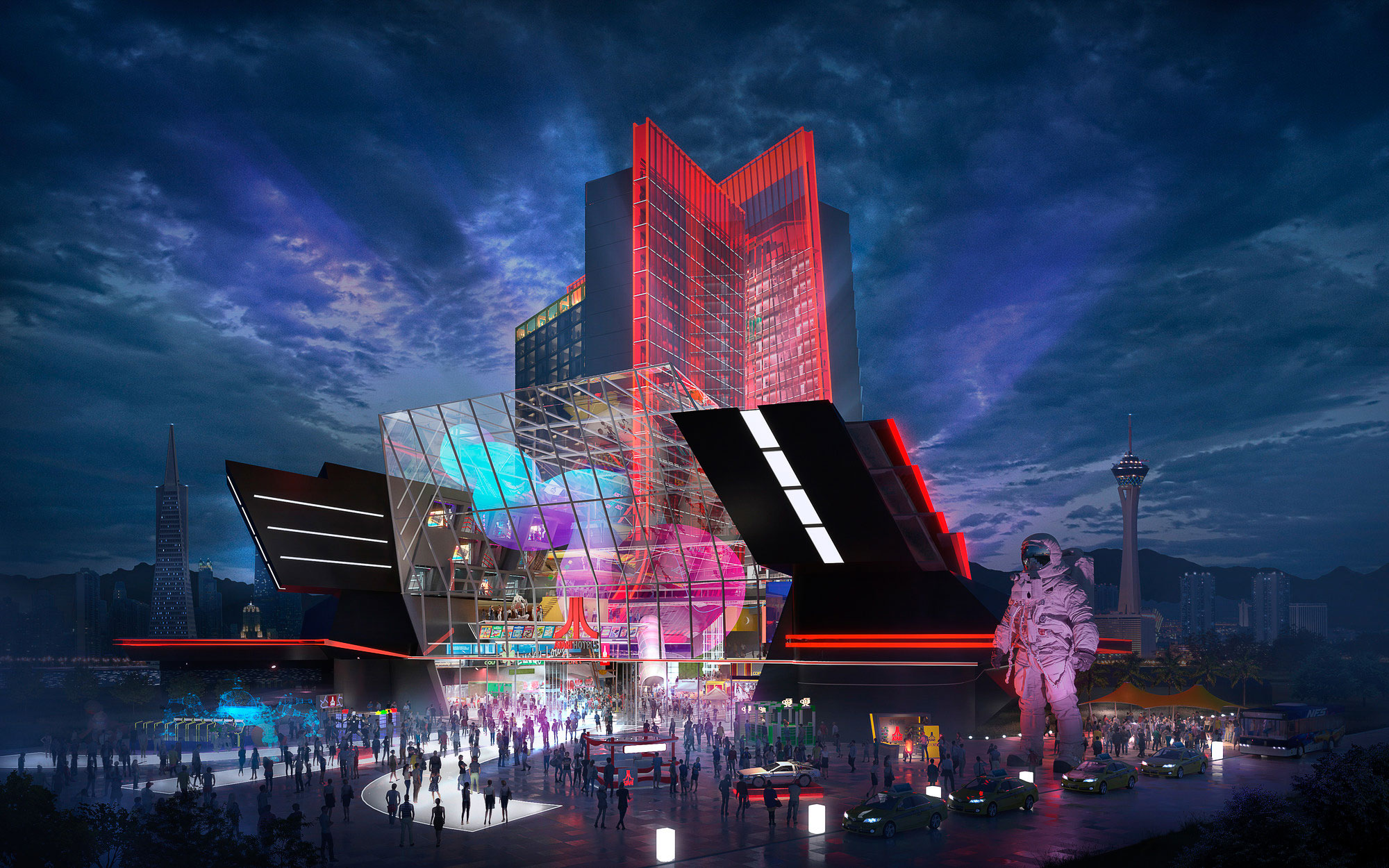 When tasked by GSD Group with translating the legendary gaming brand into an immersive hospitality experience, Gensler created an experience-driven hospitality, esports, and entertainment destination that celebrates Atari's legacy while welcoming modern gamers, esports fanatics, and their families. Gensler's multidisciplinary team of Hospitality, Brand Design, Sports, and Digital Experience designers created a hospitality design concept rooted in gaming nostalgia with retro elements juxtaposed with state-of-the-art features, immersive experiences, future-cast vernacular, and front-edge embedded technology. The result is a hyperconnected hospitality experience, from booking to checkout. Atari Hotels is a destination where past, present, and future meet at the intersection of interactive, virtual, augmented, and IRL experiences.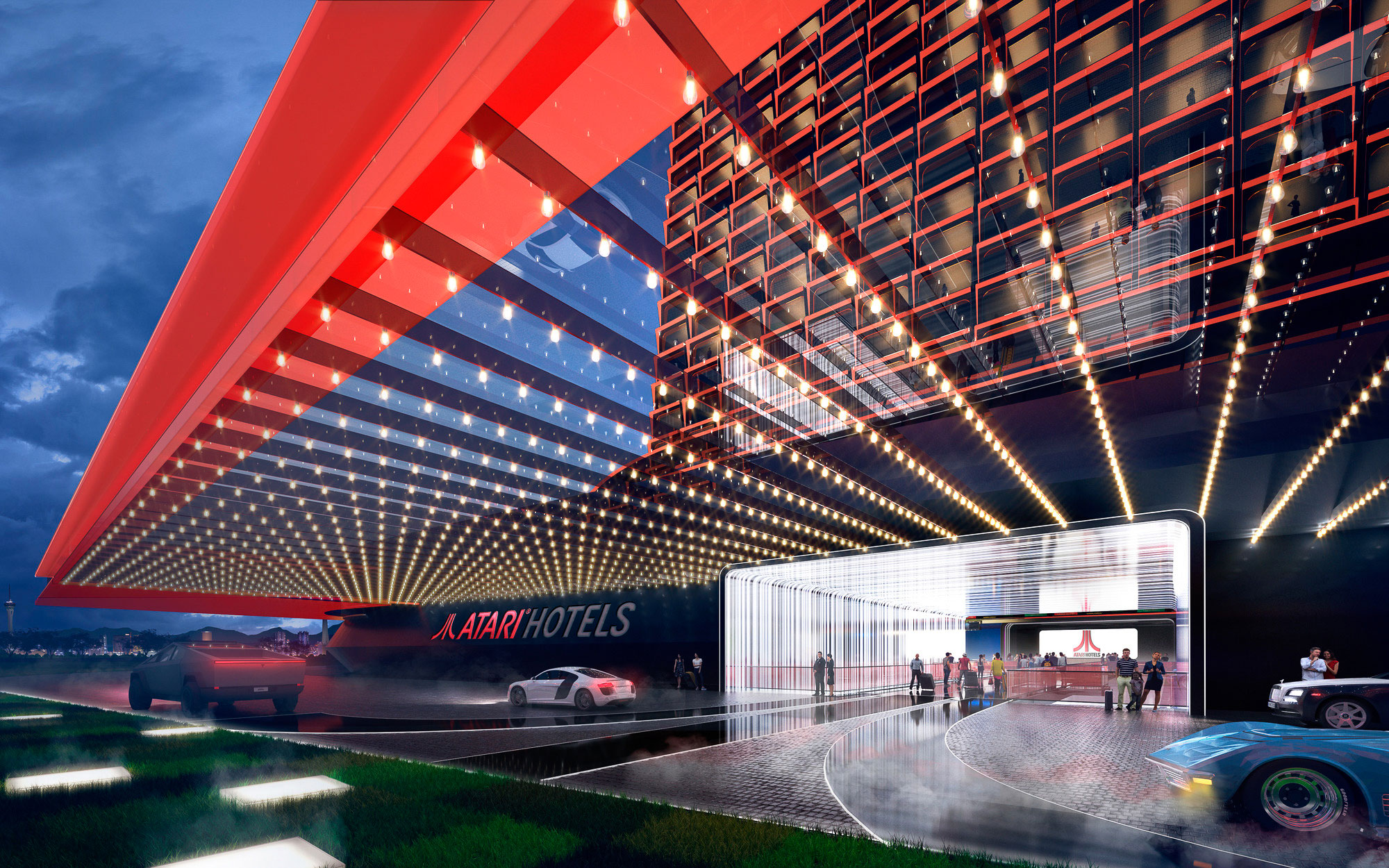 Explore Design Strategies for a Post‑COVID World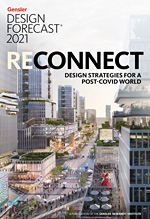 GENSLER RESEARCH INSTITUTE
DESIGN STRATEGIES FOR A POST-COVID WORLD
Download Gensler Design Forecast 2021 (PDF)