PROFESSIONAL SERVICES
Professional services firms are transforming their offices into magnets for professionals and clients. Management advisors are implementing immersive, tailored experiences to motivate a highly mobile, multitasking workforce, while legal firms are introducing new elements to spur interaction, collaboration, and a shared sense of purpose.
NETWORKING IN THE OFFICE BECOMES EVEN MORE CRITICAL
As events and conferences resume, firms will look for new and creative ways to grow their networks, engage with their clients, and reconnect with each other. As offices reopen, the ability to host events in offices will become even more important. Firms should enlarge and enhance social spaces that can be areas of work during the day, but are reconfigurable for client and employee events for day or evening.
ADOPT NEW COLLABORATIVE SETTINGS FOR HYBRID WORK
The pandemic has encouraged new forms of collaboration and nontraditional working. Management advisory firms are seeing a reduction of open workstations in exchange for more collaborative settings. Firms should also implement policies and design strategies that help employees in a
new hybrid work model
that combines face-to-face interactions with virtual collaboration. This can extend chance encounters and
informal collisions
to the virtual realm.
TREND 02
UNIVERSAL DESIGN
EMBRACE UNIVERSAL DESIGN WITH A LOCAL APPROACH
Some management advisory firms are taking a universal design approach, where a large percentage of workplace design is globally prescriptive, but a meaningful amount is reflective of local culture and materials. Universal design makes facilities
more functional for a wider range of people
, recognizing that there's no such thing as the "average" user, and creating an environment that has a collective benefit for all people who need to use it.
MORE SO THAN ANY OTHER INDUSTRY, LAWYERS CONTINUE TO PREFER PRIVATE ENVIRONMENTS.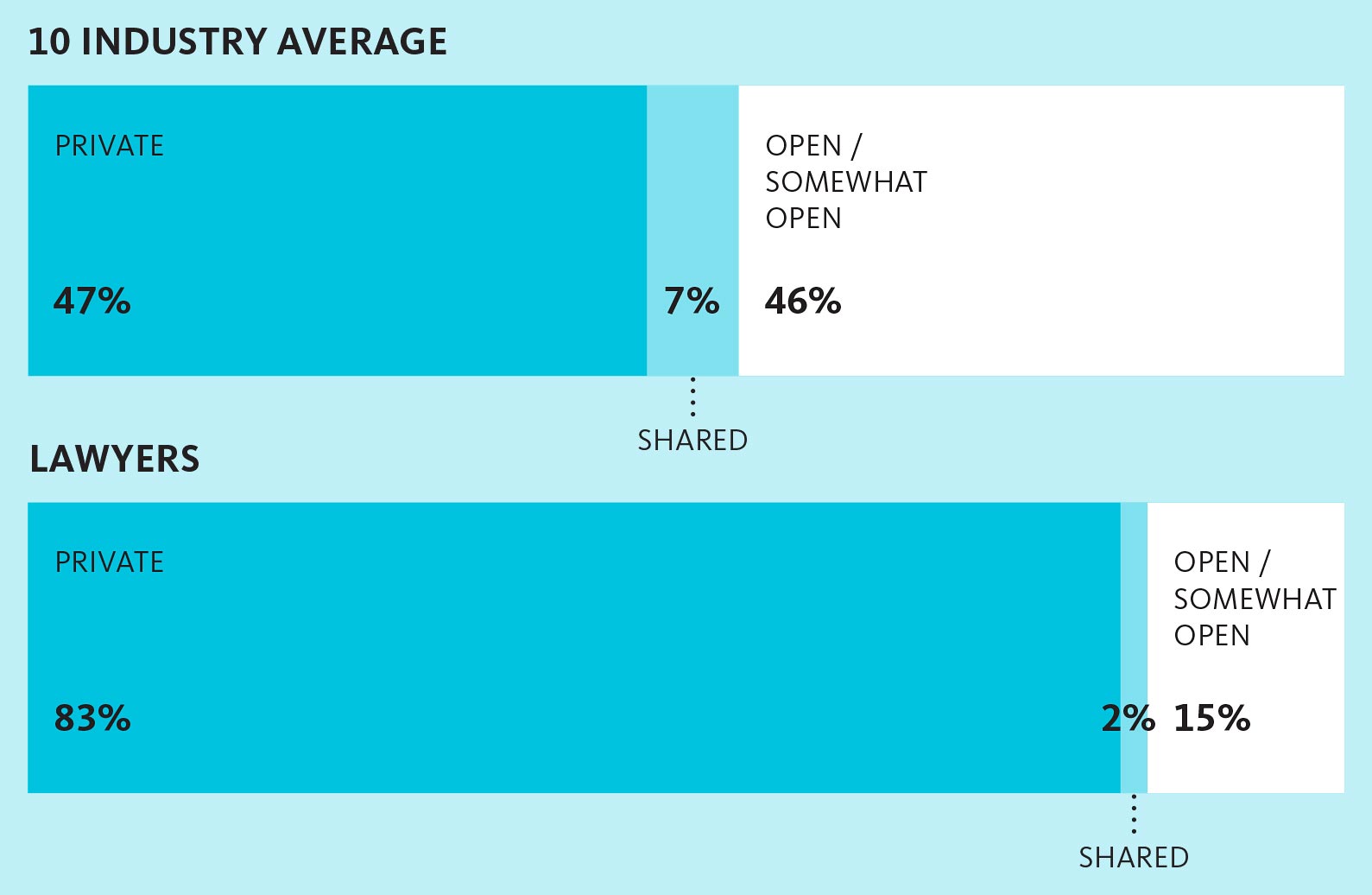 IN TWO YEARS, WHAT PERCENTAGE OF YOUR ATTORNEYS WILL WORK REMOTELY MORE THAN TWO DAYS A WEEK?
—Cushman & Wakefield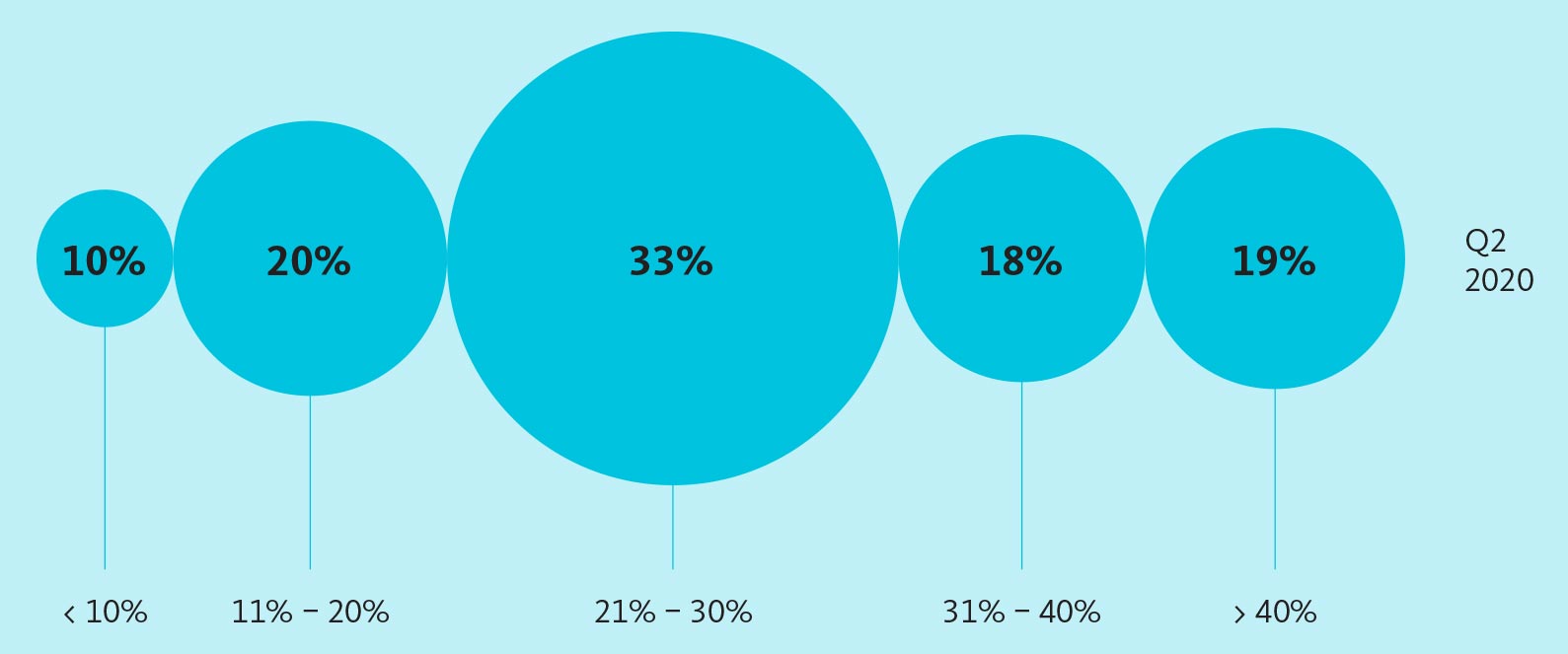 TREND 03
BUILT-IN FLEXIBILITY
THE PANDEMIC IS INSPIRING A MORE FLEXIBLE CULTURE
The COVID crisis and the shift to remote work have
prompted some law firms to rethink their real estate
requirements. Dynamic seating, along with flexible amenities and alternative choices like hoteling suites, is an emerging paradigm that can help some law firms achieve significant space savings. Recognizing that lawyers can be engaged and productive no matter where they are, the legal industry has an opportunity to build a more flexible culture by making remote working a permanent part of their operations.
MOST LAWYERS WANT A FLEXIBLE WORK ARRANGEMENT
54% of lawyers want a flexible arrangement that allows them to work from home for a portion of the week.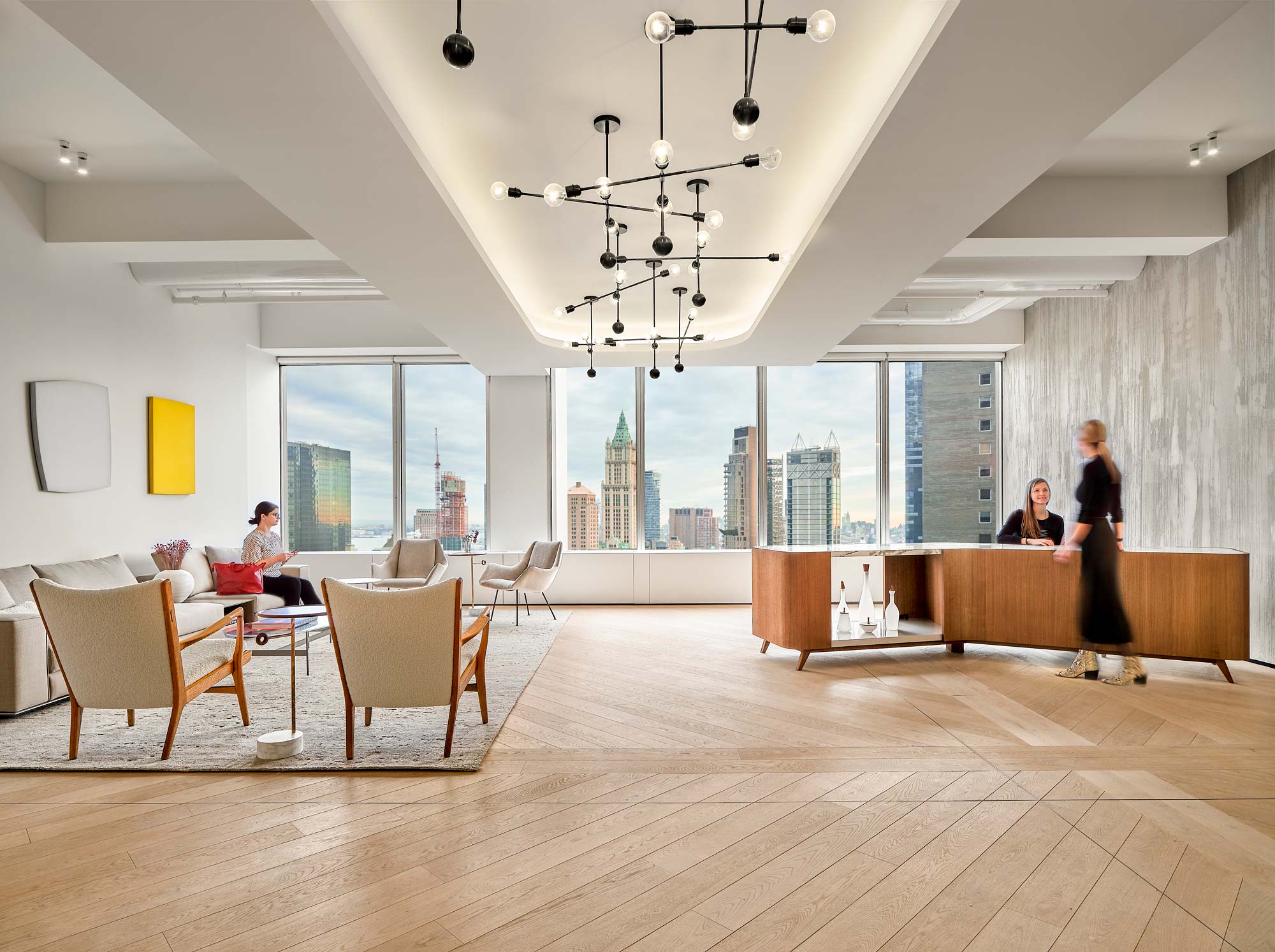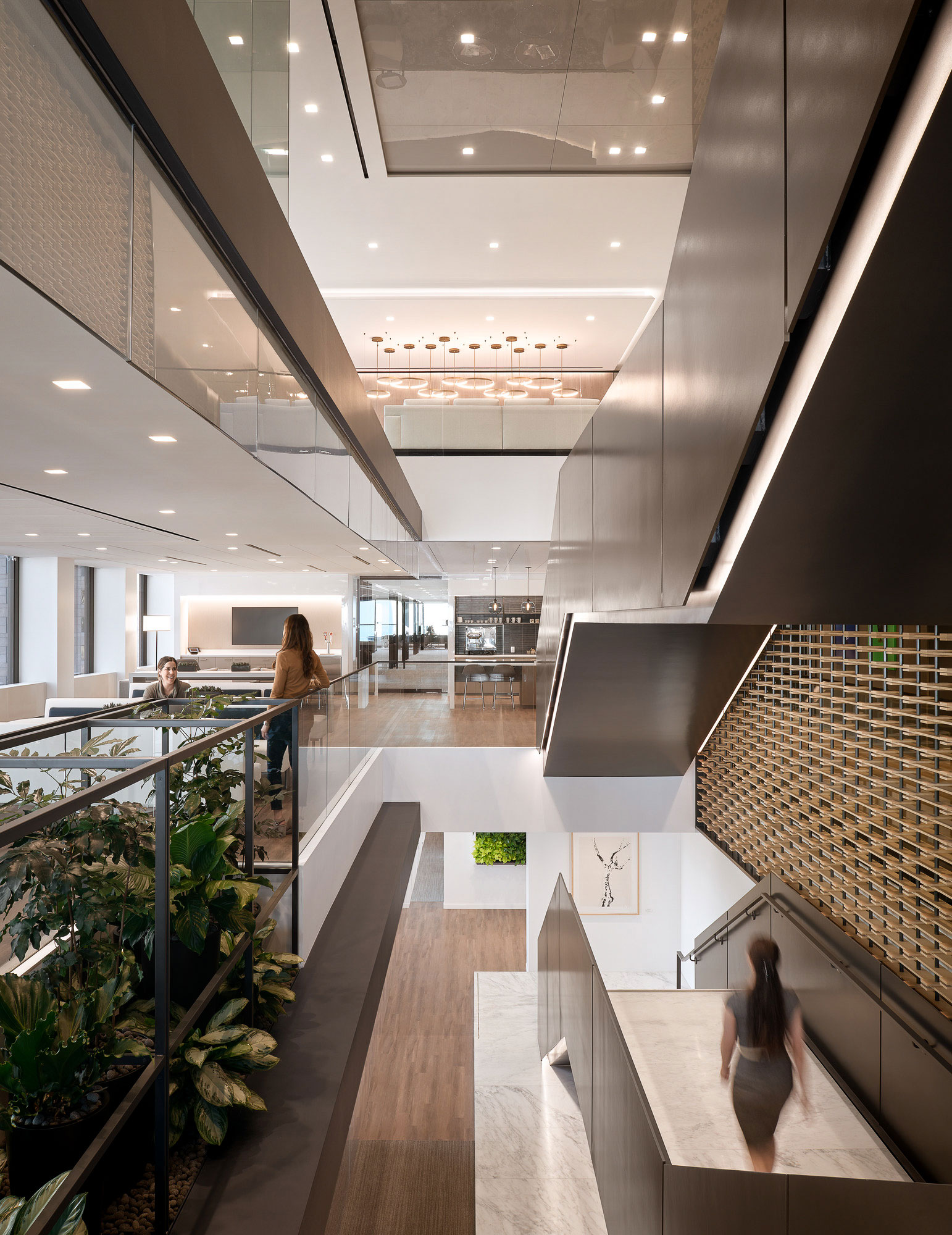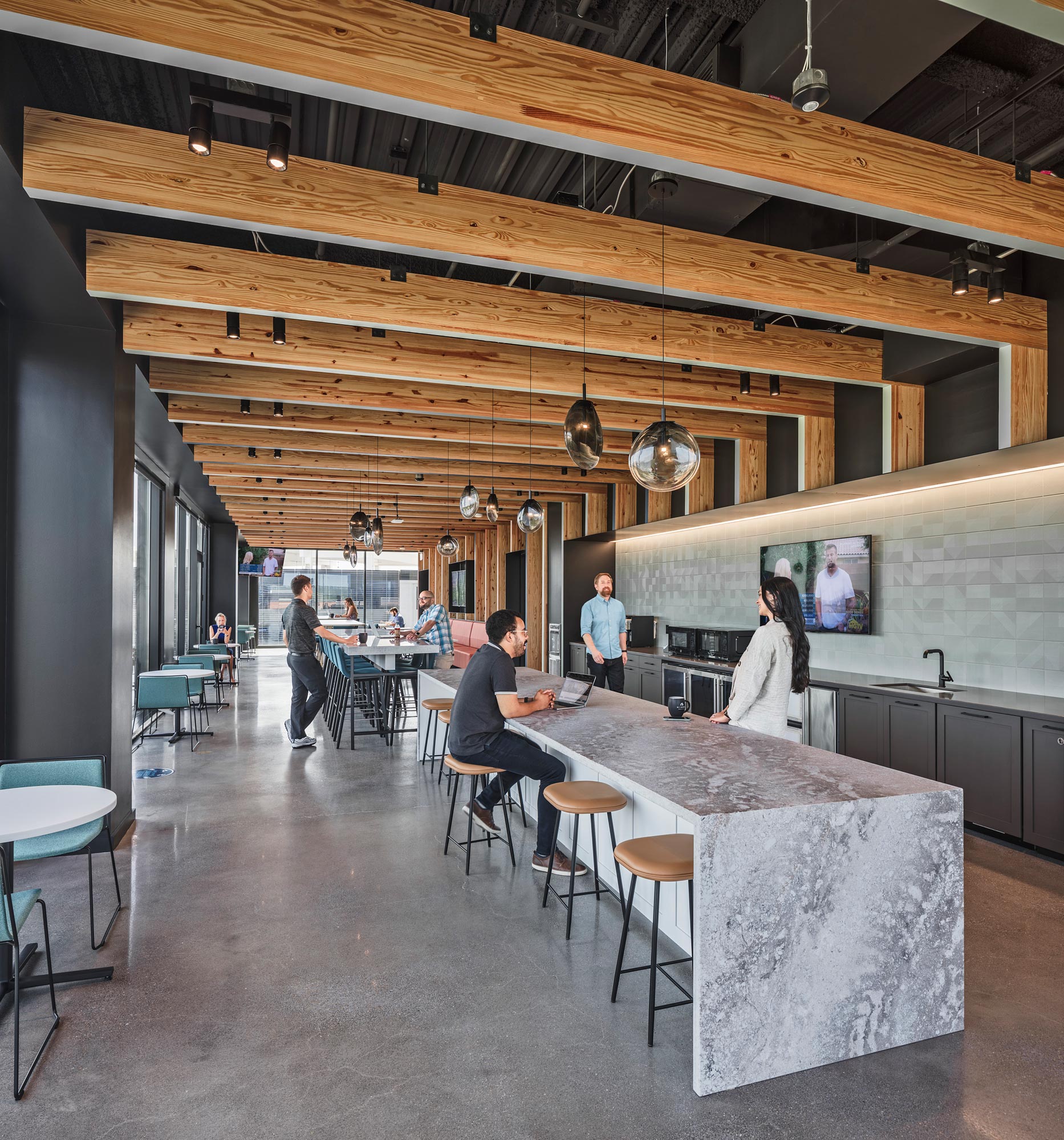 HOME ENVIRONMENTS ARE EFFECTIVE WORK ENVIRONMENTS
Few lawyers had worked from home regularly prior to COVID-19. Most now see home environments as effective environments to work.
Explore Design Strategies for a Post‑COVID World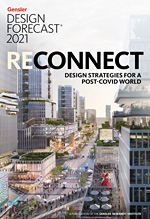 GENSLER RESEARCH INSTITUTE
DESIGN STRATEGIES FOR A POST-COVID WORLD
Download Gensler Design Forecast 2021 (PDF)