Real Estate's Global Viewpoint
How do large companies manage their real estate assets to support an international workforce? Three CRE leaders in the US, UK, and China discuss the challenge of keeping the workplace aligned and effective on a global basis.
BY VERNON MAYS
---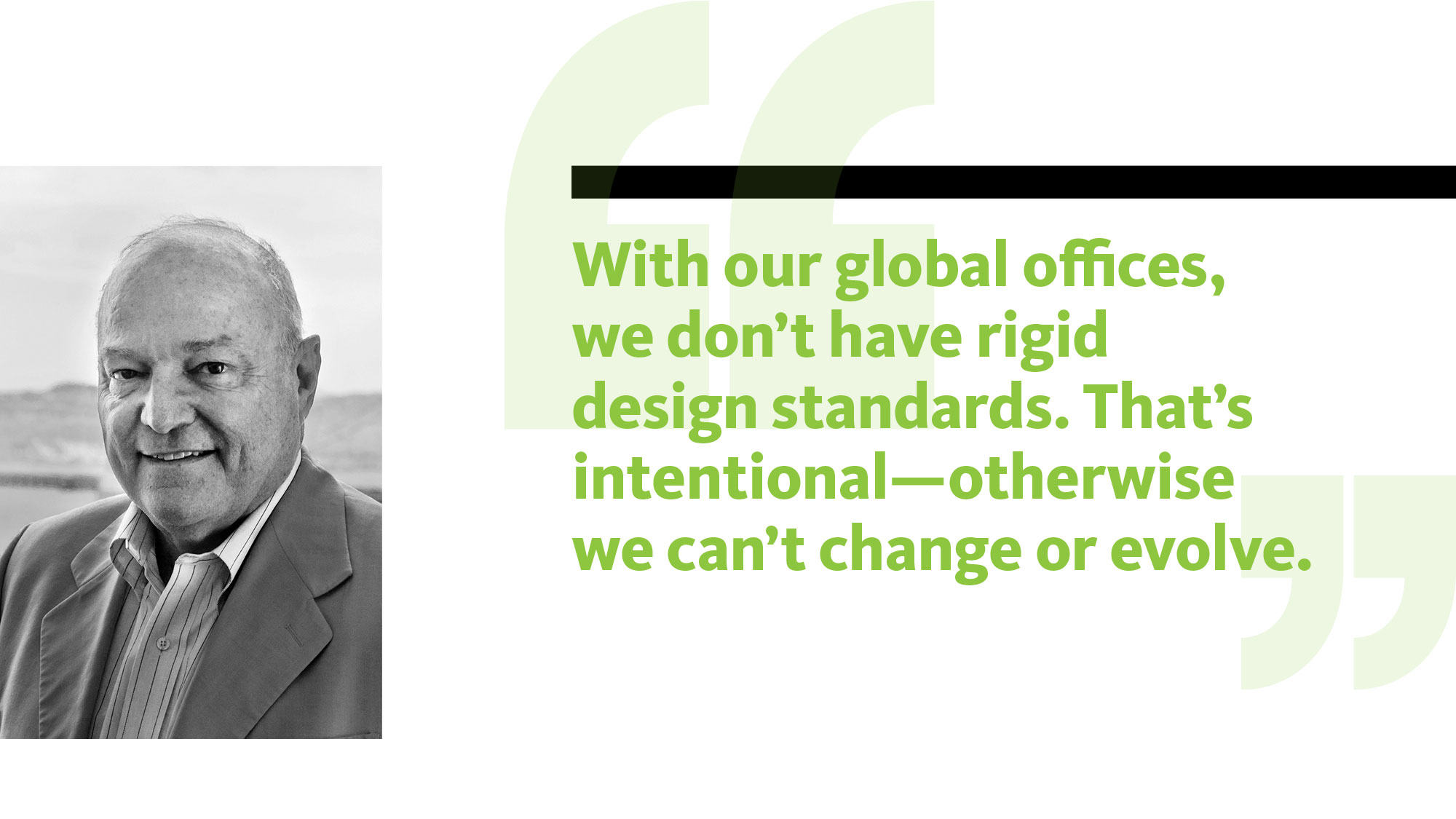 How does Salesforce.com align its workplace with its strategic goals?
Ford Fish: We're very fast growing and innovative, and we have a large social consciousness, so our workplace needs to reflect that. It also has to be very flexible, because with so much change and growth, we don't know exactly what tomorrow will bring. Our workplace needs to be very collaborative, so we do a lot of work to get people out of their cubicles and socializing. Sustainability is important as well.
How do you organize and manage such a large global footprint?
FF: First and foremost, by being close to our employees and understanding their needs so we can get ahead of things. We come at it from two perspectives—at the high level, by working with the top executives who run the business, and also by listening to everyone else through our internal social network, Chatter. We also use our people in the field to gather that information. My team includes a representative from our finance group and a person from human resources. They provide real-time advice on where the company is going, so I know what the trends are and where Salesforce.com will be adding people.
Why has Salesforce.com committed to downtown office locations?
FF: Locating downtown is customer-driven, but increasingly it's about access to talent too. Our customers tend to be in major cities, so we locate our salespeople where they are. The talent side of it is that tech workers want to be in a major city, not in the suburbs. They want to live and work where they can have all the cultural and social benefits of the city, and they don't want a long commute.
What special real estate challenges does San Francisco present?
FF: This is our home, so we are extraordinarily committed to San Francisco. We have over 5,000 employees here now, and we'll have substantially more as time goes on. The challenge is that San Francisco, next to London, is the hottest real estate market in the world. There's a huge demand for talent here and an equal demand for real estate. We had planned to build a new campus near AT&T Park, but then we decided to stay in the heart of downtown. Now we are in a series of buildings that we've grown into, and we have been very strategic about leasing buildings that will serve us for the next five to seven years. Recognizing that rents are rising very quickly, we made some big plays over the past two years that have set us up well for the future. Now we have a vertical, urban campus with all the city's amenities right outside our door.
Are there advantages to locating a tech company in a highrise building?
FF: There are incredible advantages. We're committed to the idea of a highrise campus in San Francisco, and we're doing the same thing in London and Tokyo. It makes a lot of sense for us, but you have to provide ways for people to encounter each other. Since they're on different floors, you must have good vertical circulation and common areas that encourage them to connect and share. More and more, we are adding workplace features beyond what the city has to offer—doing things to make life a little easier for our people, like a "Bring Your Dog to Work" program, spaces for relaxation or meditation, and even basic medical services. We've gone from 25 percent communal space in our high-rise buildings to more than 50 percent.
Are your hub offices around the world treated differently from your offices in San Francisco?
FF: The hub offices are not substantially different in terms of physical appearance. Increasingly, we plan for unassigned seating and a lot of collaboration space. We also build attractive customer briefing centers in the major cities. They are outfitted with the latest technology so we can help our customers understand who we are as a company and what we offer them.
We intentionally don't have rigid design standards for our global offices, because otherwise we can't change or evolve. All of our spaces share a look and feel in terms of colors and branding, but we encourage people to try new things on every project. Outside the US, we also want to be sensitive to cultural norms. In Asia, for example, there is a little more hierarchy to the seating and to the way people work, so we want to respect that.
---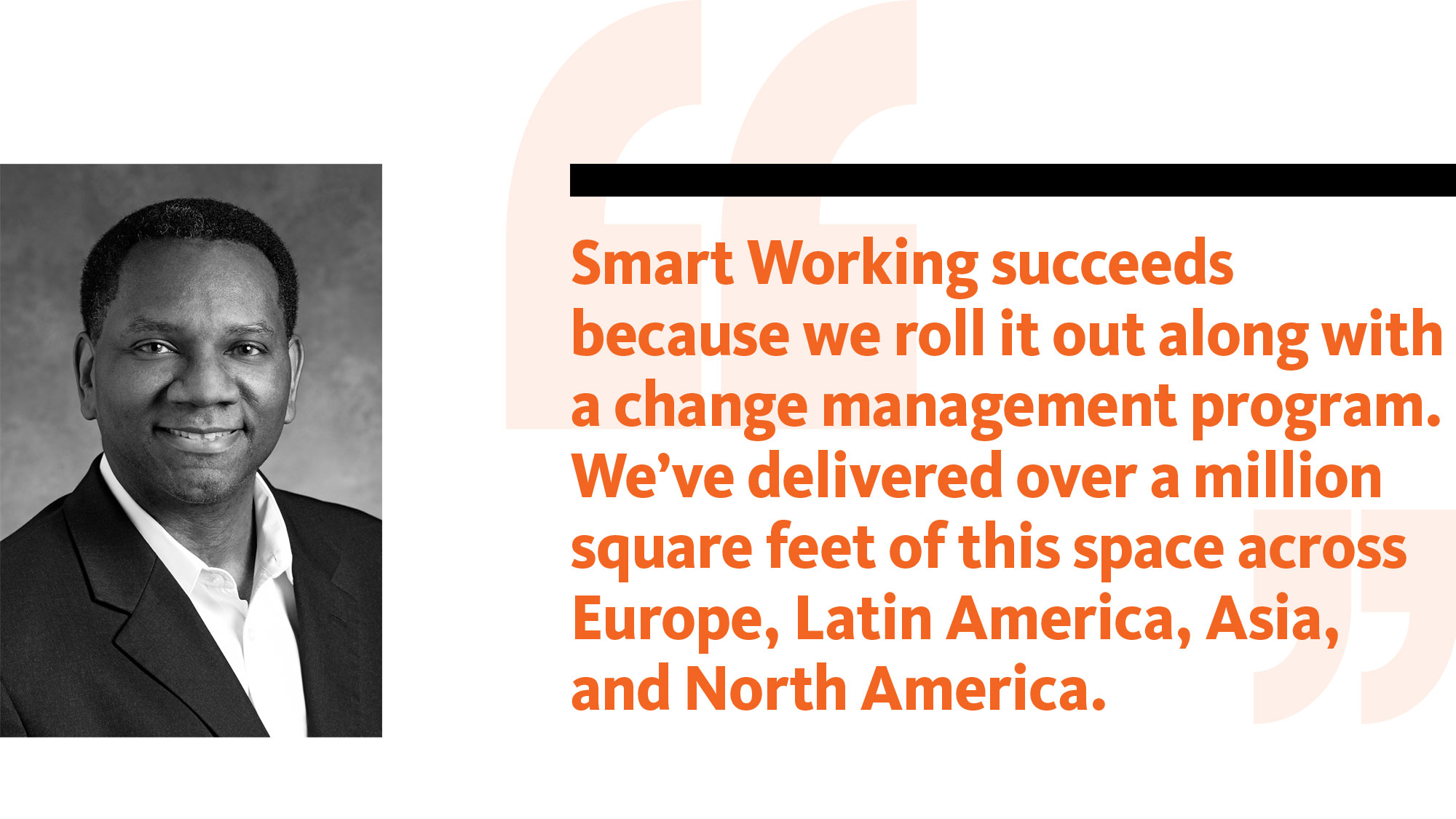 How do you organize and manage your global real estate assets?
Mark McCord-Amasis: We have just gone through a structural change at GSK, creating a "real estate tower" designed to manage the company's real estate assets like a landlord, in essence—truly managing the full life cycle of the assets.
We're structured as three regions: the Americas, Europe–Middle East–Africa, and Asia Pacific. Each region has asset managers, risk managers, and project delivery and master planning managers.
Is there growth in these regions?
MM: Yes, from a pharmaceutical industry perspective, there is a lot of growth in emerging markets. As our commercial market share increases, we're expanding our footprint in the Asia Pacific and Latin American regions. In mature markets, growth is either relatively slow or in decline. If anything, we are managing our assets downward in order to drive improved efficiency and effective utilization.
As you expand internationally, how do you adapt to local cultures?
MM: We try to strike a balance. We don't necessarily want to create a different look and feel everywhere across the globe. We try to standardize as much as is possible—the same GSK look and feel everywhere. We have a standard workplace model called Smart Working, and as we roll it out, we incorporate cultural differences within that framework. Some things are non-negotiable, such as no assigned or allocated offices, regardless of grade, and desk space is shared at a minimum ratio of 10 people to 8 desks. However, the number of meeting rooms, quiet rooms, areas dedicated to soft seating and amenities, and environmental graphics are adapted to fit the local culture. This ensures you will know you're at GSK whether you're in Bangladesh or Moscow or Costa Rica.
How did the Smart Working model come about?
MM: The idea came from studies run by our real estate team, which looked at the vast amounts of real estate we had. They found that large amounts of footprint were poorly utilized—well below 50 percent utilization. Some of these assets were in the most expensive markets in the world. It begged the question, are we leveraging these assets appropriately? We found that the majority of the managers and directors were actually using their offices less than 40 percent of the time. And when they weren't using them, the doors were locked and the lights were out.
Where did that discovery lead you?
MM: We don't provide assigned seating or individual offices. It's a sharing concept focused on choice. We create "neighborhoods" within the space, so that people who need to be near each other are in close proximity. We also provide a wide range of space types so that you're not sitting in one spot all day. There are quiet rooms for teleconferences or private conversations. We increased the number of two- to four-person meeting rooms, and still provide medium-size and larger-size rooms. We provide "soft seating"—places where you can grab a quick coffee and have an informal conversation. And there are touch-down spaces for folks from other locations.
Smart Working succeeds at GSK because we roll it out along with a comprehensive change management program. We help people understand their behaviors will need to change for the new spaces to be effective. We provide the framework, but the etiquette and behaviors are delivered by the people using the space. We've delivered over a million square feet of this space across Europe, Latin America, Asia, and North America.
As you've remade your North American Pharmaceuticals headquarters, would you say the mission of a headquarters has changed?
MM: I'm not sure if the mission has changed, but the function has. It's become more of a workplace approach than a question of location. It's about who you're trying to attract and retain in terms of key talent. What does the space do for your image? These questions extend beyond the headquarters. We want all of our employees to feel they can contribute and be supported. That feeling of being connected, inspired, and valued should permeate throughout the portfolio, not just one location.
---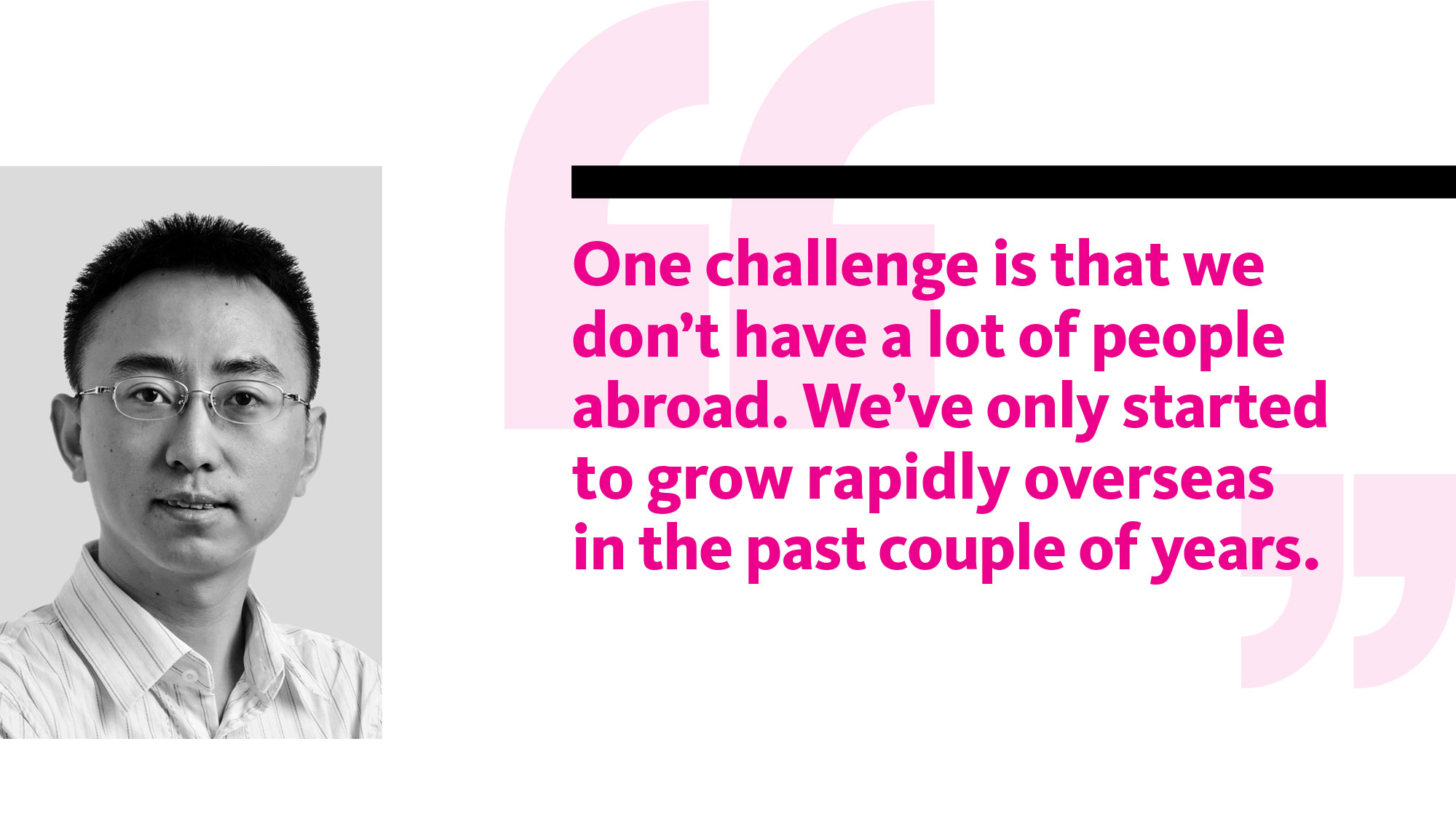 What is Tencent's real estate strategy for its headquarters and other locations in China?
Polo Chen: We focus on how to embody Tencent's culture and tradition, our cultural DNA. We've always prided ourselves as a people-centric company, and we're known in the industry as an organization that values its employees' well-being. We promote a free, open, and equal work environment, and our facilities need to express this and help make it happen.
How does this play out architecturally?
PC: One example is office layout. A lot of Asian companies express company hierarchy in their work settings. They equate seniority with better workspace, so directors and managers have larger offices. At Tencent, only senior managers have private offices, and the area is relatively small. Directors and team leaders have the same desk space as everyone else in the company. Also, we carefully selected the desk dividers, reducing their height to encourage communication. Prime window exposure and south-facing areas are mainly used as communal space for staff, rather than for meeting rooms or private offices.
What are Tencent's core values? How are they reflected in your workplace design?
PC: Tencent employees must have integrity, a strong moral code, passion, innovation, and curiosity for new experiences. We focus on collaboration and teamwork; it's not about being a hero. As for the design, some qualities are easier than others to express and support: collaboration, openness, integrity, and innovation, for example. The senior managers' offices all have interior glass walls so people can connect better. Some tech companies give every employee a big cubicle, but that's not conducive to teamwork. It overvalues individual space and overlooks collaboration. To spur innovation, our WeChat office in Guangzhou has open discussion areas, with all kinds of informal settings to promote creativity.
How does Tencent manage its real estate assets around the world?
PC: When it comes to our overseas offices, we mainly lease the space. Tencent has a short history of building and construction, and cannot support projects outside of China at the moment. Also, our presence overseas has only started to grow rapidly in the past couple of years. When products such as WeChat started gaining popularity abroad, we experienced a sudden growth spurt. So now our construction projects, as well as supporting activities like administration, finance, and human resources, are expanding to meet the demand.
What is the focus of your growth overseas?
PC: In some regions, such as the US and Southeast Asia, we promote established products like WeChat. There are 600 million WeChat users around the world, 100 million of which live outside China. We also promote our games globally, along with our IT business in Southeast Asia. Another aspect of our global business is overseas investments and content introduction. In Korea, Japan, and the US, our investment team collaborates with a lot of high-performing local companies, helping them introduce their products in the Chinese market. We also have technical R&D functions in the US.
How many people do you have in each region?
PC: This has been one of the main challenges in our real estate strategy, because we don't as yet have a lot of people abroad—100 people in the US office and fewer in Seoul. It's why we don't have any building projects overseas. It's not the most economical option right now. Companies like Google, Amazon, and Facebook are similar to us in value and scale, but have very different strategies when it comes to real estate and team management.
As the company matures, how is your real estate strategy changing?
PC: We're definitely building more. Most offices in China are rented, but a lot of uncertainty comes with that. Can you find the space you need? Can you get a long-term lease? As we grow, it might be easy to move 100 people, but moving 1,000 would really impact our business. In the future, we'll need to construct our own buildings to ensure our employees have a comfortable workplace that reflects our values.
---
Vernon Mays, who conducted the interviews, is a senior editor at Gensler and a contributing editor at Architect magazine.