Work was a silo, but now we stack, embed, and overlay it with the rest of life to create great synergies and adjacencies. Welcome the newly ubiquitous mixed-use center.
BY AMANDA KOLSON HURLEY
---
Work has become one use among many in cities and suburbs as they embrace the new model—compact, walkable mixed-use centers. Demographic forces are shaping the urban center revival: Baby Boomers want to downsize and stay active, Millennials crave an urban lifestyle, and everyone prefers a work-life-leisure mix rather than a long commute from one boring place to another. But work activates the scene—it's not going away.
"Compared to single-use projects of similar size, mixed-use projects exploit land and resources more efficiently, support larger populations, and generate higher revenues," says Gensler's Arlyn Vogelmann. To show how, let's consider some recent, Gensler-designed mixed-use centers that address both urban and urbanizing-suburb contexts.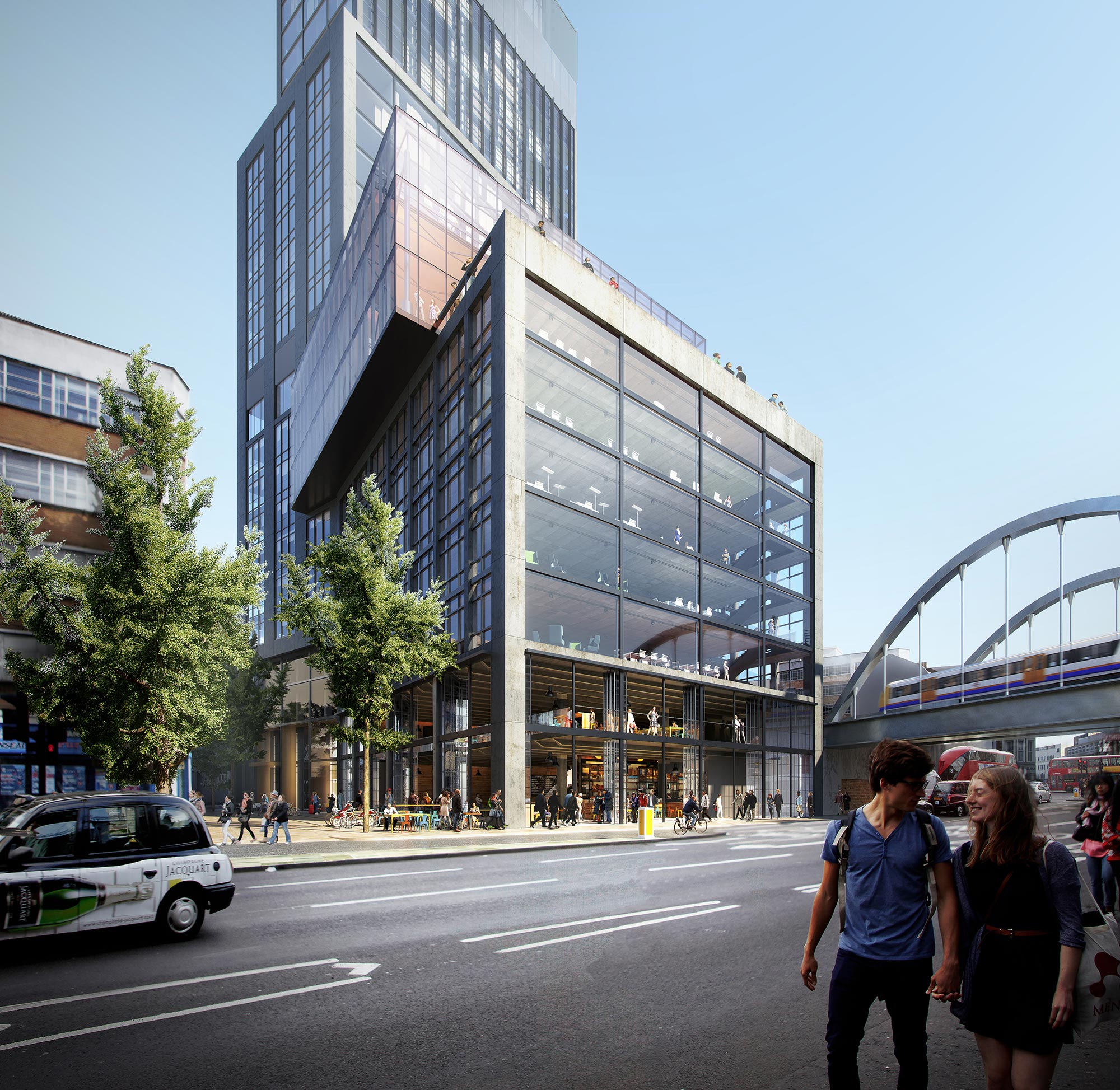 Reviving established cities
In 1995, a new arena replaced Boston Garden, a legendary sports venue. TD Garden, which hosts the Bruins and Celtics, sits above North Station, a transit hub. Next door is the old arena's vacant 2-acre site, sapping the area's vitality despite the crowds. To revive it, Boston Properties and Delaware North are developing a true urban center. At its heart is Champions Row, a 200-foot-long, five-story-high retail gallery that connects North Station to Causeway Street. Twin towers adjoin it, giving office workers and hotel guests front-row seats on the action as crowds pass through.
Like Boston, London is also using mixed use as a revival strategy. Shoreditch, just north of the City of London, has emerged as a destination. The demand for creative office space is strong, spurring a need for hotels, but the area's lowrise, historic fabric complicates adding them. When Highgate Hotels asked Gensler to design a hotel there, the team suggested a hybrid—a hotel that folds 10 floors of creative workspace into its 29 stories, sharing restaurants and a sky lounge. The stacked-box form softens its verticality to fit well with the context, says Gensler's Valeria Segovia. "It's exciting, but it doesn't feel out of place."
Shanghai doesn't seem like an established city from a distance, given its reputation as a trendsetter among China's fast-growing metropolises. But the heart of the city has preserved another era, the early 20th century. Ocean liners and freighters, not jet planes, came and went, but Shanghai was a cosmopolitan gateway for the China trade with Western Europe and the US.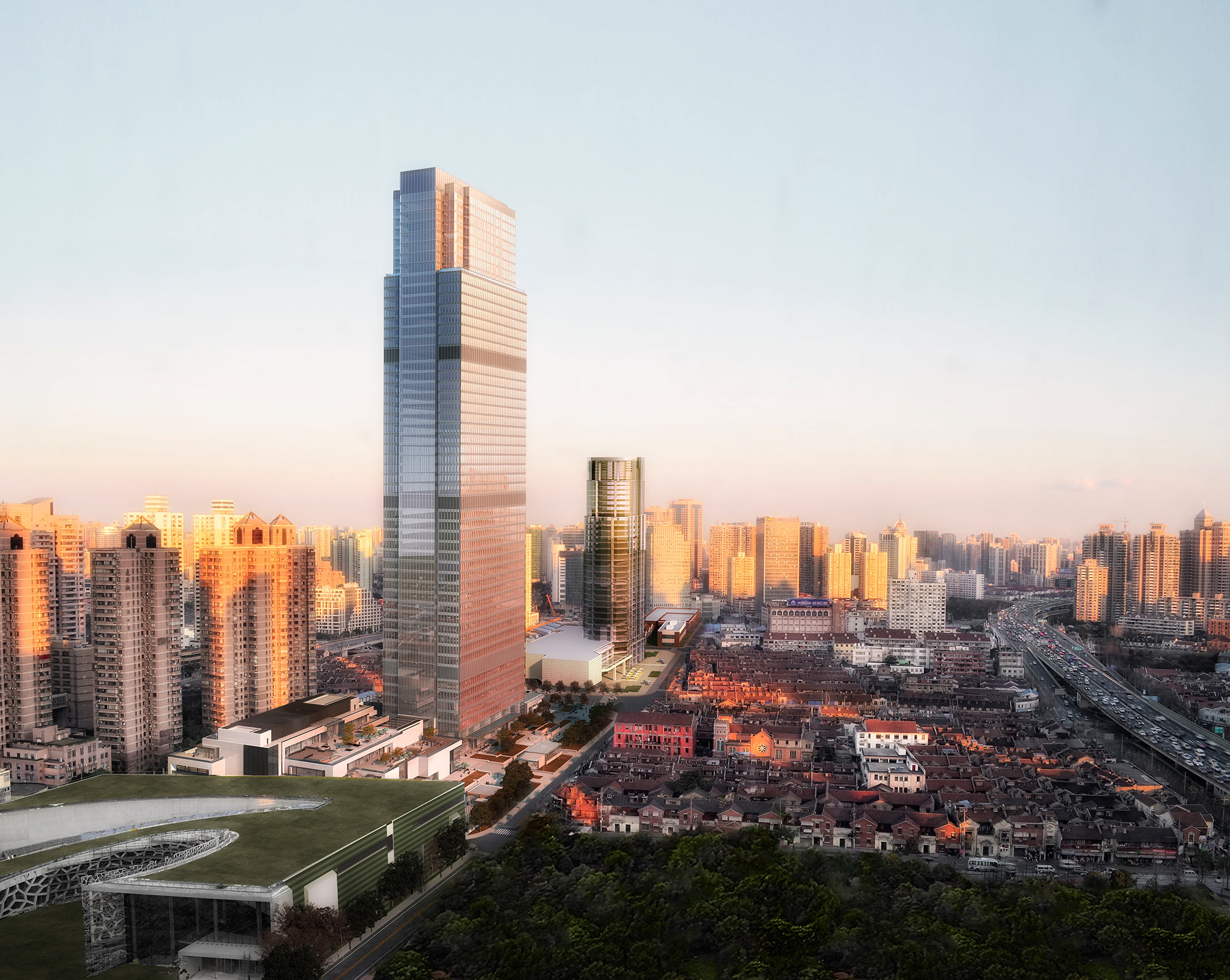 Fast forward to today and Hines is developing the Gensler-designed One Museum Place office tower and lifestyle podium as the centerpiece of a mixed-use cluster now emerging in the Jing'an District of Puxi, the city's downtown financial district before World War II. The 54-story tower and its lifestyle podium will connect to a soon-to-open Shanghai Metro station. The new Shanghai Natural History Museum and the popular Jing'an Sculpture Park are across the road, marking the area as an arts-and-culture zone. With a daytime population of 12,000 office workers and shoppers, the new tower will help activate these cultural uses. "These are locals, expats, and tourists, including residents of high-end housing towers nearby," explains Gensler's Russell Gilchrist. "To attract them, the lifestyle podium will offer a variety of food-and-beverage options. No one is coming here to buy luxury goods." Puxi doesn't shut down at night—that's part of its attraction. "Many of these restaurants, cafés, and bars will be open late," he says. "The Metro stays open until 11 p.m."
On the US West Coast, downtown Los Angeles and Oakland are at different points in transformations that are very much driven by urban-scale mixed use. The long-planned, 6-acre Metropolis project, redesigned by Gensler, is being developed by the US arm of China's Greenland Group. It includes an Indigo Hotel and three residential towers, two of which are being done with architect HED. A planned pedestrian route, lined with shops and restaurants, will link Metropolis to South Park and LA's financial district. "It will be a destination itself, while helping make Los Angeles a walkable, transit-served city," says Gensler's Robert Jernigan.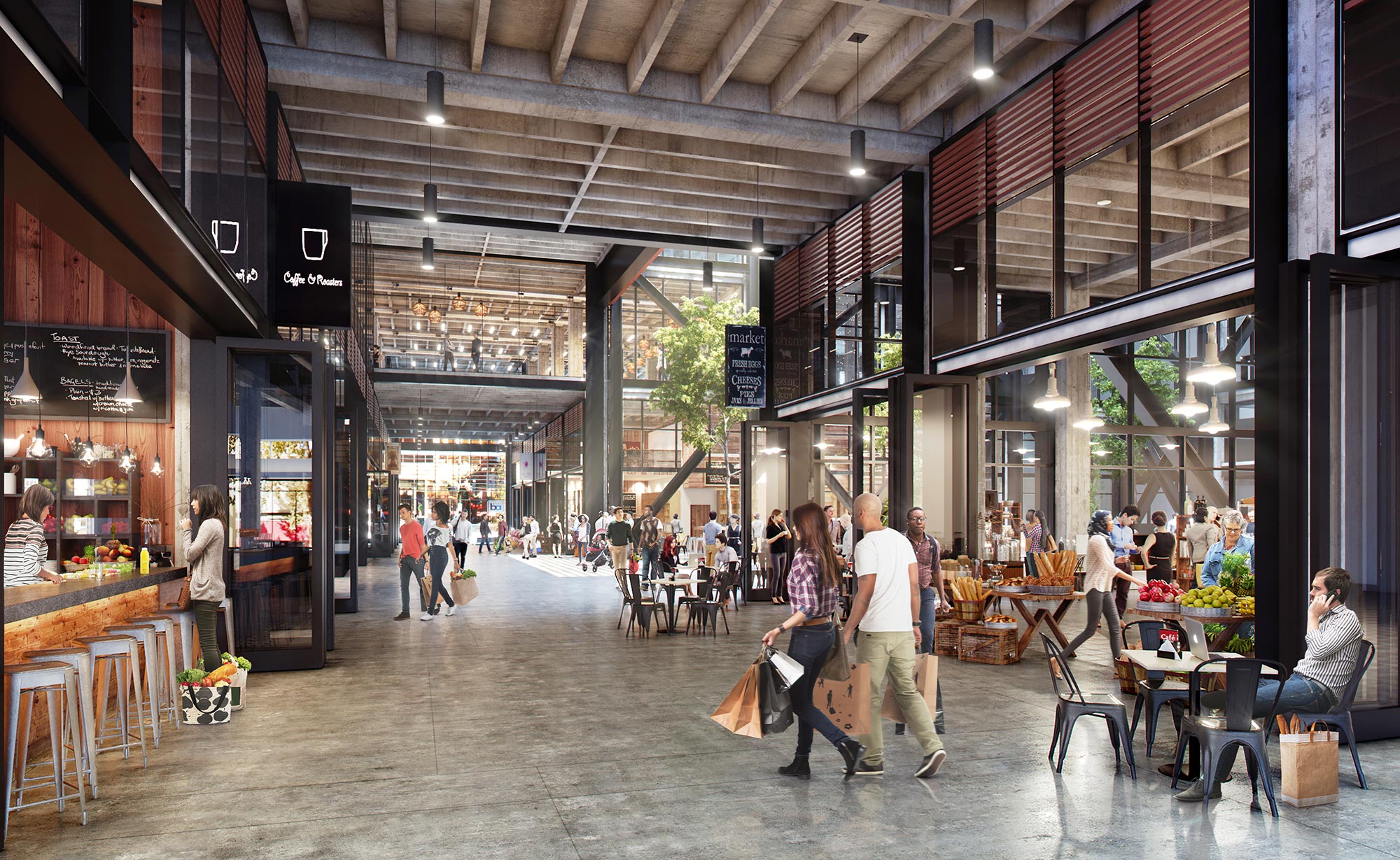 Downtown Oakland's equivalent area, known as Uptown, is poised for redevelopment as office and residential rents soar in the Bay Area. The likely catalyst is a long-empty department store above a regional transit hub. Uptown Station mixes ground-floor shopping and a food market with the big floor plates that tech tenants love. "It's the kind of mix that will draw people to downtown Oakland day and night," says Gensler's Peter Weingarten. "That level of activity will make the whole area desirable."
Mixing it up east and west
The urban center's appeal extends to the suburbs, which are reshaping themselves by growing up rather than continually out. In the US, suburban locations have real benefits for business: they're closer to housing the workforce can afford, so commutes are shorter; and office rents there are generally lower than in-city locations. With the US suburbs adding population faster than US cities, many of the country's metropolitan regions count suburban urban centers as a rising "edge condition." Call it Suburbia 2.0.
Tysons Corner, on the way to Dulles Airport, is an example—the focus of a long-term plan by Virginia's Fairfax County to transform what has been a traffic-choked tangle of roads, malls, and stand-alone office buildings into an urbane, transit-served community of 80,000 people. That's just the residents—by 2050, Tysons Corner Center will be a major employment hub in Greater Washington and a lifestyle destination for the region, served by a Metro line that extends to Dulles. A new street grid, replacing the superblocks of the existing, car-oriented development, will make it truly walkable.
Marking this transformation is the Gensler-designed, 22-story Tysons Tower. Adjoining a new Metro station at Tysons Corner Center, the new tower is complemented by the current mix of stores, activities, and amenities. They will take on a more urban feel as this regional destination adds density and urbanity.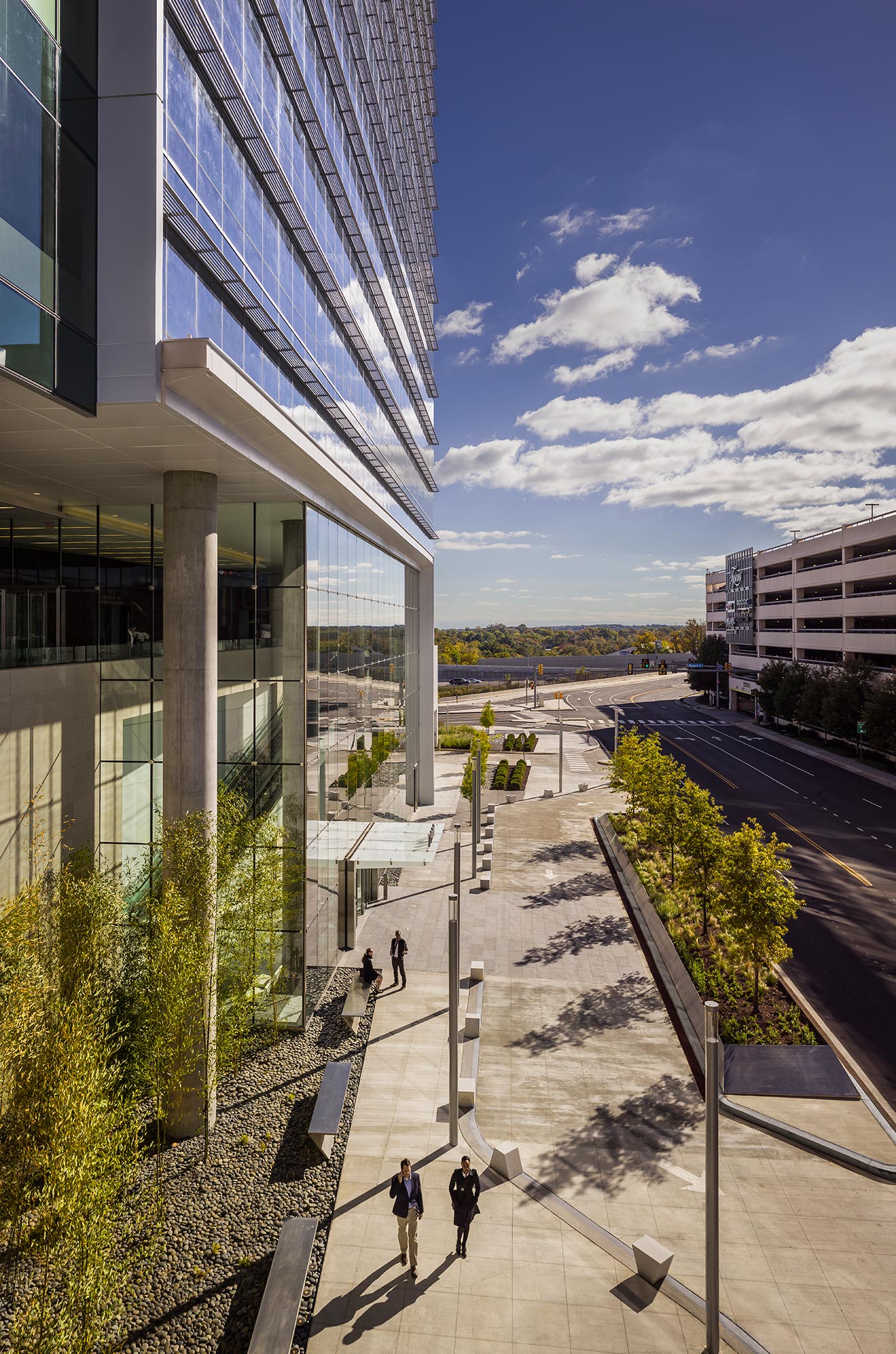 Site conditions posed a problem for the tower's designers: how to connect pedestrians entering and leaving the building from surrounding streets with the Metro platform, 30 feet above grade. Gensler solved it by making the tower's 55-foot-high lobby a crossroads. Everyone passes through it. "We recognized that there are two different entry points," says Gensler's Jordan Goldstein. "Embracing it activates the lobby and makes the tower a gateway to Tysons Corner Center."
The interior of Tysons Tower is largely column-free, which allows office tenants to create double-height volumes within the space. People can work on the Wi-Fi–equipped roof terrace, which has spectacular views. At lunchtime, they can walk out to more than 50 restaurants—features that led Intelsat to move its headquarters to the tower last year.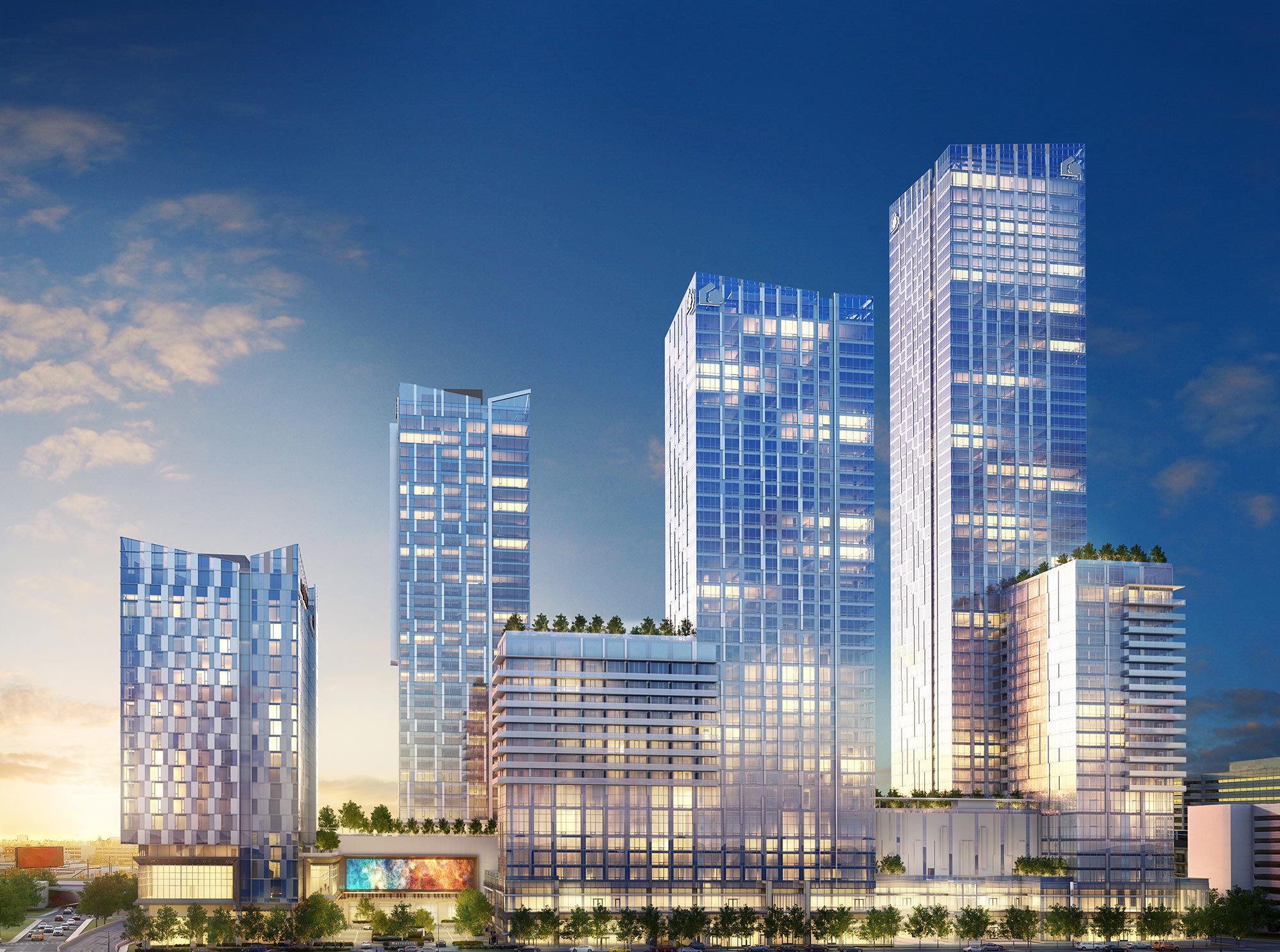 If Tysons Corner aims to become a real community, Playa Vista is doing so without the benefit of a transit connection. Located between Venice and Culver City, Playa Vista was originally planned to have a walkable core and a mix of single- and multi-family housing. It's emerged as a tech magnet: companies like Facebook, Google, Microsoft, along with USC's Institute for Creative Technologies are there, for example. A balmy climate and ample open space, including protected wetlands, add to Playa Vista's appeal.
Playa Vista is fast filling up with stores and amenities to serve its growing population. The wetlands act as a natural constraint, pushing growth away from the beach.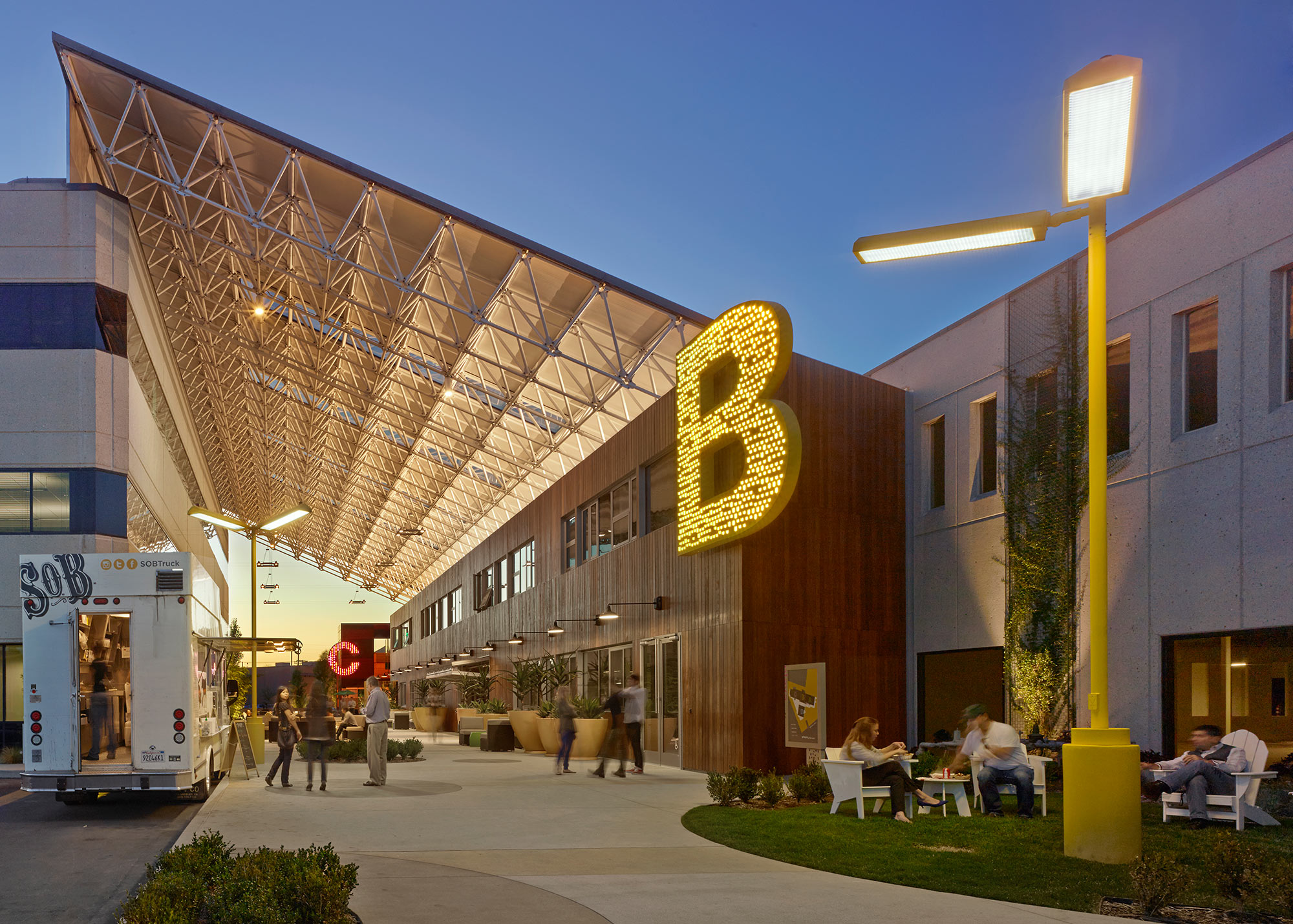 At Playa Jefferson, a bright makeover of a dated office park that strikes a fun, casual tone reminiscent of West LA's bungalow neighborhoods, Gensler blew out an enclosed atrium to give the complex an open-air gathering place — the kind of year-round outdoor socializing-and-play space at which West LA excels. Gensler also refreshed Latitude 34, a 2009 building that wasn't leasing up, despite huge, flexible floor plates, ample parking, and great location. The problem was image, says Gensler Principal Olivier Sommerhalder, who notes that a sealed-up office building with a logo on top "isn't a place where young tech workers would bring their families and friends." Tech and media in West LA are casual and social. Workers keep their own hours. The designers punched lime-green openings in the façades, installed garage-style doors on the ground floor so people can step out to an adjoining patio, and made a feature of new outdoor stairs. "They want that lifestyle," he says. "The building is now very desirable."
Playa Vista has to maintain the right balance among housing, workplace, and the uses each attracts. If tech and media opt for their own amenities, they could starve those that serve the community, sapping the vitality that makes it so attractive.
---
Amanda Kolson Hurley writes for Architect and the Washington Post from Washington, DC.