"Most of the walls are windows," says Gensler's Mark Thaler, describing the new Hajjar STEM Center at Dwight-Englewood School. STEM—science, technology, engineering, and mathematics—is an important part of this independent college-preparatory day school's curriculum. All those windows are connective tissue for the STEM Center's programs.
By ELIZABETH SNOWDEN
---
"We did nothing but put distraction into the design," jokes Joseph Algrant, principal of Dwight-Englewood's Upper School. But the new STEM Center's transparency fulfills its intended purpose of giving students and faculty a greater awareness of what is happening across the space. It reinforces a sense that everyone is working together, with the flexibility to experiment. "The natural and organic communication that occurs is the biggest difference the new building makes," says Jessica Leiken, Dwight-Englewood's Science Department chair.
That integrated and collaborative mindset is essential to STEM. Getting the balance right is hard, but the STEM Center does it. The school understands that STEM is an evolving curriculum that will be influenced by the ways that faculty and students approach it. Their collaboration will change to support the students' futures. "We're the first generation of adults who don't quite know what our children will be doing," says Dr. Rodney de Jarnett, Dwight-Englewood's head of school. Many of its graduates will be in jobs that don't exist today, he notes. The skills they'll need most are the integrative ones like creativity, curiosity, and entrepreneurship.
Creating better learners
While the STEM Center was in design and construction, "we talked a lot about pedagogy and how to create better learners," Leiken says. "We focused on how students learn, not just on what we're trying to teach them." Research shows that students forget as much as 90 percent of what they learn in school. STEM programs are changing that. Their hands-on, just-in-time approach focuses on students learning what they need to solve problems. Experiential relevance makes knowledge stick to long-term memory and makes that knowledge available for creative application in other contexts.
For this shift to happen, the space really matters, Algrant explains. "When you have a STEM curriculum, you put all the academic fiber into one building, one common space, to increase the possibility to connect all of it and pull sources from all those disciplines."
The new classrooms are designed to allow learning to happen in new ways. The rooms and tables are large, giving a calm to what the students are doing and letting them use the space more freely. Teachers can easily walk around and see what every student is working on and where they are in an assignment, enabling the kind of one-on-one interactions they value.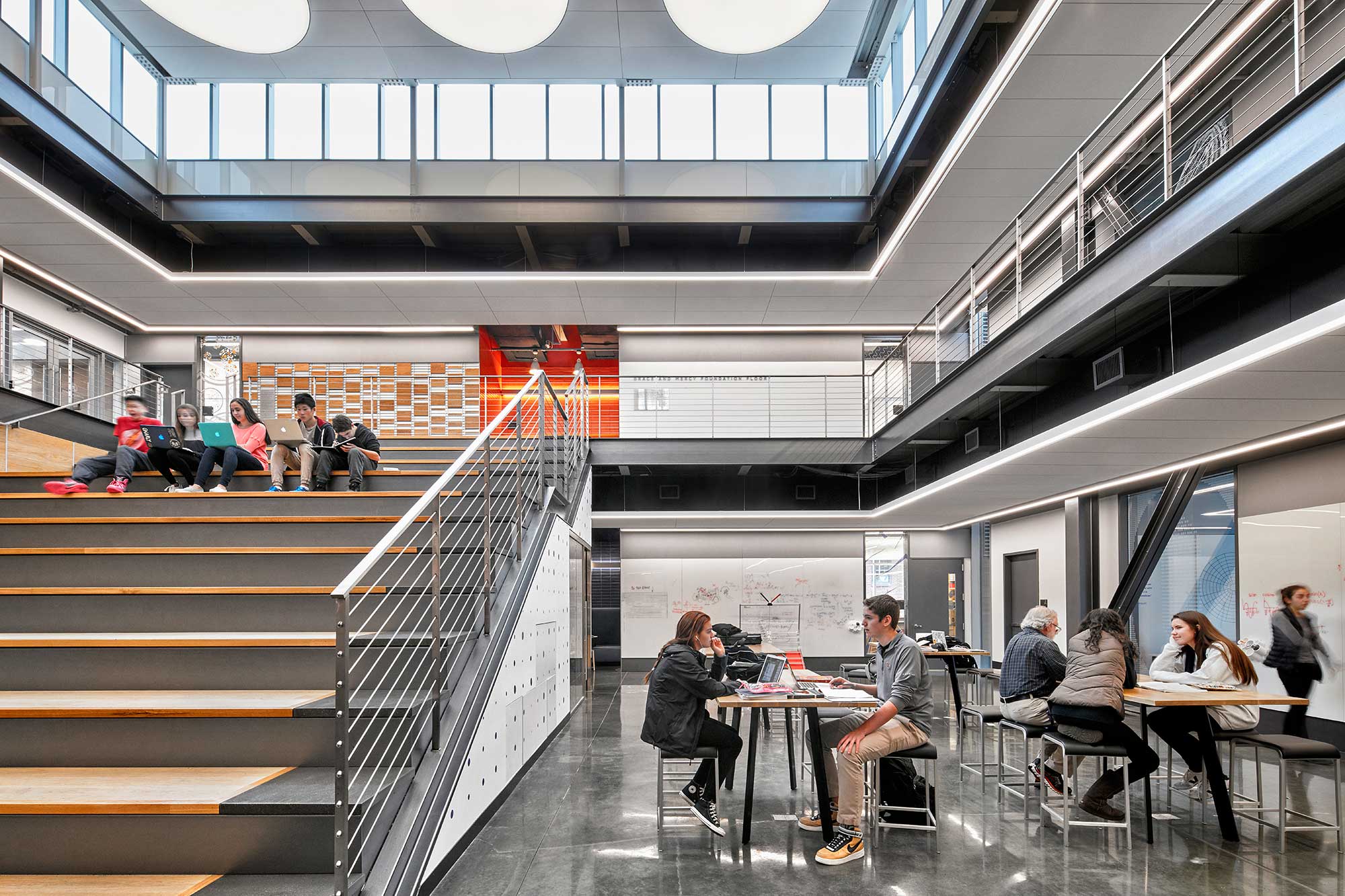 Students are also encouraged to explore assignments outside of the classrooms—for instance, using the writable glass walls on the second floor to sketch out problems and stories. Physics students might go into the hall to measure wave harmonics or to the stairway to measure fluctuating energy levels in an electric field. And when Math Department chair John King walks by, he can ask them: "Okay, you've measured the amplitude, now can you measure the frequency?" This helps students connect what they're learning in their different classes, then apply it to a range of problems.
The hallways play a role in cultivating that common thread. In the "gallery walks," for example, student projects are displayed to allow others to attach post-its with comments or questions. "This level of visibility and conversation prompts people to look at things differently," Algrant says.
Bringing learning alive
The Center is used intensively for both academic and social activities. Every Friday, a student-led robotics group—revived by freshmen after a long lapse—meets in the common area. It's a sign that student engagement is thriving. And it points to the broader view of education that brings learning alive. Over time, Algrant ventures, the distinction between schoolwork and extracurricular activities will give way to a more fruitful overlap—as is happening already in the school's STEM curriculum.
Applications for ninth grade were up 40 percent this past year. "The excitement around STEM has grown enormously this year. And a piece of it is this wonderful space to work in," Algrant says. "The Center has given our teachers a fresh start to do what they have always tried to do. Now they have the facility to pull it off."
Says Thaler, "Because they were included in the design, none of the faculty was super-surprised when they first walked in—the Hajjar STEM Center exceeded their expectations. That reflects great leadership on the school's part. I wish we could bottle that!"
---
Elizabeth Snowden is a writer/editor, based in Oakland, with Gensler Communications.