Sports unify us. Like music, they bring people together across demographic and political lines to share in the grand spectacle of what humanity can accomplish. But with technology making it easier than ever before to watch the game virtually (or multiple games at once), we have to ask a question: What is the sports venue's purpose?
The answer revolves around one word: community. At every scale, these venues are becoming connectors whose scope transcends the sport itself. They're doing it by focusing on what brings people and neighborhoods together for engaging, in-person, and memorable experiences.
A case in point is Austin FC, where our work centers around creating a welcoming environment on both game days and non–game days. In line with the city of Austin's desire to stay compact and connected, the stadium is pedestrian friendly, and parts of the stadium grounds will be open to the community on non–game days. From youth soccer to large-scale festivals to farmers markets and art shows, the venue isn't just home to a professional sports team. It's home to an entire neighborhood and everyone within it, and the influx of residential development keen on locating near the stadium speaks to this ground shift. At Austin FC and elsewhere, here are the trends we at Gensler Sports see as the true industry drivers.
MOVEMENT MATTERS
The sports experience used to be one-dimensional. Fans got their tickets. They went to their seats. Maybe they visited the nearest concession stand, or the one with the shortest line, since there were only a few options replicated throughout the venue. Then they watched the game for a few hours and left.
But today's game day is a far more kinetic experience. No matter if you're heading to a football stadium, baseball park, soccer complex, or some other sports facility, exploring a venue and its surrounding neighborhood is part of the event. The most memorable moment need not come from one's seat. It could be the bustling energy of a kids' zone, the breathtaking view of a city skyline from an outfield porch, or the retail hub and restaurant district adjacent to the venue. The game itself is still the draw, but fans are not a monolith. They have different demands depending on whether, for them, the game means a family outing, date night, reunion among friends, or a way to entertain clients. For Gensler, great venue design means it should be as easy as possible for fans to move around and curate their own experience.
HOW SPORTS VENUES HAVE REDEFINED THE NEIGHBORHOOD
In the past, sports venues left much to be desired when it came to placemaking. The venues brought excitement on game day but little activity on off days, serving as revolving doors of engagement but not real community anchors.
The opposite is now the case — and this is true for developments of multiple scales. At the large scale, the emergence of the sports district means that major cities have new beating hearts. What's happening each and every day throughout the L.A. Live complex adjacent to Crypto.com Arena in Los Angeles is a prime example. The retail, food and beverage, and hospitality activities it constantly spurs have become a mainstay for the local economy. It's a related story at the Milwaukee Entertainment Block, where a Bucks game is one great reason to stop by, but the district is actually a year-round destination. A flexible public plaza forms a sort of living room for the city, immersed in public art and interactive installations alongside a gathering area for festivals, concerts, 3-on-3 basketball tournaments, and seasonal ice activities. Unique destinations for shopping, dining, and entertainment surround the plaza, framed by architectural elements like exposed steel, aluminum framing, glass, wood, and other masonry materials channeling the city's industrial heritage.
At every scale, these venues are becoming connectors whose scope transcends the sport itself.
And it isn't just about major urban sports districts. The same rules apply at smaller scales too. For a confidential minor league stadium with a capacity of only a few thousand, we're exploring the idea of creating fan zones that aren't linked to any particular seat assignment. Whether a grass berm that opens to a public plaza or another solution, it's all about opening the venue up to the city. What if tickets were free, and this could be a place for families to come and set up a picnic? In contexts where attendance is a challenge, strategies that strengthen community connection and drive revenue toward on-site food and beverage options can enliven previously quiet venues.
The Milwaukee Entertainment Block's pedestrian connector links the Bucks arena to its urban surroundings and features a beer garden, indoor-outdoor dining, and media wall.
A GATHERING SPACE FOR EVERYONE, NOT JUST FANS
A flexible public plaza helps the Milwaukee Entertainment Block serve as a living room for the city.
WHEN STAKEHOLDERS CONVERGE, AMAZING THINGS CAN HAPPEN
What's promising about these trends is how universal their appeal is. Fans, neighbors, local business owners, developers, and city officials all have a stake in the modern sports facility. From the fan's perspective, having a sports venue tied to its surrounding environment improves the experience. There's more incentive to arrive early and stay late. The experience is also more inclusive for fans and non-fans alike, with more options for food and beverage, both sports and non-sports retail, and new locales for sports betting. From the owner's perspective, a wider audience is simply good business. And from the perspective of local government officials and development strategists, the economic and cultural changes are a boon. Being able to serve an entire community with one development is rare, but that's the compelling new direction for sports in our cities.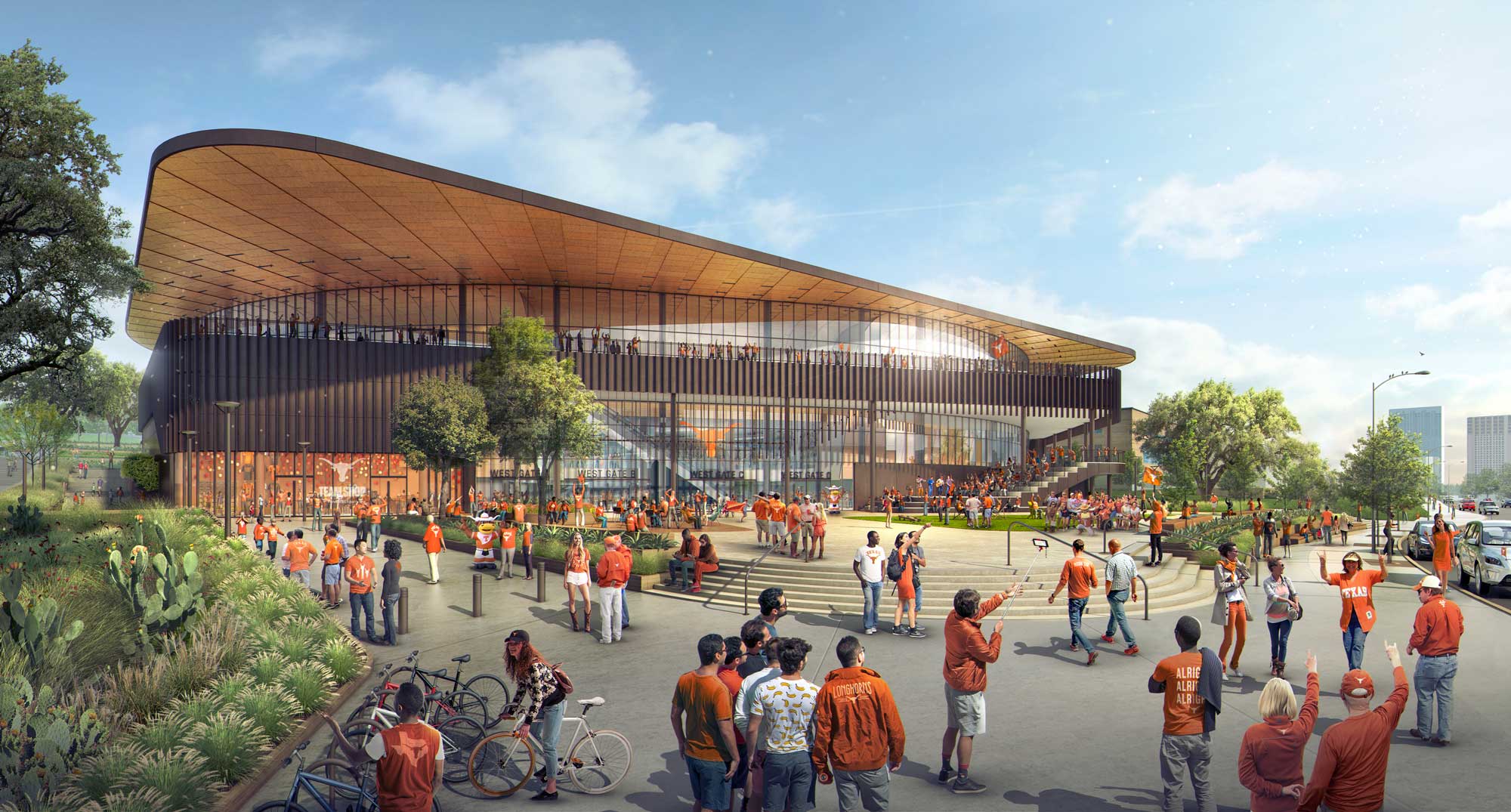 HOW SPORTS BRANDING CONNECTS FANS TO THE CITY
We've all seen them. Some of us have even been them: sports fans who literally wear their colors proudly. Donning Crayola-like hues of face paint, homemade costumes signifying team personality, or jerseys faded by years of wear, such fans are proof that expressions of brand are integral to the sports experience.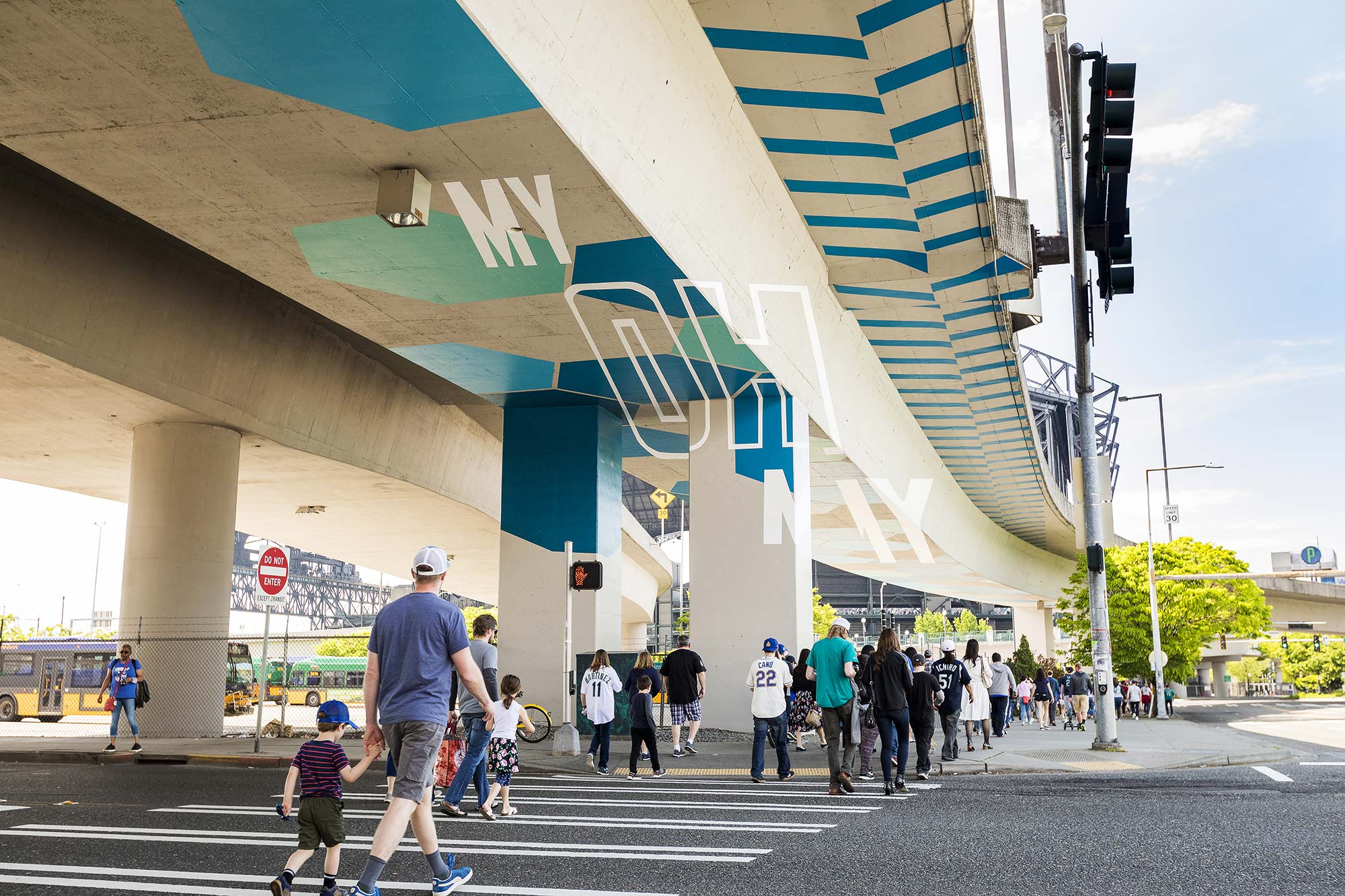 All of this helps to explain why sports franchises now go to such increasingly creative lengths to weave brand elements into their venues to better connect fans and teams. In the case of Major League Baseball's Seattle Mariners, the brand experience actually begins along the walk to the stadium. As part of a suite of improvements in and around the Mariners' T-Mobile Park, Gensler worked with the team to create a custom-designed installation along South Royal Brougham Way, just outside the stadium. Depicting the famous "My Oh My!" catchphrase of legendary Mariners broadcaster Dave Niehaus, the installation serves as an engaging moment for fans traveling to games by foot or public transportation.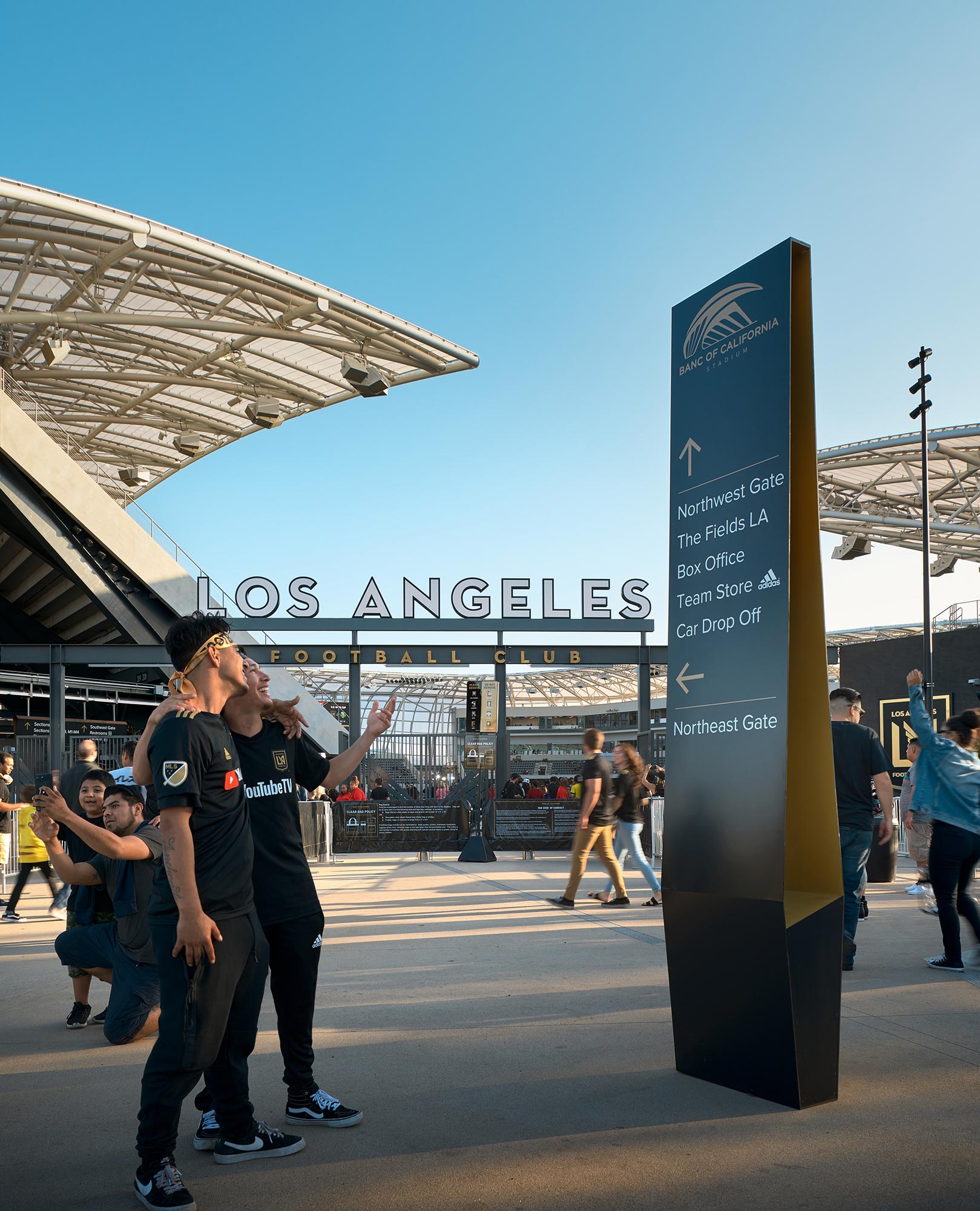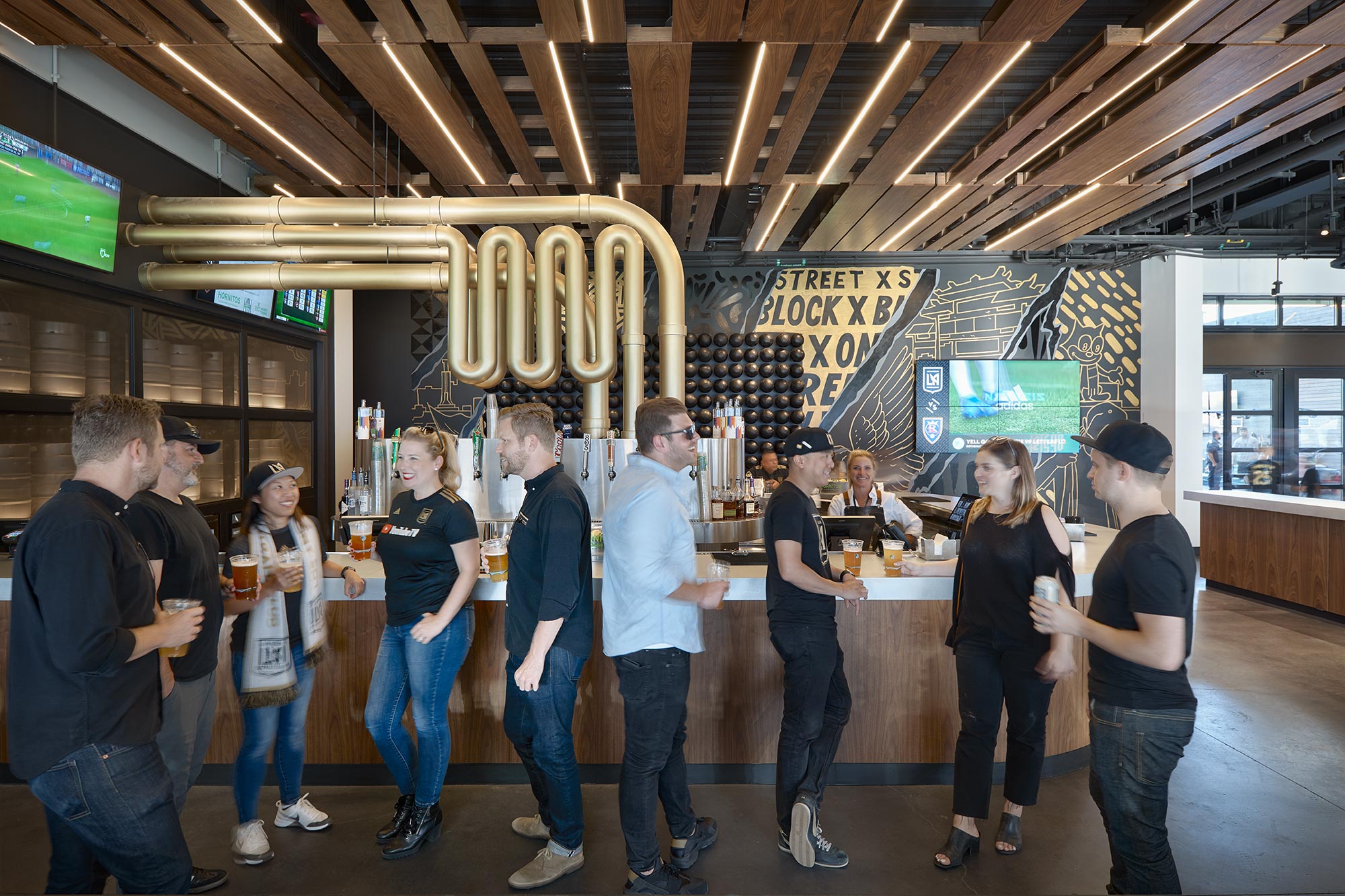 When it comes to newer franchises, physical expressions of brand are particularly important, given the need for such teams to establish a bond with potential fans. For one of Major League Soccer's more recent expansion teams, Los Angeles Football Club (LAFC), Gensler not only designed their home — BMO Stadium — but also integrated the club's brand in key ways, including a robust signage and wayfinding program and environmental graphic design. Featuring custom iconography, the signage system is comprised of plaza directionals, overheads, seating identification, and club and suite signage. It also plays off the team's Art Deco–inspired logo, which alludes to the golden era of Hollywood, and, as such, could work only in LA.
And therein lies the power of sports brands: at their most successful, they are specific to and representative of a city, not just a sports team. That's why sports venues, through thoughtful and creative brand integration, are ultimately catalysts for civic pride and a sense of community.